Doug's Flights: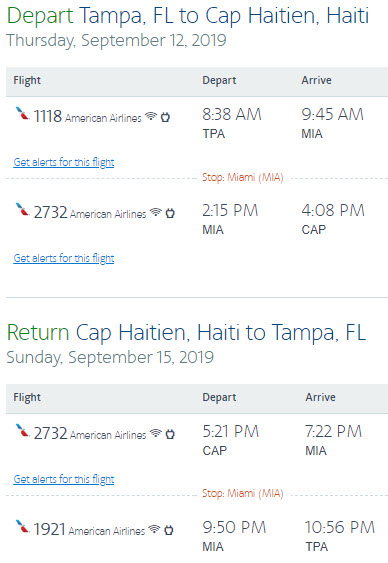 Thursday Sep 12:
Arrive in Cap Haitien on American Airlines #2732 at 4:08 PM. We will not have time to perform vasectomies today, but we will stop at Hopital FSM to hang banners for our return on Sep 14 & 15. We will then pick up our stored supplies (tables, Mayo stands, and some equipment) at the Cap Haitian Health Network (CHHN) office. We will bring them to Hotel Roi Christophe, where we organize supplies to support two teams.
Friday Sep 13:
Vasectomies at Dr. Mesadieu's ULS Clinic in Ft. Bourgeois and at the Dugue Clinic in Plaine-du-Nord. We will go as two teams, both in the morning. The first team to finish will go to the Complexe Medico-Social de LaFossette to prepare the procedure room for Sep 14 and to explain vasectomy to the women waiting for their appointments at the prenatal clinic.
Saturday Sep 14:
One team will perform vasectomies at Dr. Saint-Vil's Clinique Metropolitaine in Limonade, while the other goes to Complexe Medico-Social de LaFossette in Cap-Haitien. When finished, both teams will go to the Hopital Ft. St. Michel (HFSM). When finished there, we simply lock the door so we can continue on Sunday morning without having to set up again. We pay all staff for the cases performed so far.
Sunday Sep 15:
Vasectomies at HFSM in Cap-Haitien until 3:20 PM, at which time we depart to get the 5:21 PM flight back to Miami. As the other doctors work, I pay the staff for Sunday and divide supplies and equipment into (1) those that we donate to our domestic teams, (2) those that stay in Cap-Haitien for the next NSVI mission, and (3) those that I bring home to the USA.