A summary of this second NSVI vasectomy mission to Haiti was compiled by NSVI Development Director Dr. Doug Stein before he was comfortable with the use of WordPress, the software used to publish this NSVI website. So rather than repeat it all here, we ask that you click the link below, which will open another window.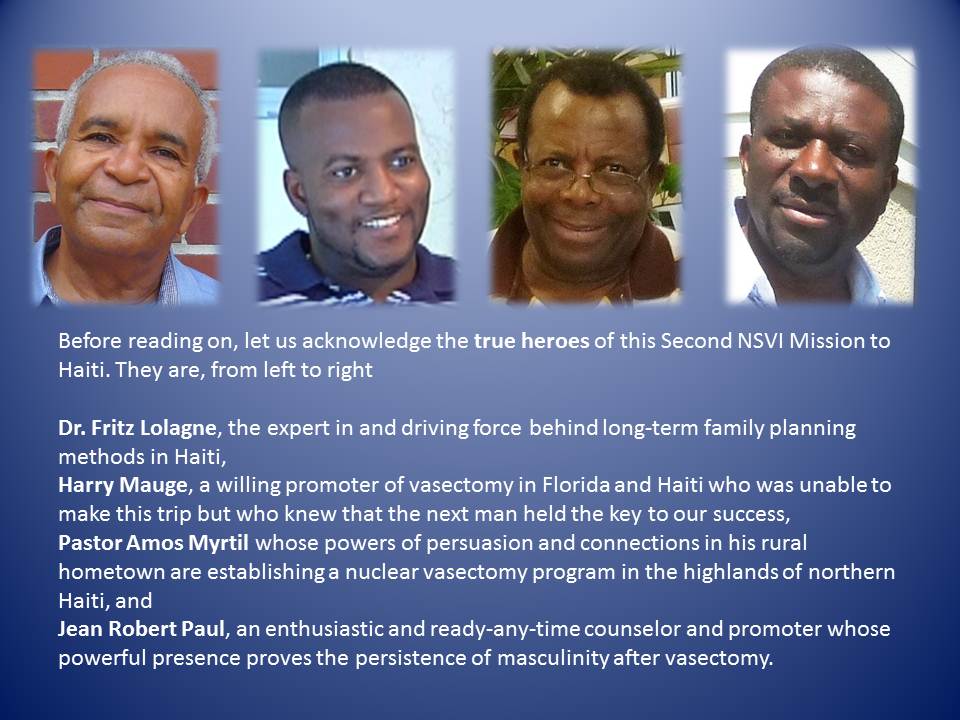 For the whole story: click Second NSVI Mission to Haiti – May/June 2011
And on to the Third NSVI Mission to Haiti – October 2011
And the Fourth NSVI Mission to Haiti – March 2012
We cannot continue without donor assistance. The Board Members of NSVI have given thousands of personal dollars to support the missions of NSVI. Our volunteers in the Philippines in Haiti are paid to barely cover expenses, but it hardly covers their time. Only a love of their homelands and a deep-seated belief that their services will enhance the lives of their countrymen inspires them to help year after year. Even if the Board had unlimited personal funds, the IRS requires that 501(C)(3) corporations demonstrate that substantial support comes from outside the organization. A donation to NSVI is support for children, who can claim more of a parent's emotional and financial support of he or she does not have to compete with numerous siblings. A donation to NSVI is a donation to the environment and wildlife, elements of which can be saved only until the competing hungry hoards of humans take back what has been set aside as a matter of their own survival. Please help us to continue our mission. In doing so, you'll make it your own!