Mission UpdatesBy: Bob Kiamco, Chairman and CEO
February 5 to 15, 2010
Dear Friends and donors,
We are proud to announce that we have a new member of our board of directors and volunteer to our NSV mission to the Philippines. He is Douglas G. Stein, M.D., a urologist in Tampa Florida. Dr. Stein is the Men's Health Consultant (vasectomist) of four of the five Planned Parenthood affiliates in Florida and a contract (NSV) provider for many county health departments of Florida. In his new position as Development Director for NSV International, he has already contributed tremendously in the development of our website. He introduced our Urologist, Dr. Ramon Suarez to "No-Needle No Scalpel" vasectomy. He uses a MadaJet spray applicator to inject the anesthesia. This makes the entire NSV procedure less intimidating to the patients. Dr. Stein's enthusiasm for NSV is contagious. He shares our passion for prevention of "unwanted" pregnancies. He currently performs about 2,500 vasectomies a year in Florida! Needless to say, his expertise and dedication has been such a boost to NSV International team in our mission.
Our latest mission to the Philippines offered vasectomy clinics in LaLibertad, Negros Oriental; Hilongos, Leyte; and Talisay and Mandaue, Cebu. We did a total of over 200 procedures. In addition, we provided dozens of minor surgical procedures (lumps and bumps) in LaLibertad, to help the local health center.
We also visited the Bisaya Medical Association's "Gawad Kalinga" project (poor people's housing) in Talisay and were able to encourage some men to submit to vasectomy. Although our founders supported BMA in this endeavor, we came away with a conclusion that providing housing to poor destitute families without education on "family" planning is just moving one slum to another location.
We are so proud of our members/volunteers in the Philippines, who are so skilled and dedicated to our mission. We wish to thank them. They are: Dr. Joseph Alesna; Mrs. Myrna Danuco, R.N.; Mrs. Frohnie Cagalitan, M.S.W. and spouse Ed; and Apolinar Suarez. Without them, it would have been difficult to hold NSV missions.
As a bonus during our mission, Dr. Mike Cabelin, a gynecologist from Maine and a town mate of Dr. Suarez joined us and quickly acquired the NSV surgical skills. His wife Lita, joined too and helped in the post operative tasks.
Here are some pictures during our last mission. Plans are for a mission to Haiti by Dr. Stein and Dr. Suarez in September. Dr. Stein made an initial trip to Haiti in April with his host Dr. Fritz Lolagne and has setup the necessary contacts. Of course, we plan to go back to the Philippines in January or February 2011.
La Libertad, the first service site of the 2010 mission: Feb 4-5.
Front: Beth, surgical asistant from Marie Stopes in Mandaue; Doug Stein, MD; Ramon Suarez, MD; Joseph Alesna, MD
Standing: Myrna Danuco, RN; Bob Kiamco, counselor, Chairman/CEO of NSVI; Dr. Bacareza, our clinic host and Director of the Rural Health Unit; the Mayor of La Libertad; Frohnie Cagalitan, MSW, counselor; Benita Kiamco, MD, pre-op and post-op counselor.
Hilongos, the second service site of the 2010 mission: Feb 7-8.
After two days in La Libertad, we returned to Cebu City via the same route. We arrived at the docks in Cebu in time to catch the overnight (5 hour) ferry to Hilongos.
Talisay City, the third service site of the 2010 mission: Feb 10-11.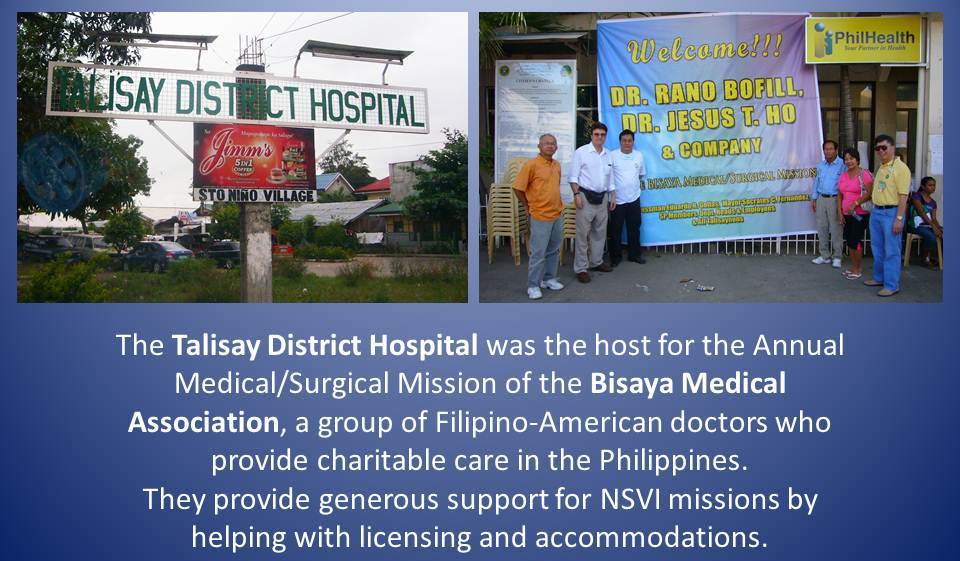 At the Talisay District Hospital, we were no longer 'roughing it'.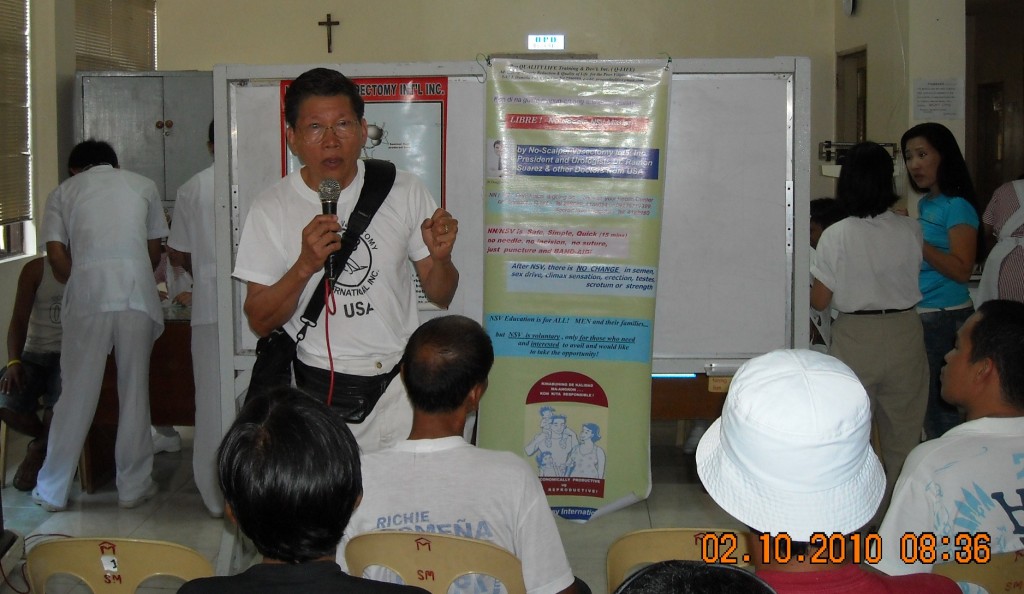 We will never know how many unwanted pregnancies we may have prevented, but in a country of 100,000,000 people in an area about the size of Arizona, every pregnancy prevented is an opportunity for more breathing room and personal fulfillment for all.
Mission of 2011    Mission of 2012
[call-to-action]