Under the Direction of Jonathan Stack, Co-Founder and Producer, World Vasectomy Day assembled a Team of Vasectomy Doctors and Support Staff from around the world to provide vasectomy training, services, and education in Rwanda before and during the International Conference on Family Planning (ICFP) from November 8 to November 14. Jonathan was in Kigali for a few weeks in April, again in July, and he arrived in Kigali on September 10 for two months of preparation for the big event. The support from the government and healthcare community was very encouraging.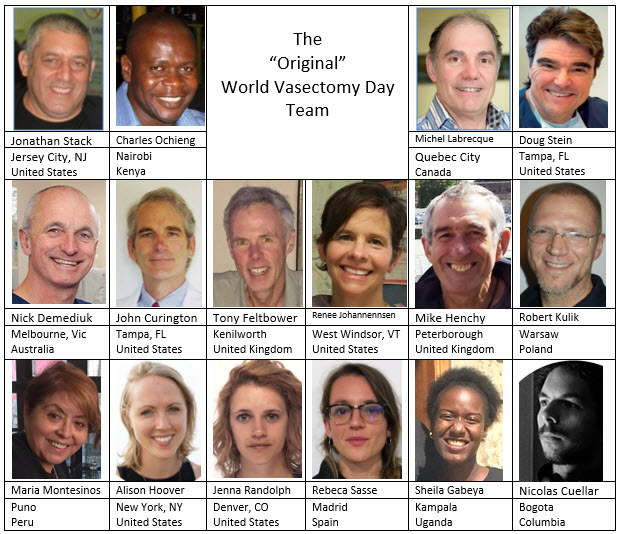 Nine experienced vasectomists from six countries volunteered to provide didactic and hands-on training for Rwandan doctors at various sites throughout Rwanda. The participants all purchased air tickets and took time out of their schedules for this volunteer service.
The plan was to also provide a Vasectomy Symposium for interested doctors, medical students, and community health workers. Click HERE for the Symposium Schedule.
On Monday October 15, barely three weeks before the event, Jonathan received a letter from the Minister of Health claiming that "some prerequisites still need to be done and this is a very busy period". He was told that "no activity related to capacity building, awareness campaign or video filming can be implemented by your team without any accreditation and an MoU [memorandum of understanding]." An MoU had been submitted in July, but the Ministry of Health had stalled on making a final commitment to approve and support the joint WVD/NSVI endeavor. Jonathan and his Team returned to New York and made preliminary plans for a WVD event on Nov 16 in New York City or just across the Hudson River in New Jersey.
When the Program Director of the ICFP learned of the hasty departure of the WVD Team, she prevailed upon Jonathan to return to at least have a presence at the Conference. She offered WVD a booth and a presentation room with hopes that the Conference would "shelter" WVD from the regulations of the Ministry of Health. We would not be allowed to provide training outside the Conference, but we decided to take enough instruments and supplies to equip 4 operators to perform 20 vasectomies each. The hope was that, at best, the MOH might change its mind and allow the training, or at worst, we would still be able to demonstrate the ease and portability of vasectomy in settings with limited resources. The "original" team of 9 doctors was reduced to 4 (bottom row below). Renee wanted to enjoy the conference and Rwanda, Michel's abstract had been chosen for oral presentation, and the abstracts of Charles and Doug had been chosen for poster presentation.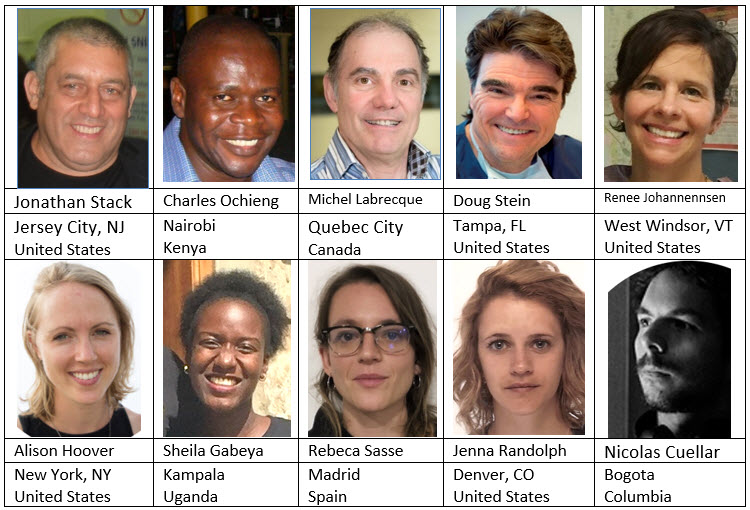 I prepared and packed 60 pounds of supplies, as well as anatomical training models, and promotional materials.