The NSVI Haiti Mission of November 17 – 20 was one of the most productive ever. Vasectomies were performed on 70 men who collectively had fathered 369 children. Another 11 men, educated about vasectomy during the mission but not served for lack of time, underwent vasectomy by the NSVI Domestic Team on the following Monday. Those 11 men had had 67 children.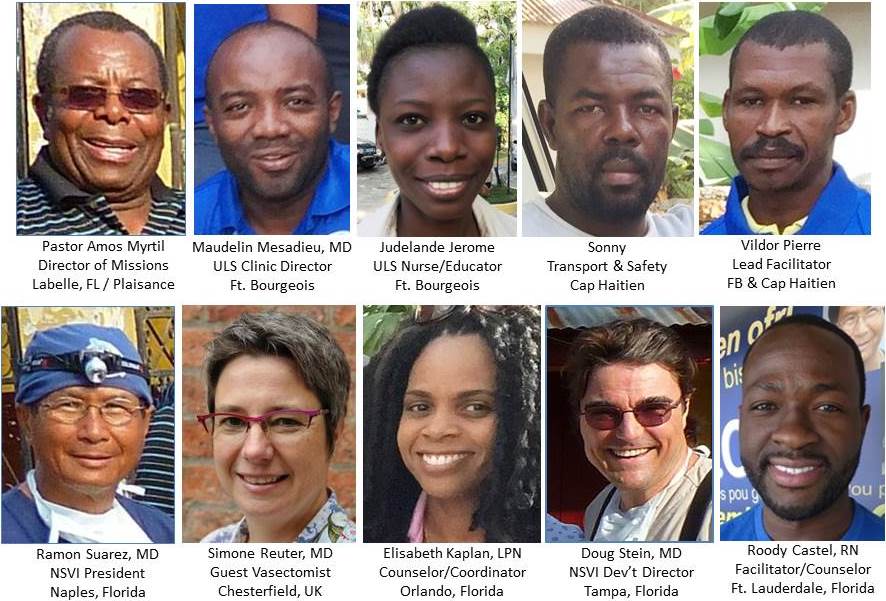 The backbone of the Haiti Team is the top row. Pastor Amos Myrtil promotes vasectomy and arranges for a facility in his home town of Plaisance, then joins the Team in Ft. St. Michel to provide inspiration and counseling. Dr. Maudelin Mesadieu is our professional host, the most experienced vasectomist in Haiti, and the director of the ULS clinic in Ft. Bourgeois. Judelande Jerome is his top assistant, Vildor Pierre is the lead facilitator, and Sonny provides our transportation with a vehicle made available by Dr. Ernst Jasmin, Director of Health for the Department of the North. Special guests during this mission (and hopefully future missions) were Dr. Simone Reuter all the way from the UK, and Nurse Roody Castel (see below).
During this mission, we had 5 physician trainees. Dr. Pothel added to the experience she gained during the July mission, and the bottom row of doctors were exposed to NNNSV for the first time.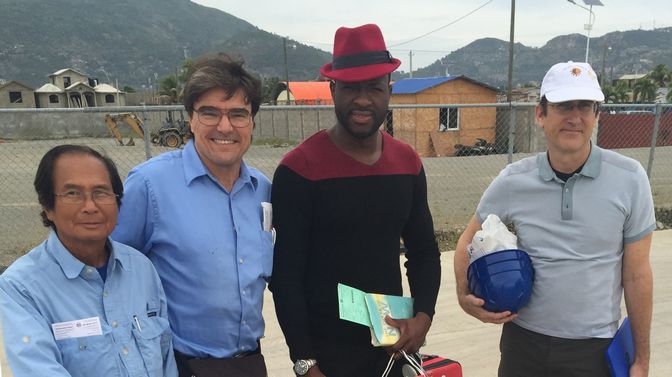 In the flight from Miami to Cap Haitien, I had the good fortune of sitting beside Roody Castel, a nurse in Miramar, Florida, traveling to Haiti to visit family and friends, and pausing to take a photo with Drs. Ramon Suarez and Ted Kaplan, Director of the Cap Haitien Health Network, while we waited for Dr. Reuter to deplane.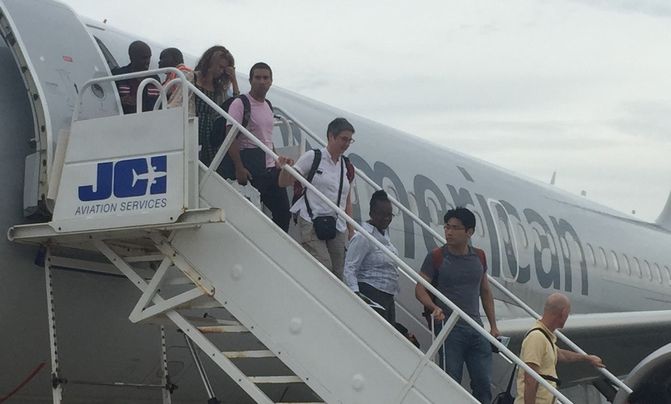 Roody had a great interest in our mission and I invited him to join us in Cap Haitien a few days later. And indeed he did, blending with the Team as translator and counselor. So making the trip to Haiti were 1 person from the UK and 5 persons from Florida, three of whom (Amos 2 weeks earlier, Elisabeth 3 days earlier, and Roody) were Haitian by birth.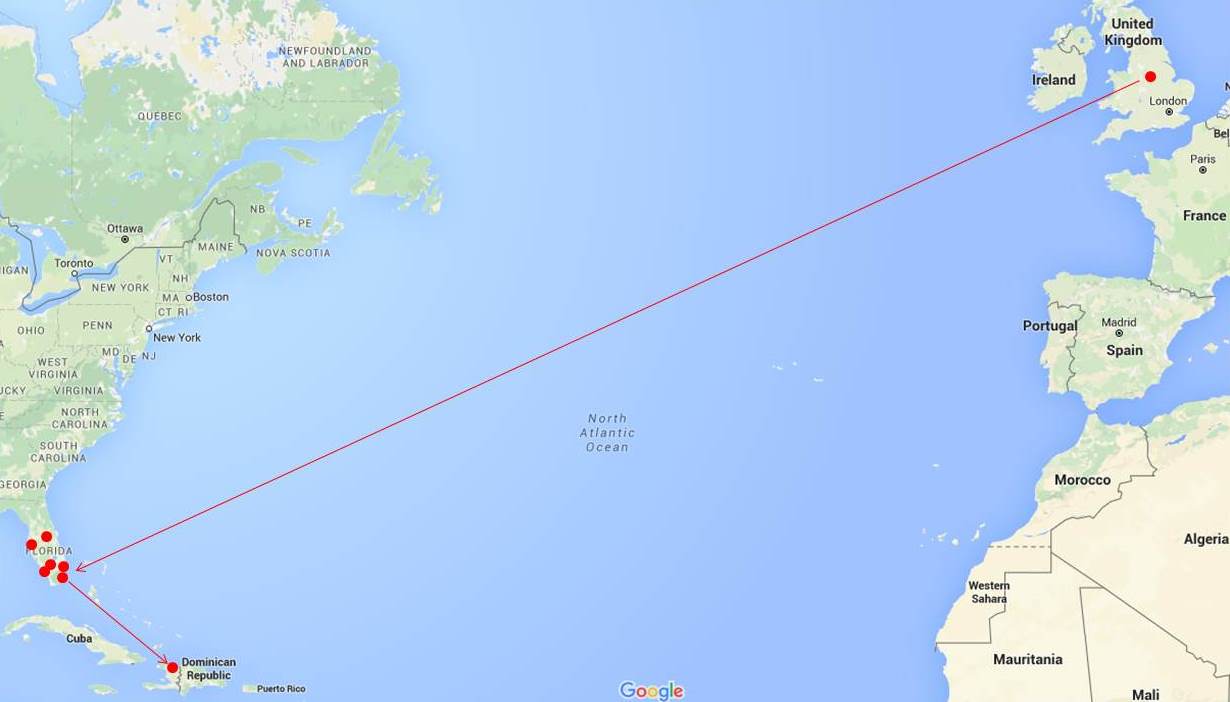 In the Eastern Time zone and south of Boston, Haiti's November days end early, and it was nearly dark by the time we obtained our bags at the airport. So we went right to the Cap Haitien Health Network Meeting at our hotel, where NGOs have an opportunity to coordinate their efforts on behalf of Haiti. At the meeting, a young man of about 20 years came up to me and asked for financial assistance with college. I explained that we are a Vasectomy Services and Training Group, but that there must be other groups in Haiti who help with higher education. As an afterthought, I asked him how many children his parents had had. He revealed that he was the oldest of 8. "Well," I said, "If your dad had stopped at two, he might have been able to save enough money to send you and one sibling to college." He saw the connection and I suggested that he do whatever he could to encourage smaller families so that future generations would not have the same trouble he was having now. I also explained that NSVI would pay him to educate men about vasectomy, 400 gourdes ($8.65) for each man who came for vasectomy. I don't know whether he did or will do so for the next mission, but I shared our exchange with the group and it set the tone for the rest of the mission.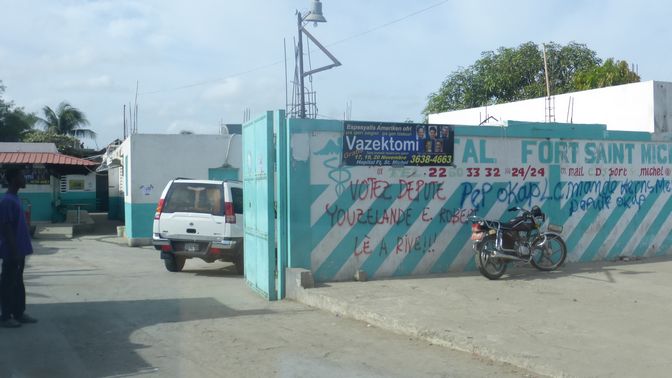 On the way to Plaisance (see maps) on Nov 18, we posted banners and mini-posters at Hopital Ft. St. Michel announcing our return Nov 19 & 20. Then, encouraged by Dr. Gessica Dugue at the CHHN Meeting the evening before …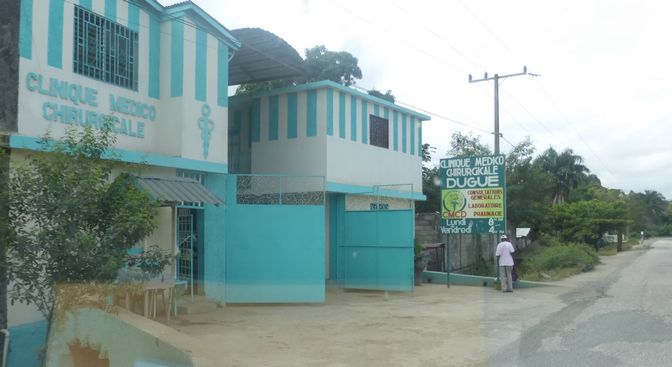 … the Team stopped at her clinic to determine its suitability as a site during future missions. It had an excellent counseling area and procedure room.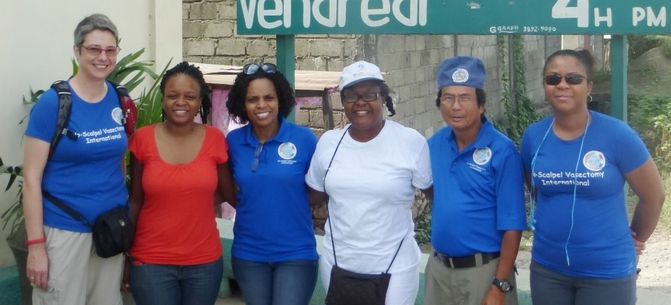 Gessica (in red) and her mom and clinic director Maud Dugue are eager for our return.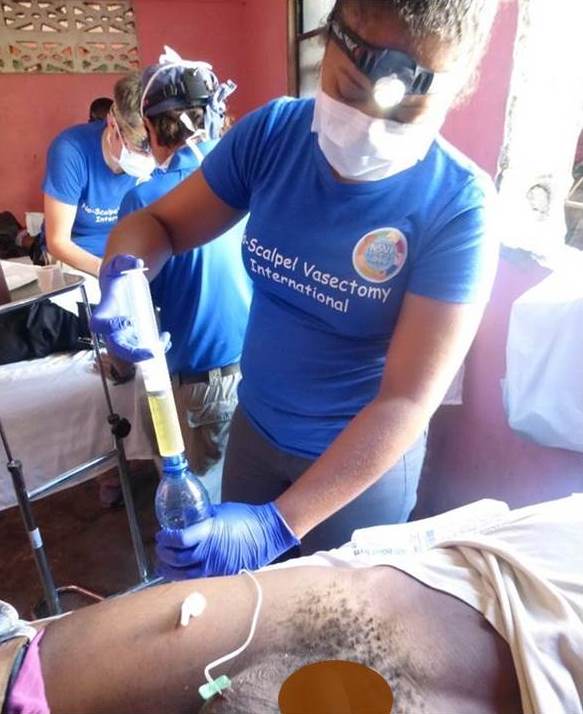 In Plaisance, trainee Dr. Murielle Pothel's first patient had a large hydrocele requiring drainage before his vasectomy could be accomplished.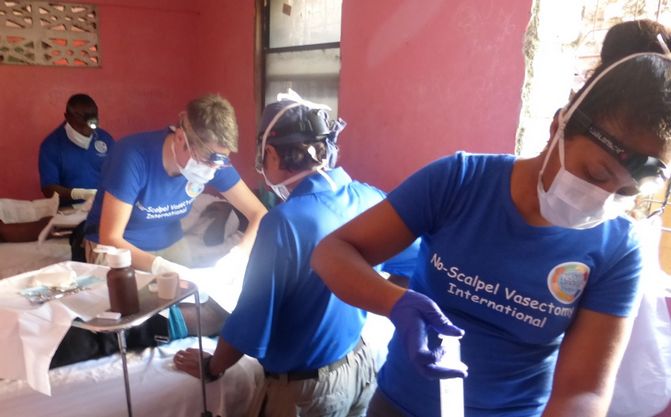 Meanwhile, Dr. Mesadieu worked alone as Dr. Suarez coached Dr. Reuter in adapting her UK-learned skills to the NNNSV technique that works so well during mission work.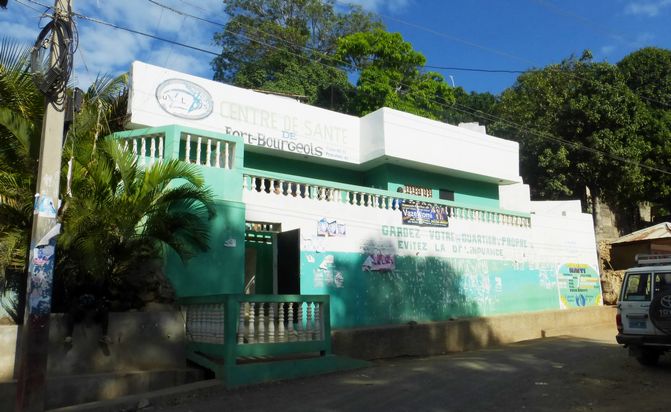 On Friday Nov 19, we arrived early at the ULS Center in Ft. Bourgeois. Patients were already waiting. The room used last time had been taken over by a dentist …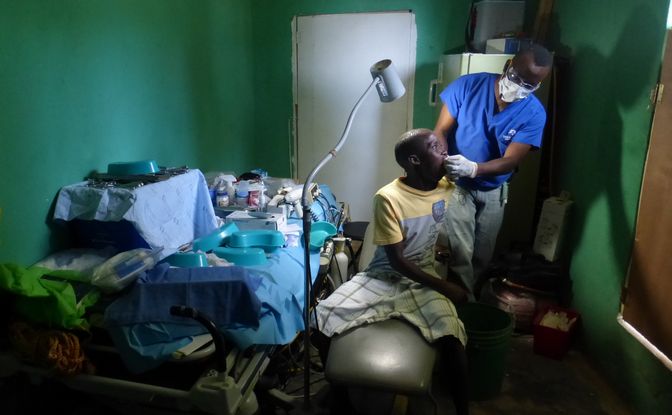 . so we had to crowd into an adjacent room that provided room for no more than two tables …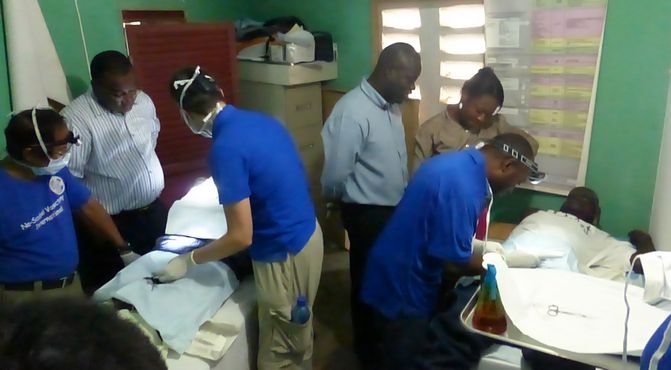 … one of which was a desk not long enough to support the feet. The room was also crowded with 3 trainees.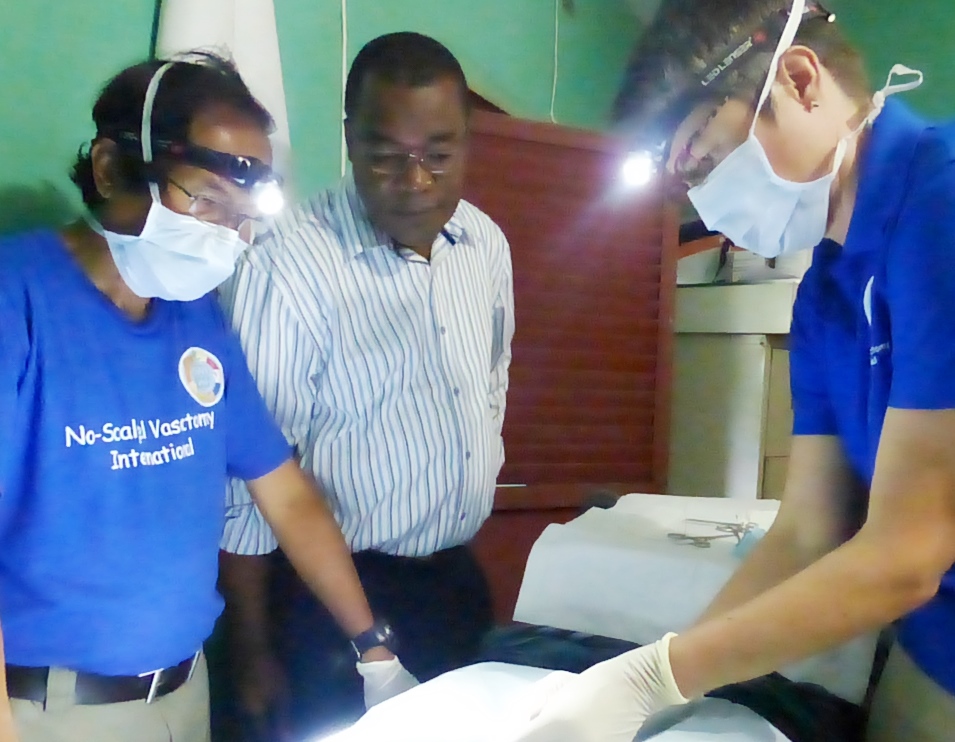 Dr. Amos Pierre …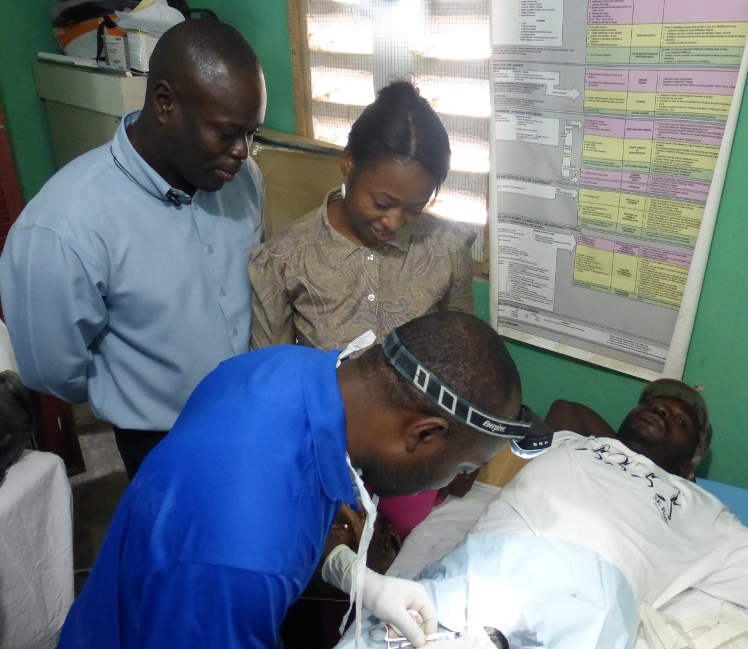 … and Drs. Enioth Bright and Catiana Joseph began the training process with close observation …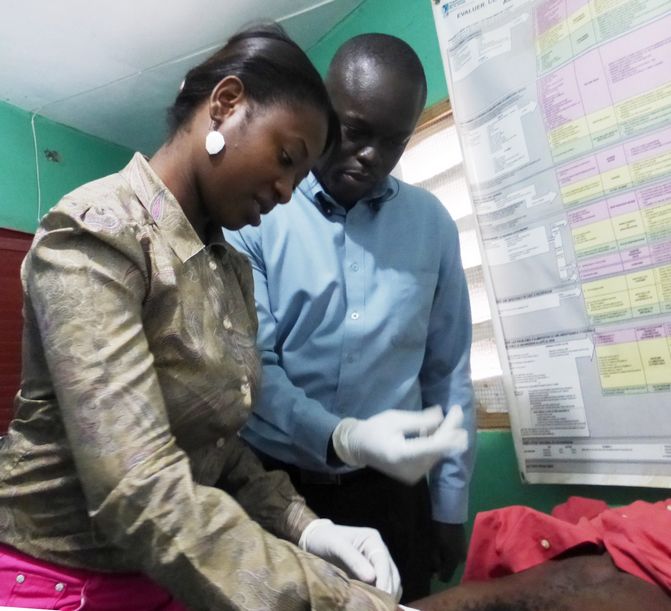 … then by learning the 3-finger technique of isolating and securing the vas.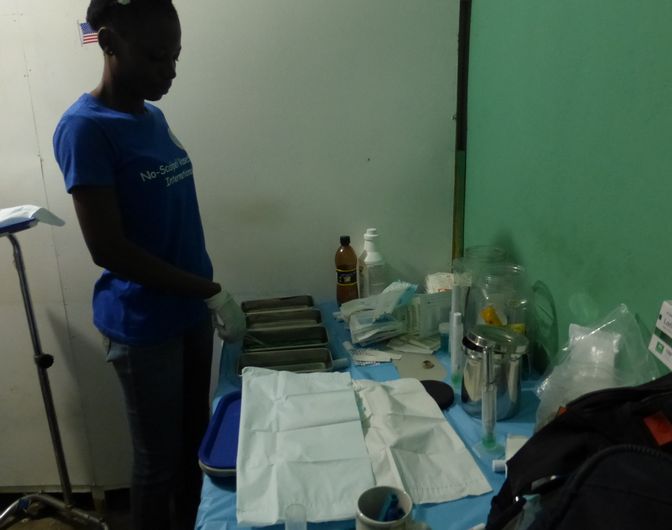 Judelande Jerome sterilized instruments, prepared trays, and …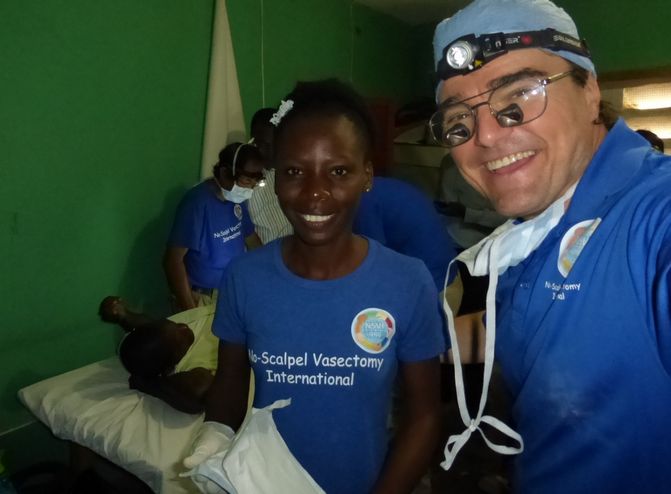 … posed for photos.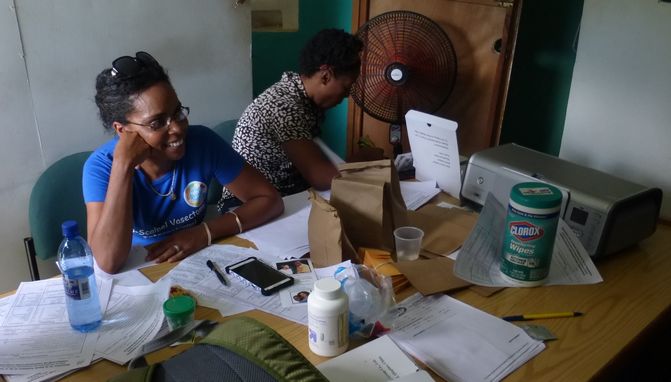 Elisabeth Kaplan and Rodeline Eugene obtained informed consent and organized medical records.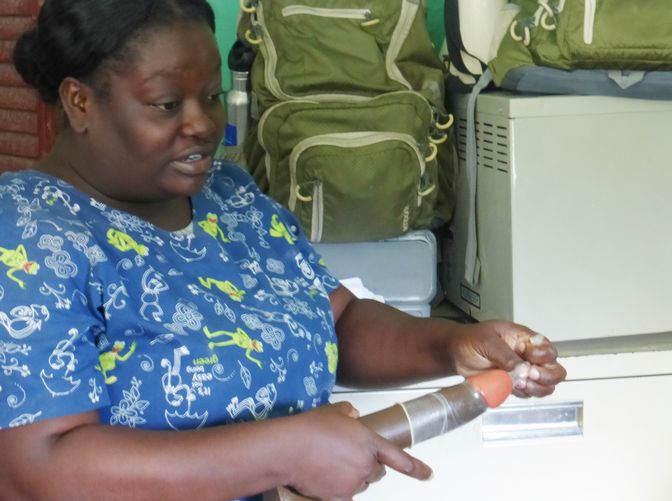 Louis Clodine educated men on proper use of condoms and the need to continue contraception for 3 months after their vasectomies.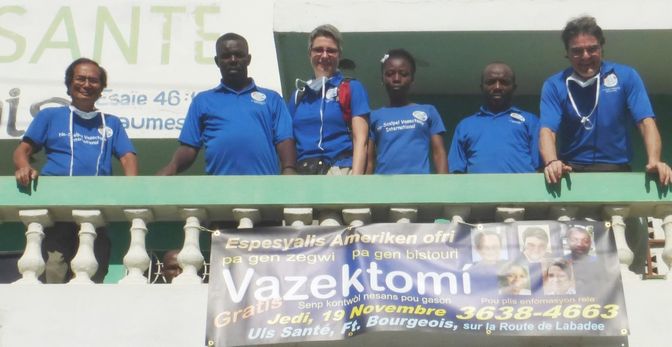 After the traditional post-clinic photo …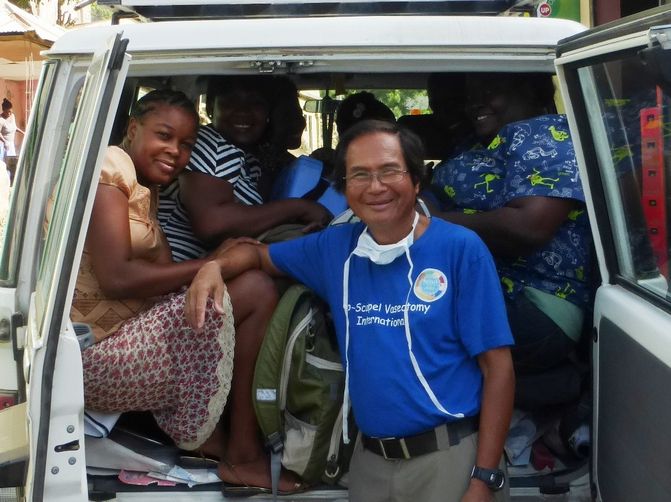 … 11 persons crammed into one SUV …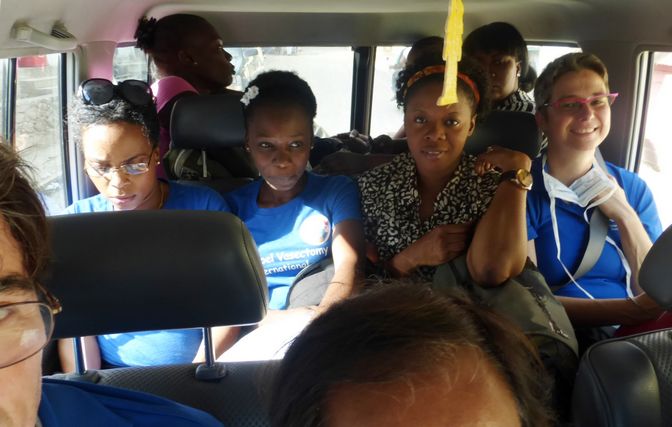 … 4 in the back, 4 in the middle, and 3 in the front …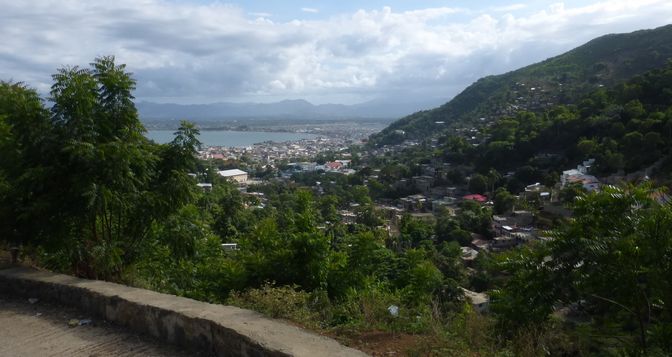 … for the scenic ride back down to Cap Haitien and our afternoon clinic at Hopital Ft. St. Michel.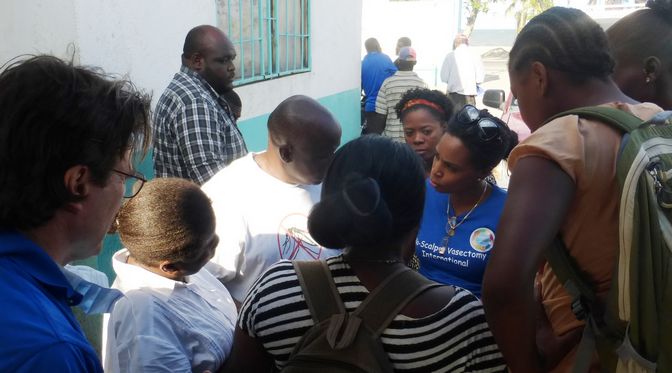 But on arrival, there were NO PATIENTS! Apparently, despite our posting of banners and miniposters the day before, there had been some communication mix-up and the community had not be notified.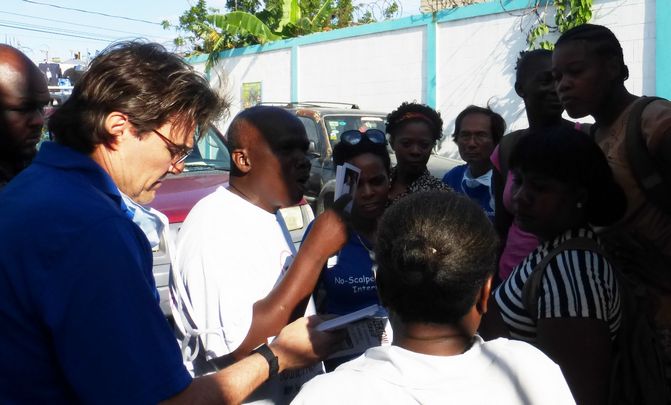 So messengers and community health workers were given hand-fulls of vasectomy brochures written in Creole for distribution all over town.
When we returned at 8 AM on the day of our afternoon departure, Hopital Ft. St. Michel was packed with patient waiting for their vasectomies. Operators and Haitian trainees worked as quickly as we could at 3 procedure tables, but after 30 vasectomies, we had run out of time, and 11 remaining patients were asked to return on Monday for their vasectomies by Dr. Mesadieu.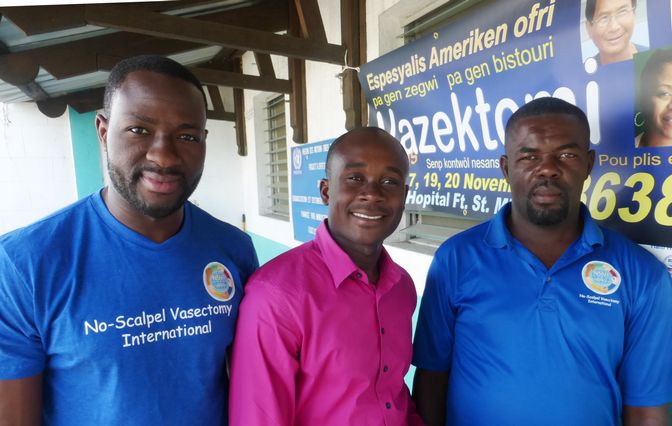 Roody had been great help with post-vasectomy counseling, Dr. St. Vil had gotten some excellent experience, Sonny got us back to the airport on time …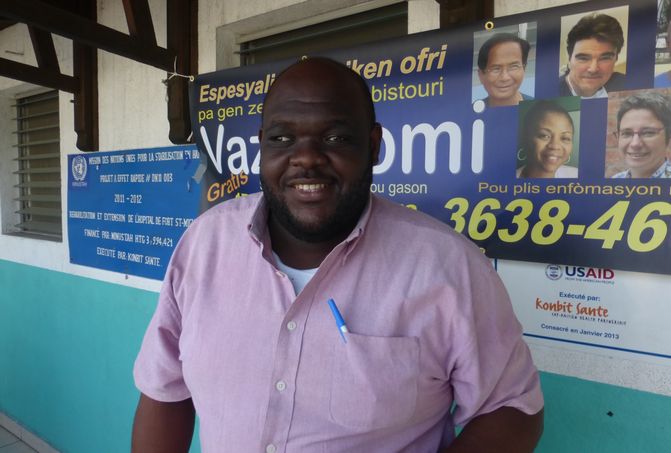 … and Dr. St. Martin was particularly pleased that his facility had served so well.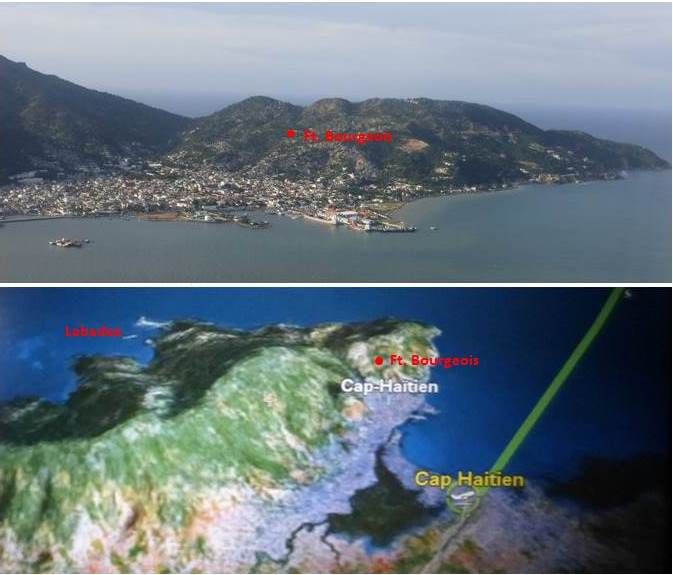 The flight out of Cap-Haitien is always super-scenic and it is fun to try to spot the ULS clinic of Ft. Bourgeois in the hills northeast of Cap. Just over those hills is the cruise ship destination of Labadee, so isolated from the rest of Haiti that well-fed passengers have no idea of the squalid living conditions just over the mountains.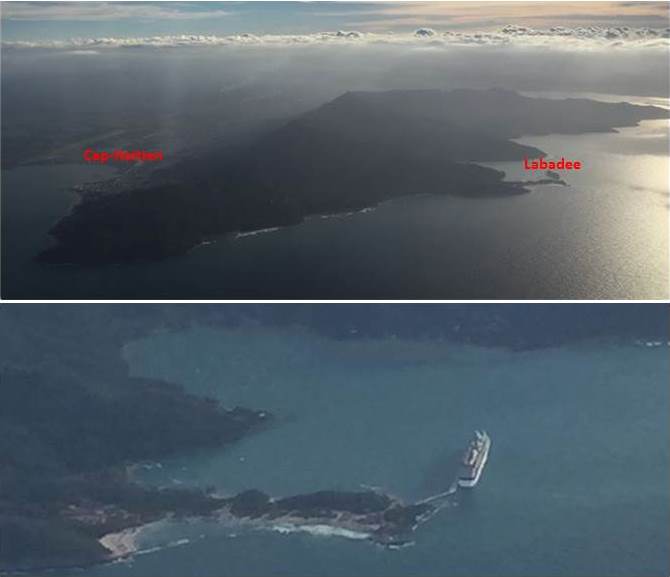 The tropical beauty of Labadee is a stark reminder of how glorious Haiti could be if not so encumbered by an infrastructure that cannot keep up with its burgeoning population.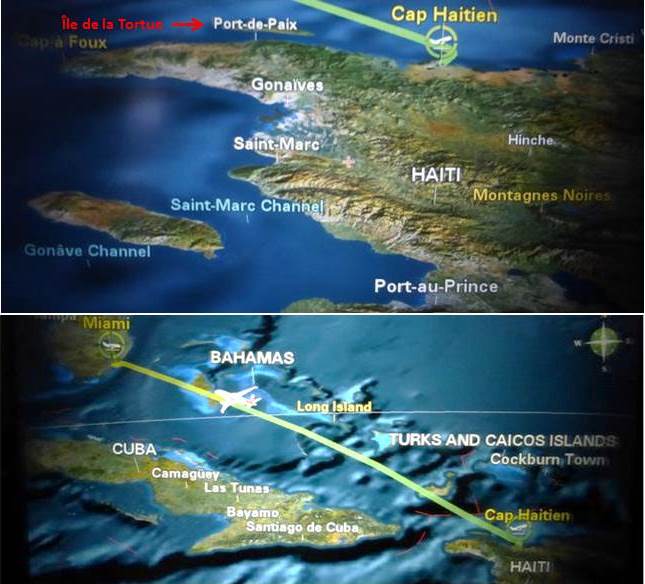 As one flies above the north coast and Île de la Tortue en route to Miami …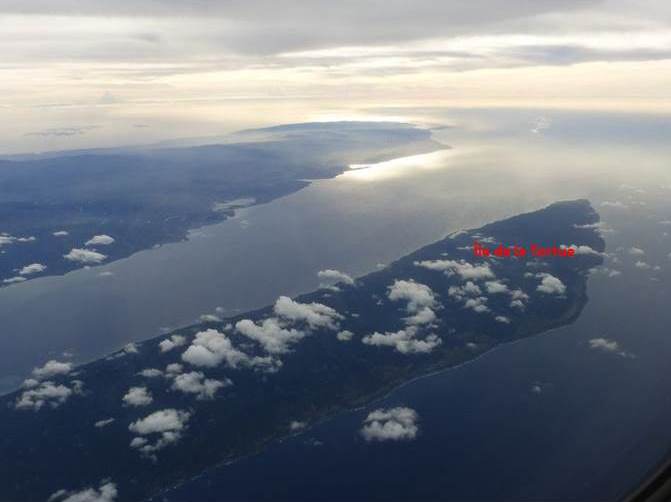 … the scenic grandeur belies the difficult lives therein. I think again about the young man from the family of 8 begging for money for college, and I hope that the families of the young men who chose vasectomy after 2 children will have a better chance at a higher education provided by proud dads who made the right choice.
NSVI will return to Haiti March 30 – April 2, 2016. My travel plans: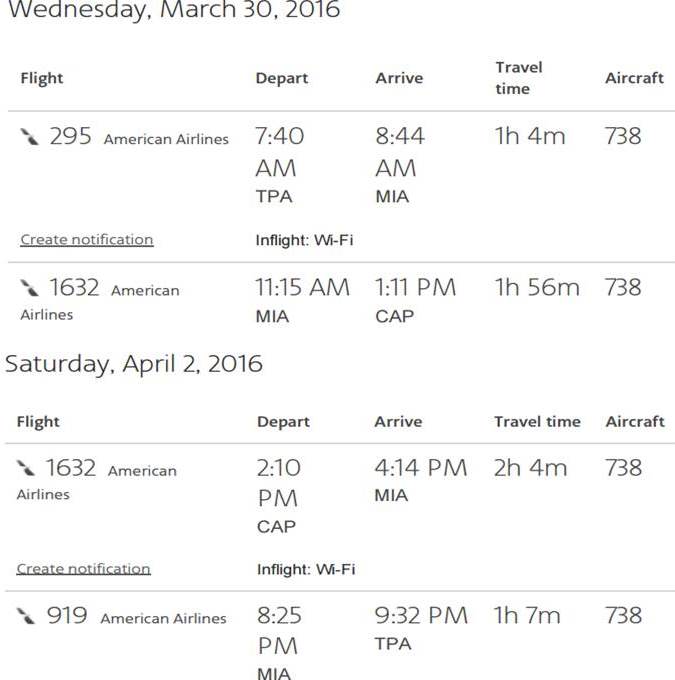 On March 30, our group will meet at the gate in MIA for the 11:15 AM flight to Cap-Haitien.
NSVI Missions to Haiti later in 2016 will be:
July 6 – 9
November 2 – 5
If you would like to join NSVI on one of these missions, please e-mail me a steinmail@vasweb.com, or call my cell at +1 813-390-3032. (Please do not respond to the whole network.)
We are limited as to the number of "Guest Vasectomists" who can join us by the number of operating tables we can use at each site, which is 3 at most in one room served by one sterilization and equipment station. And one or two of those tables may be needed to train Haitian doctors. At some point, we may be able to operate at two separate sites simultaneously and thereby accommodate more Guest Vasectomists, but that requires that we have transportation and counselors for a second team, and a full set of equipment and disposables for that team.
To secure a spot as a Guest Vasectomist during any 2016 mission, you will be asked to donate $500 to NSVI. A balance of $1500 will be due 90 days before the mission date. Each vasectomy costs NSVI about $50, and there are additional expenses such as disposables; airfare and accommodations for Pastor Myrtil; and payments to additional helpers like our driver. This $2000 covers room, board and transportation in Haiti as well as these expenses. If you change your mind between payments, the initial $500 will not be refunded, but you will have donated to one of the most worthy causes anywhere.
The schedule for the next mission is as follows:
March 30  Hopital Ft. St. Michel  2:30 PM – 5:00 PM
March 31  Plaisance all day
April 1  Ft. Bourgeois 9 AM – 1 PM;  Hopital Ft. St. Michel 2 PM – 6 PM
April 2  Hopital Ft. St. Michel 8:30 AM – Noon.