For the first time, in October 2016, two NSVI teams provided vasectomy procedures and training at two sites simultaneously in northern Haiti. Over three days, this enabled us to provide vasectomies at 5 sites, visiting some sites on more than one day. We provided vasectomies for 132 men who had had a total of 723 children. Each vasectomy team was composed of three international vasectomy experts, and either an experienced Haitian vasectomist, or a Haitian trainee; as well as an administrator, a lead counselor, and a procedure room "nurse".

Our "Guest Vasectomist" volunteers not only paid their own ways to Haiti, but also made generous donations to help cover NSVI expenses.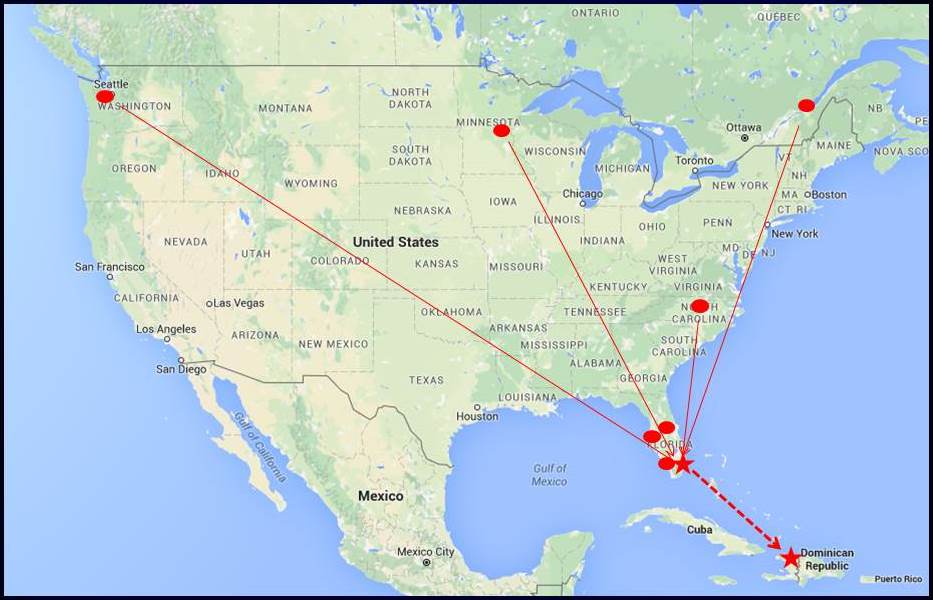 From distant locations in North America, our vasectomists met the Floridians in Miami…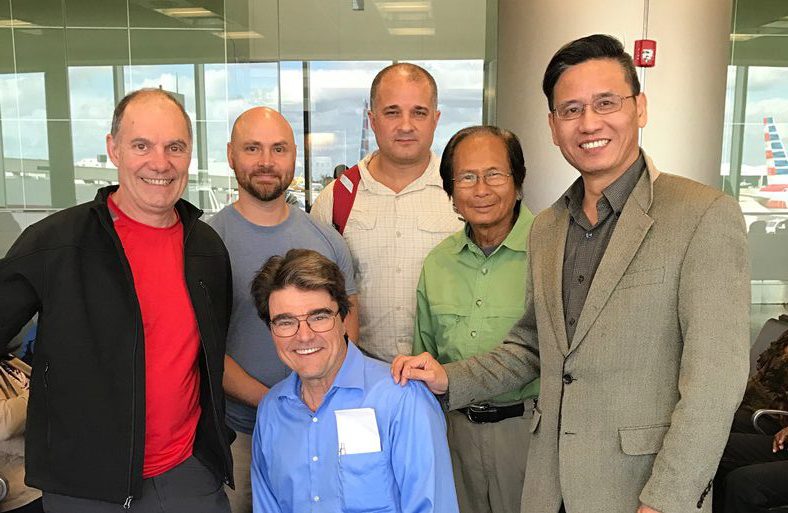 for the final non-stop flight to Cap Haitien.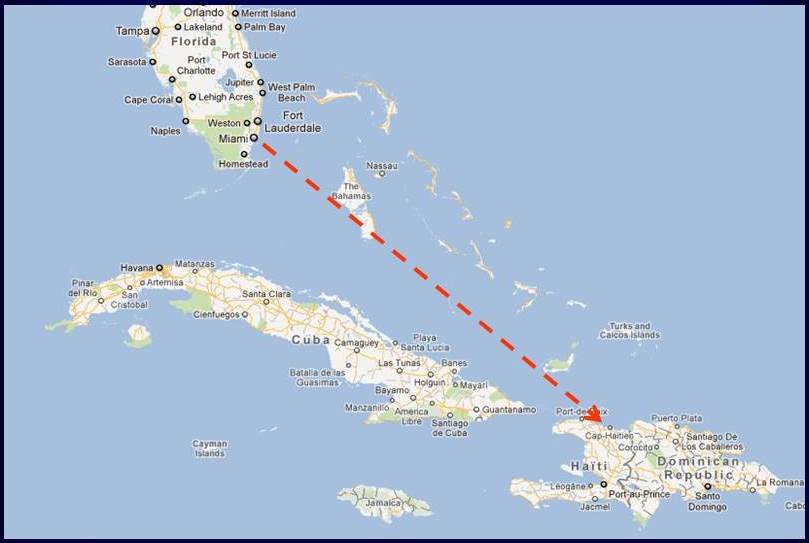 Our intention was to provide service at 6 locations, but our host at Clinique Esperance et Vie (Dr. Classaint St. Vil) could not make the final arrangements or take time out of his schedule to continue his training. But we tried two new locations …
1. Limonade: Clinique RJP-CRAPS , 8,Tauzin, Route Nationale #6, Limonade, the clinic of Dr. Romel Jean-Pierre, and
2. Limbe: Centre de Santé 2000 of Dr. Mareus Emmanuel ("Dr. Manno").
So our 5 Location Hosts were:


Although a number of doctors have expressed strong interest in training and have begun the training process …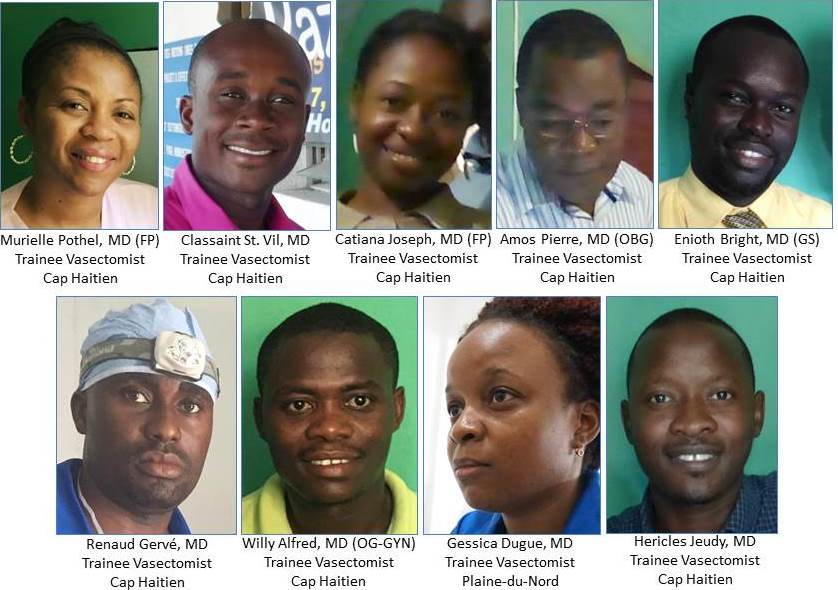 … no doctors (except Medical Director Dr. Maudelin Mesadieu) have been able to attend all days of multiple missions in order to gain enough experience to be able to work unassisted. Nevertheless, Drs. Emmanuel Maneus ("Dr. Manno") and Gessica Dugue are making progress, especially after completing the first stages of training with Dr. Michel Labrecque. And Renaud Gervé was able to join us for a few hours on our last day, despite a busy personal and medical schedule.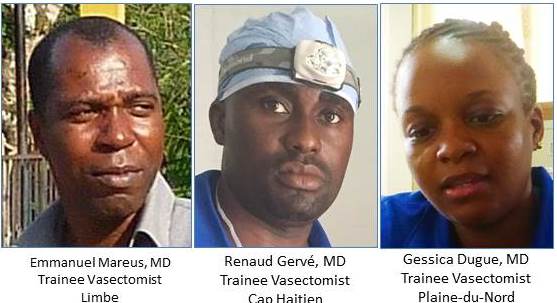 Even if he or she does not become a vasectomist, any doctor exposed to vasectomy by observation and some hands-on participation attains the ability to be a good source of advice to couples considering vasectomy. Fortunately, Dr. Mesadieu's skill and dedication provide Northern Haiti with a go-to guy for vasectomy services funded by NSVI.
We also had a terrific staff: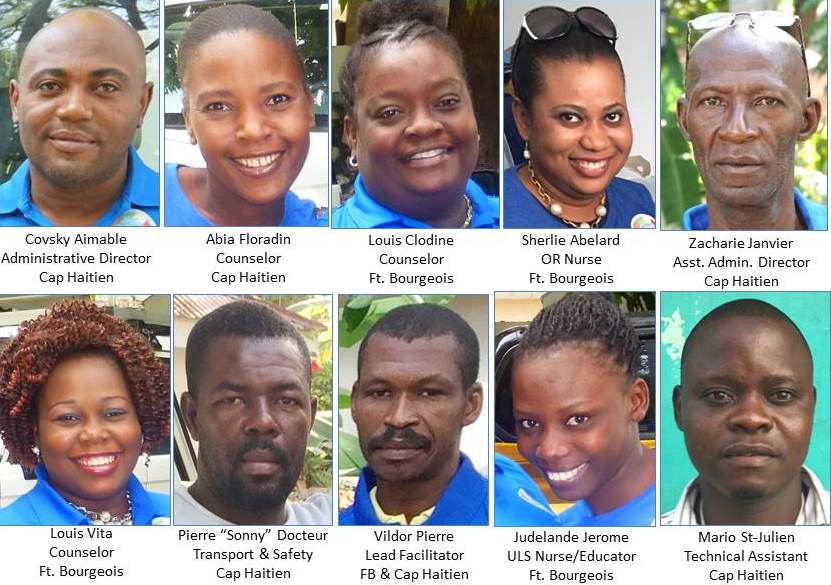 We had to have enough personnel for two teams. Counselors Abia Floradin and Louis Vita had to be sure that counseling was complete, that informed consent was signed, and that post-vasectomy instructions were provided. OR "nurses" Sherlie and Judelande had to organize supplies, sterilize all instruments, and follow strict sterile technique, all fast enough to keep up with 2-5 tables without compromising quality. Vildor has probably educated more men about vasectomy than anyone in Haiti. Louis Clodine infuses humor and confidence to relax the patients. Sonny gets our teams and supplies where we need to be as fast and safely as possible. And Mario is the quiet guy who knows what to do without being asked and does it faster than you could have done it yourself. It's hard to organize people, schedules, locations, and money, but Covsky does it smoothly and efficiently, with help from Zacharie running a second team if we're working simultaneously at two locations.
Once again …


We followed this schedule:
Tuesday October 25:
1. Arrived in Cap Haitien on American Airlines #2732 at 12:22 PM.
2. 2:30 – 6 PM: Exchanged money at Hopital FSM. Hung banners at Hopital FSM and at the Cap Haitian Health Network (CHHN) office. Picked up stored supplies and Mayo stands at the CHHN office. Visited the Clinique RJP-CRAPS in Limonade and the Clinique Dugue in Plaine-du-Nord to hang banners and distribute brochures/flyers. Spent the evening at Hotel Roi Christophe organizing supplies for 2 teams.
Wednesday October 26:
Teams 1 & 2: Morning: ULS in Ft. Bourgeois (22 cases). Afternoon: Centre de Sante 2000 in Limbe (21 cases)
Thursday October 27:
Morning: Both teams: Centre de Santé 2000 in Haut Limbe (37 cases)
Afternoon: Team 1: Clinique Dugué in Plaine-du-Nord (14 cases) Team 2: Hopital FSM in Cap Haitien (10 cases)
Friday October 28:
Team 1: Hopital FSM in Cap Haitien (21 cases)
Team 2: Clinique RJP-CRAPS in Limonade (7 cases)
Departed CAP at 13:12 on American Airlines #2732.
And now some photos:
On arrival day, hanging banners at Clinique RJP-CRAPS in Limonade …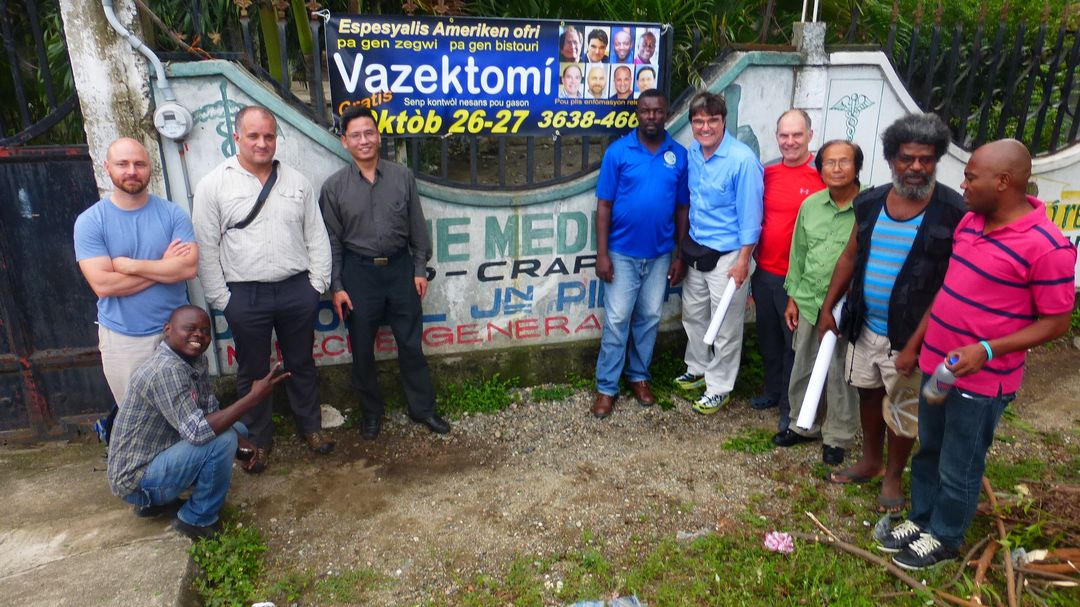 … and at Clinique Dugué in Plaine-du-Nord: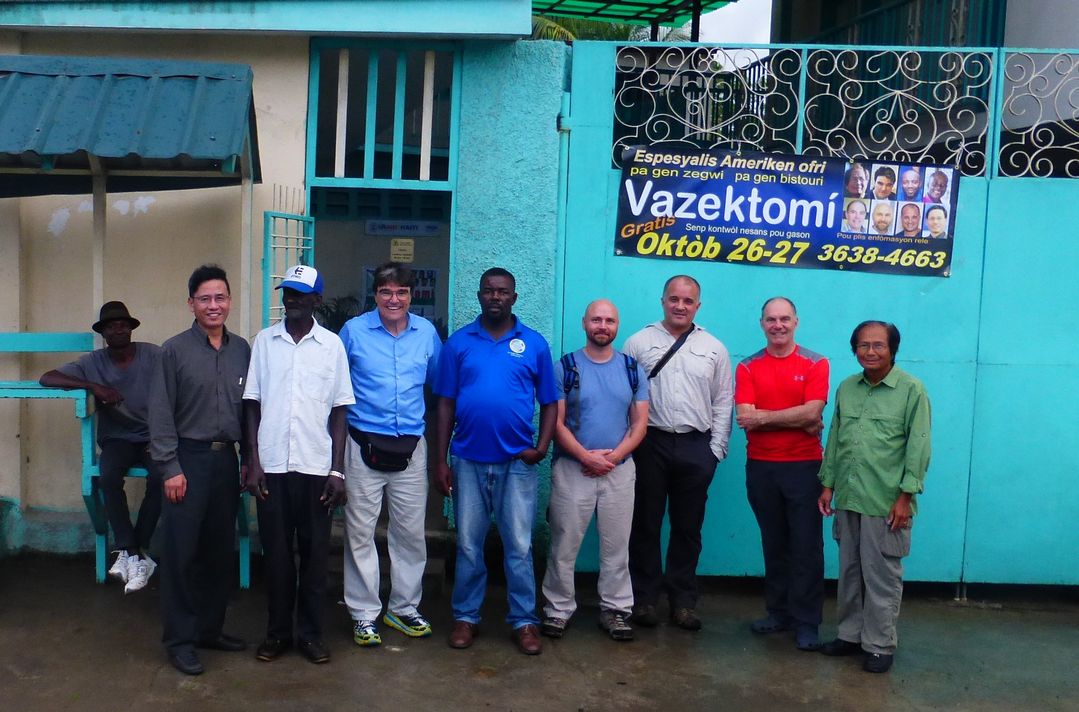 On our first clinical day, no new trainees, so Michel had time to demonstrate his technique to Maudelin …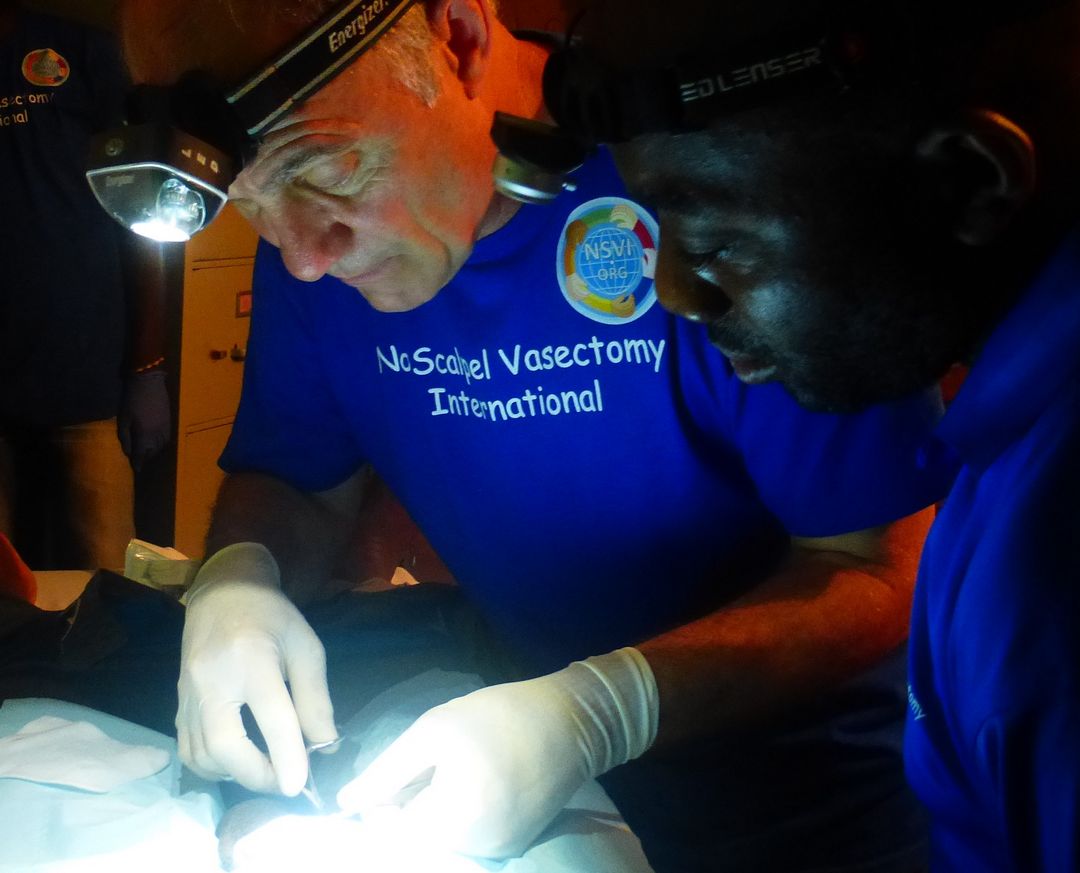 … work closely with Tim …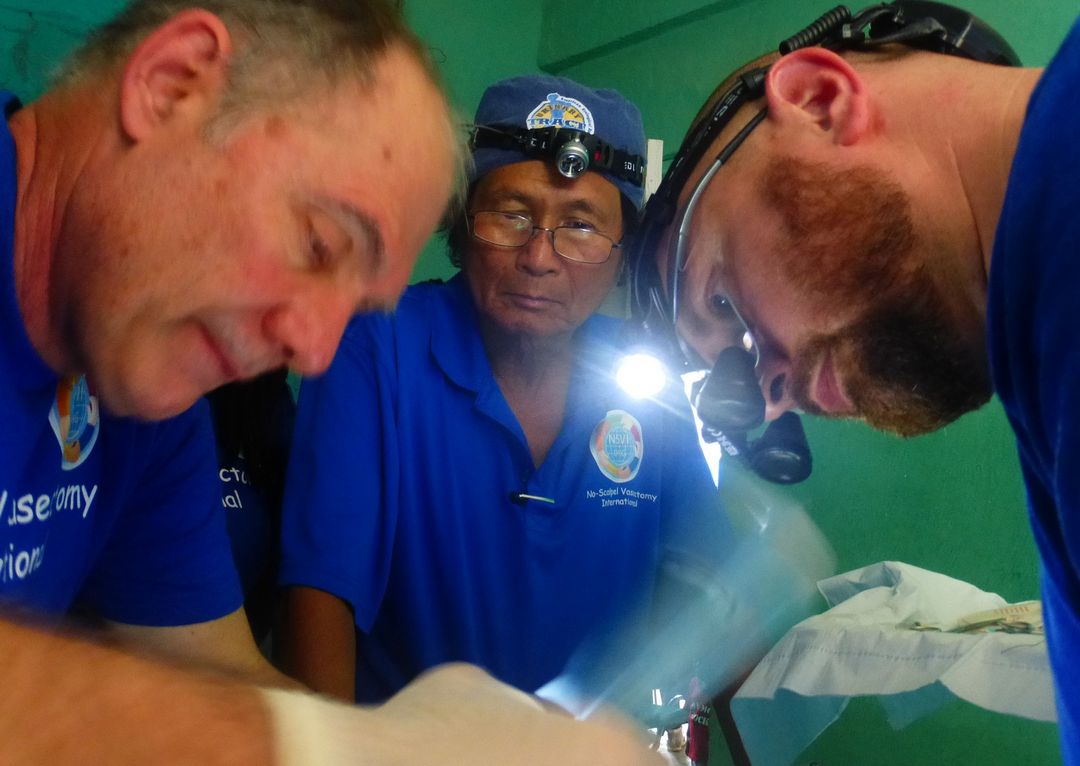 … and critique Maudelin …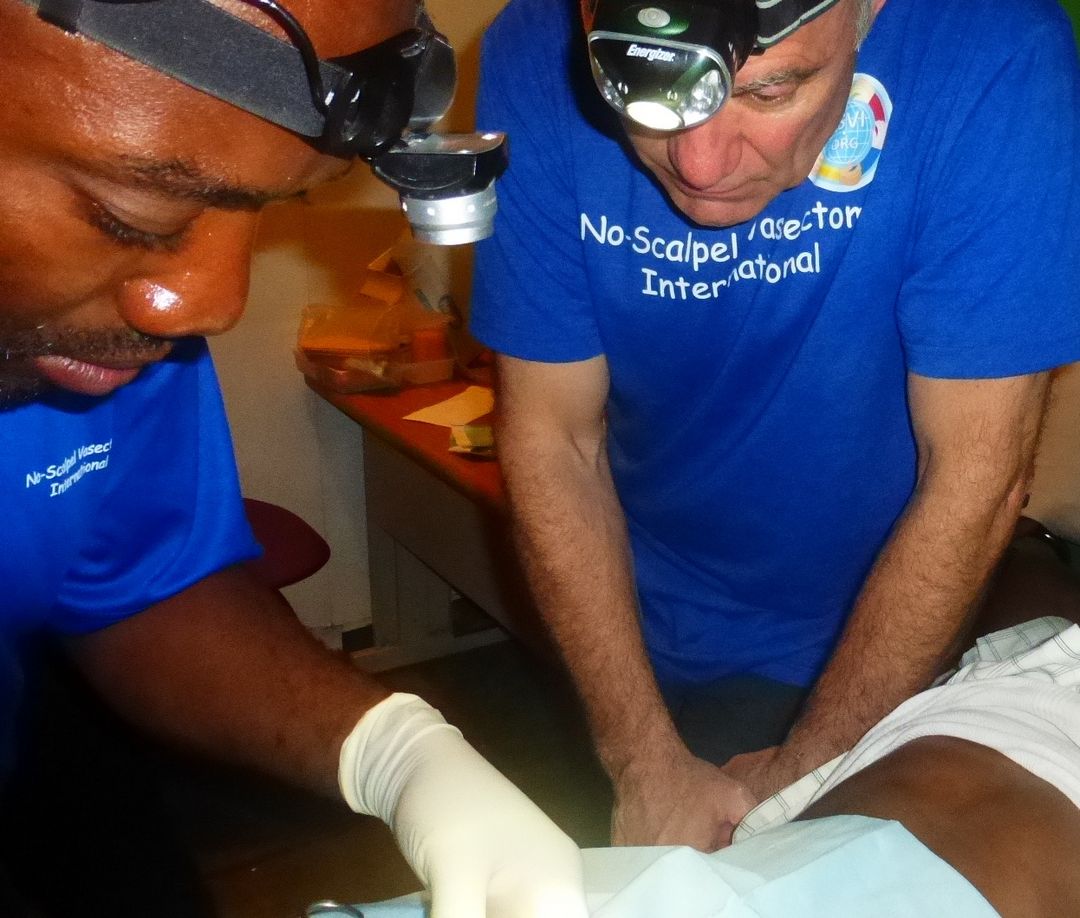 … while veterans Charles and Steven maintained a good pace …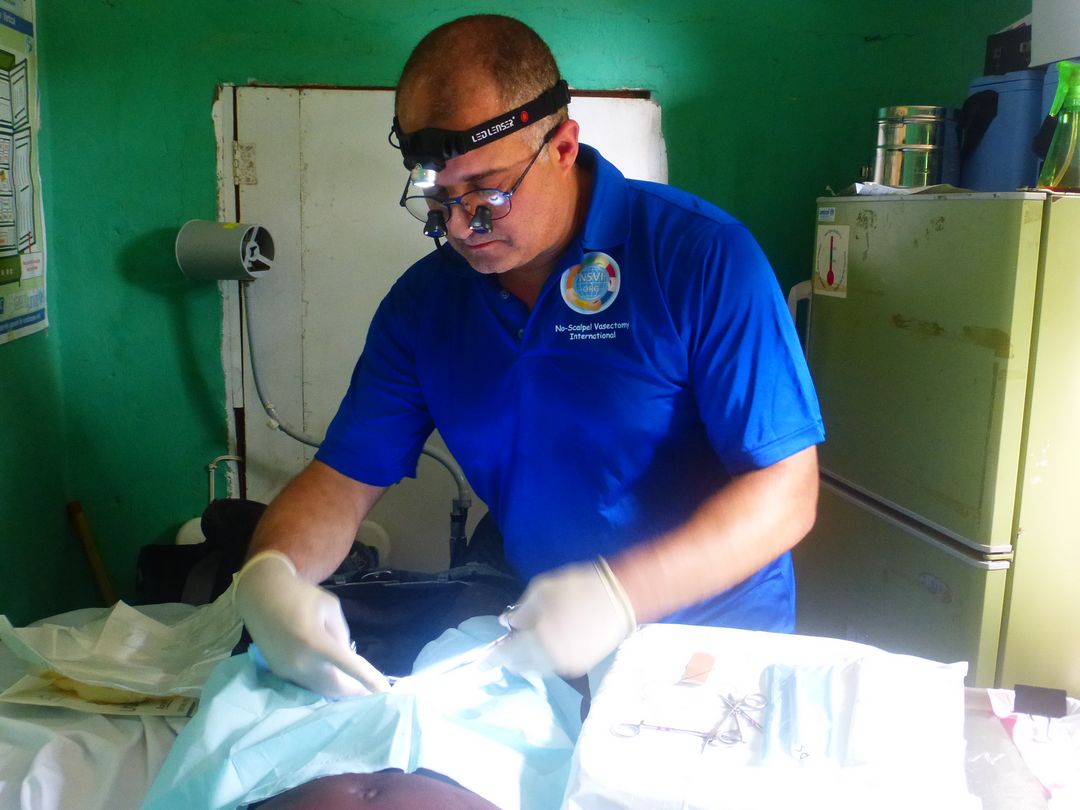 … so that our staff were kept busy …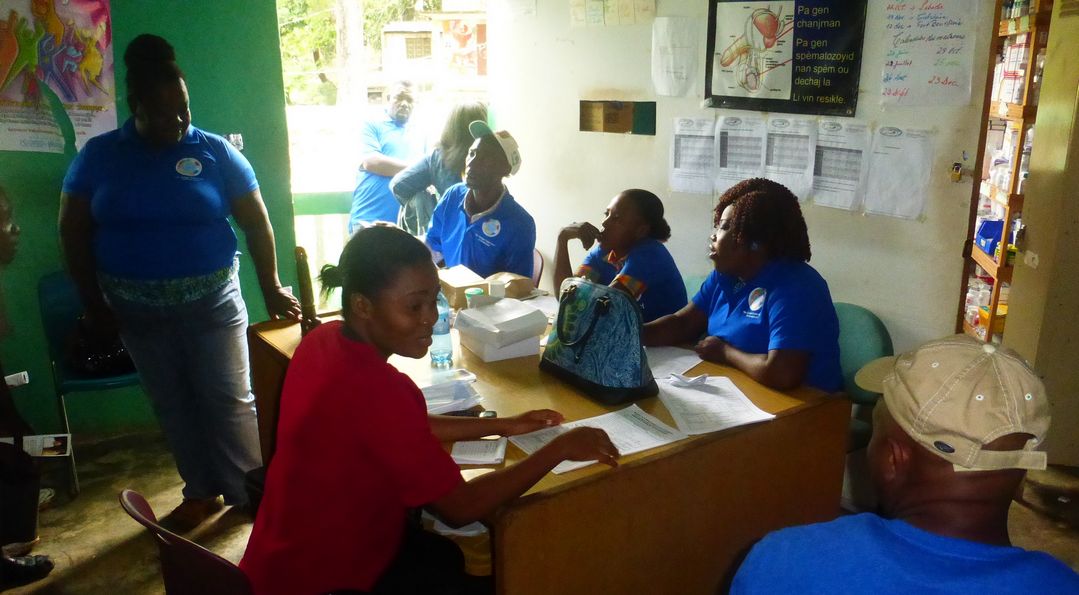 … and patients did not have to wait too long. It had rained the night before, so the mud made the road a gooey mess.

But we packed supplies onto, and personnel into, the MSSP SUV donated by Dr. Jasmin,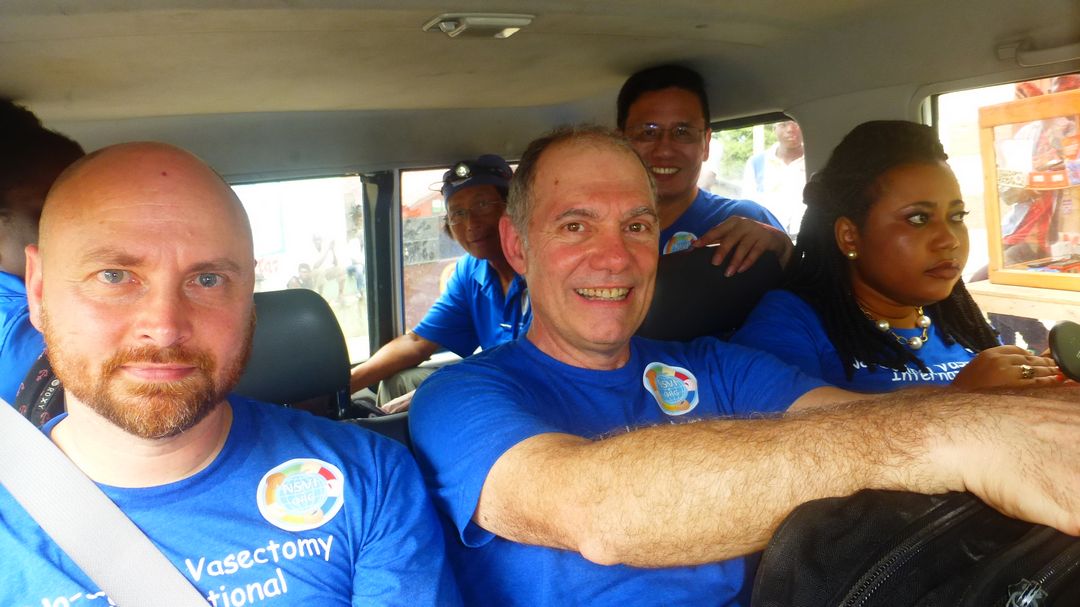 and headed for our next clinic at …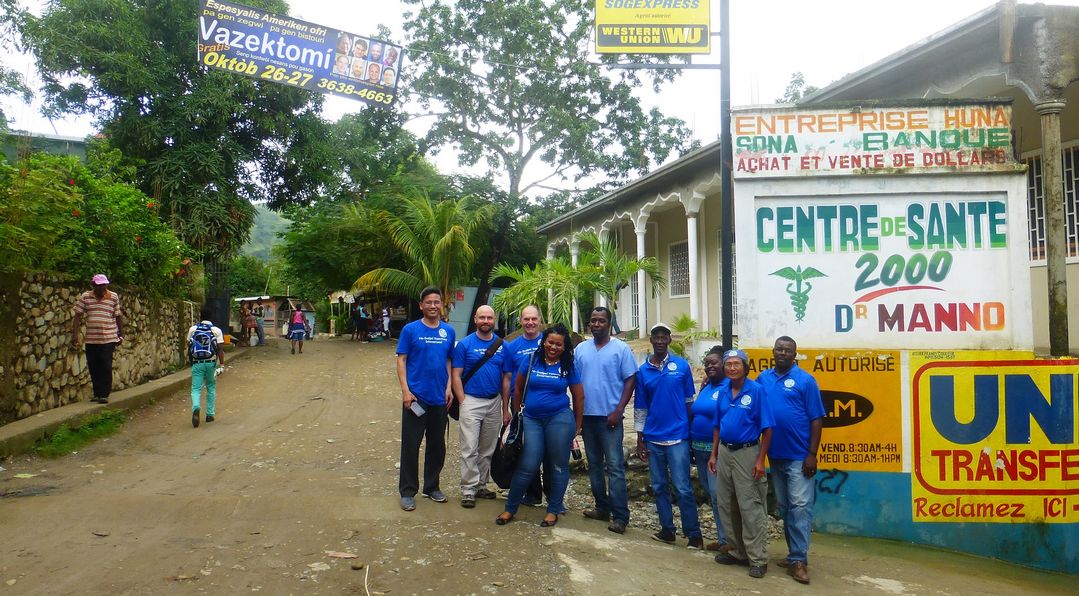 … Centre de Sante 2000 in Haut Limbe. Down a small grade to the right were gates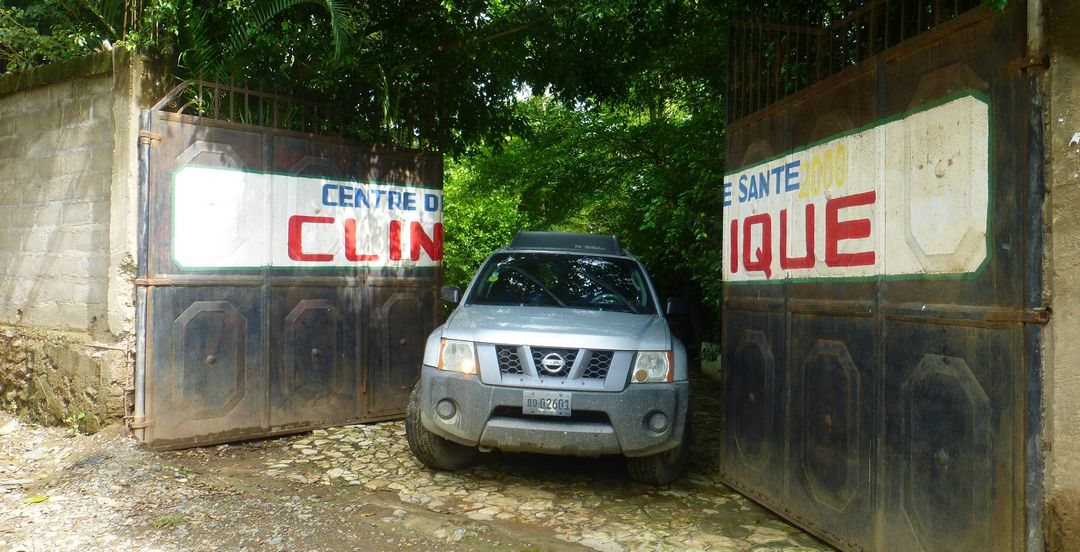 leading to a lush courtyard. Our clerical team could set up on the front porch,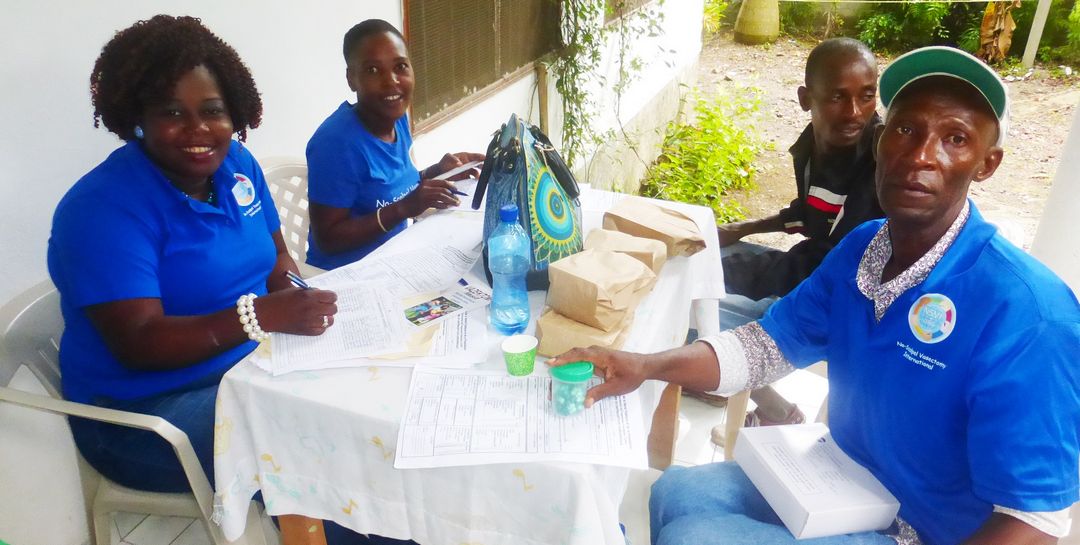 and as soon as we saw the clean spacious room,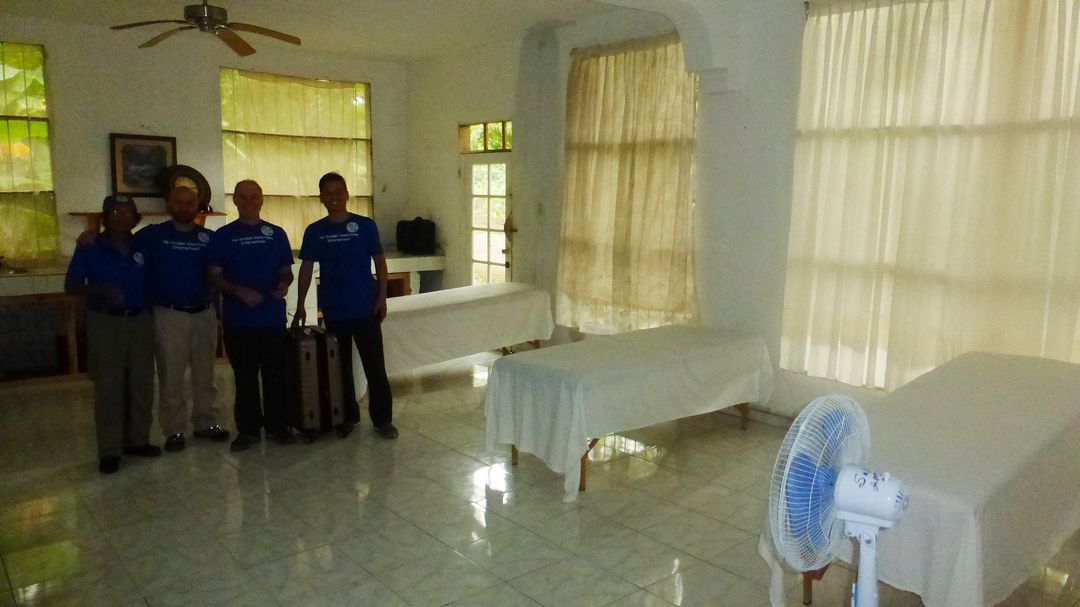 we knew we had hit the jackpot. Plenty of room to spread out and sterilize equipment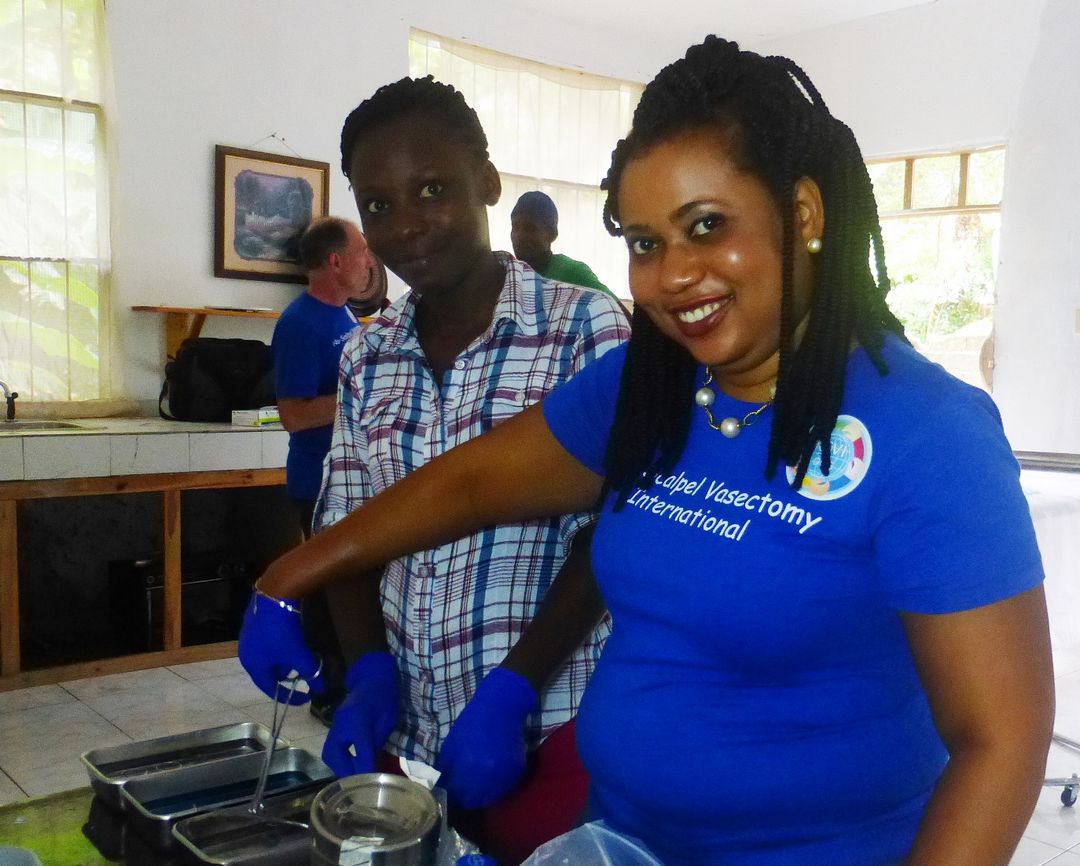 and enough tables for 3-5 operators: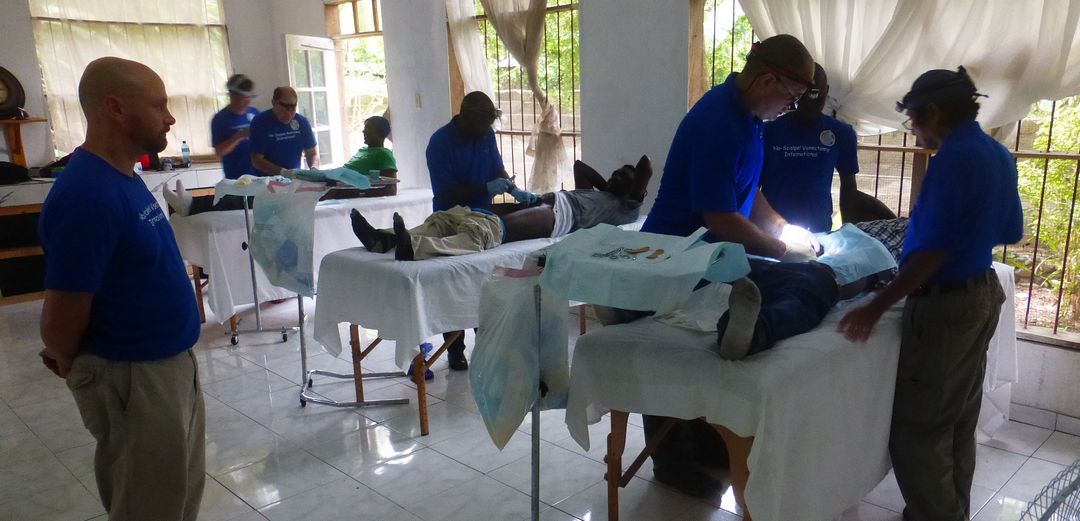 The facility also had plenty of space for patients to wait before (and banter after) their vasectomies. Clodine demonstrates proper application of condoms: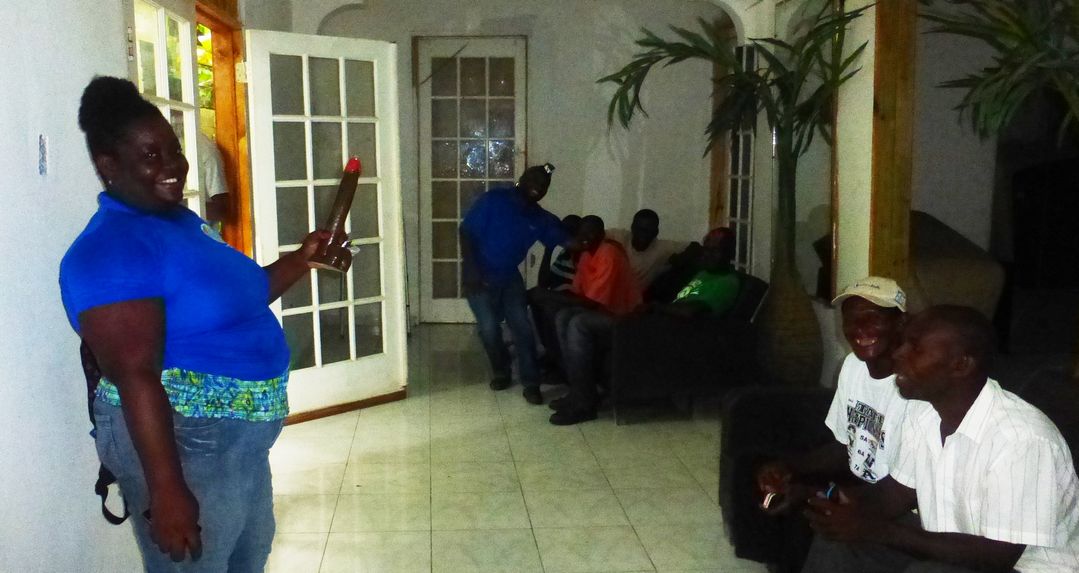 Missions always provide ample opportunity to share subtleties of style: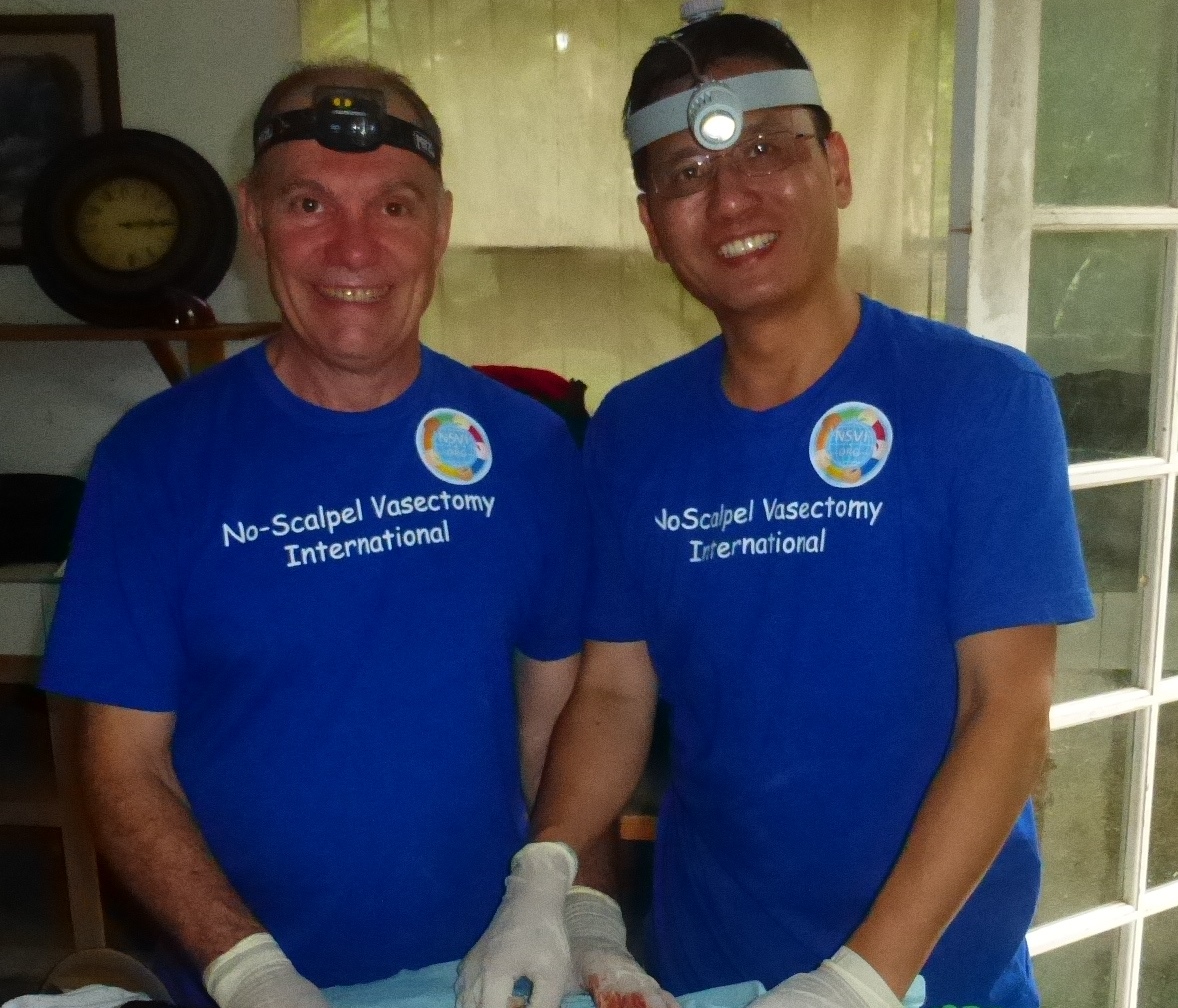 At the conclusion of the clinic, our SUV battery was SO dead that we had to use the battery of another car to start it, and drive home with our way lit only by the headlights of our rental SUV traveling close behind: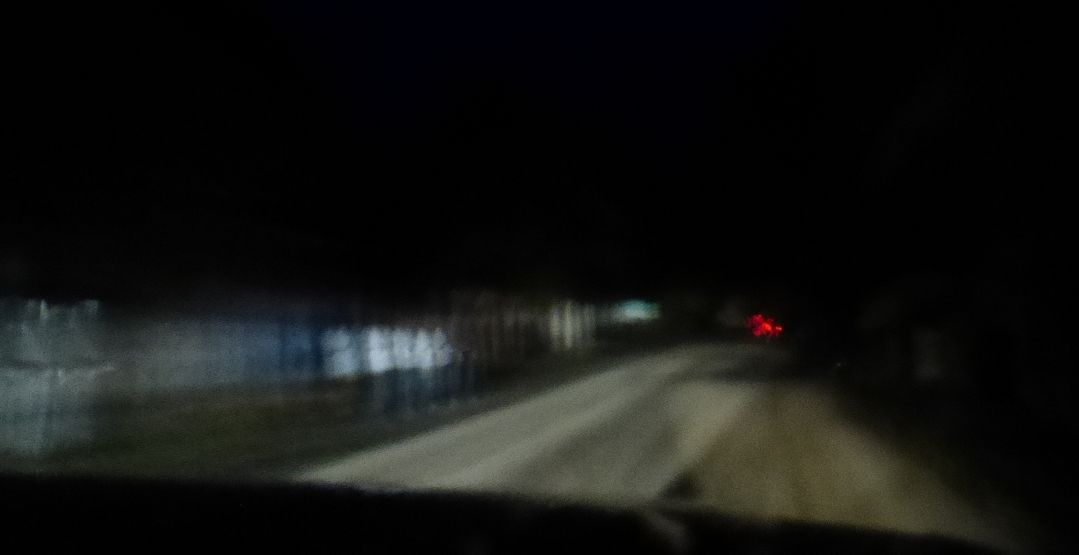 Such are the adventures of missions to developing countries. Thanks to our generous donors, NSVI can budget for such added expenses and after a quick install of the new battery …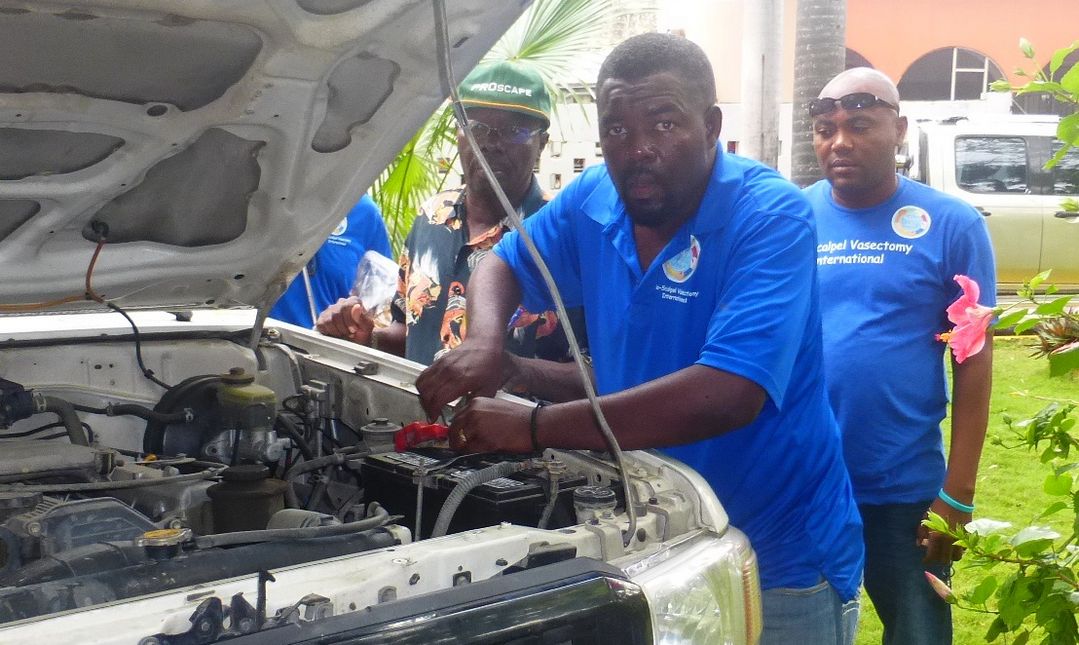 and some group photos of our patiently waiting staff …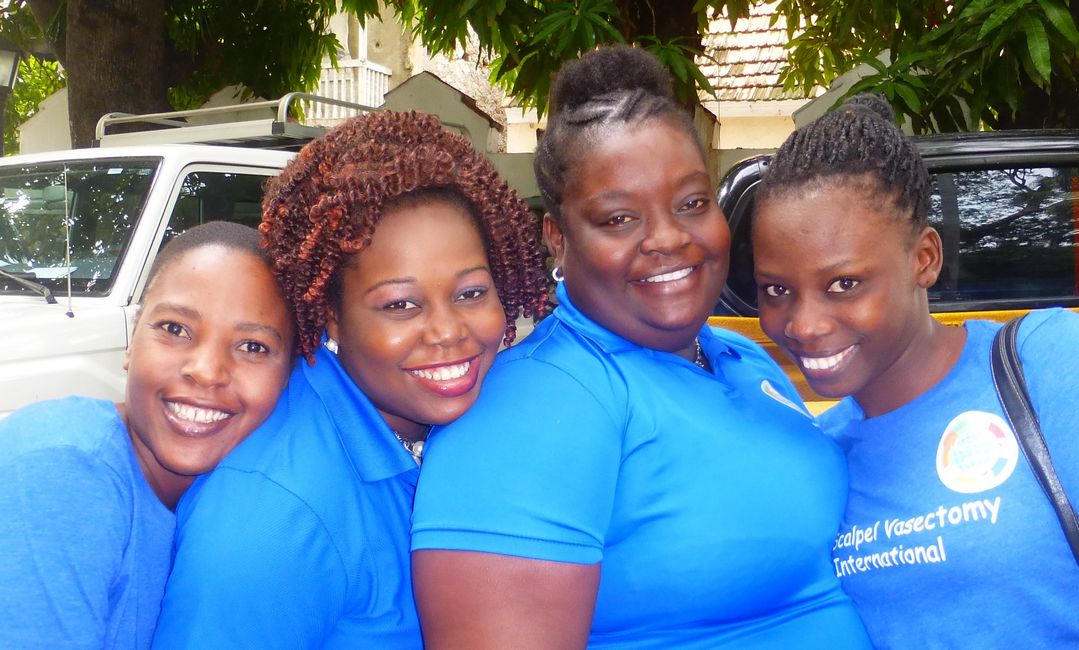 … we were good to go BACK to Limbe on our second clinical day. But today we wouldn't forget to pick up fresh tropical fruit for lunch.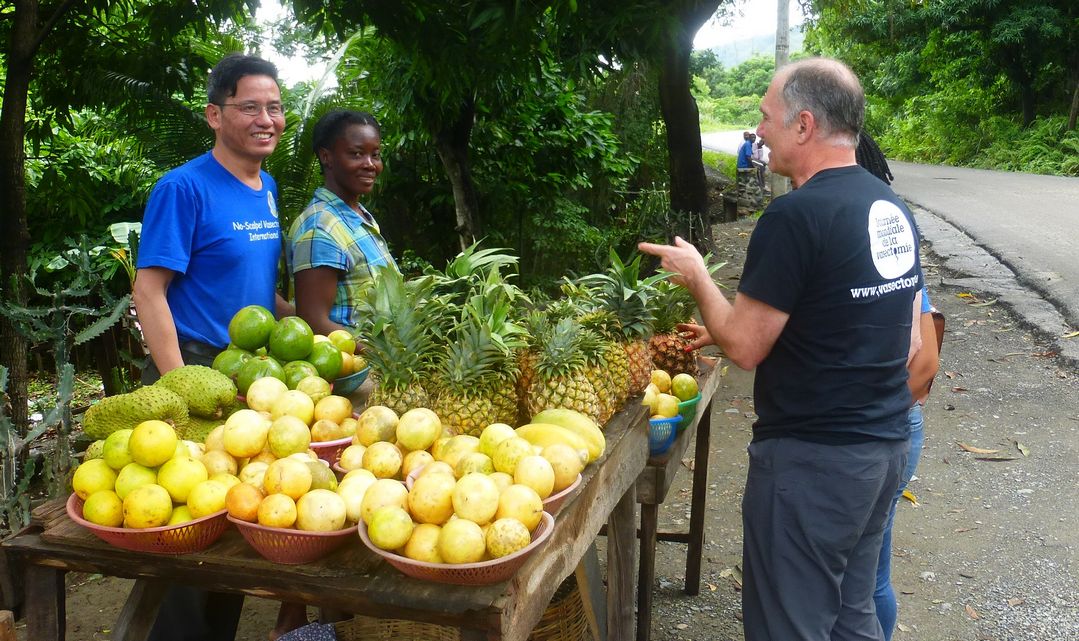 Dr. Manno, the owner and director of Centre de Sante 2000 and a very ambitious vasectomy promoter, had hung banners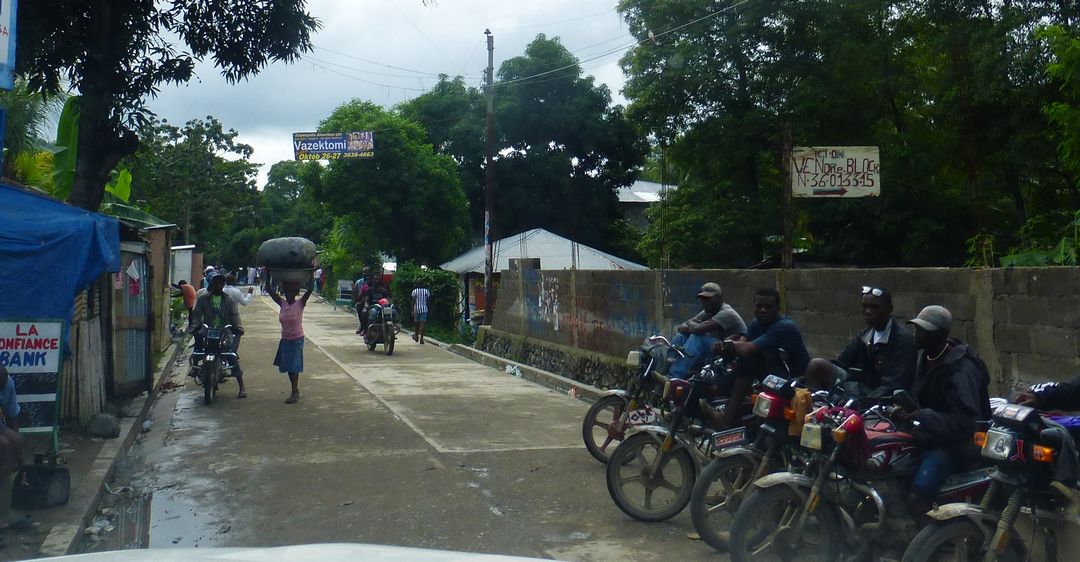 on the main street of Haut Limbe. He had been preoccupied with his other clinical duties during our first day there, but dedicated himself on our second day to learning.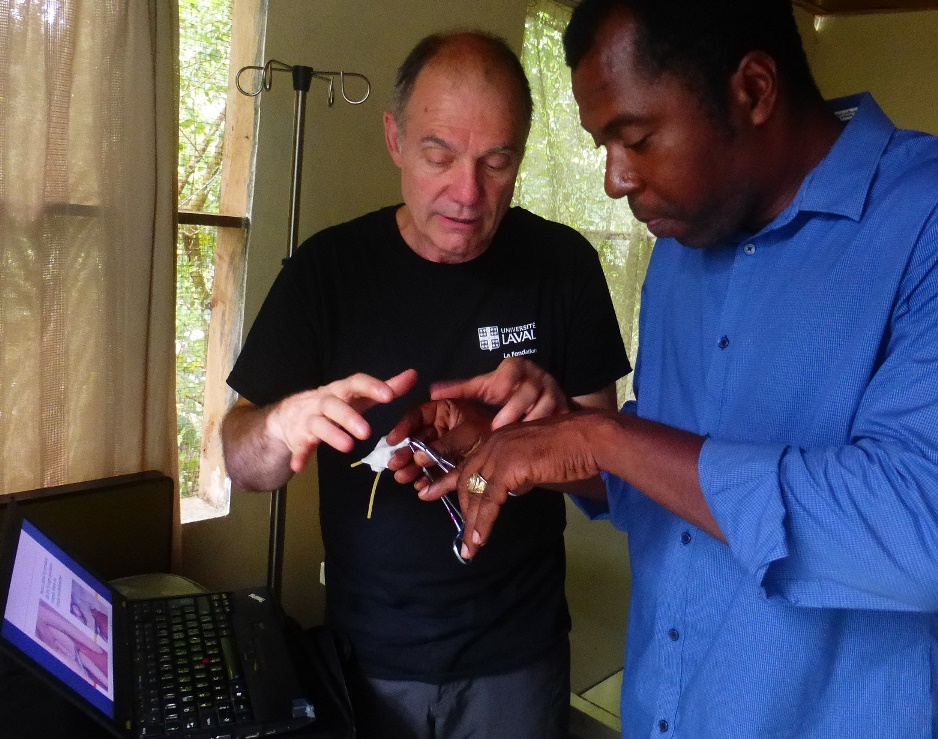 Michel took him through all steps of his computer-model-patient training program. They had their own table dedicated to training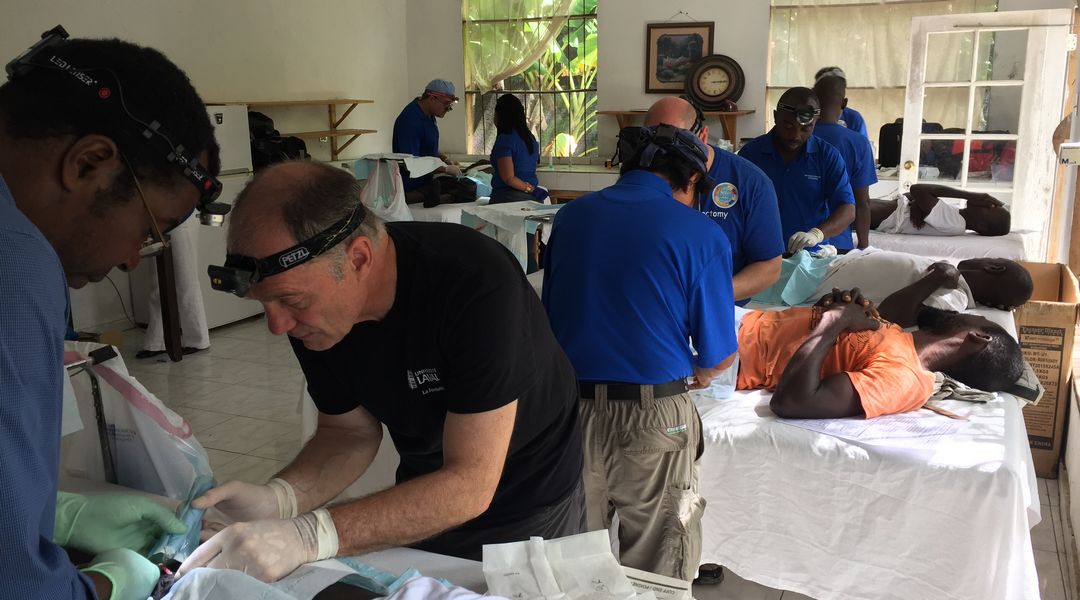 while the rest of the team worked on the other 4 tables in "production" so that we could get through all 37 cases and move on to other sites. If fascial interposition is challenging to conceptualize in vivo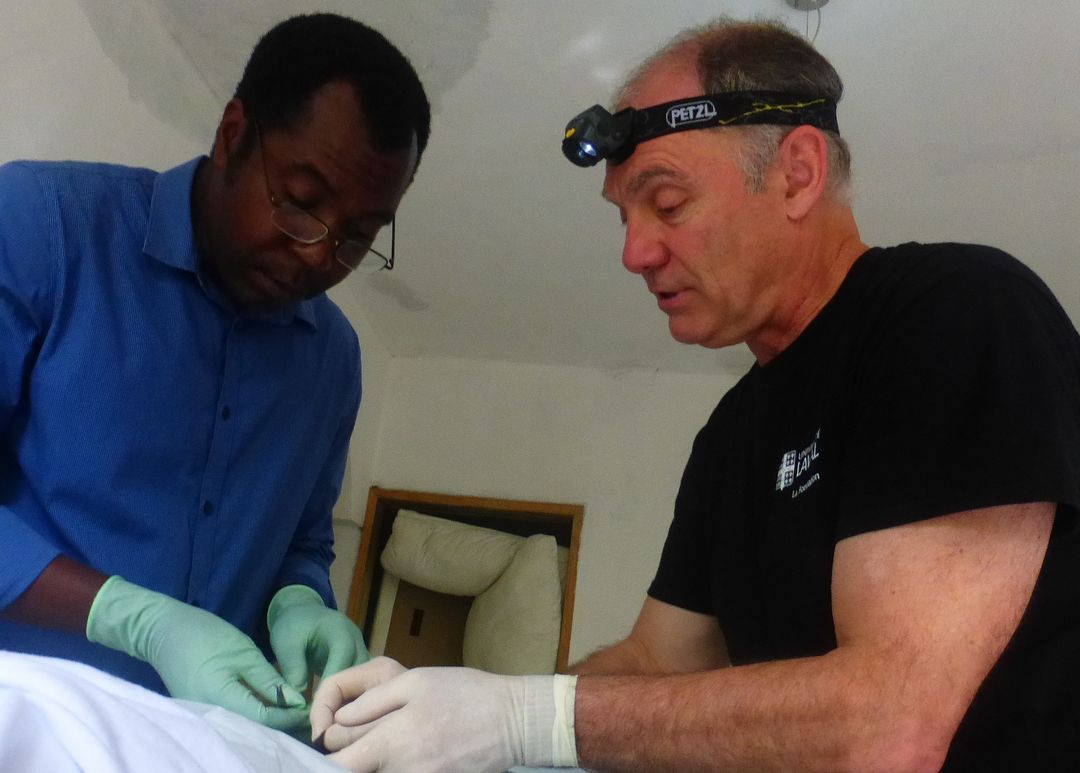 there is nothing wrong with using a disposable paper glove wrapper and a wrist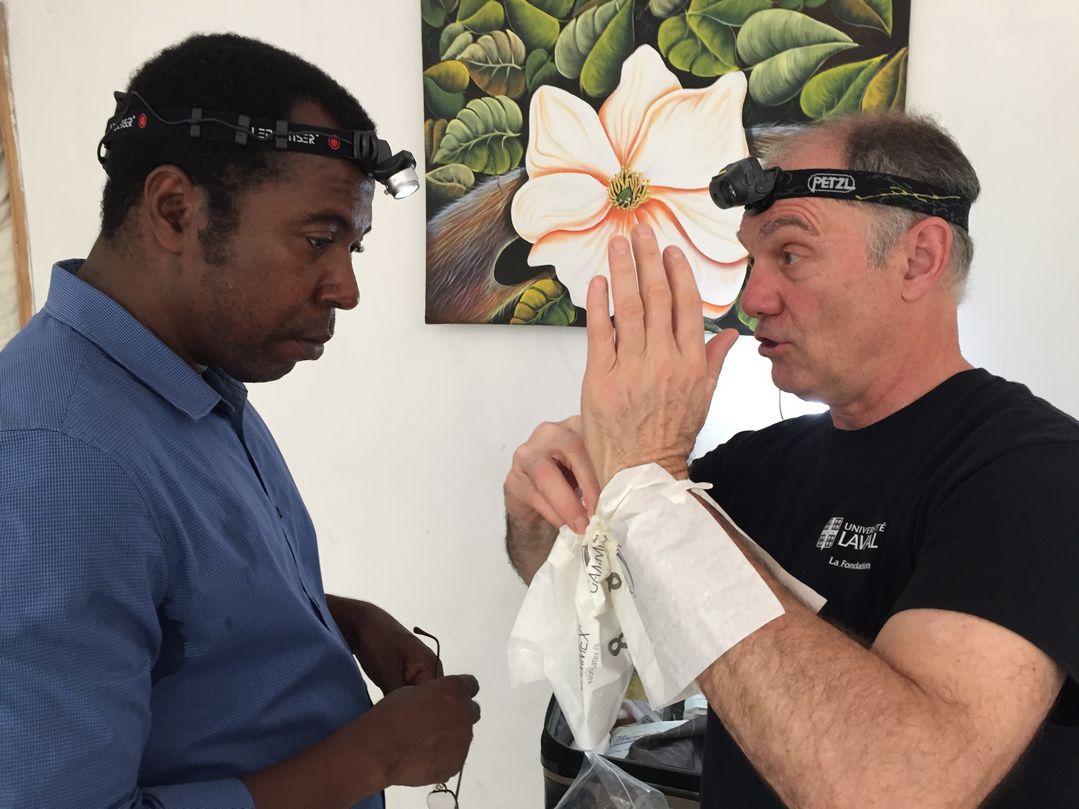 to demonstrate the process. Dr. Manno's clinic was really as good as it gets during a vasectomy mission:


a single well-lit room with 5 tables that can be served by a single supply/sterilization table, and plenty of patients to keep us all going. We WILL be back, Dr. Manno!
That afternoon, back to the Dugue Clinic, where Michel could repeat the training process with Gessica Dugue: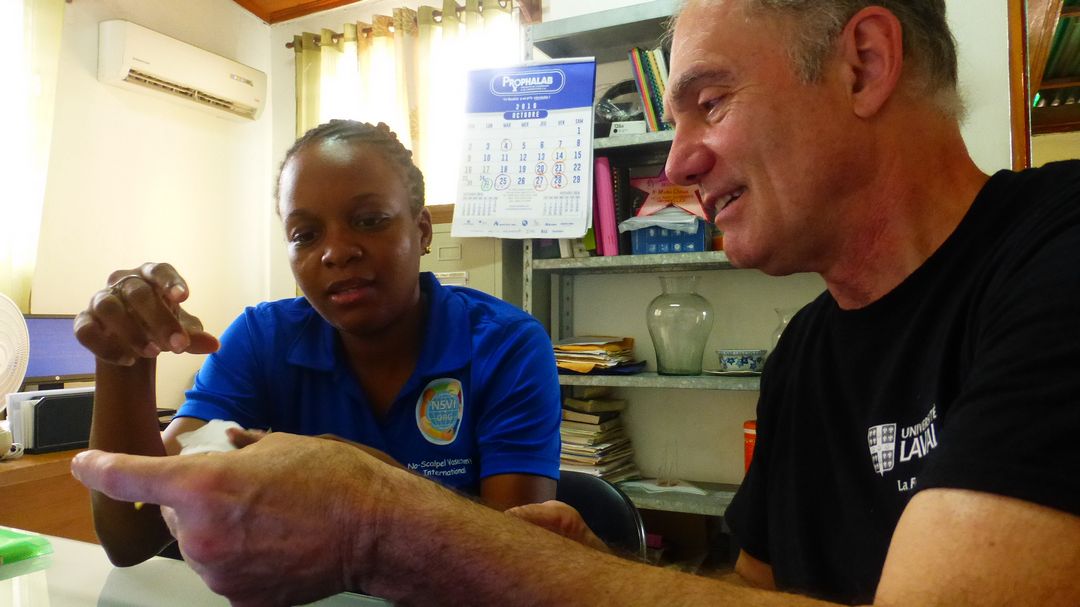 Steven stayed as the efficient workhorse so they could accomplish all 14 cases while the rest of us returned to the Hopital Ft. St. Michel to perform the 10 cases there and prepare for the larger group of patients on our last day. After a long and productive day, there's nothing like a Prestige and a good meal …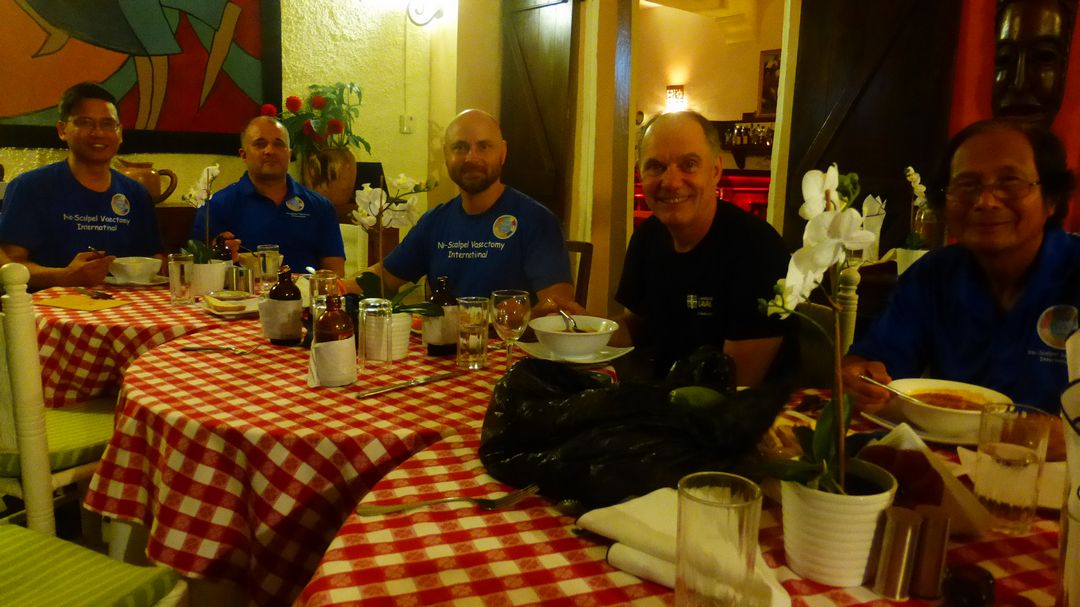 … at the Hotel Roi Christophe. But there is always the evening work …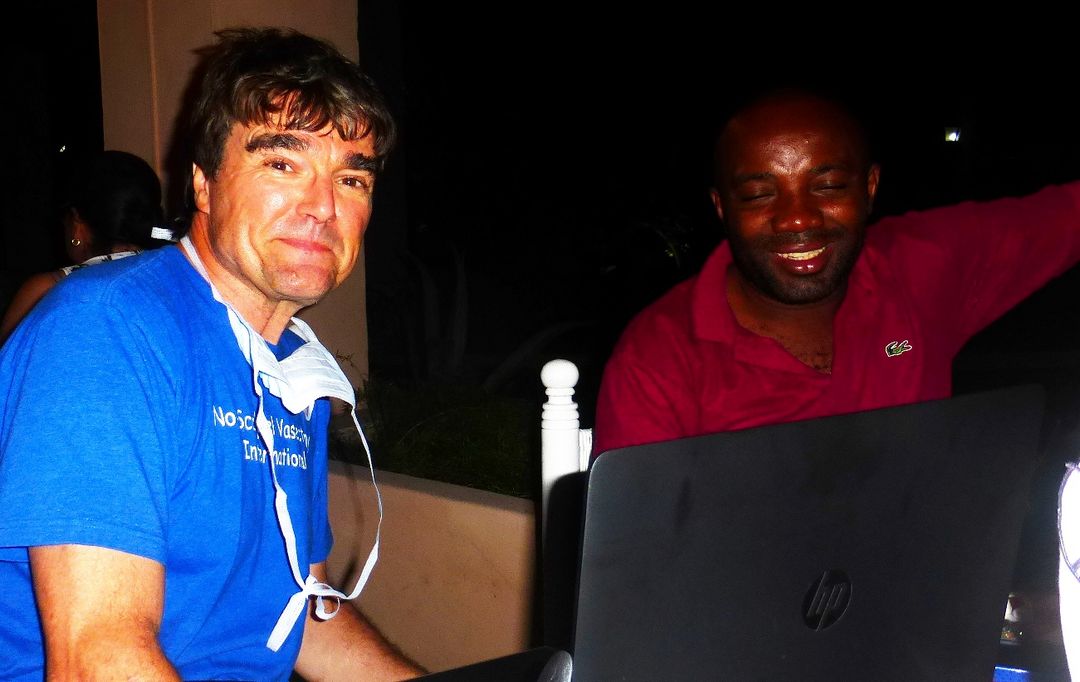 … of compiling the patient logs so that demographic information can be presented to the department of health and calculations made so that all of our staff can be paid, always on a per-case basis.
Final day … first-ever vasectomy clinic in Limonade: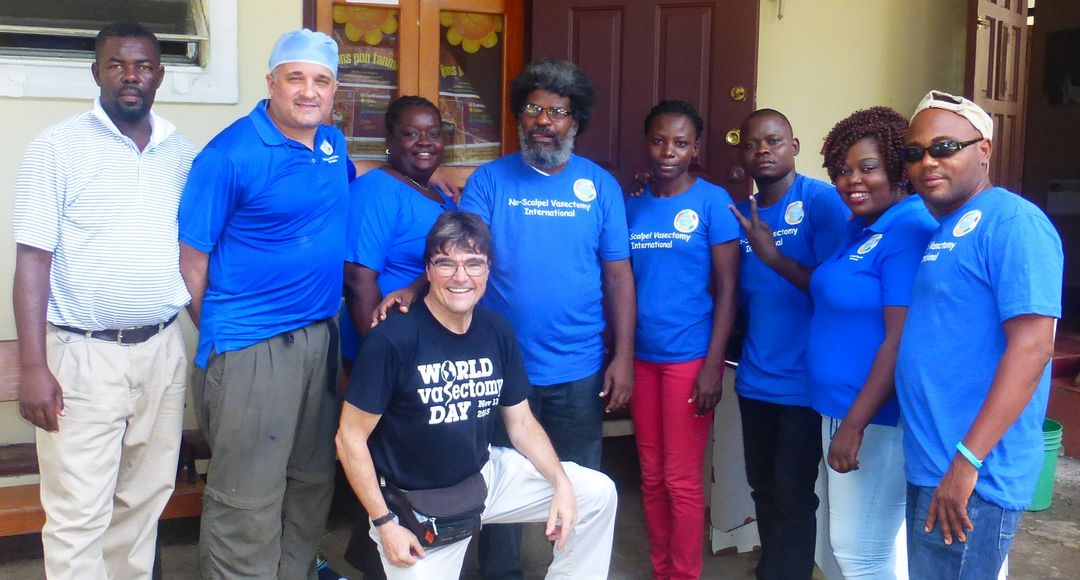 Dr. Romel Jean-Pierre was a very enthusiastic host, but predicted only 7 patients, so four vasectomists remained at Hopital FSM while only two went to Limonade. The facility was a bit cluttered and the tables old, but all procedures went fine and Dr. Romel predicts more patients next time.
On departure day, it is always a scramble (1) to divide the equipment and remaining disposables into what will stay and what will be taken back and (2) to get everybody paid, before hustling to the airport. But once on the plane, the sense of relaxation and accomplishment is profound.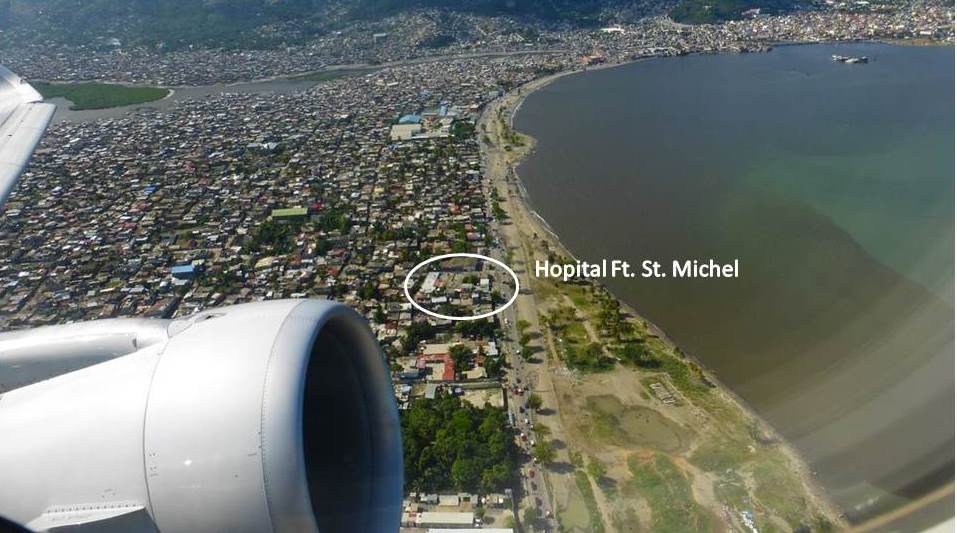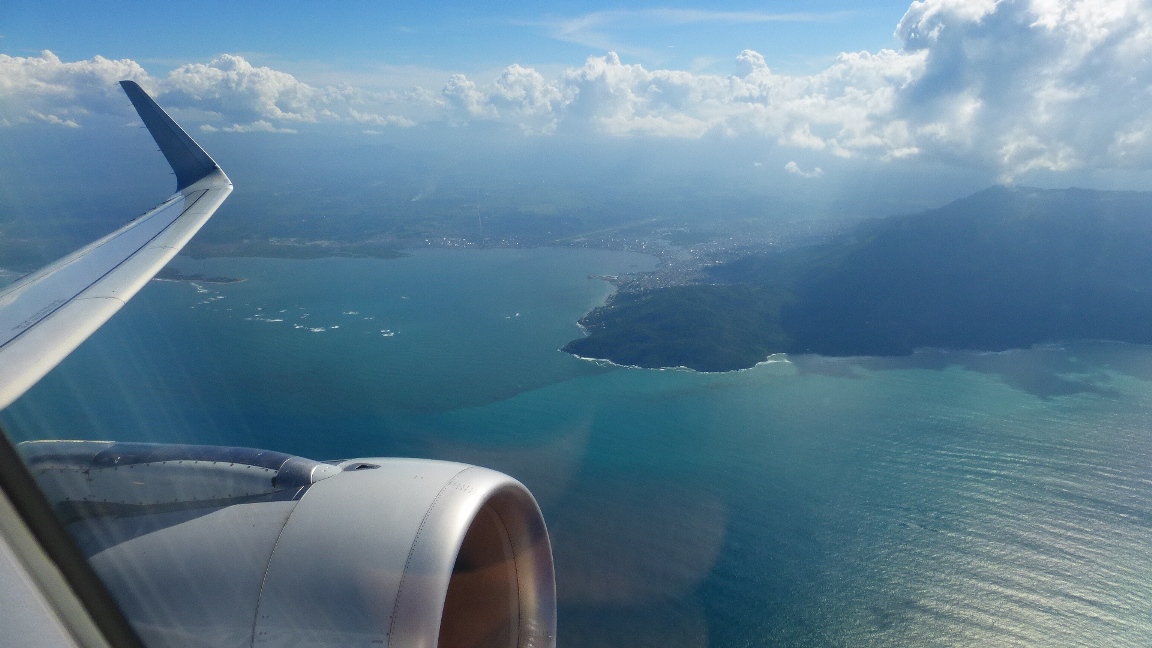 We will return … because what we do here … is important.
The next NSVI mission to Haiti will be March 15-18. See the page HERE for updates.