For maps of Kenya and a few images of the Vic Hotel, which is our quarters during Kenya missions, please see the pages for prior Kenya missions.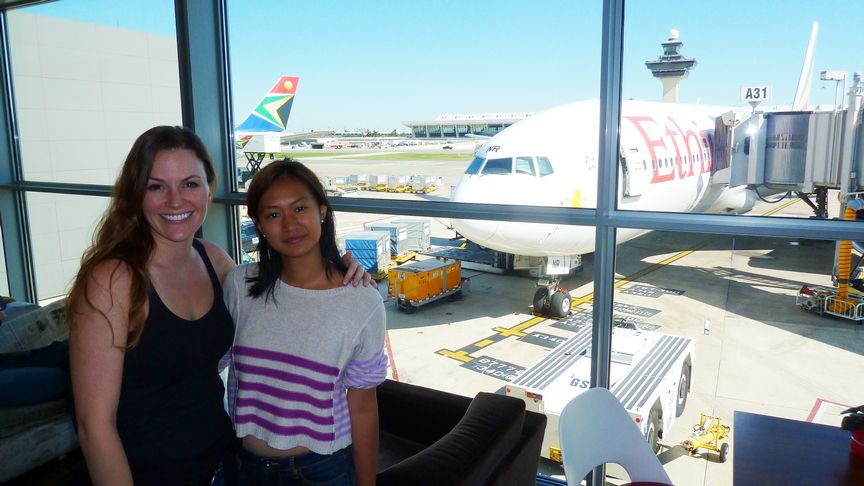 The Third Kenya Mission was graced by the assistance of two young beauties who really turned a few heads in Kenya: Alison Stein and Alexa Suarez, here preparing to board our non-stop flight to Addis Ababa in Dulles Airport, Washington, DC.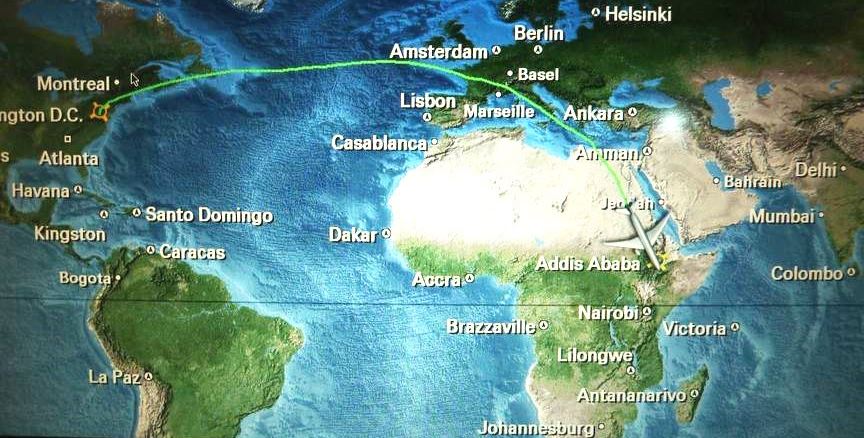 It is the only non-stop flight from the USA to East Africa. A quick connection in Addis takes us to Nairobi …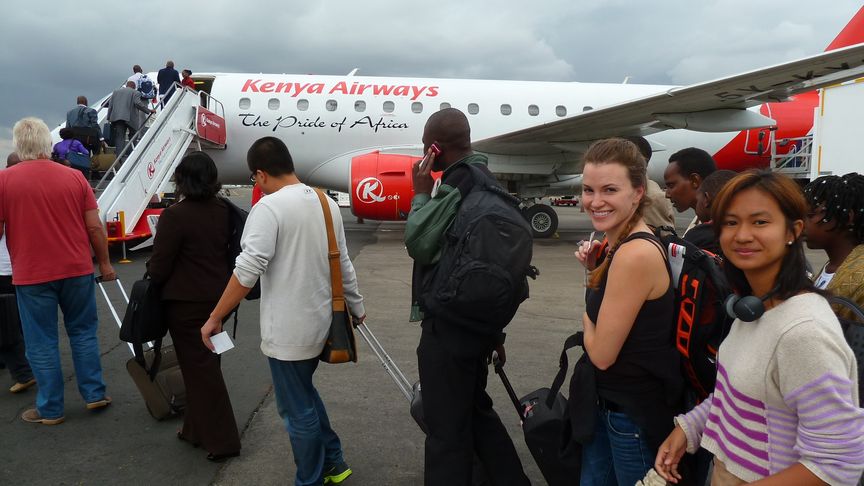 … where we change money and board a flight to Kisumu.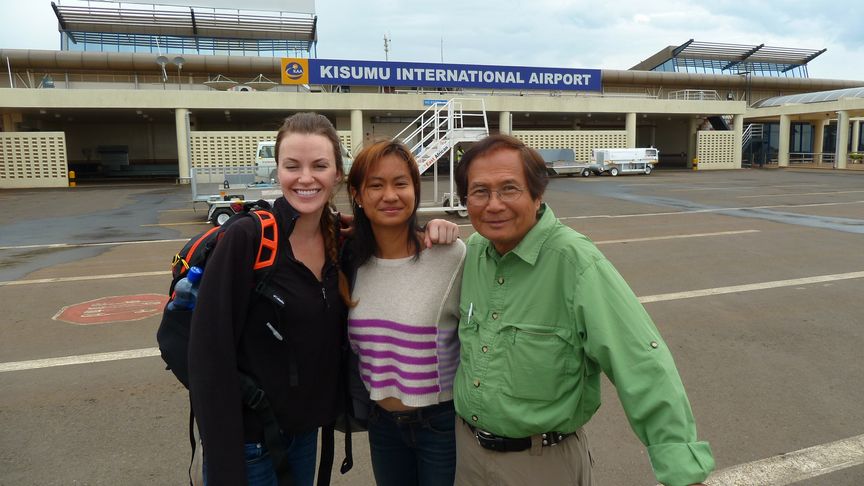 Our late-day arrival in Kisumu …

… permitted a quick look at the billboard that had been up for a month, announcing the mission.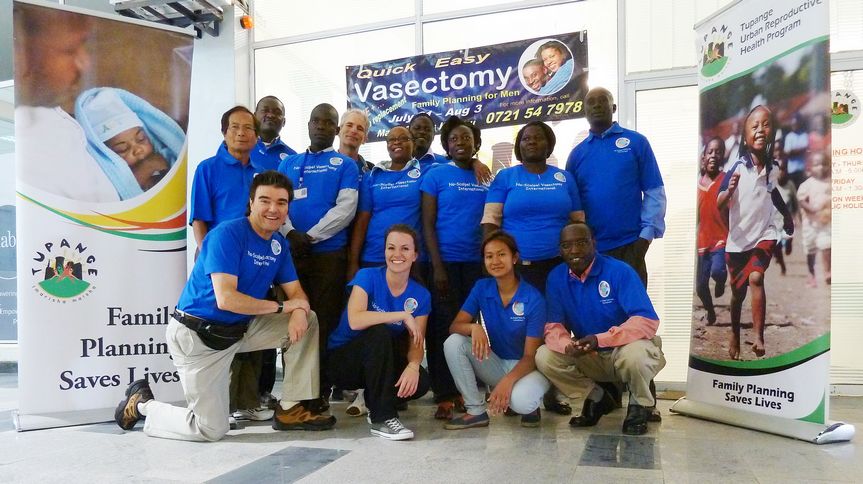 Our hotel was close to the headquarters of the Tupange Project, so we visited before going to the site of the mission.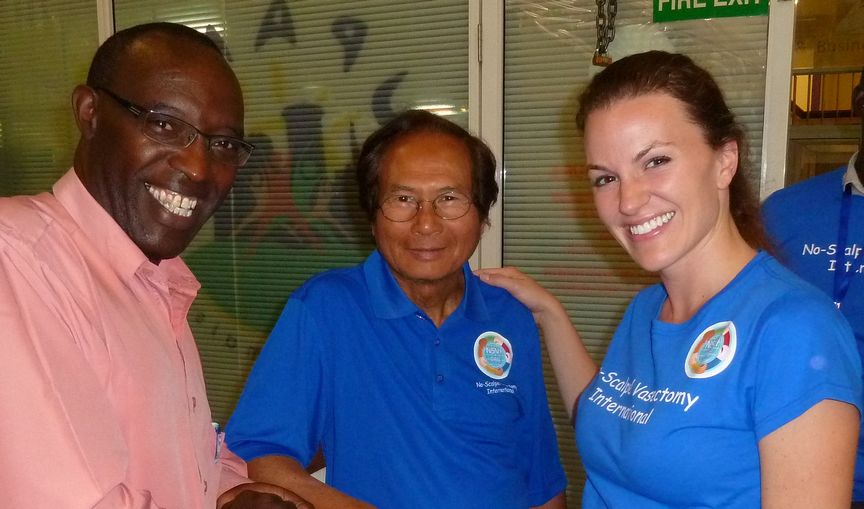 Project Director Peter Kagwe is always so pleased to greet allies in Family Planning.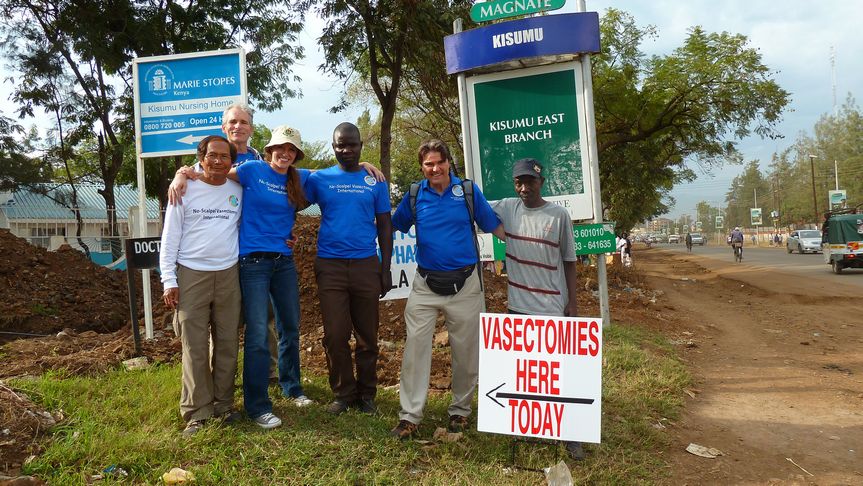 Marie Stopes is right along the Nairobi-Kisumu Road, and we did not want anyone to miss it.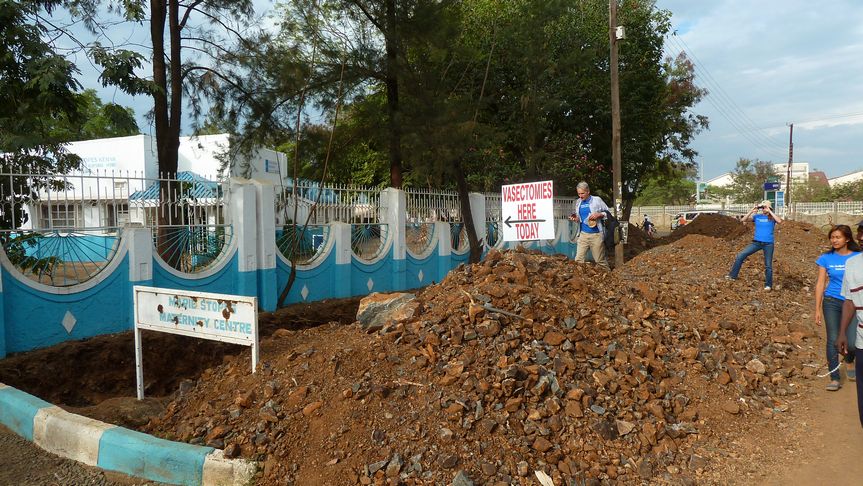 There was some construction around the clinic, but …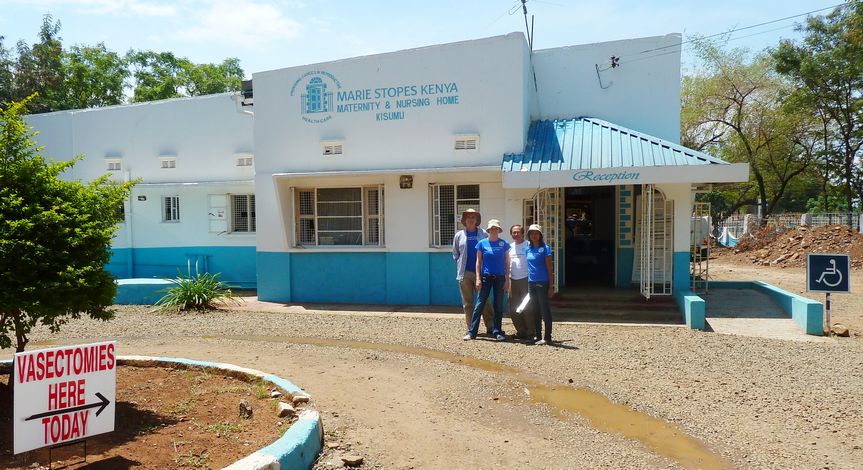 … the clinic was open for business.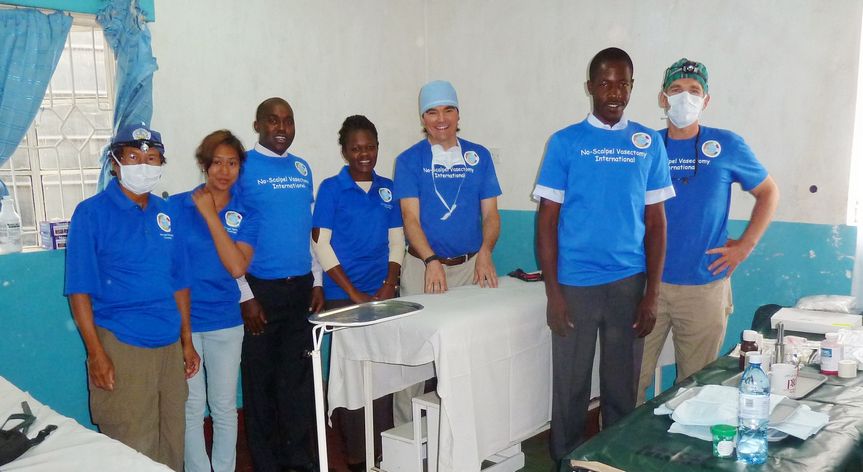 Our team set up two tables, and we were ready to go.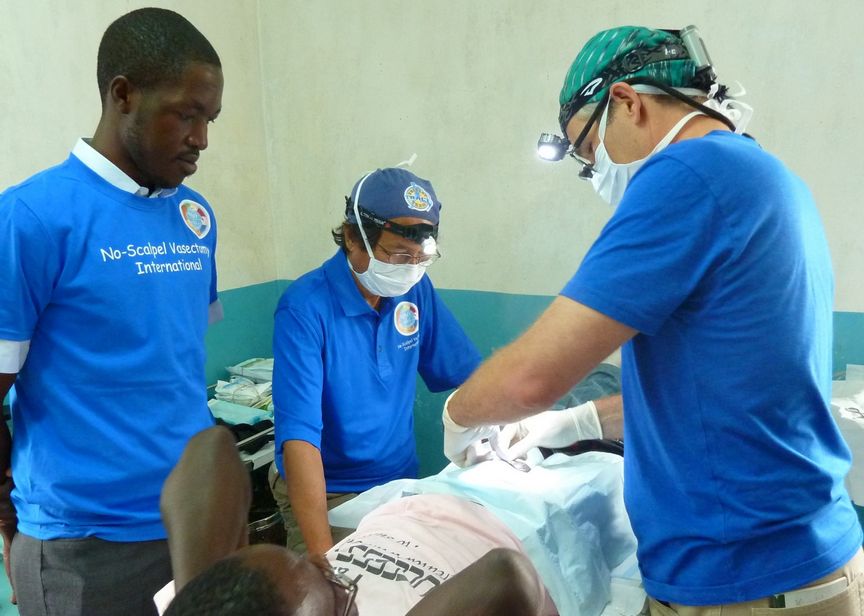 A few patients were waiting, and health-care students took advantage of the opportunity to learn about a procedure that is very rare in East Africa.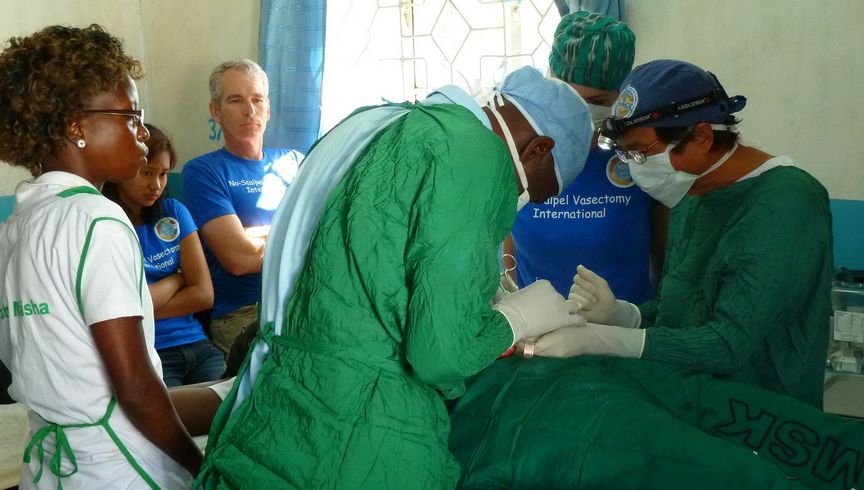 But within an hour, it was clear that men were not stepping up to the plate, while 3 women arrived for much more invasive and painful tubal ligations.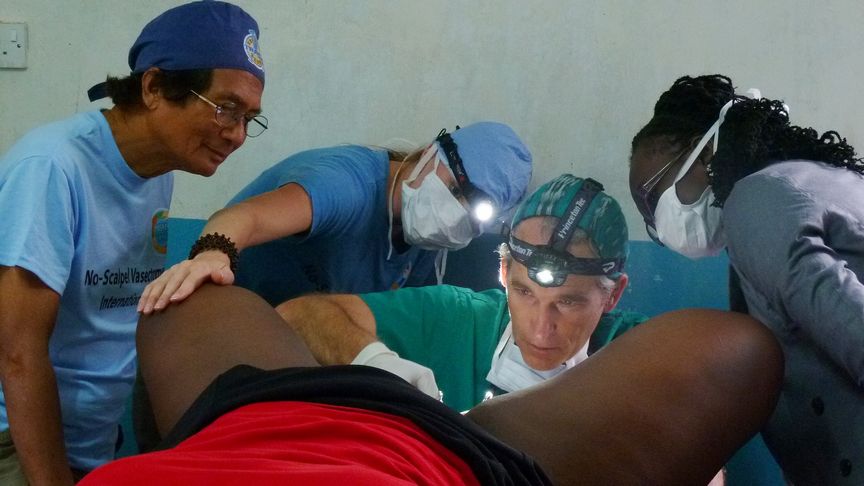 As an expert in many methods of family planning, Dr. John Curington was right at home helping with the insertion of IUDs. With just a few men trickling in, we realized that we needed to take our mission to the streets.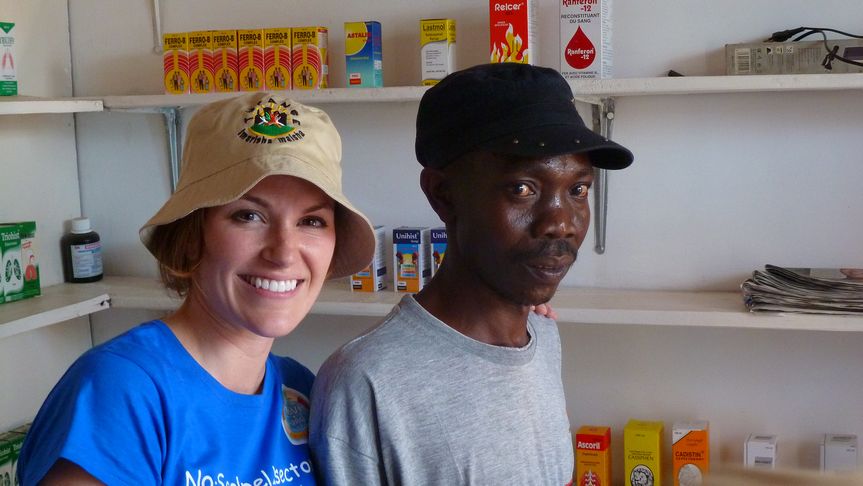 NSV recipient and NSVI-Kenya Promotions Director Charles Omware, R.Ph., led the charge after a quick visit to his pharmacy.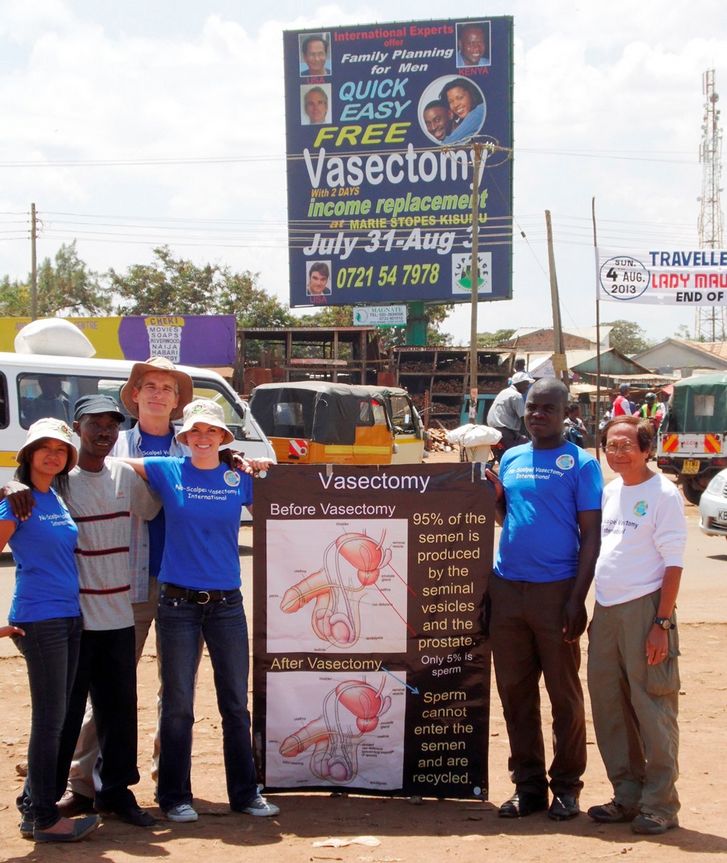 Starting in Kondele Square …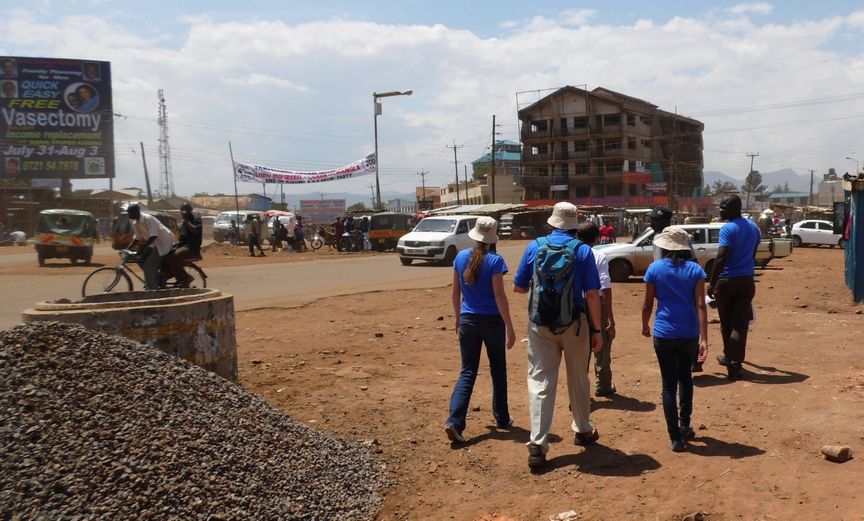 … we brought vasectomy education to the many idle men who while away the hours in "bases" scattered throughout the city.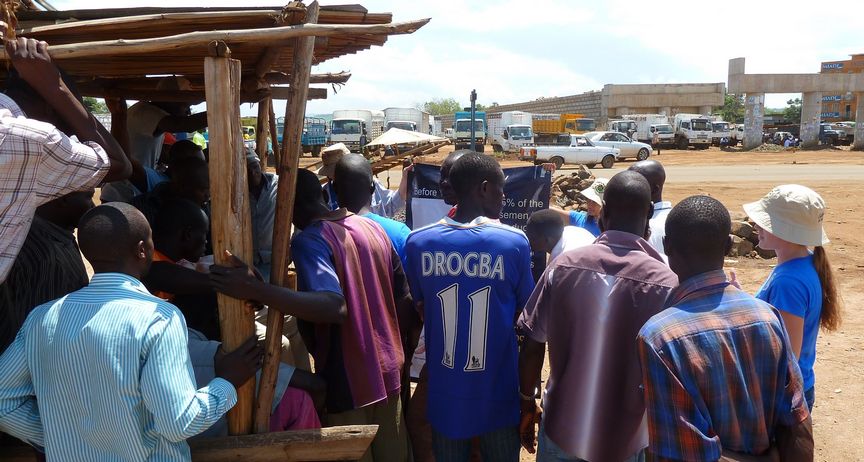 The men were DEFINITELY interested. Talk about the private parts is always interesting, but Kenyan men do not relinquish their fertility easily, even if they cannot provide for the children that they already have.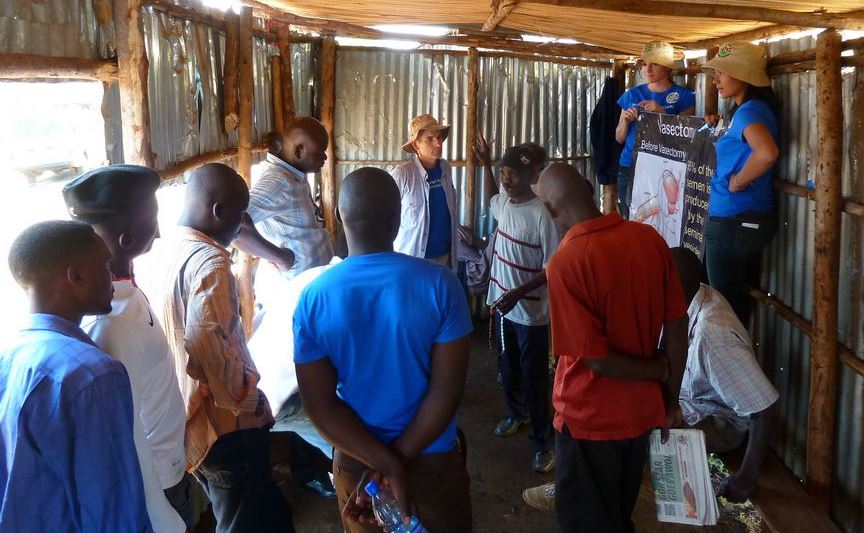 Charles Omware was …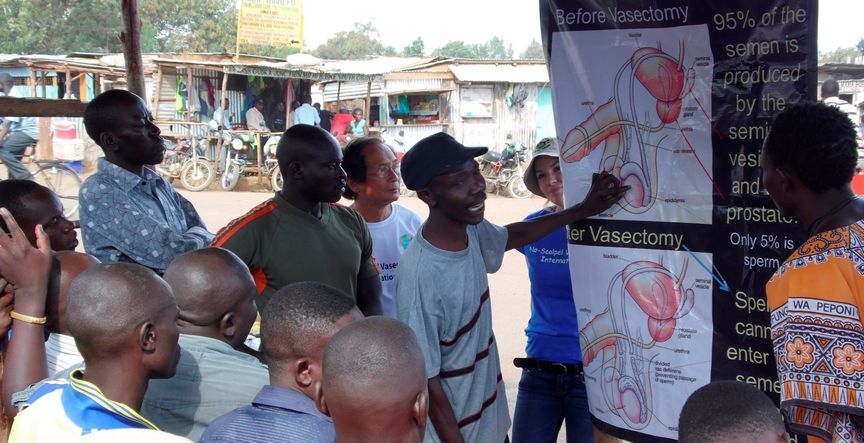 … our inspirational lead speaker, but we all gave it a go.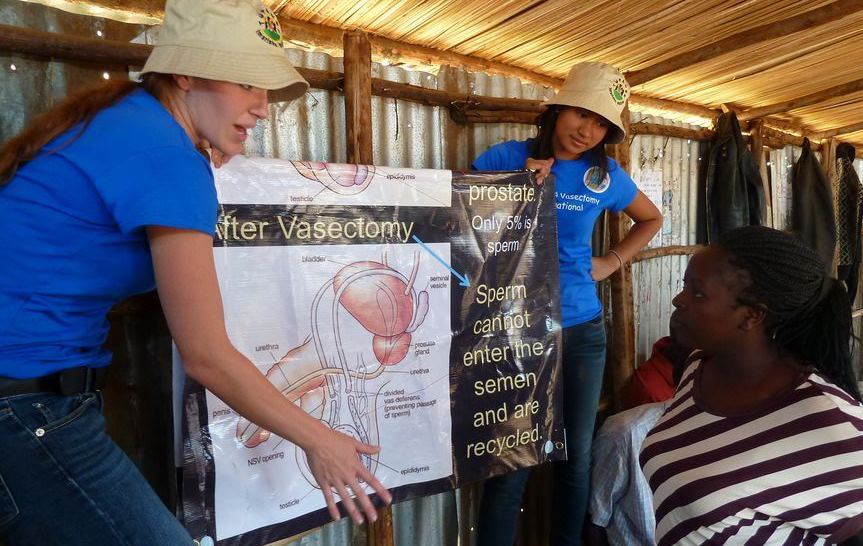 Our female staff was able to connect with the few women who visit the bases. They thought vasectomy was an EXCELLENT idea, but agreed that most men would be difficult to convince.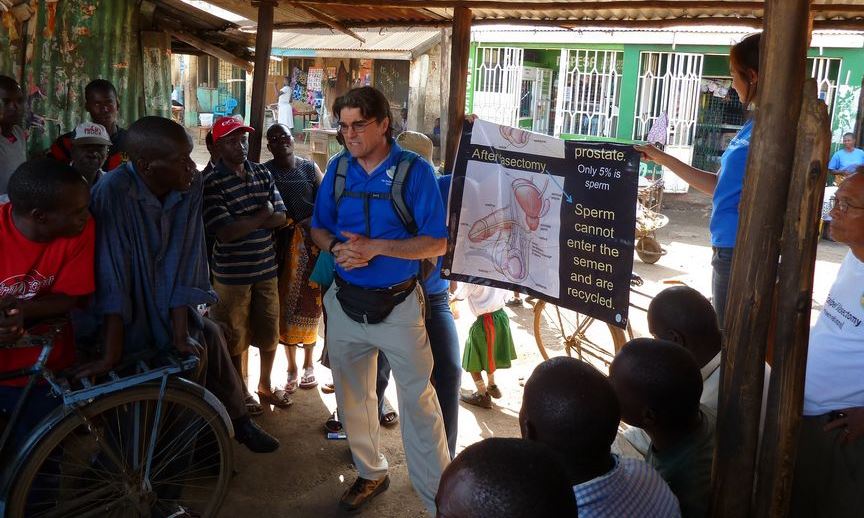 We took turns at different bases to see what combination of benefits and values would inspire these guys.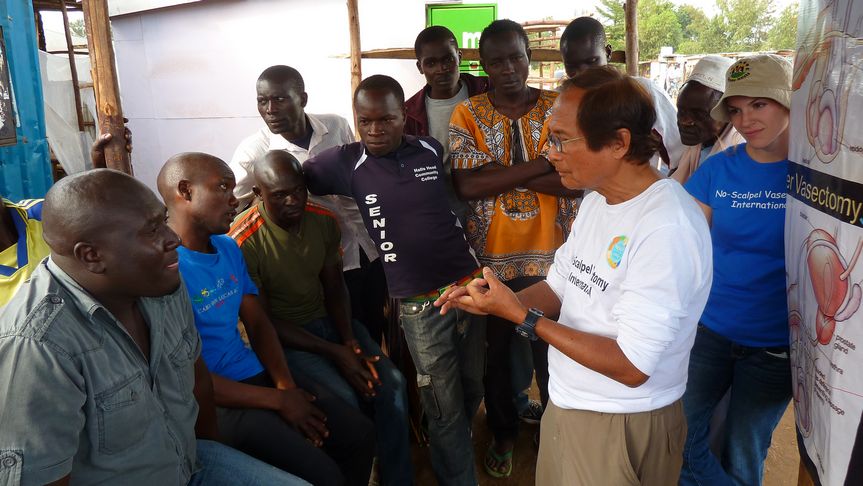 Dr. Ramon Suarez was the senior voice of experience …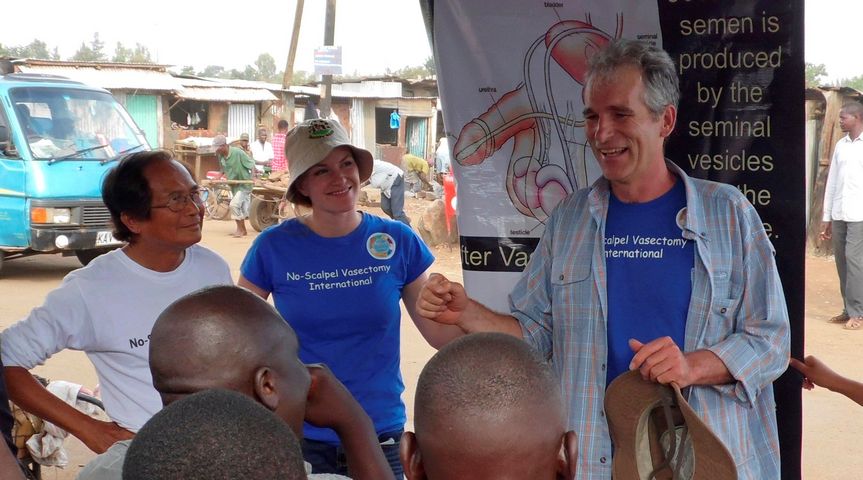 and Dr. John Curington drew the most laughs …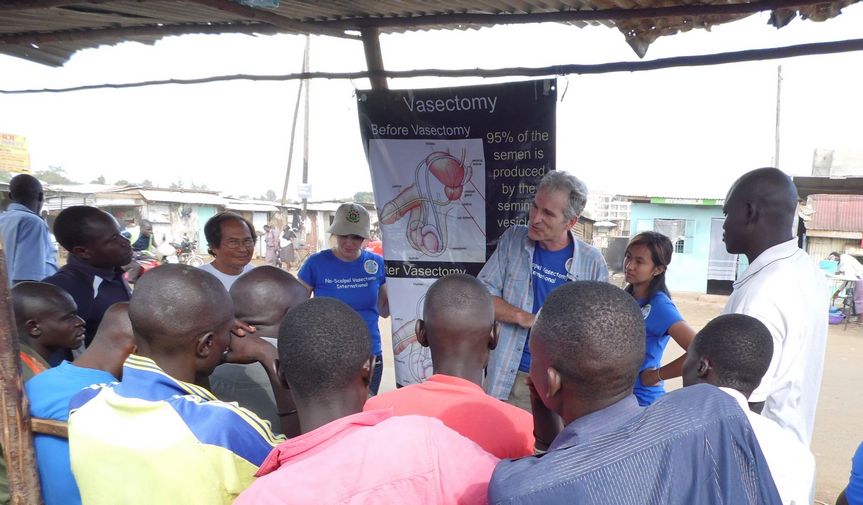 … which drew bigger crowds.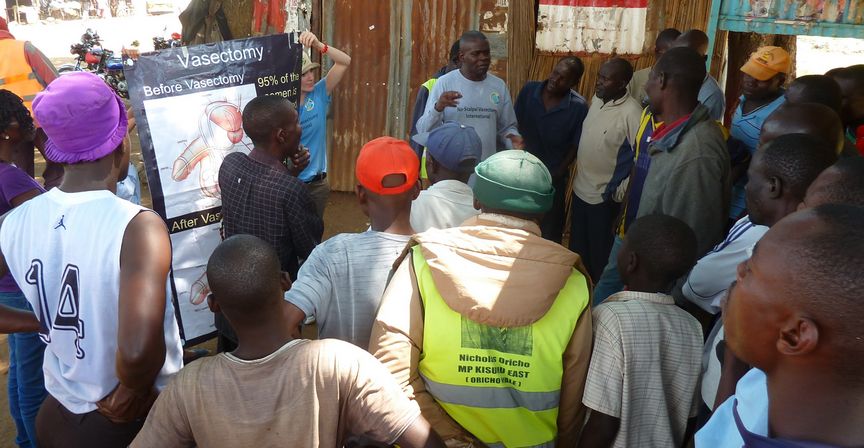 But the real star educator/performer was Kenya Mission Director Dr. Charles Ochieng himself. A bit shy and hesitant to put himself "out there", it was clear to all of us non-Luo non-Swahili speakers that this was the man who could really connect. HE was the Kenya doctor who had had the procedure himself.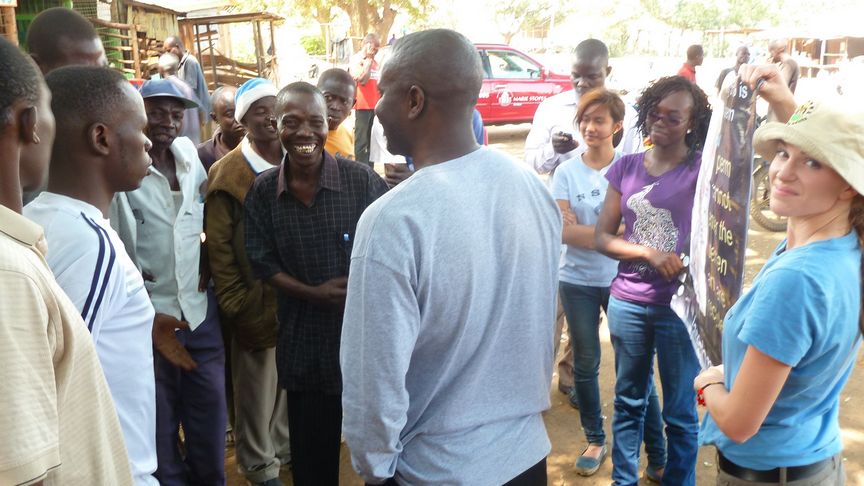 We may not have convinced many men, but these were presentations and this was information that these men are not likely to forget.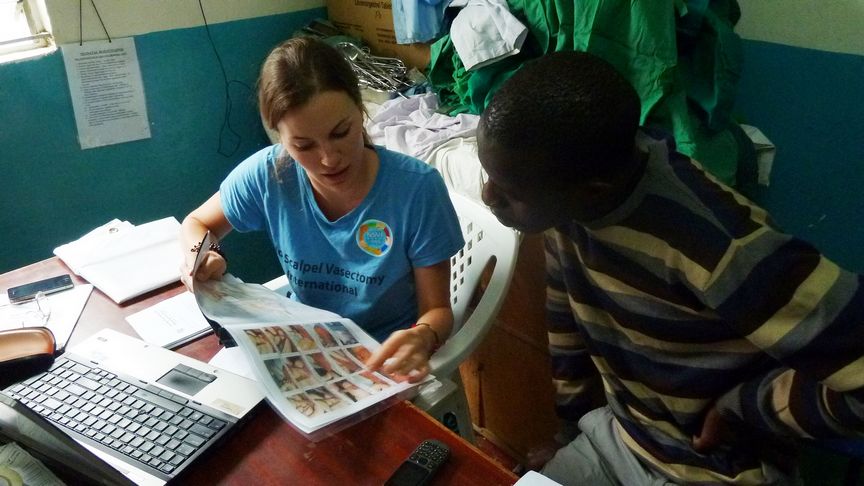 In even the cultures most reluctant to embrace vasectomy, there are those men who will, usually through love of their partners and children, go to great lengths to get a vasectomy.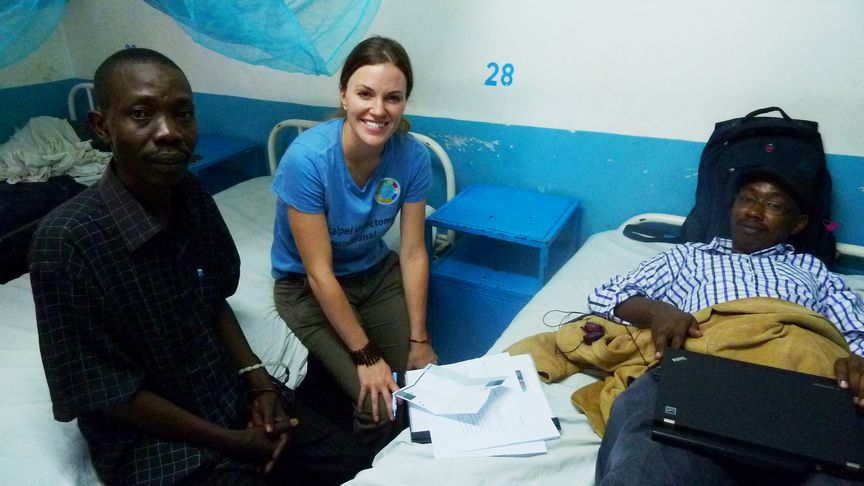 Sam took a bus 9 hours from Nairobi, and was ready to take the bus all the way back on the same day. He had excellent ideas about how to promote vasectomy in Kenya …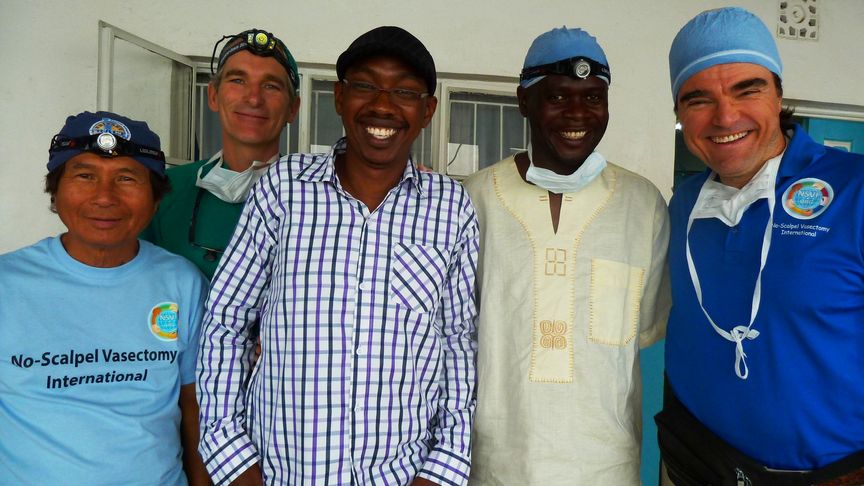 … and he was a good sport about posing with his vasectomy doctors. Shortly after this mission, Dr. Ochieng relocated to Nairobi, where he is offering vasectomy services in this larger population center. Please see his website.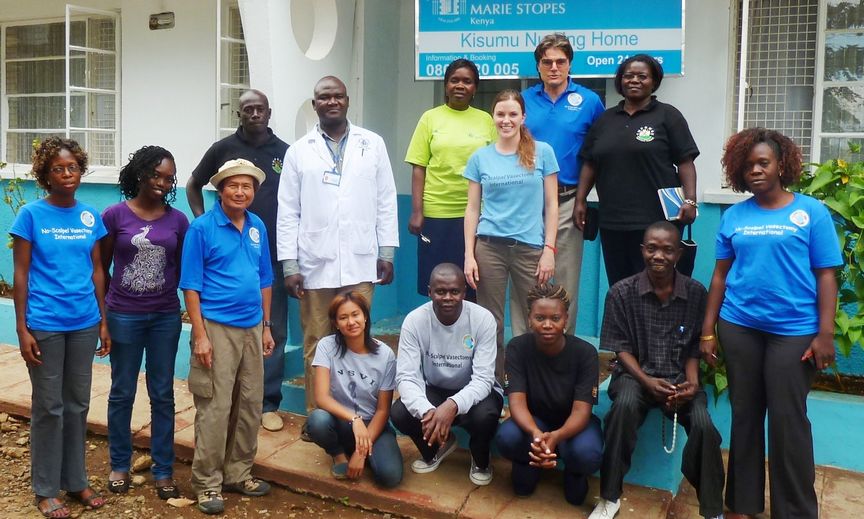 For our final photo with the Marie Stopes staff, everyone wanted to be included, so John took the photo above …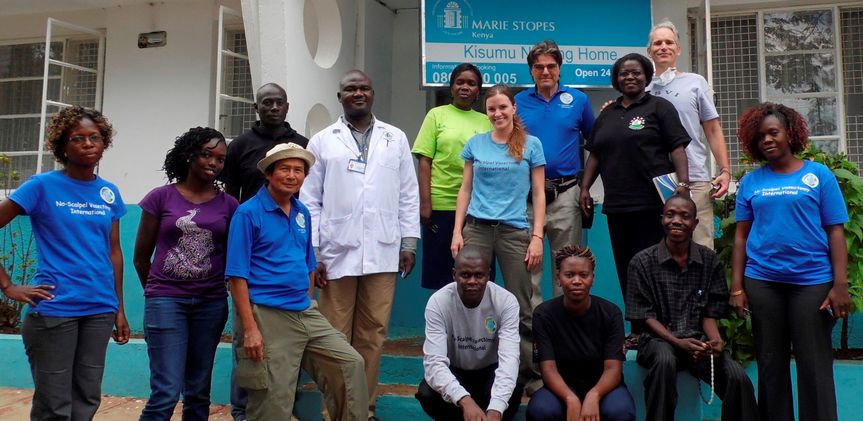 … and Alexa took the second so that John could be included. We had performed only 26 vasectomies in 4 days, but those 26 were VERY appreciative, and we had educated hundreds more in the streets. Who knows? Perhaps we need to keep coming back to plant the seeds and spread the fertilizer of education before the Kenya Program really starts to grow.