NSVI returned to Haiti for another 4-day mission March 30 – April 2. We performed vasectomies on 70 men who had had a total of 403 children. The Team Members from outside Haiti were: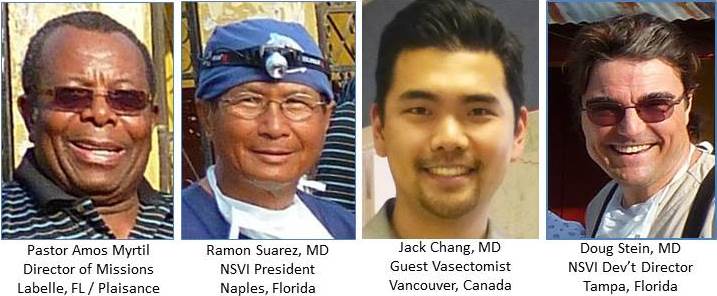 Anticipated non-domestic Team Members were listed in the March 2016 Announcement Blog, but Roody Castel could not afford a trip at this time, Beth Jarrett from Hawaii strained her back AND missed her flight to Miami, and Ted and Elisabeth also missed their flight to Miami. But it was a special treat having Jack Chang come all the way from Vancouver, and the Haiti Support Staff were excellent !!: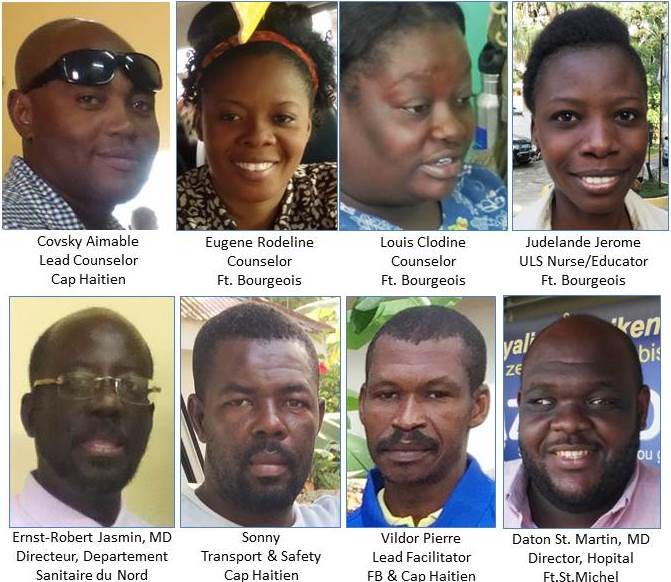 Dr. Jasmin authorized the mission to expedite passage of our Team and equipment through customs, he provided our vehicle, and he "loaned" us his driver Sonny. Covsky Aimable was Elisabeth's chosen replacement for herself, and WOW what a choice! He helped with currency exchange and handled payments to patients (for transportation and income replacement), facilitators, and staff.
Our lead Haitian doctor was Maudelin Mesadieu. Along with Jack, he performed most of the vasectomies and helped with training of his Haitian colleagues: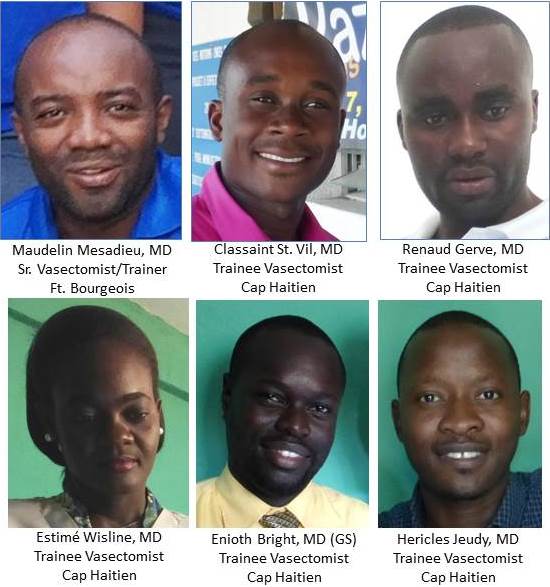 We performed vasectomies at our usual time-tested and established locations: Ft. St. Michel, Ft. Bourgeois, and Plaisance.

The schedule for this mission was as follows:
Wednesday March 30  Arrived at CAP at 12:11 PM on American Airlines Flt 1632 from MIA
Do  errands:
1. Visited Hopital Ft. St. Michel to (1) say hello to Dr. ST-Martin, (2) hang banners and miniposters, (3) distribute some brochures, and (4) check procedure room and test air conditioning.
2. Stopped at the CHHN office to get supplies and hang banners.
3. Exchanged money.
4. Visited Dr. Jasmin at the Department of Health.
5. Attended the meeting of the Cap Haitien Health Network (CHHN) 3:30 – 5:30 PM, where we gave a presentation about NSVI.
Thursday March 31  Plaisance 9 AM – 2 PM. (11 vasectomies.)
Friday April 1  Ft. Bourgeois 9 AM – 1 PM (19 vasectomies);  Hopital Ft. St. Michel 2 PM – 6 PM (16 vasectomies.)
Saturday April 2  Hopital Ft. St. Michel 8:00 AM – 11:00 AM.  (24 vasectomies.)
Departed CAP at 1:10 PM on American Airlines Flight 1632 to MIA.
And now some photos if you have time and interest: (captions are over photos because of technical issues with WordPress)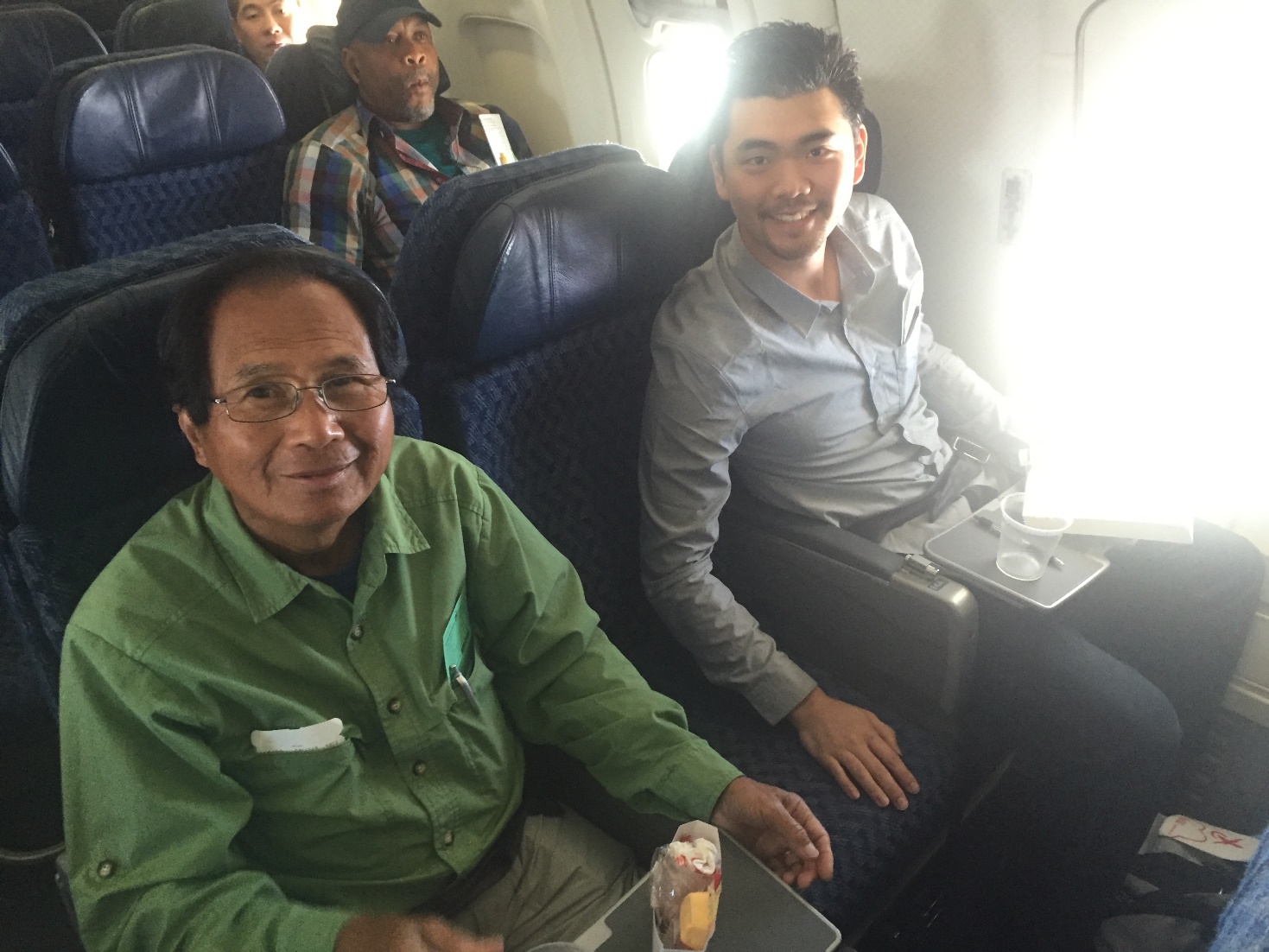 The flight from Miami to Cap Haitien is under two hours over beautiful azure seas and reefs.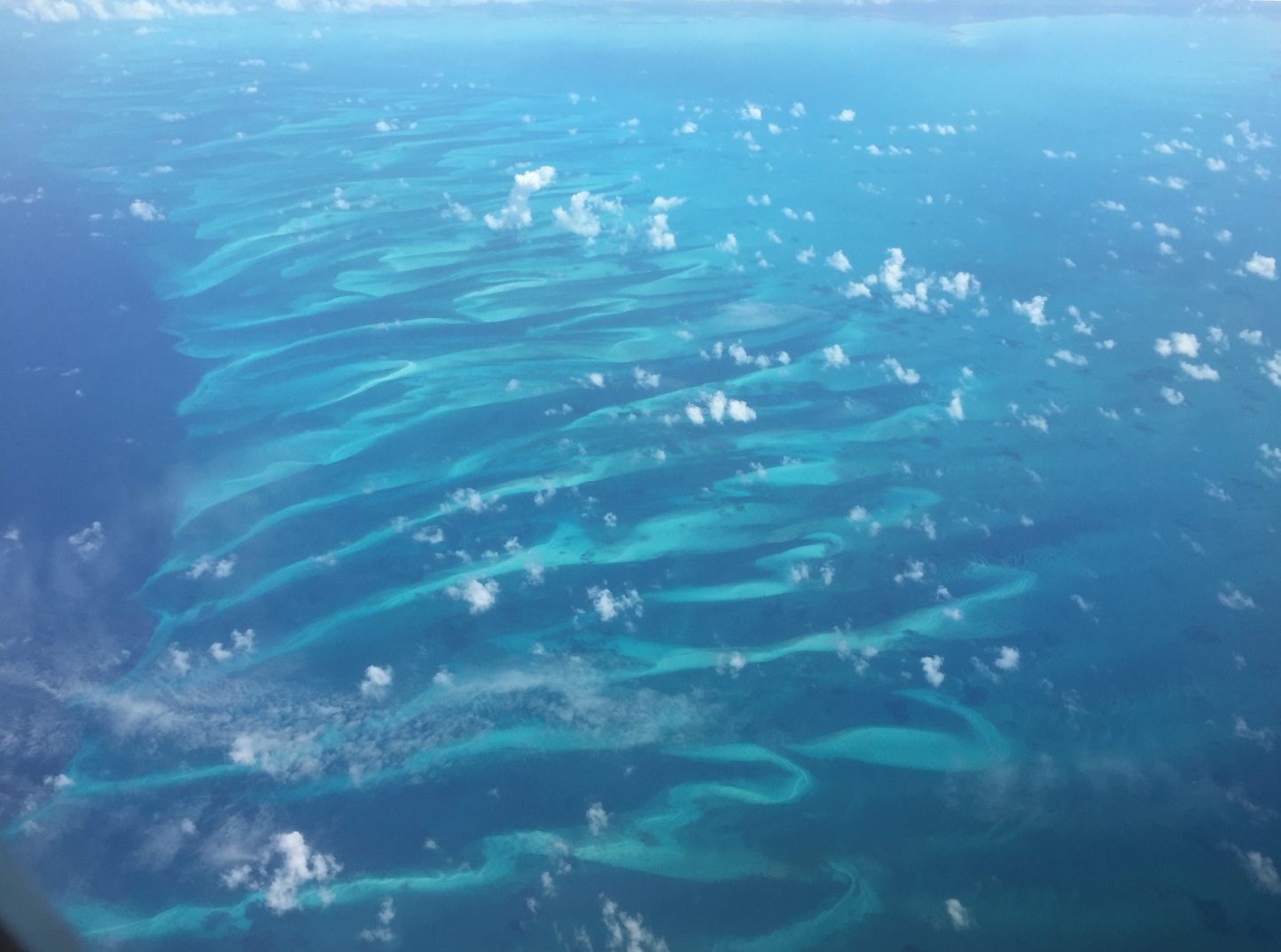 But the deforestation and subsequent erosion of Haiti by its 10 million inhabitants and tropical storms is a sad sight indeed: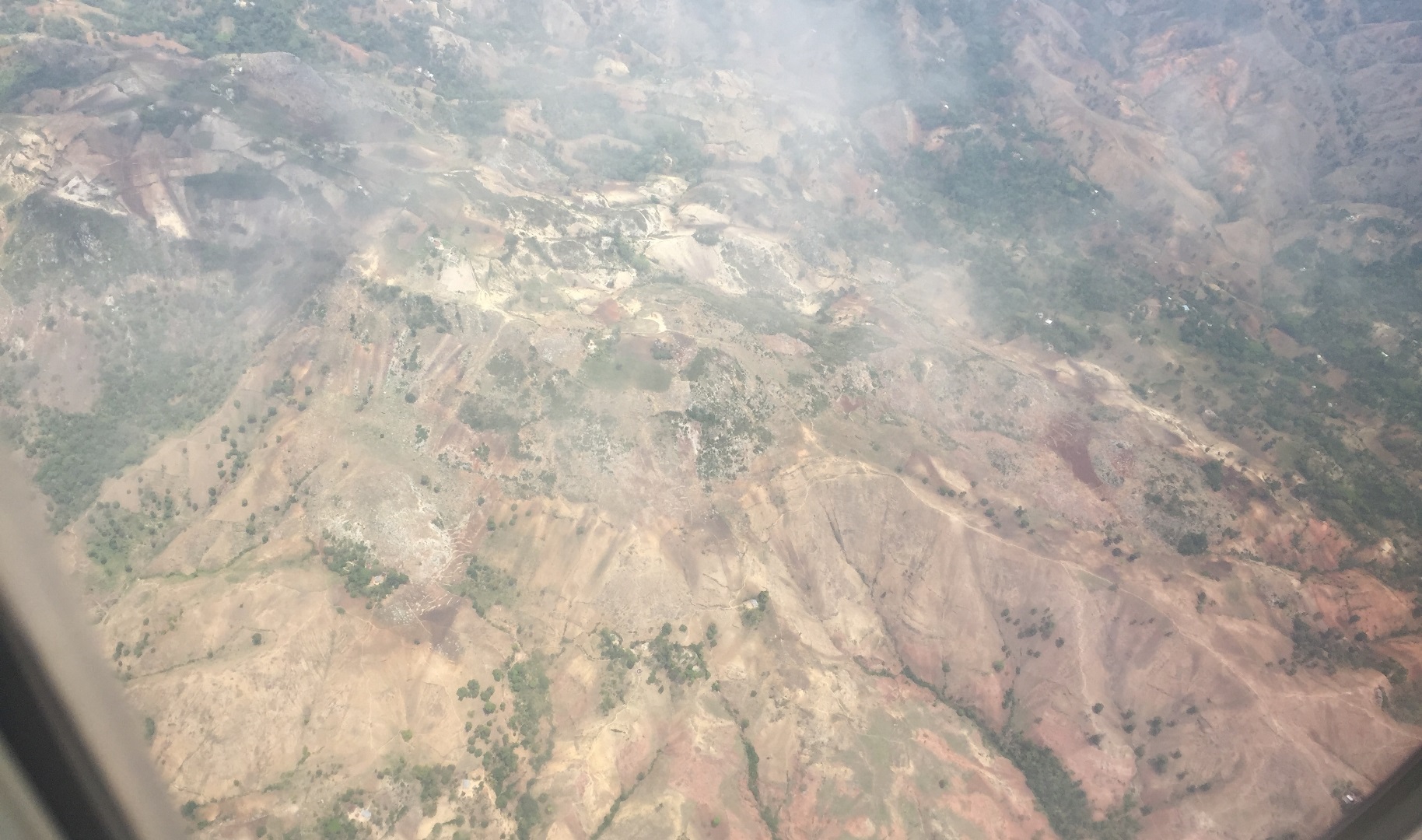 The valley of Cap Haitien and its Riviere Mapou is more fertile but not enough to provide for the local population, still dependent on foreign aid.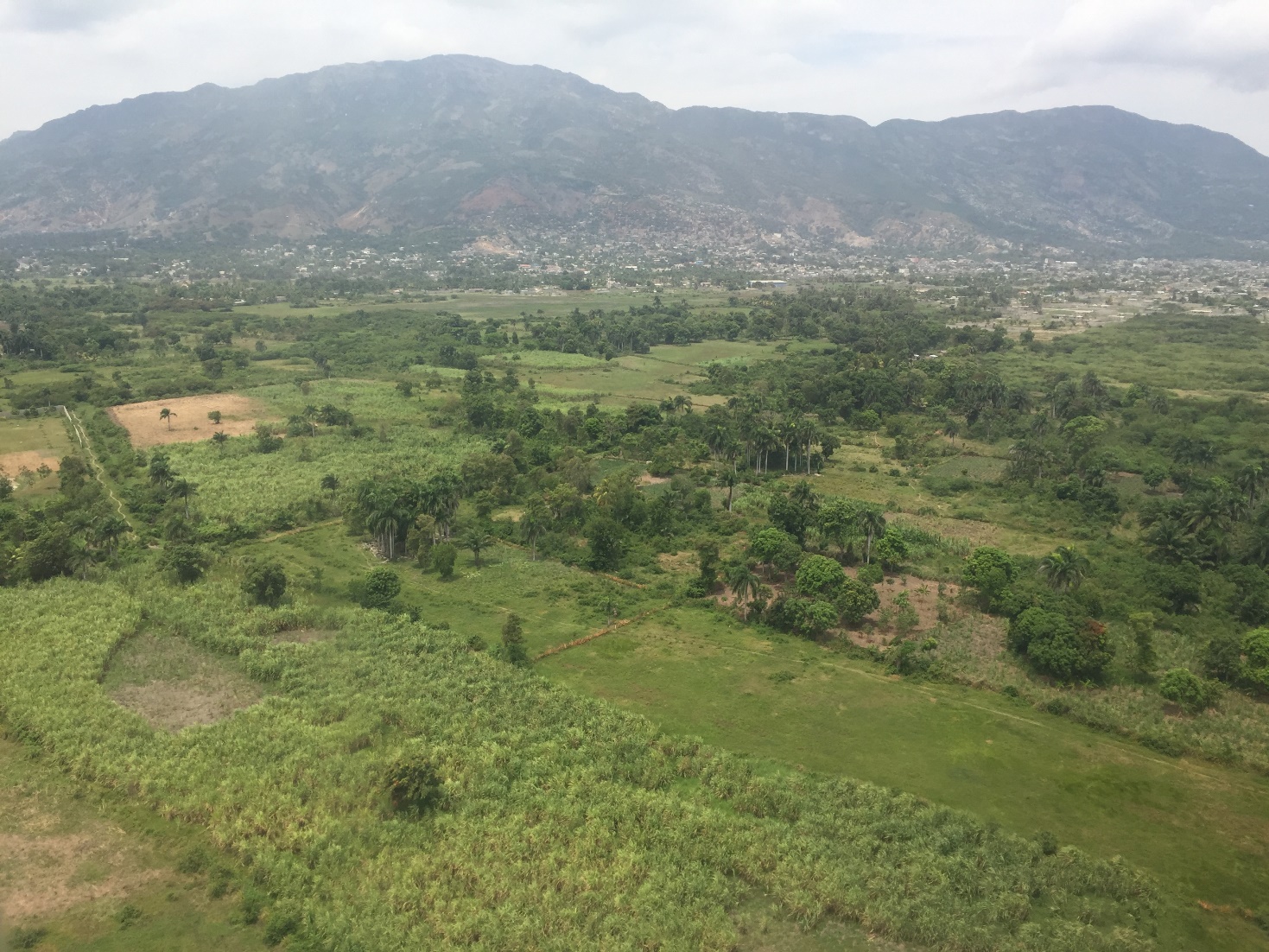 Arrival is always exciting.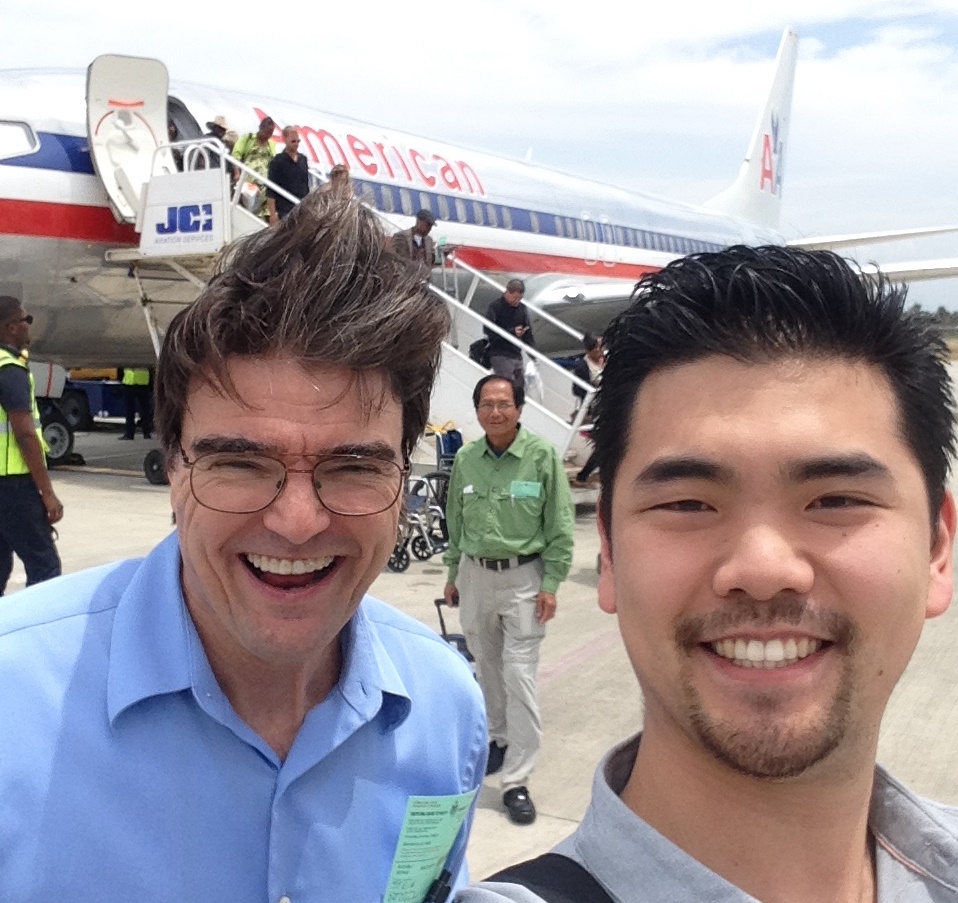 Too late to start vasectomies, it was still early enough to hang banners …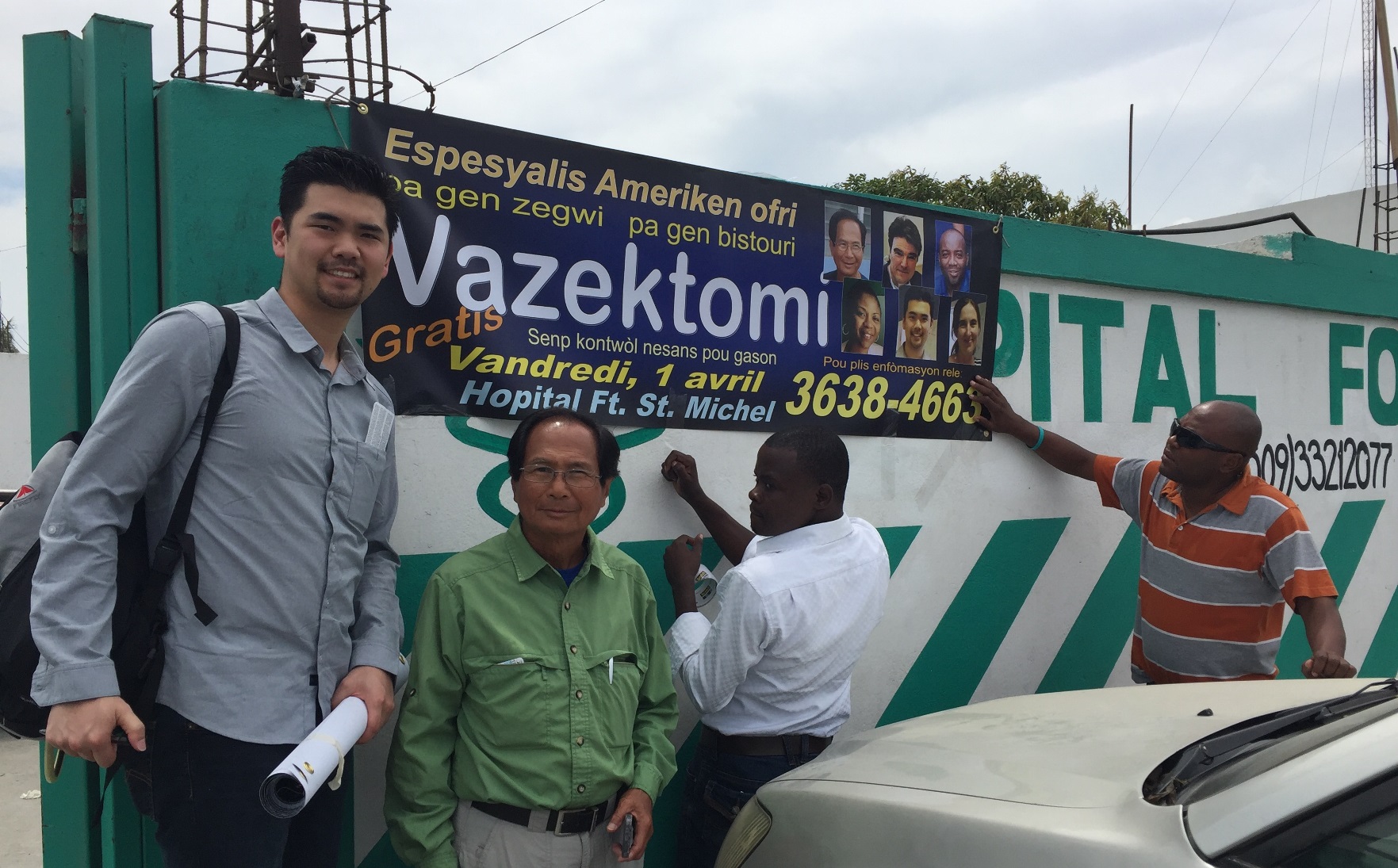 … street-side miniposters (announcing our return on Friday) …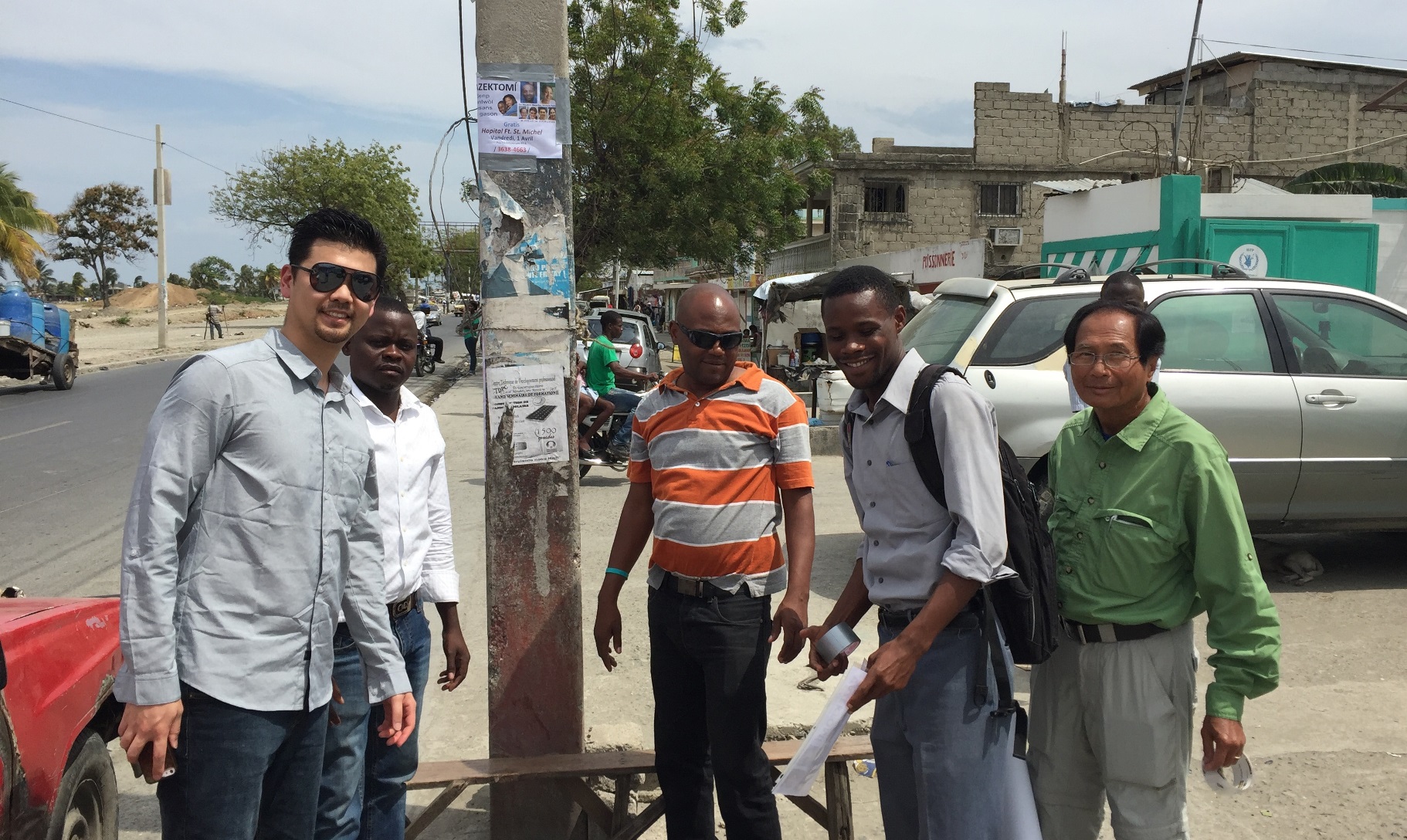 … and educational banners in patient waiting areas: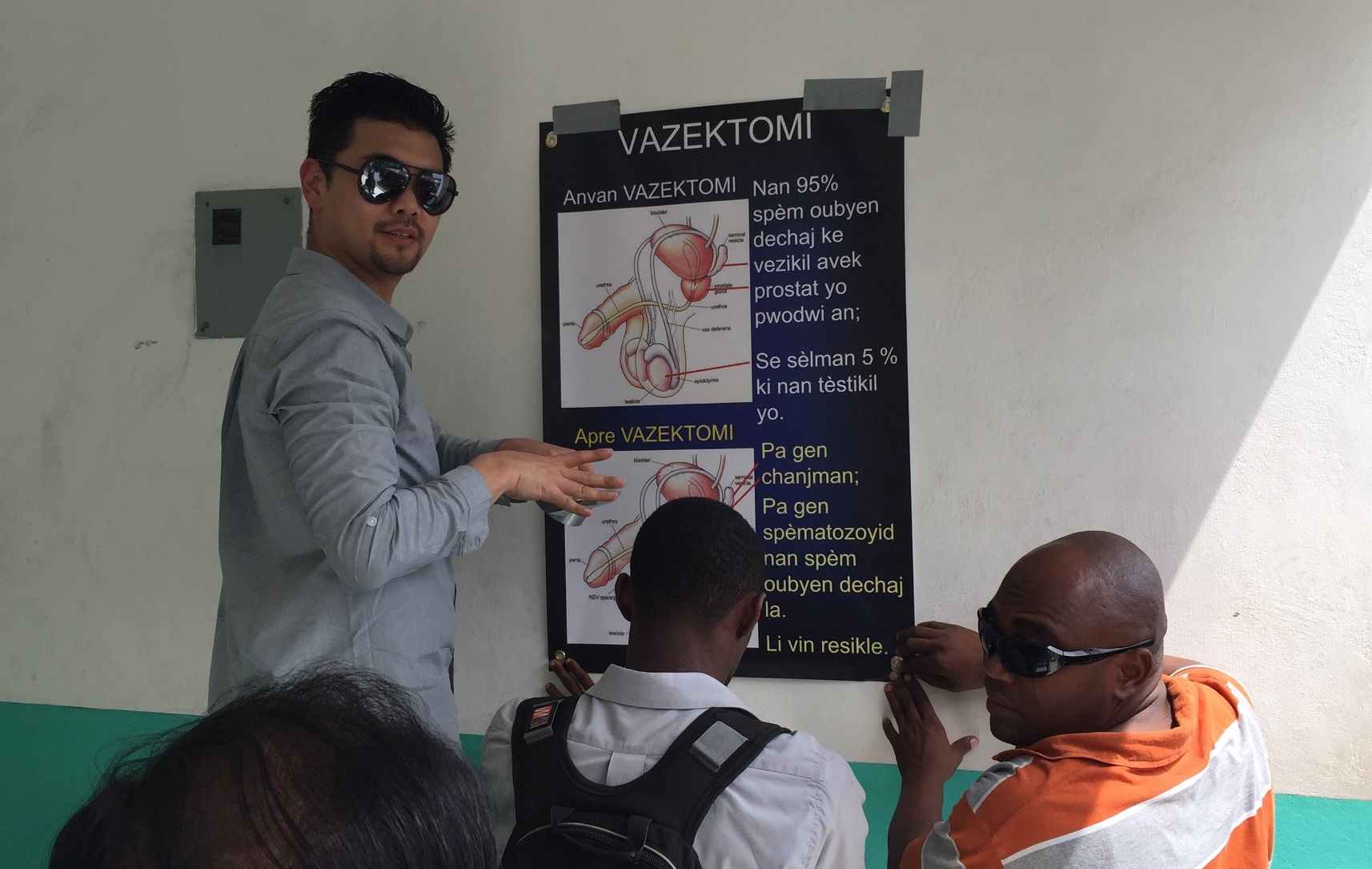 At the office of the Cap Haitien Health Network right on the main bay-side drive, we re-dated banners from a prior mission (with white duck tape and a marker pen) and hung them …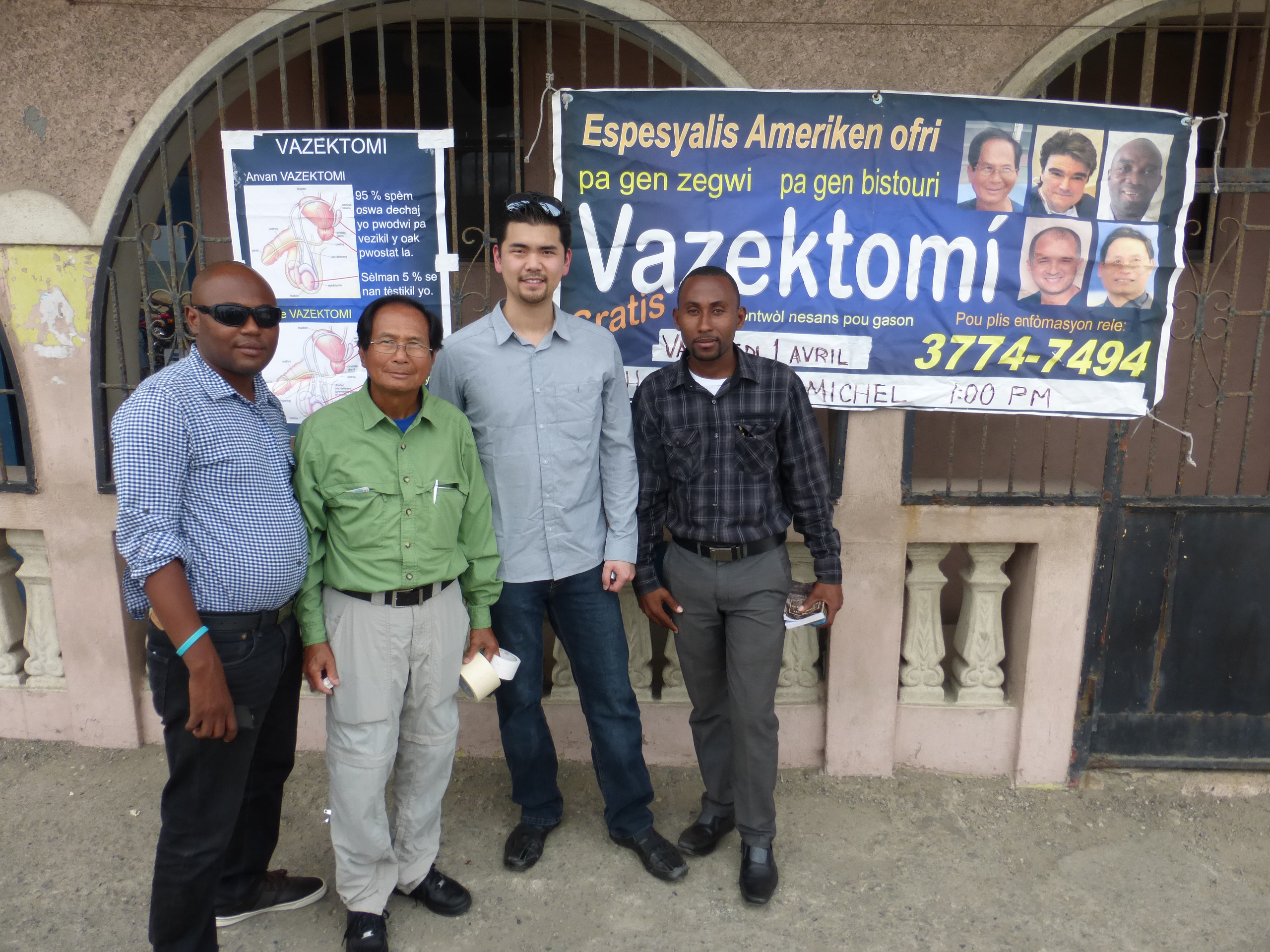 … for all to see. What better method of public education and awareness for a non-profit organization on a budget?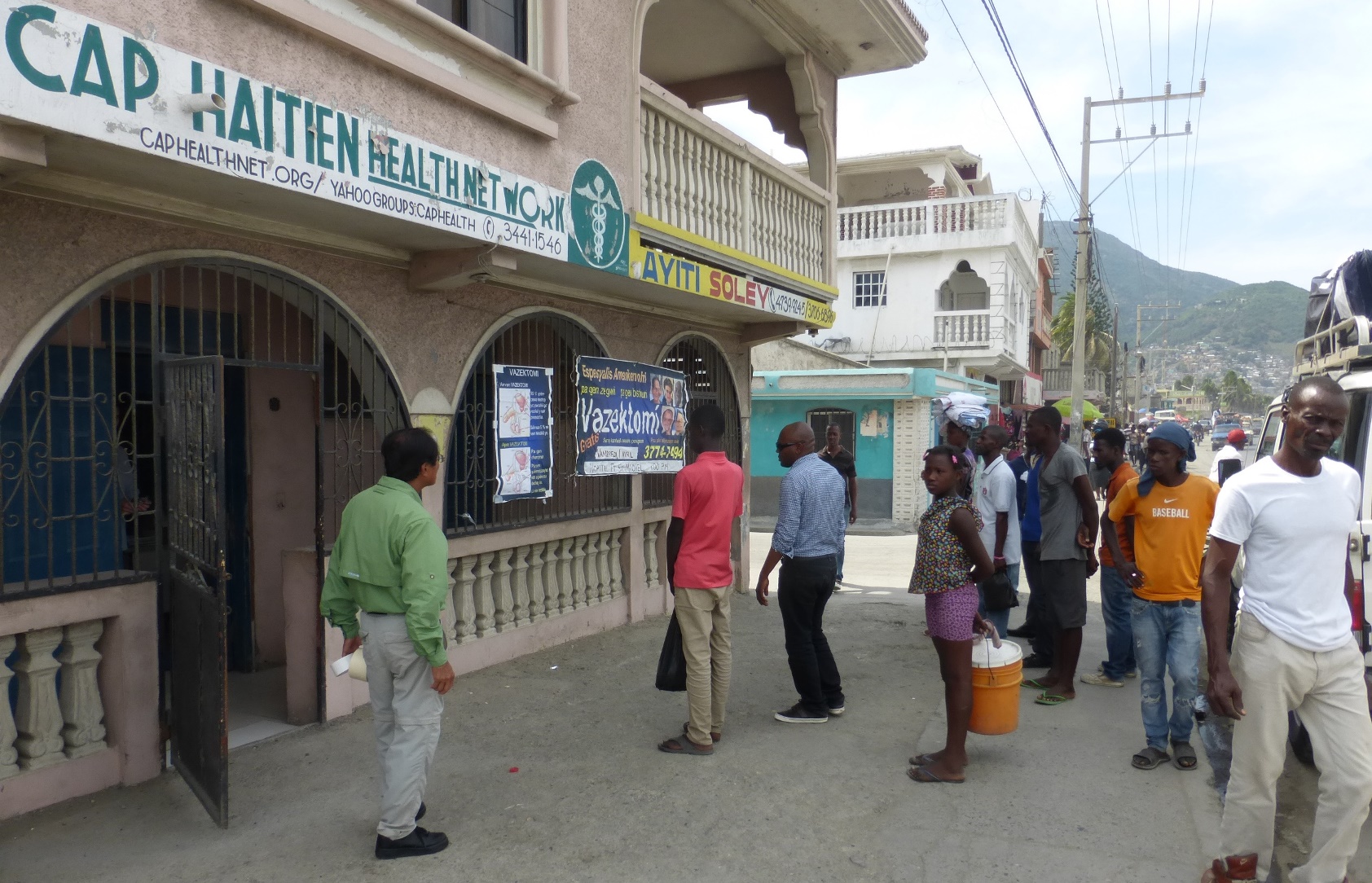 We then went to visit Dr. Ernst-Robert Jasmin, the Directeur Departement Sanitaire du Nord. He is always so supportive.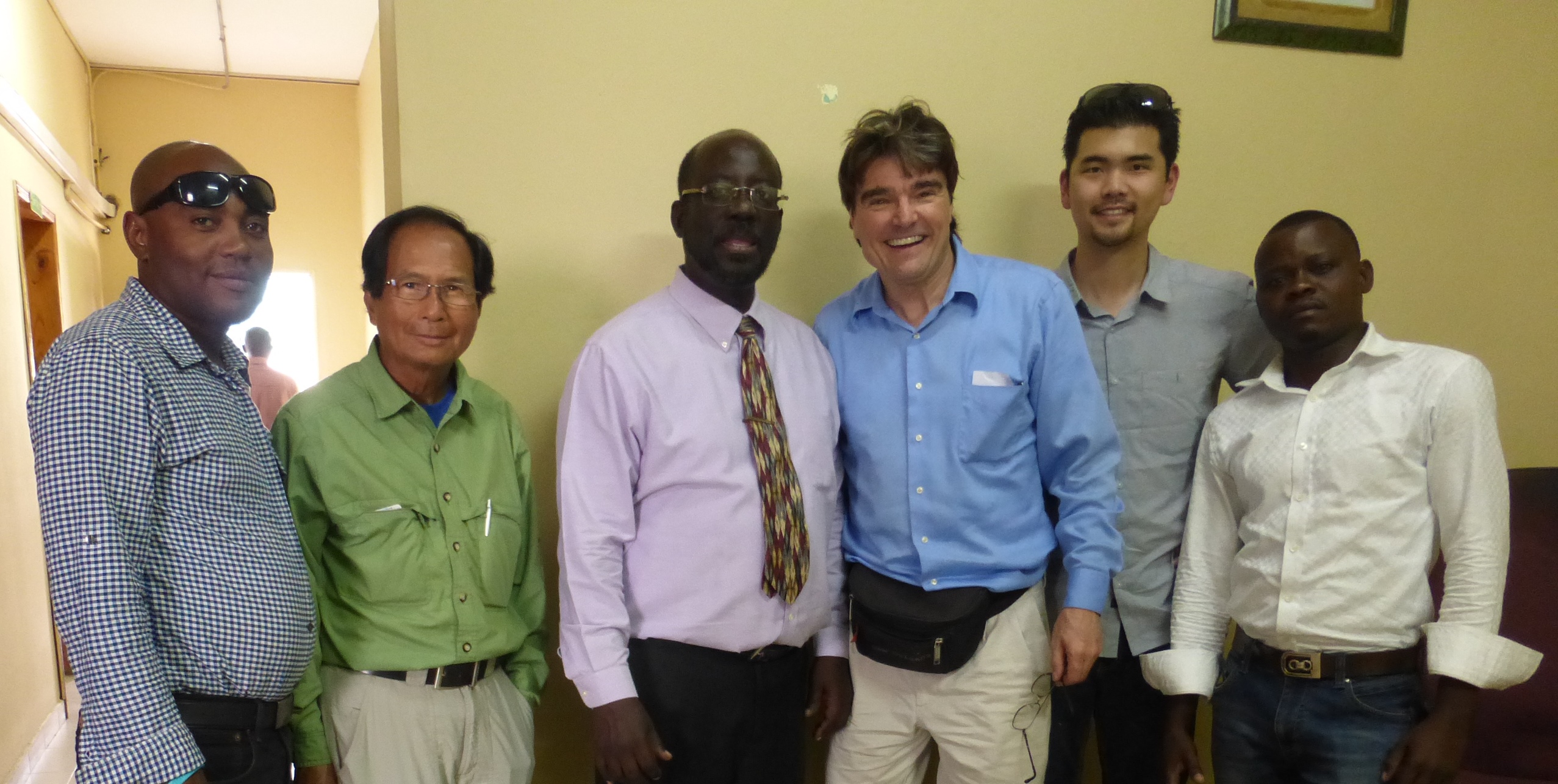 We then attended a meeting of the Cap Haitien Health Network at the Hotel RC. Dr. Ramon Suarez, Founder and President of NSVI, gave a short talk about NSVI's work.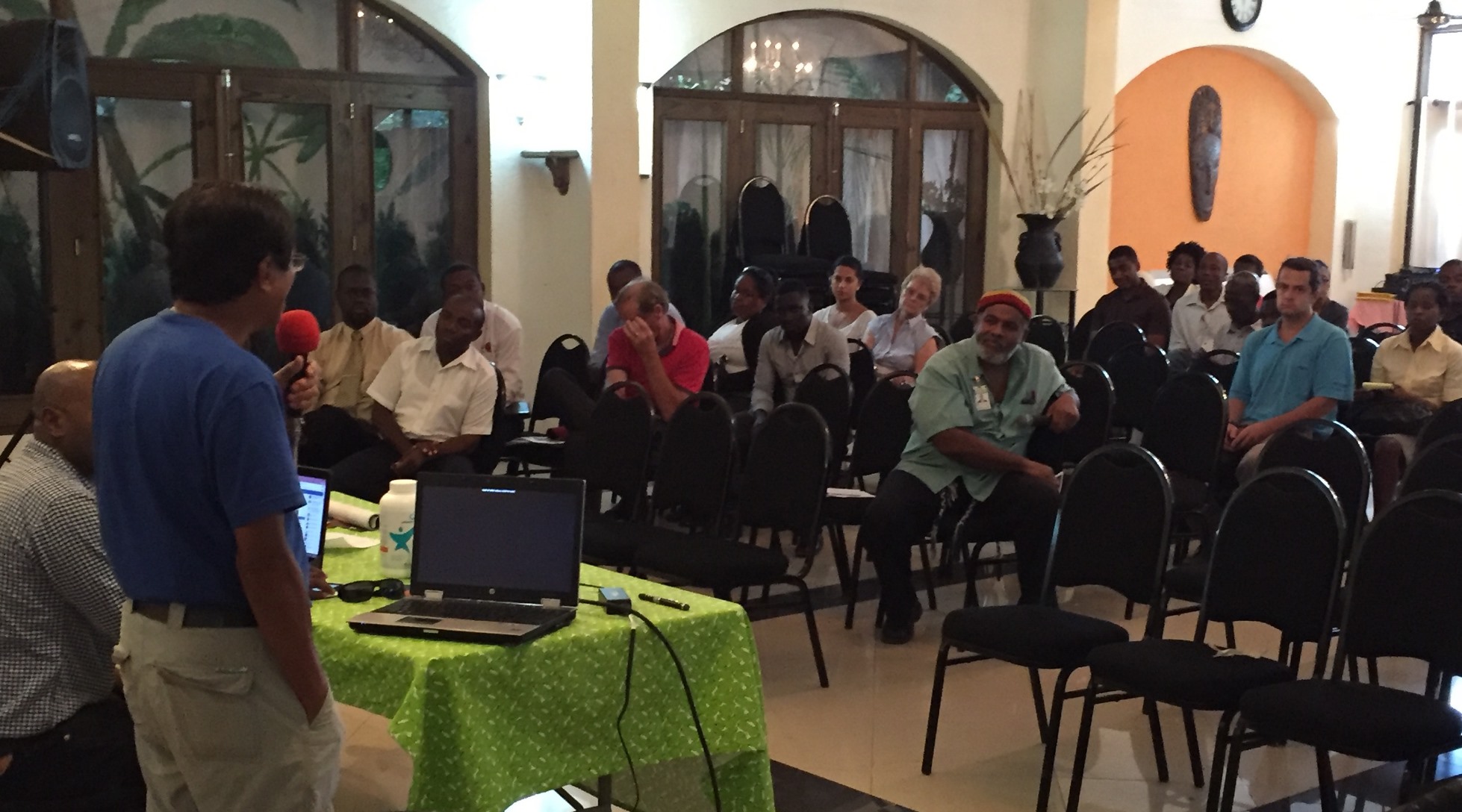 Thanks to an early start on Thursday, we arrived in Plaisance by about 9:30 AM. Pastor Amos Myrtil had arrived two days earlier and arranged for us to use an empty private home along the main road not far from his own home. Despite his efforts to alert the public, patients just trickled in …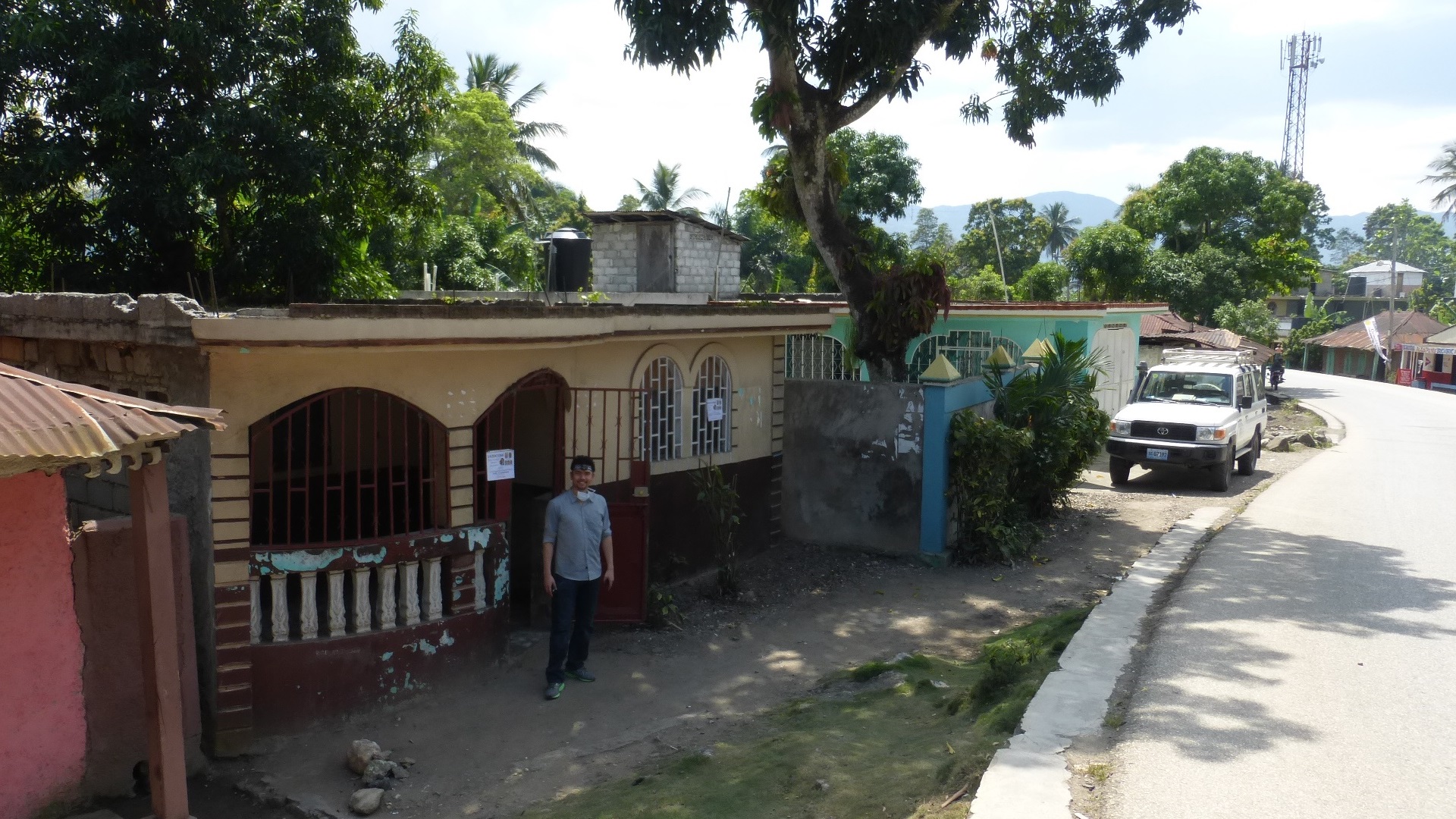 … but the slow pace provided a great opportunity to compare techniques and train Dr. Classaint St. Vil.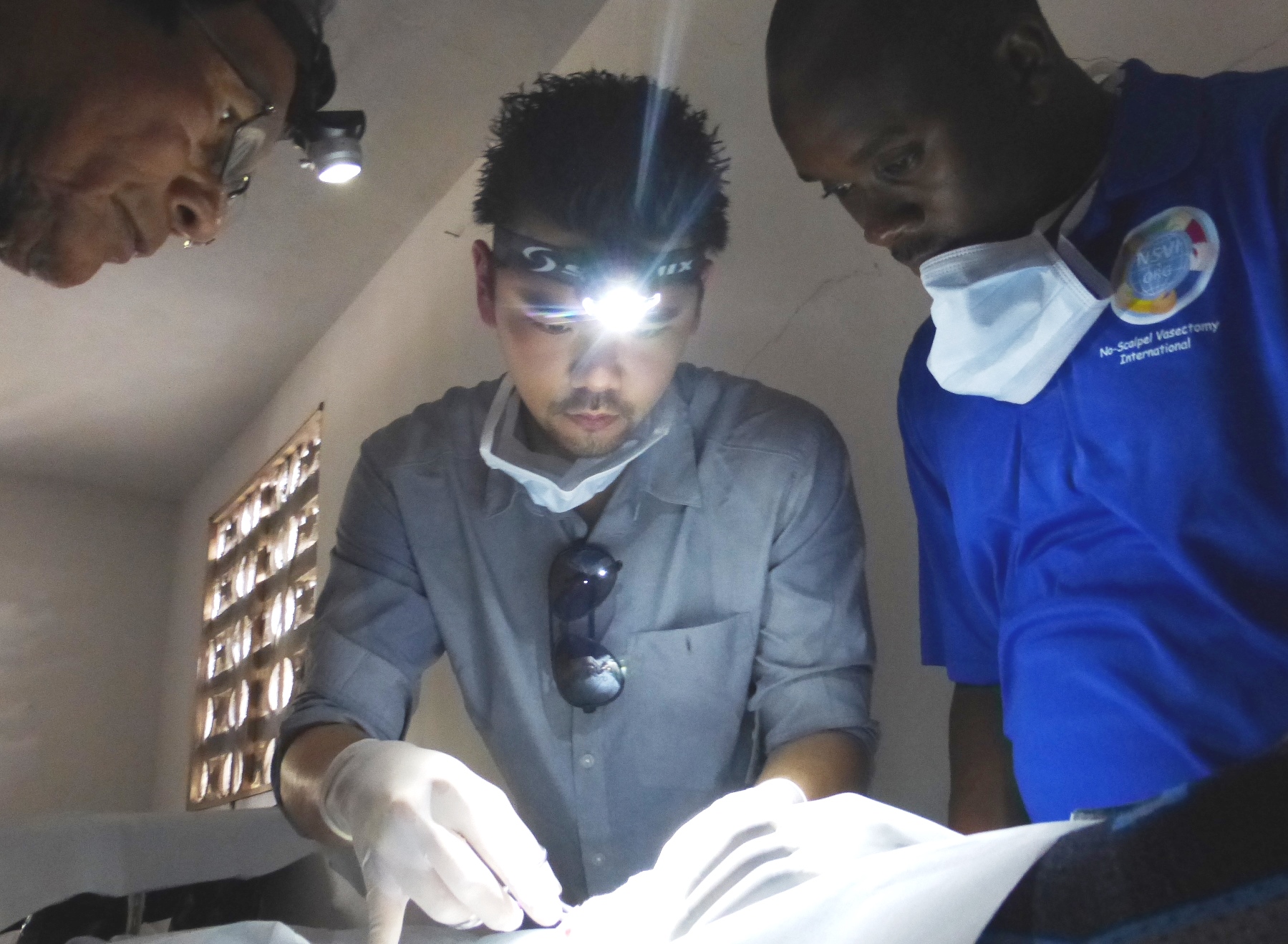 The road to Plaisance was worse than during previous missions – full of potholes that slowed our progress and made the return trip uncomfortable for the 10 occupants of our SUV.
Amos joined our return to Cap Haitien and stayed with us at the Hotel Roi Christophe where we enjoyed tasty evening meals ranging from lobster to goat.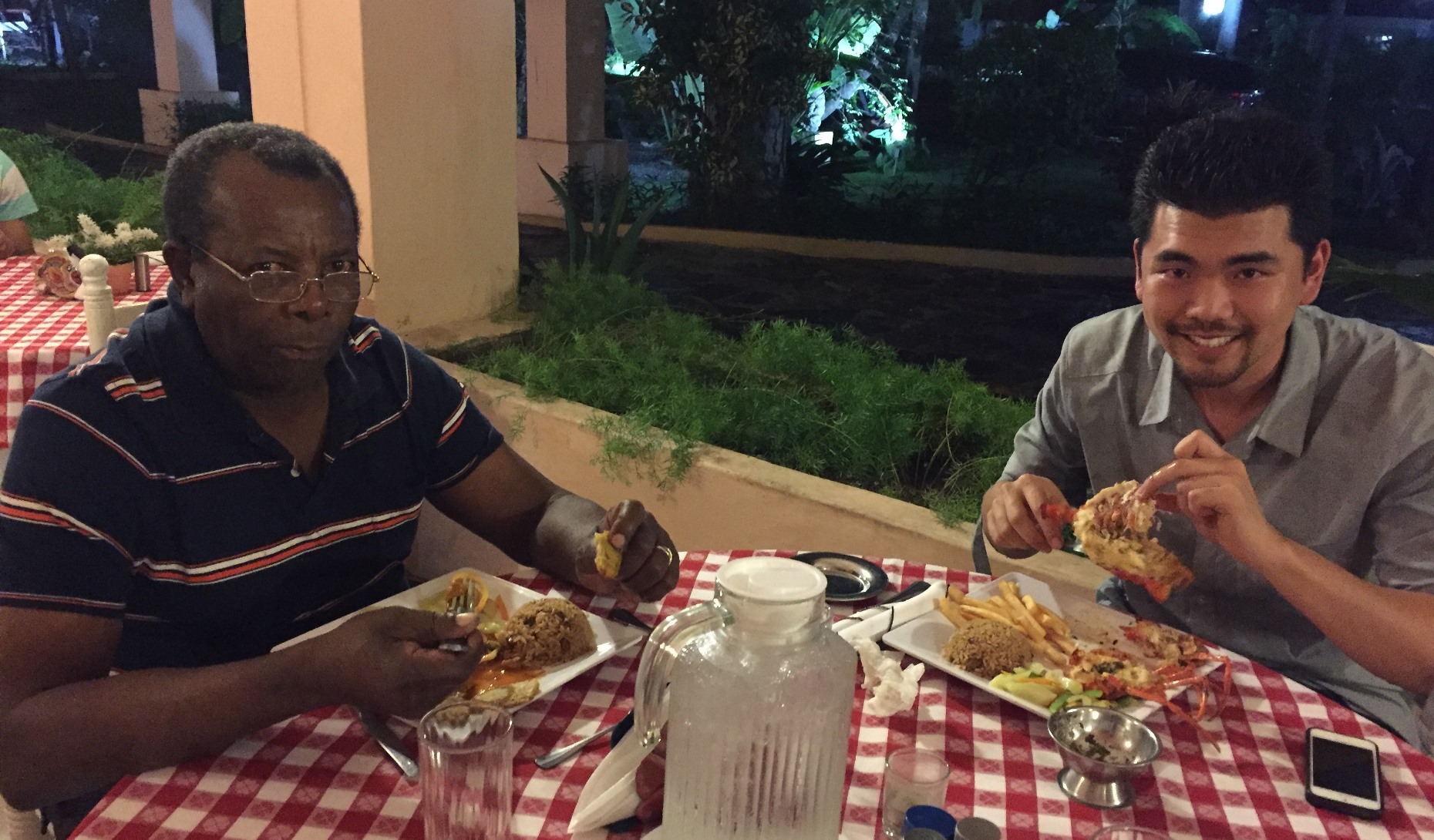 On Friday morning we learned that after returning us to the hotel, driver Sonny had experienced a blowout of the left rear tire and replaced it with the spare, itself quite bald.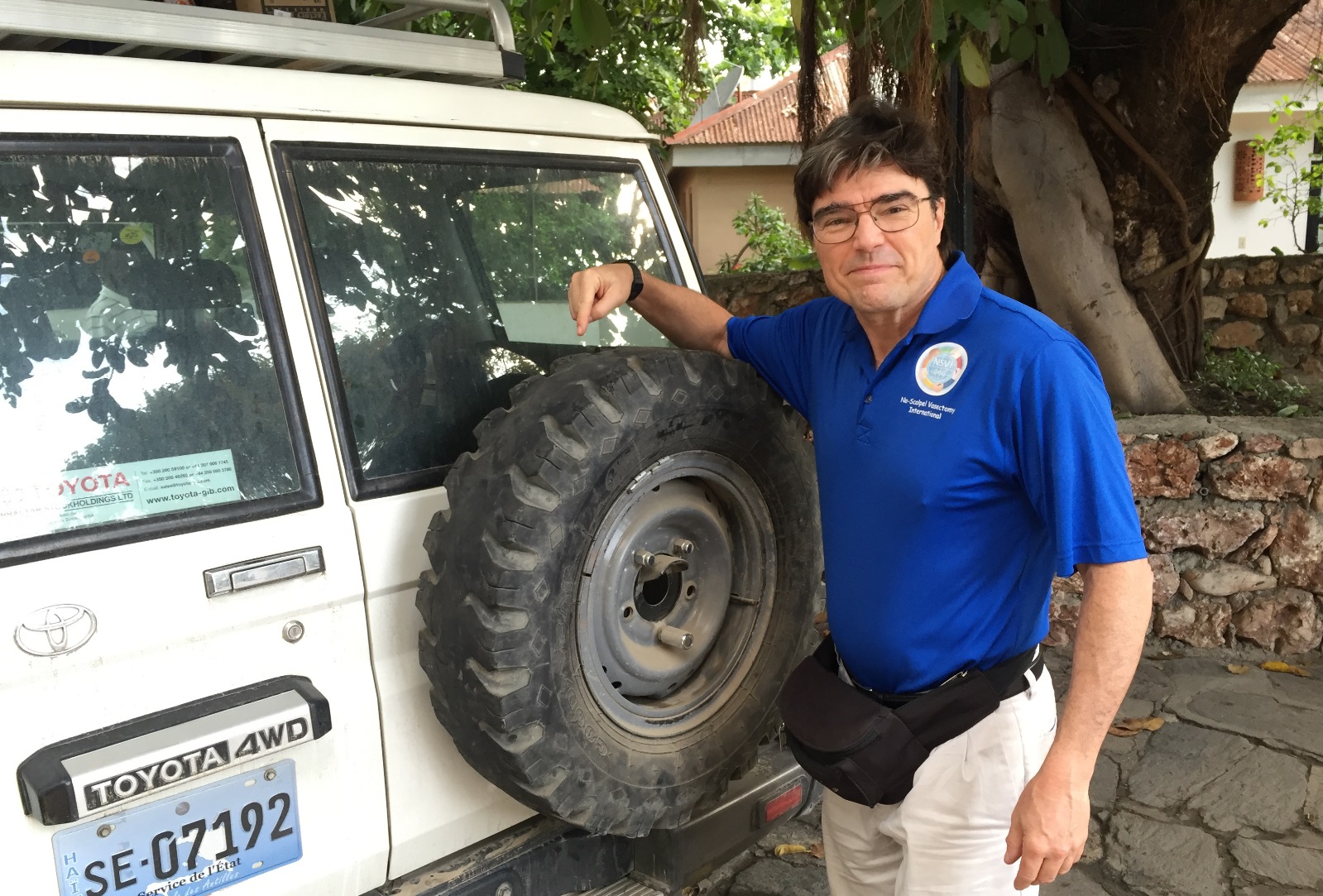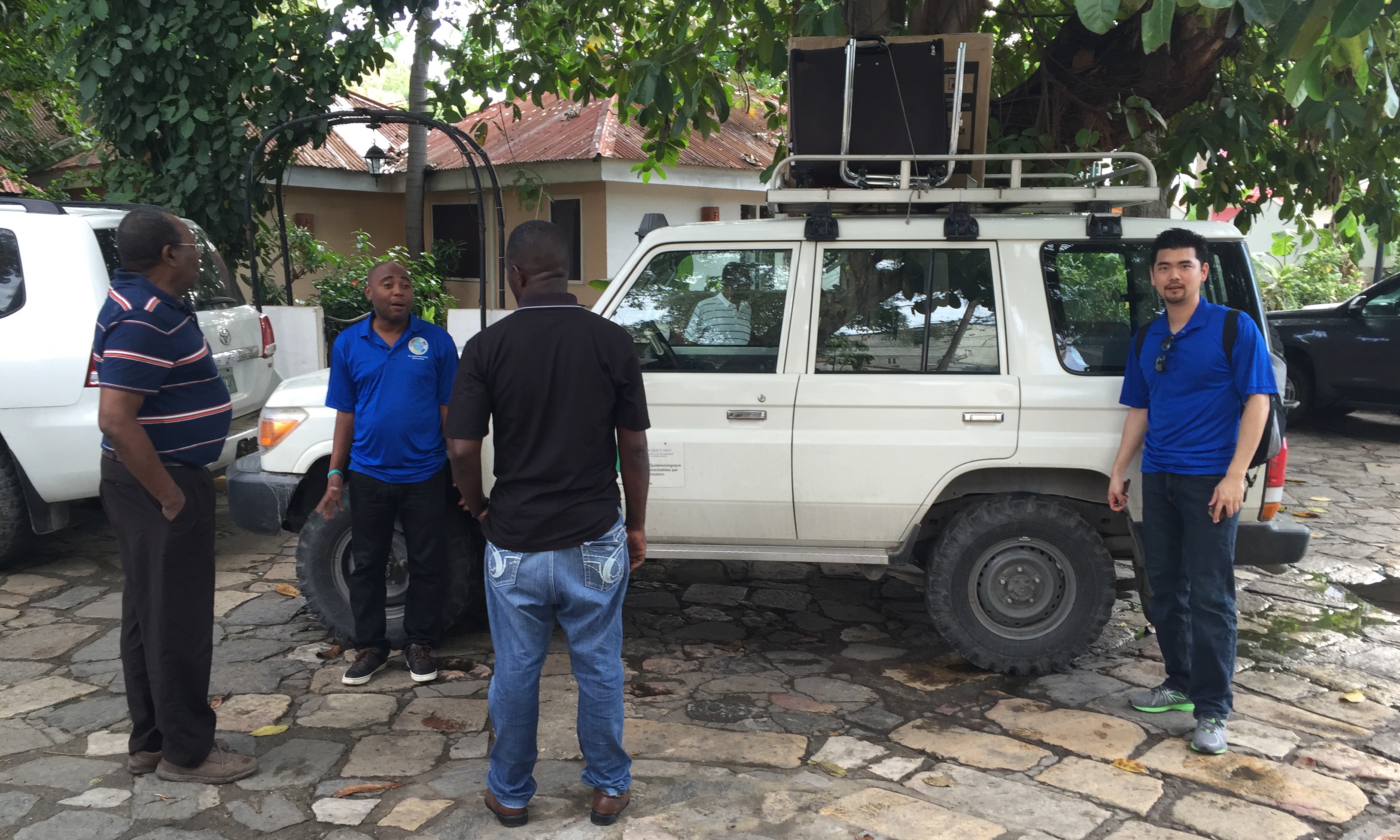 The spare got us to Ft. Bourgeois, but a flat of that spare would leave us with no transportation and could jeopardize the mission. So NSVI had no choice but to cough up $200 for a new tire, and Sonny had it installed while we were working in Ft. Bourgeois: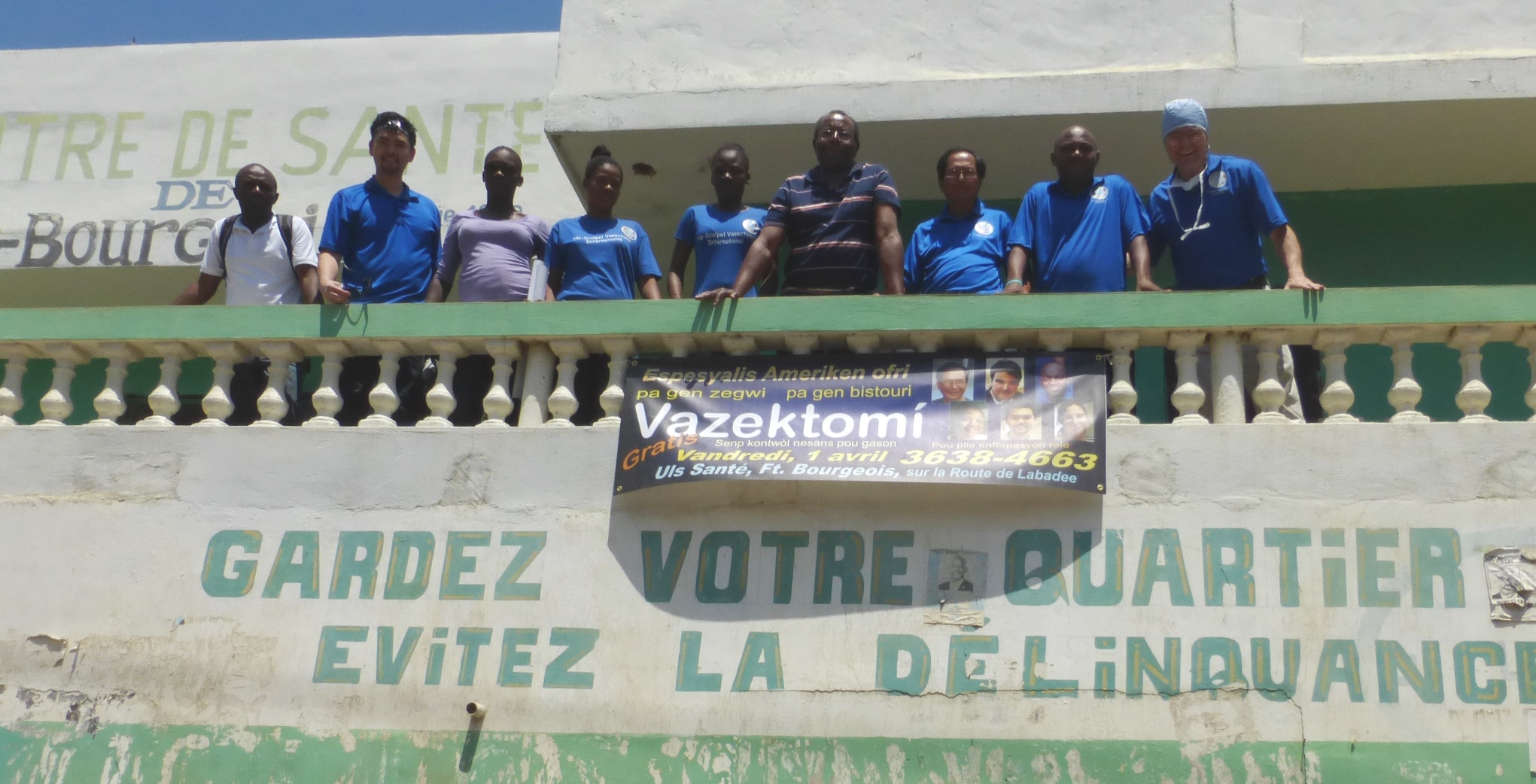 In Ft. Bourgeois, a large crowd was waiting and Amos got right to work with counseling: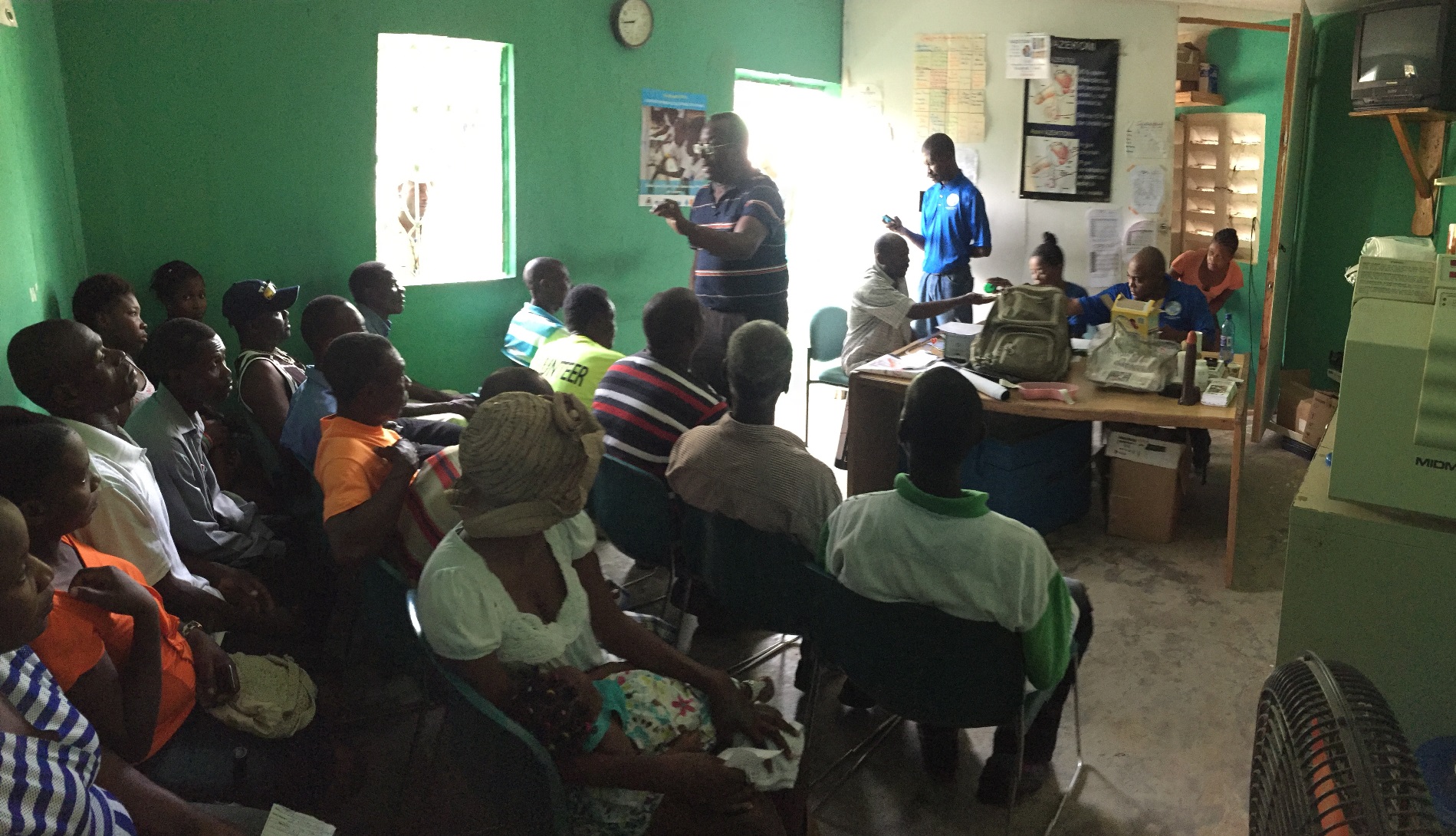 The first patient had a large hydrocele (as did 3 others subsequently), which Ramon and Jack had to drain before proceeding with his vasectomy.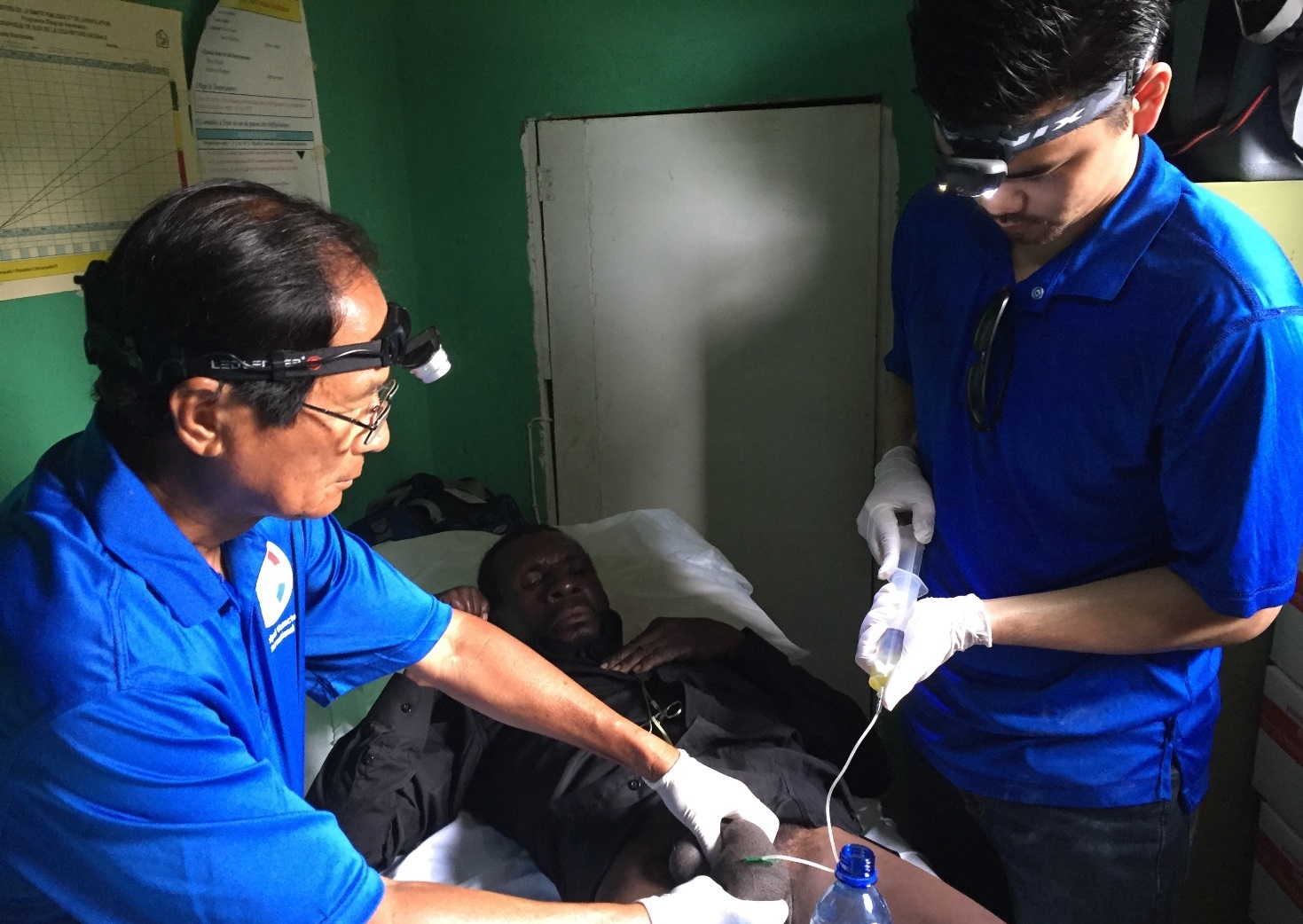 But once drained of about 150 ml, the vasectomy was accomplished and the patient was pleased.
Having met us at the CHHN meeting two days before, Edouard Noisin, MD, PhD, joined us with some of his students from the Universite Roi Henri Christophe to observe and understand vasectomy better.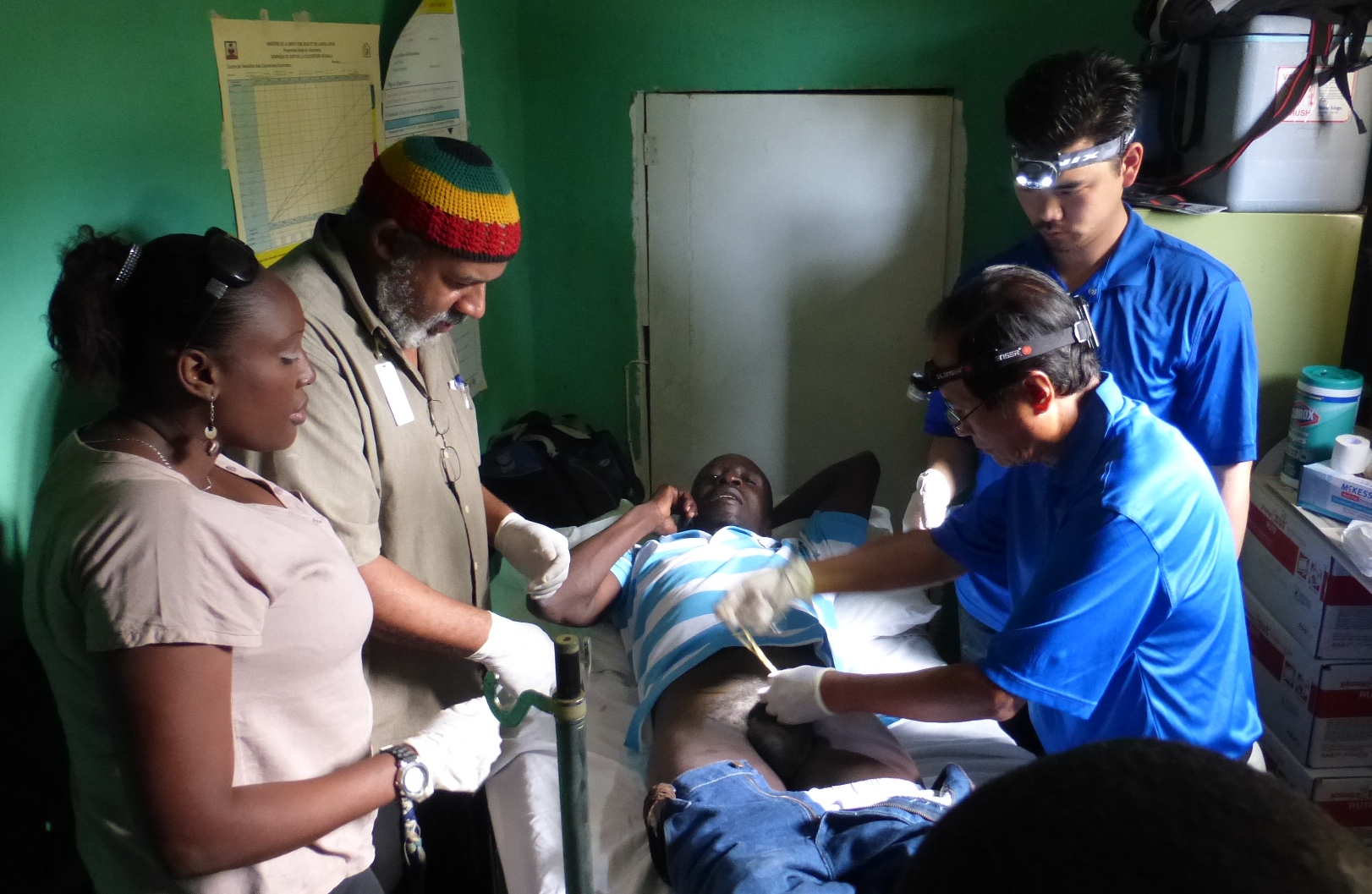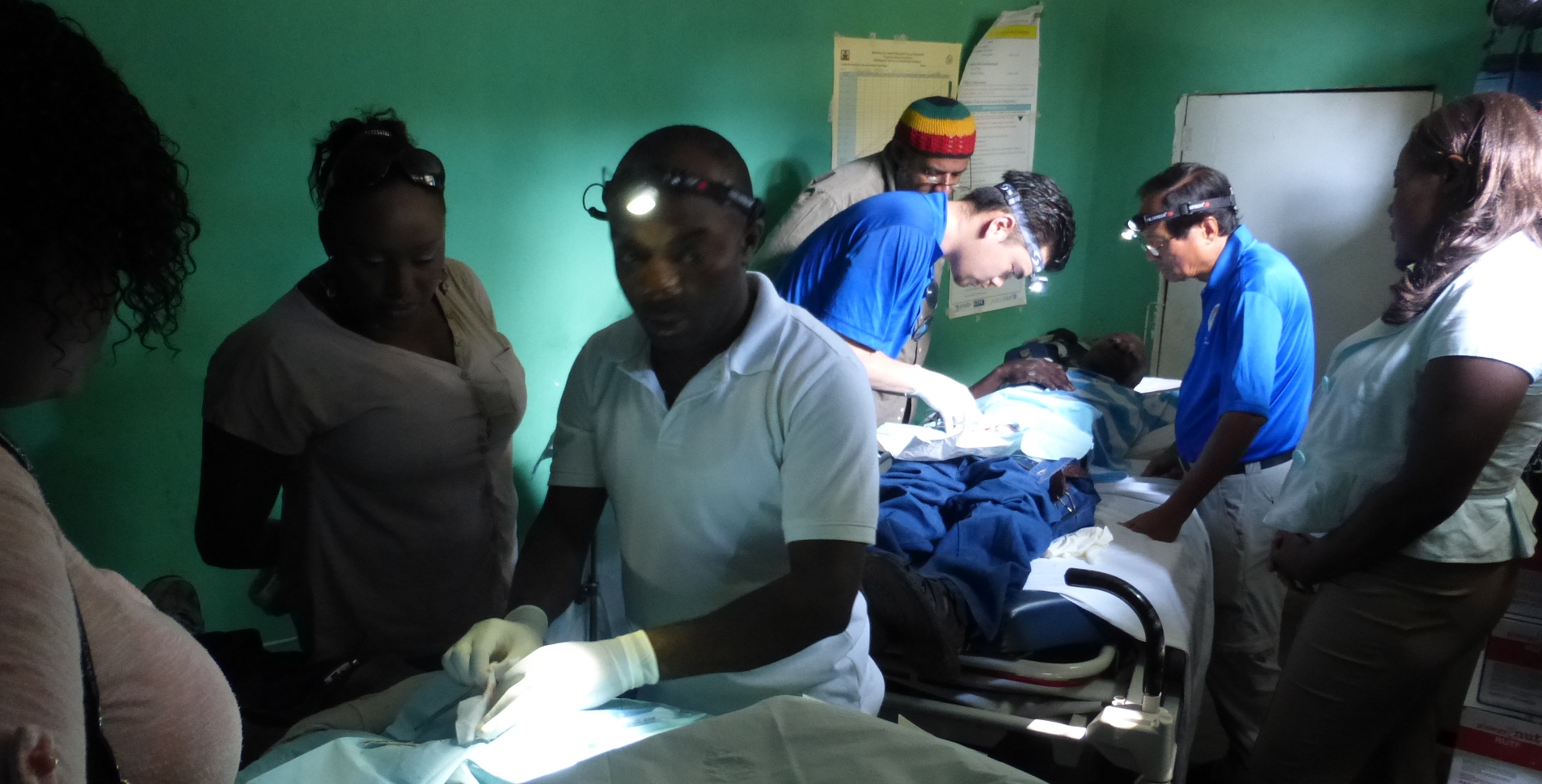 We were also joined by Dr. Estime Wisline …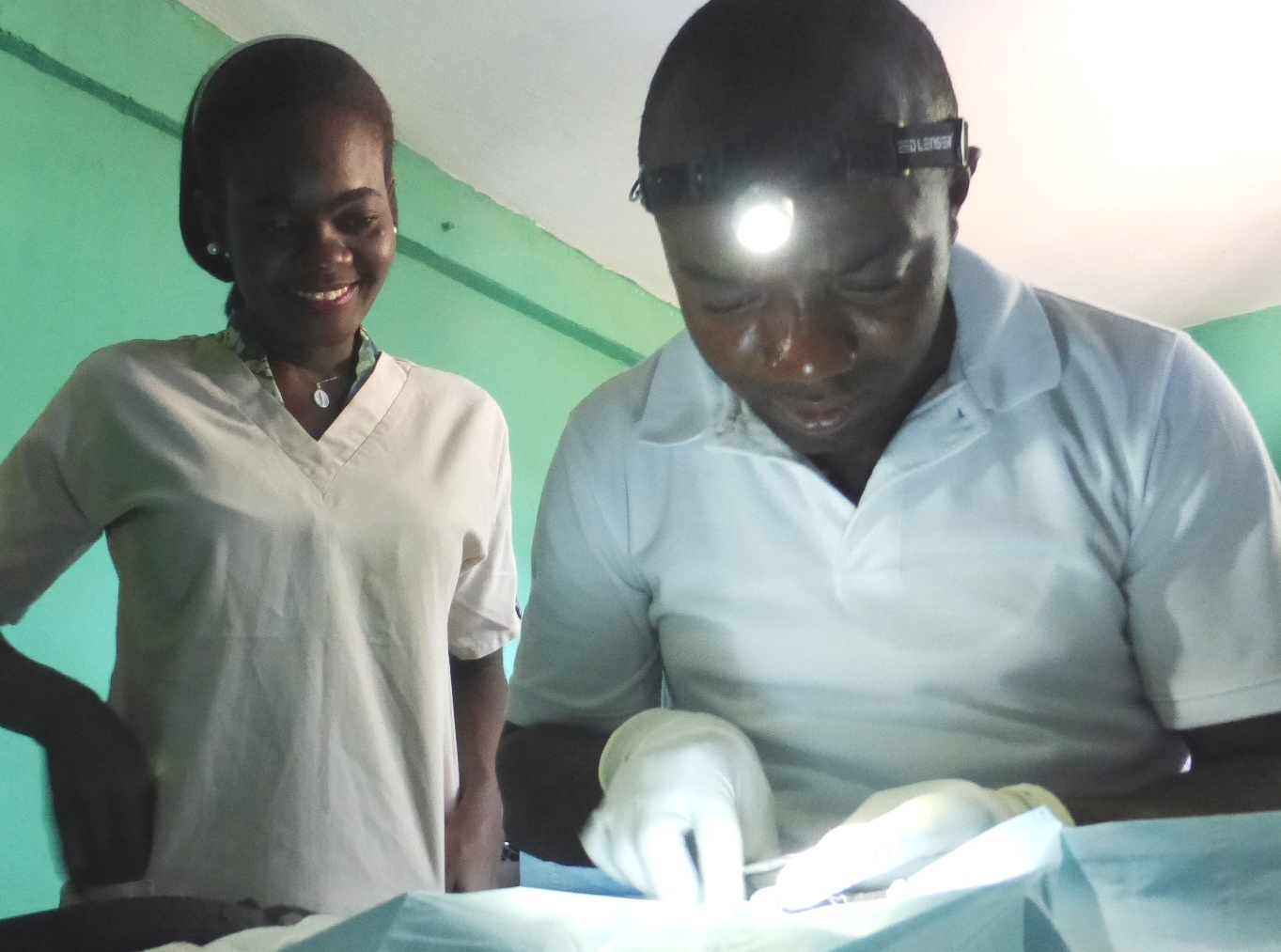 and Dr. Henricles Jeudy who had studied medicine in Cuba and is now a Doctor of Family Medicine in Cap Haitien and Gonaives.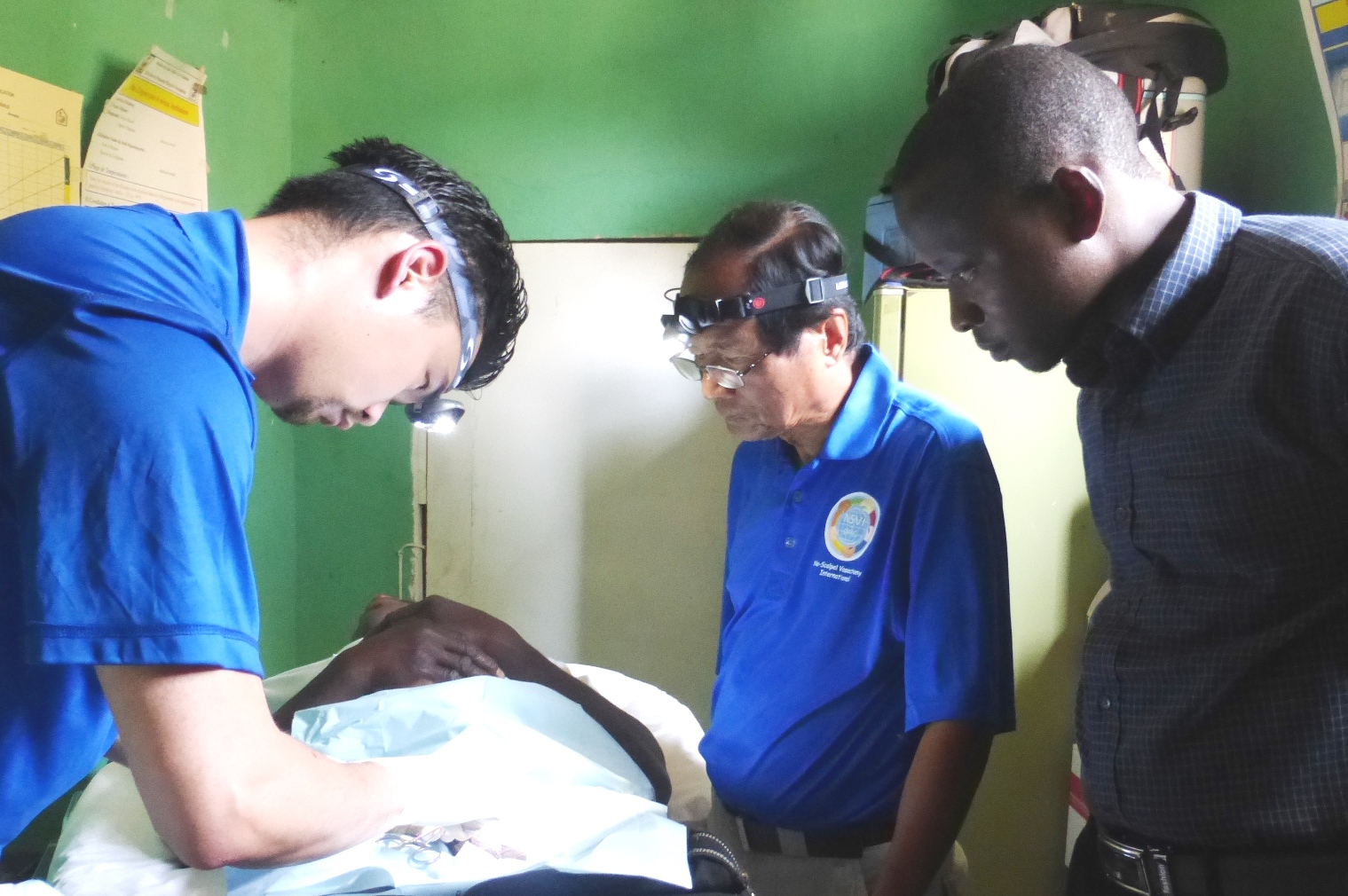 Dr. Jeudy had come with general surgeon Enioth Bright who had been with NSVI during our November 2015 mission.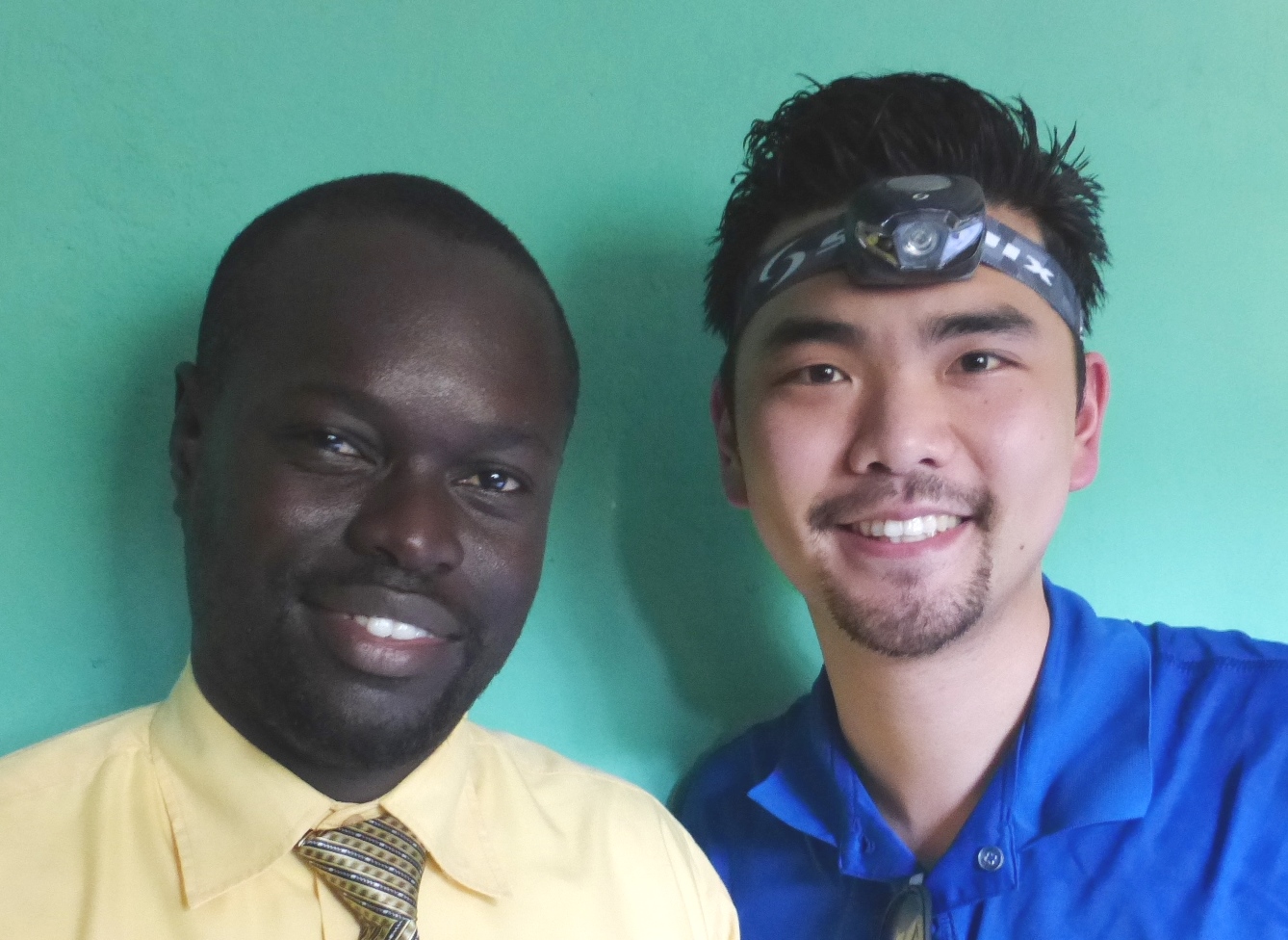 This steady flow of patients was possible because of the dedicated work of Covsky Amiable and Eugene Rodeline keeping records, providing meds and follow-up instructions, and finalizing informed consent.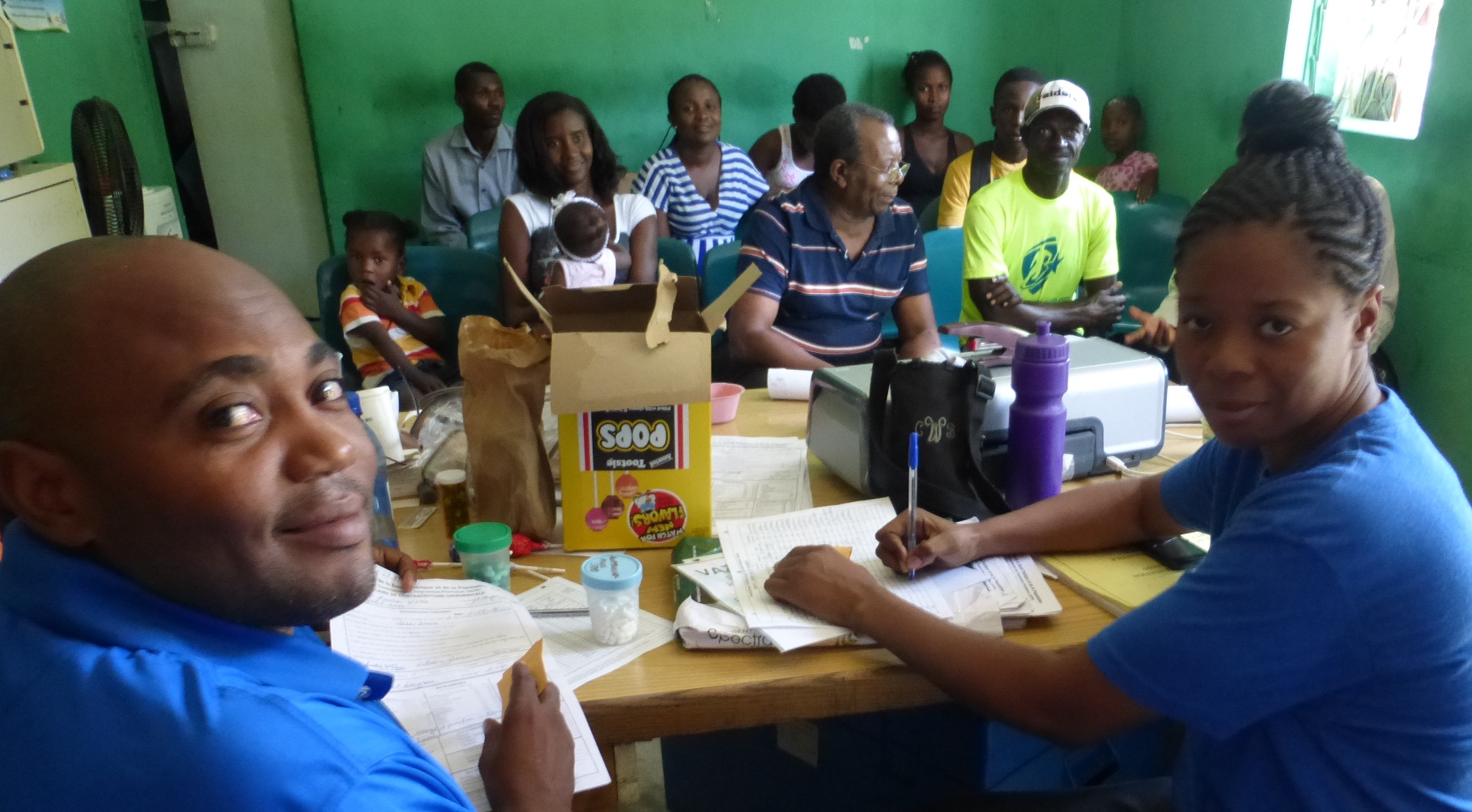 Despite cramped quarters, 19 vasectomies were performed in Ft. Bourgeois before transferring to Hopital Ft. St. Michel. More doctors came to observe and acquire firsthand knowledge of the ease (for the patient), simplicity, and dependability of no-needle no-scalpel vasectomy compared to female-oriented contraceptives.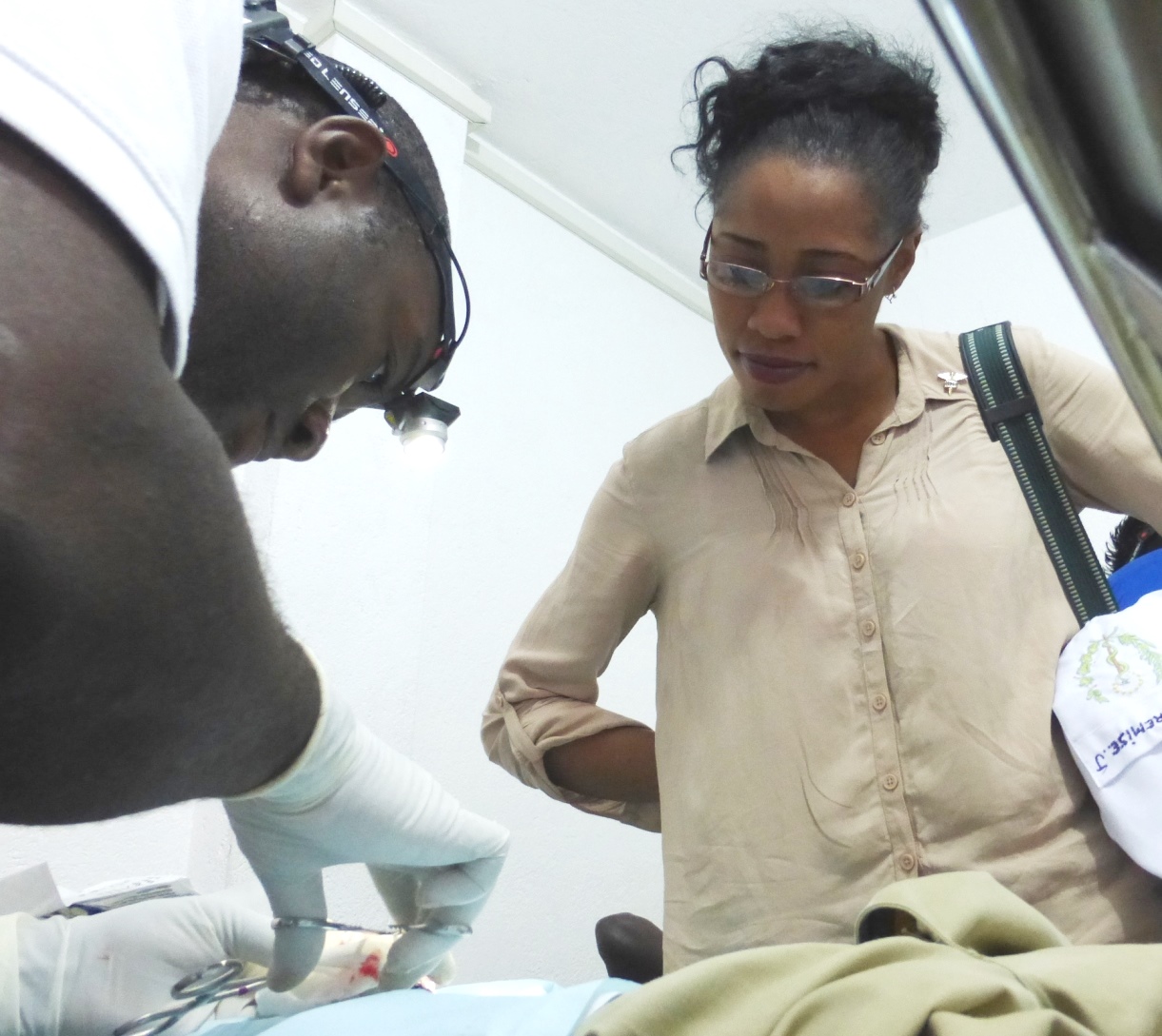 And once again, master record-keeper Covsky made sure that each patient accepted his income replacement payment and understood that he was not to work this day or the next.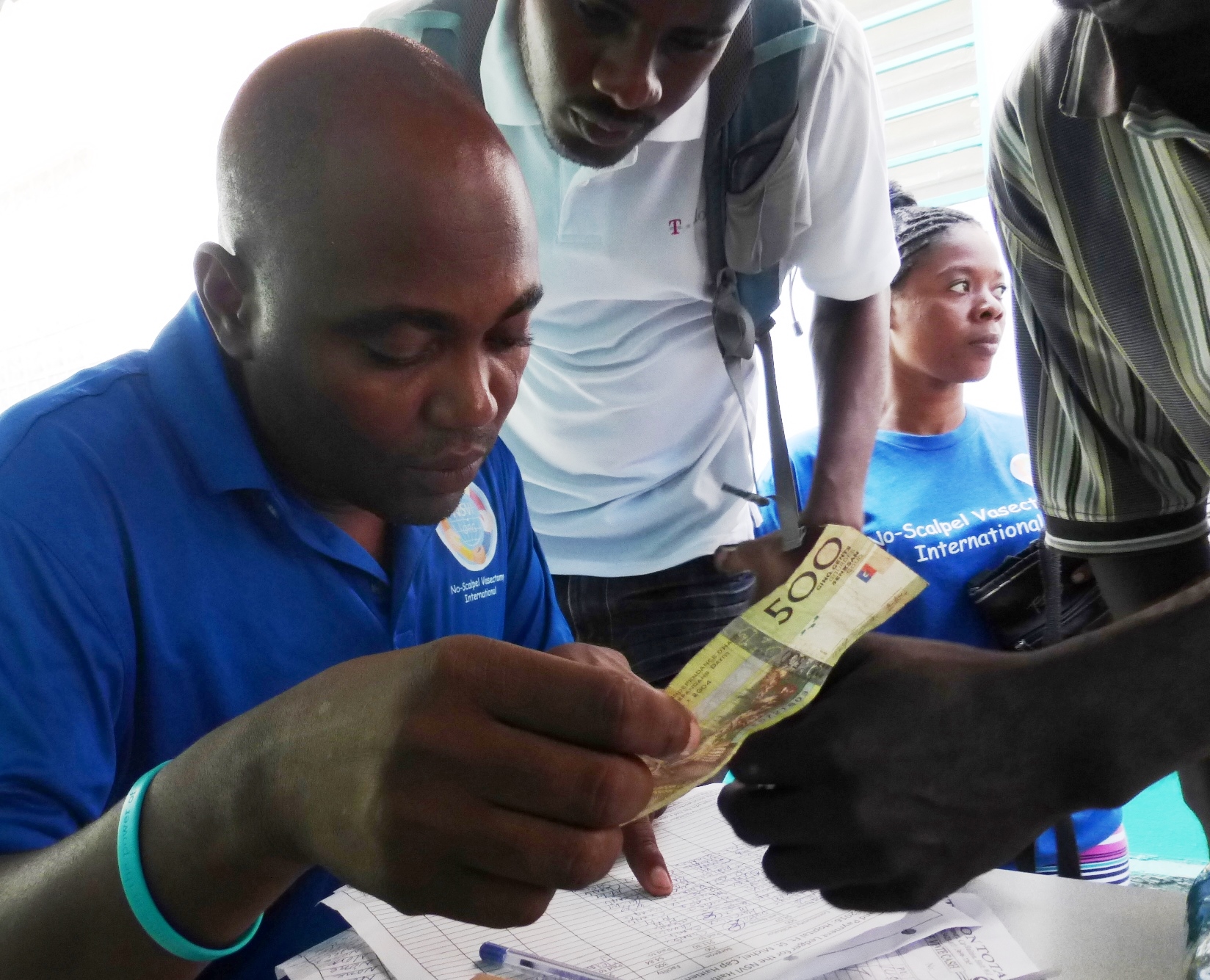 On Saturday morning, we returned to Hopital Ft. St. Michel, pleased to learn as we drove past the CHHN office that our banners were still on display after 3 days.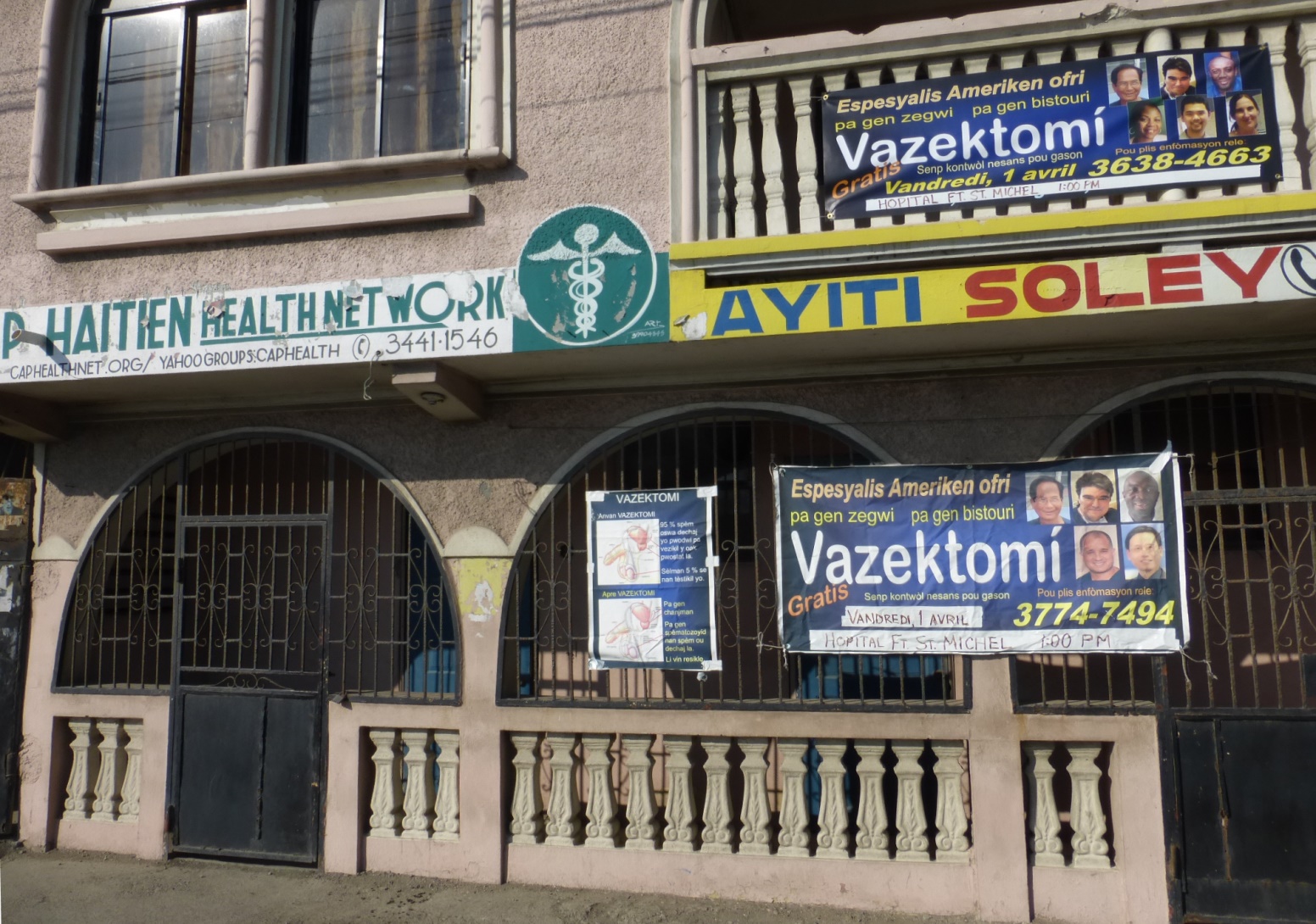 The morning sun made it a fine time for a group shot in front of FSM: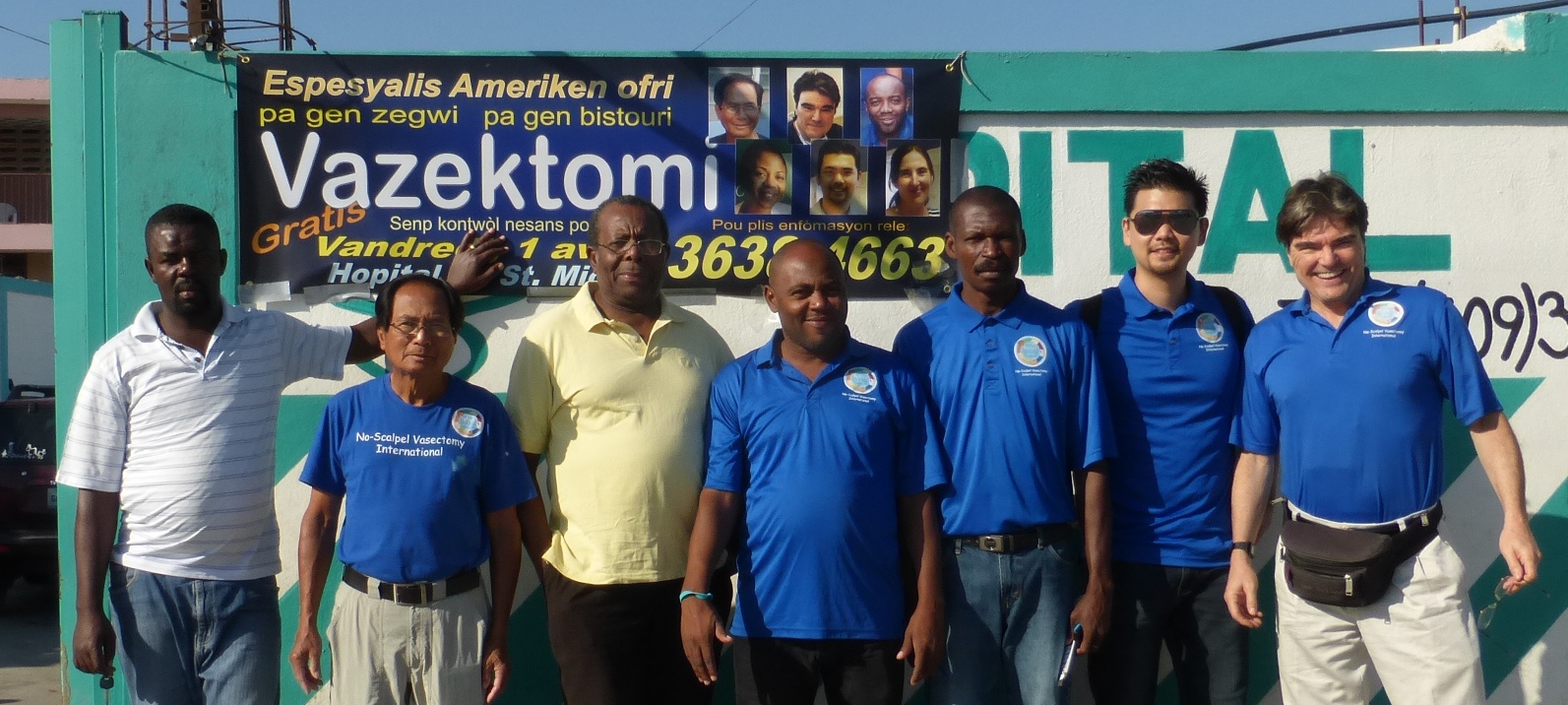 Men had not yet arrived, but Lead Facilitator Vildor Pierre wasted no time bringing opportunity to passers-by. With a stack of educational brochures in hand, he beckoned men in from both directions until he was soon surrounded by a gaggle of vasectomy candidates from whom he screened those without children while ushering in those with many children so that they could be further counseled inside.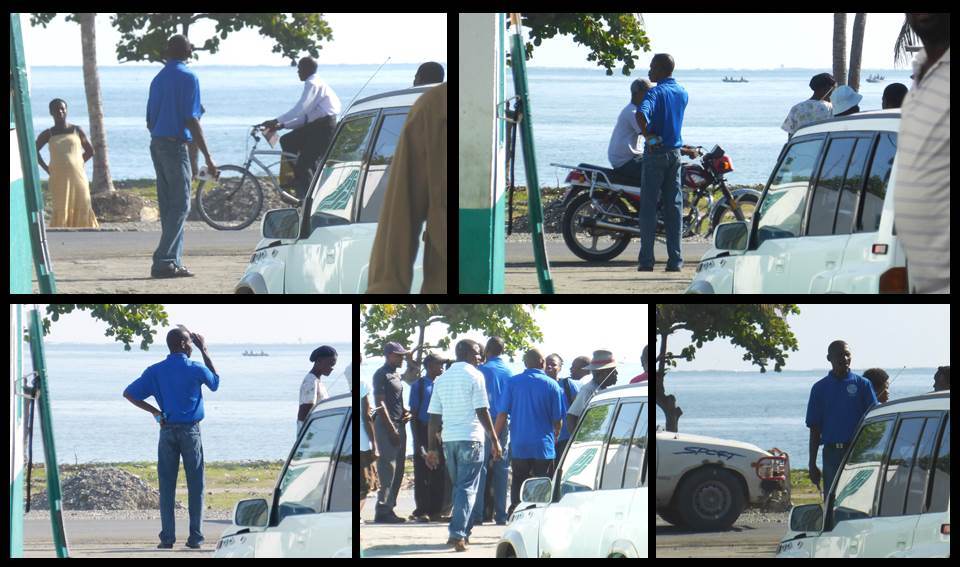 Once inside, Amos would explain the process in detail.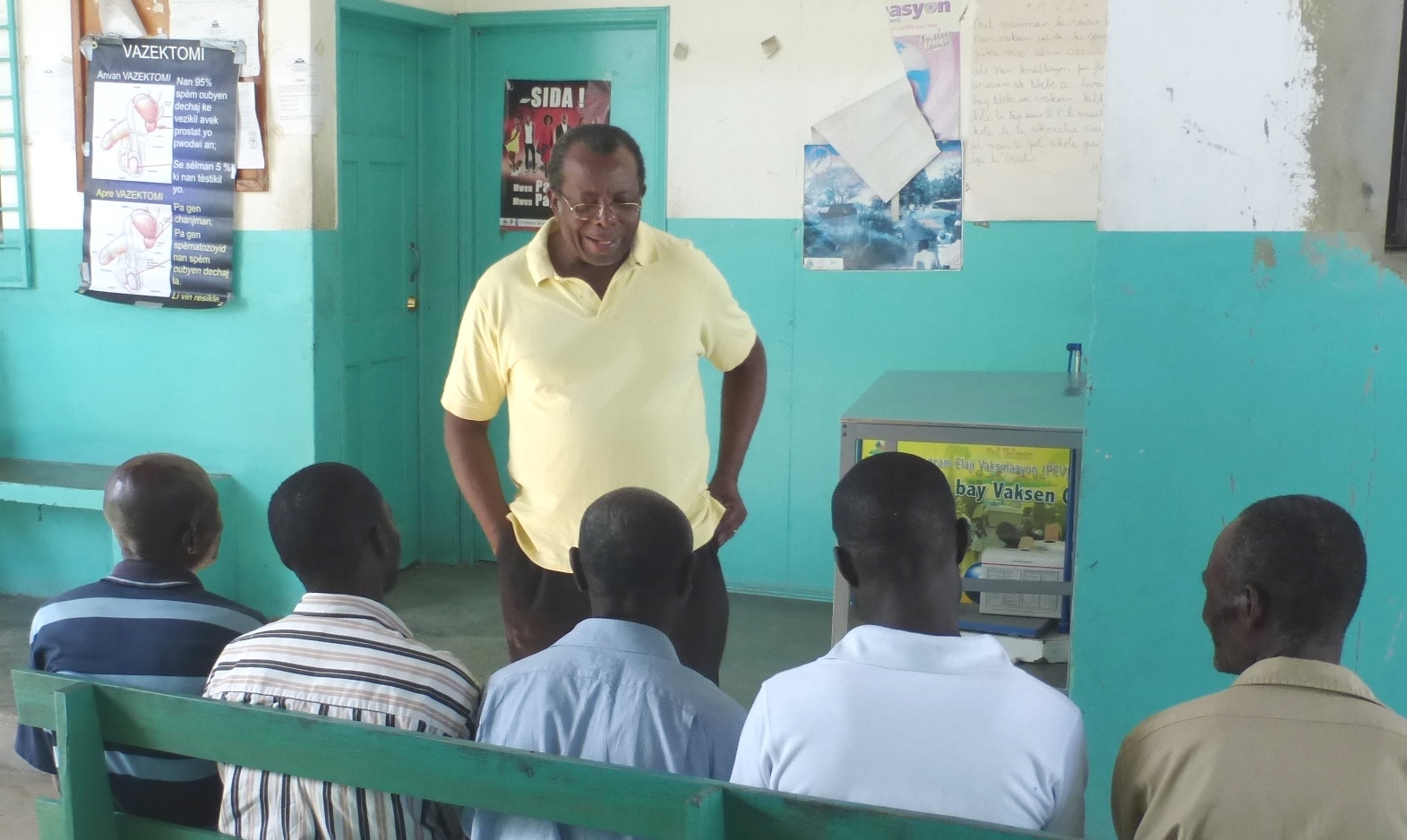 Our two Saturday trainees had a great day. Classaint got to operate with Maudelin …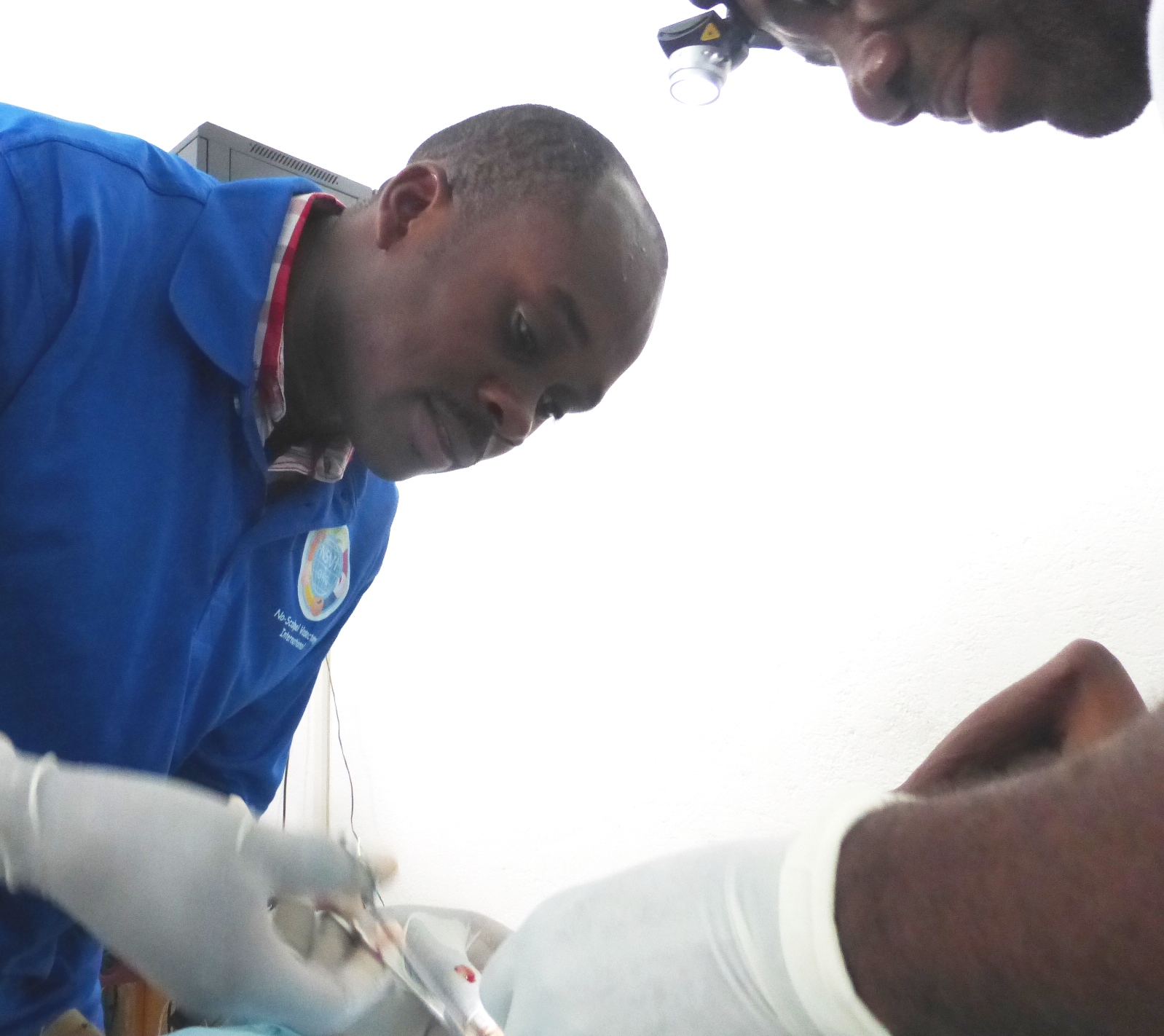 … Jack …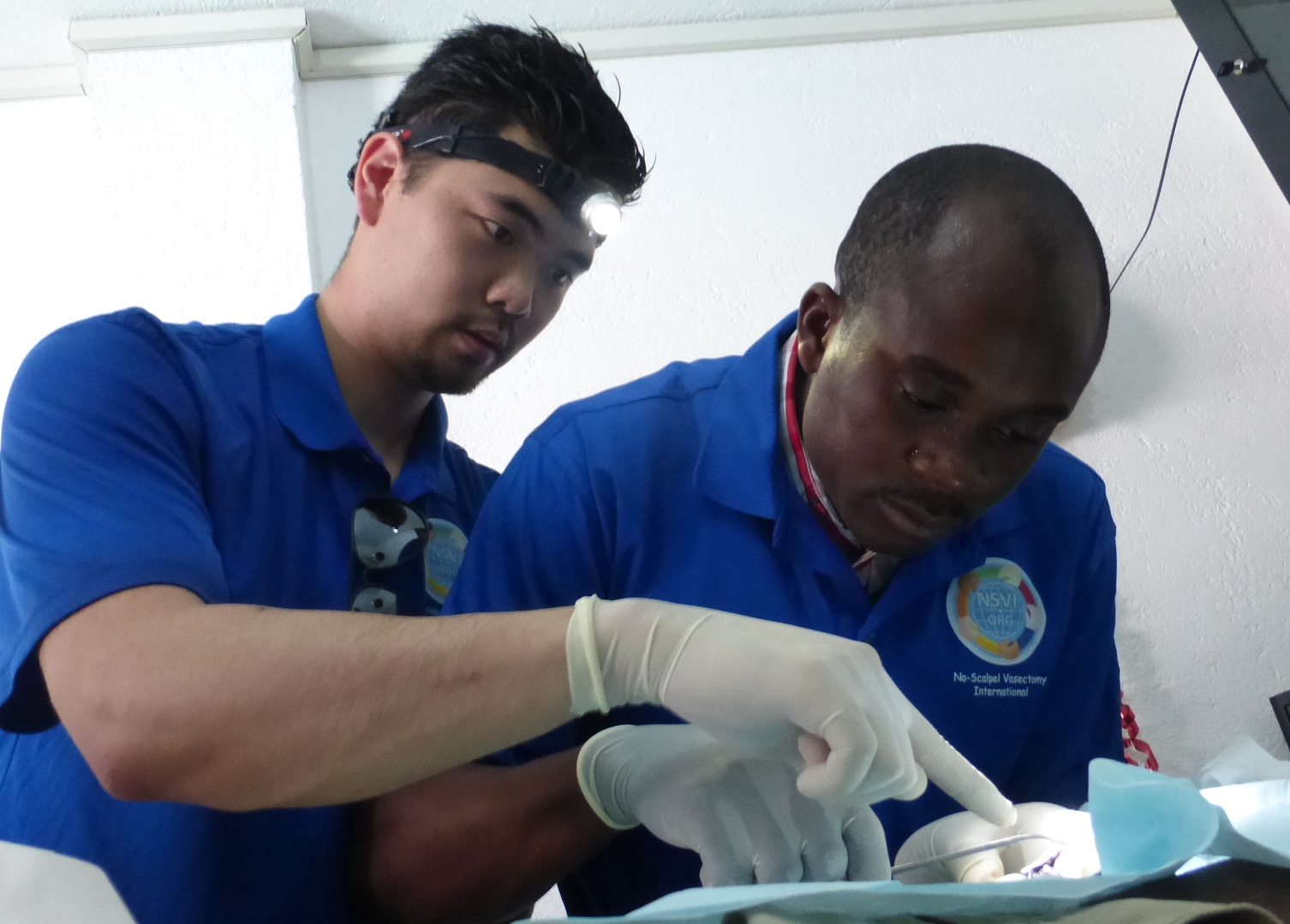 … and me!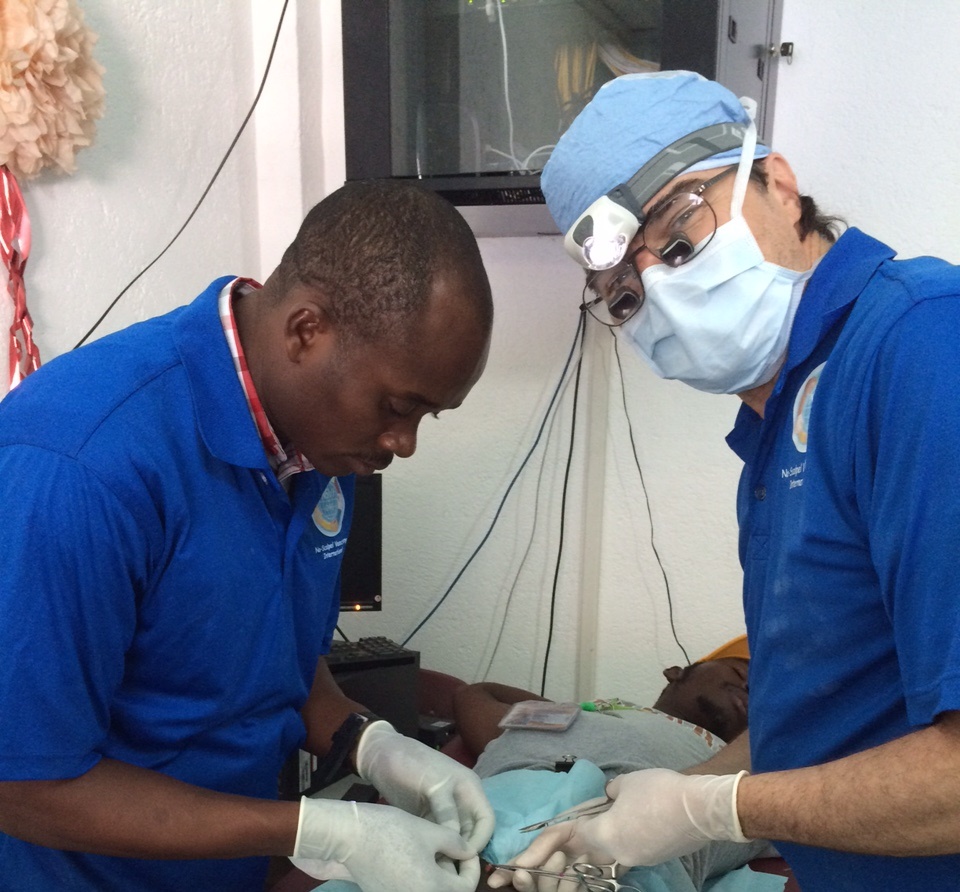 And Dr. Renaud Gerve had Master Trainer Ramon Suarez all to himself for two hours.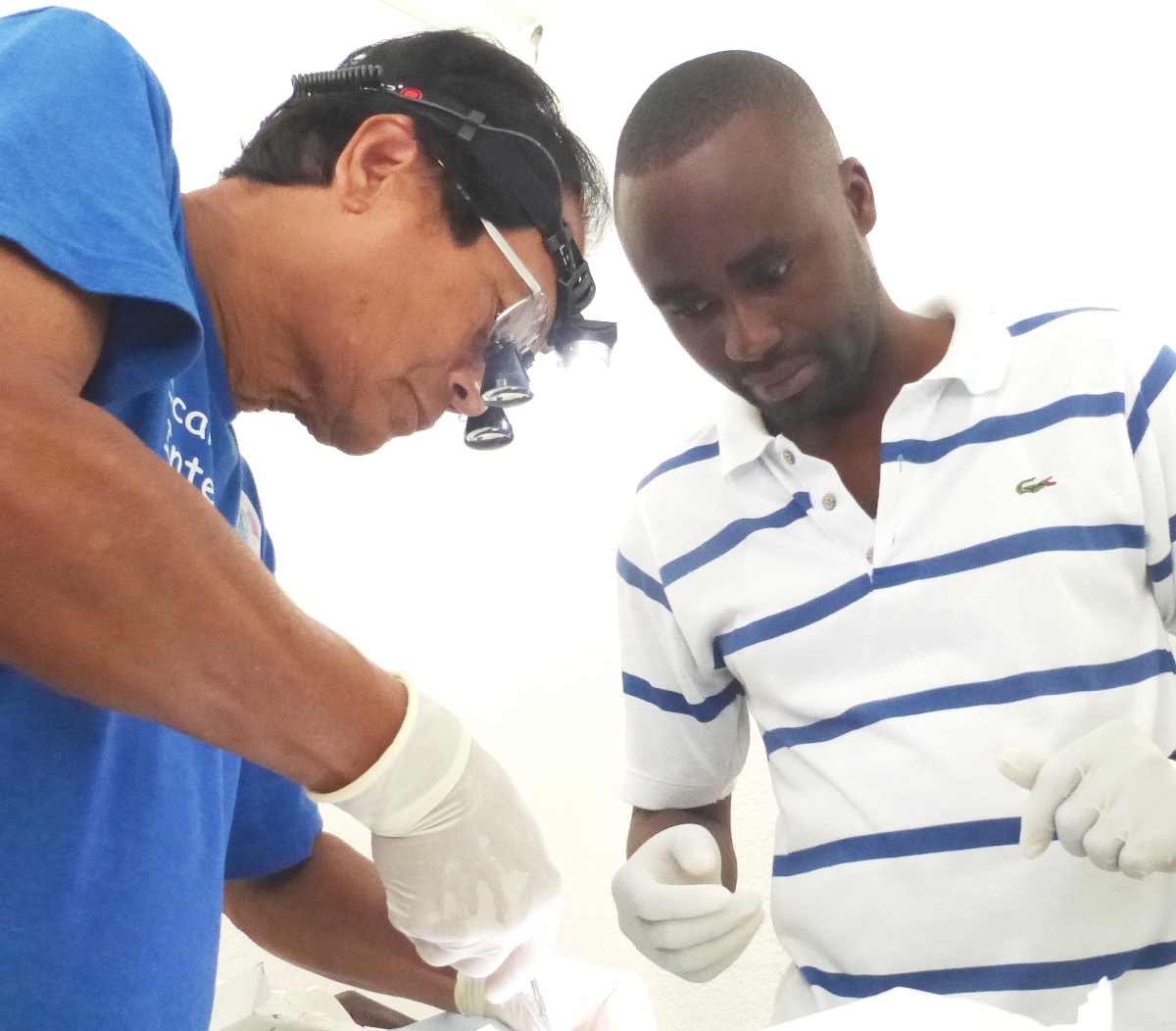 As usual, Judeland Jerome did a great job sterilizing instruments and preparing trays fast enough to keep three procedure table going strong.
After 24 vasectomies, a quick pack-up, and finalization of payments to staff and facilitators, we were off to the airport 10 minutes away …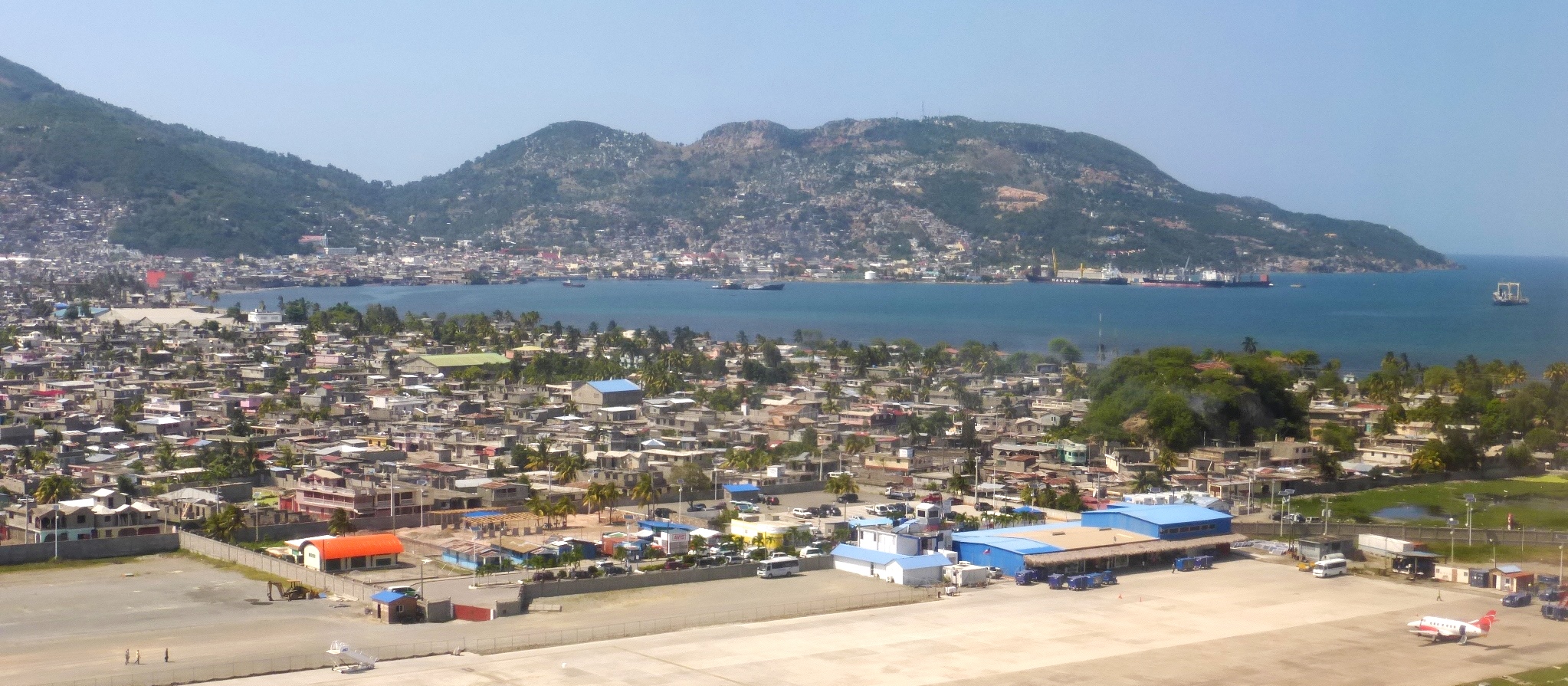 … and whisked back to Miami. A nostalgic look back at Cap Haitien and appreciation of what a wonderful opportunity it is to serve others.

NSVI will return to Haiti July 6-9 and November 2-5 to continue our thrice-yearly missions. Some vasectomists have already expressed an interest in joining us, and they are listed HERE. We will probably not return to Plaisance until the road is improved because of the duration of the trip over narrow and windy mountain roads, and the low number of patients that we had this time. We will consider Voudreuil and Limbe.
Ramon and I appreciate "guest" vasectomists for many reasons:
1. They increase the productivity of each mission. Maudelin is the only Haitian vasectomist with enough training and practice to be highly productive. Ramon is so busy training and handling the toughest cases (men with hernias and hydroceles), and I am so busy organizing equipment and managing payment issues, that the three of us could not possibly have performed 70 vasectomies without Jack. With Beth having to change plans just before the mission, we felt very lucky that Jack had as much skill and stamina as he did. Despite having only two or three tables at each location, another guest could have helped in many ways, but we made it through.
2. Guest vasectomists energize Ramon and me, each other, and our Haitian colleagues. We love fresh faces and different perspectives, and we would have much less desire to continue these missions without our guest vasectomists.
3. Guest vasectomists help finance NSVI missions. Each vasectomy costs NSVI about $50 as explained elsewhere in this site, not to mention other planned expenses such as gas and compensation for our driver and other helpers, and unplanned expenses such as the new air conditioner for FSM for $500 in November, and the new tire for $200 this time.
4. It is great fun to see how guests react to a culture and environment so different from their own.
Opportunities to perform vasectomies at other locations abound, but one team cannot provide services at more than 4 locations in 4 days, as we lose too much time transferring all of our equipment. We could bring a larger contingent, arrange for another vehicle, and divide into two groups.
I take enough instruments and supplies for 3 operating tables, the most we have ever had at one location in Haiti because of limitations in space. Having two teams operating simultaneously in separate locations would require that we bring two sets of supplies. The list is HERE. It's doable, but a lot more work for me. We would be delighted to have another guest vasectomist who is willing to bring another set of supplies.
If you might like to join NSVI during a future mission to Haiti, let me know through the Contact Us page above, and I will add you to the list HERE. If you want to secure a place in a future mission, please send a commitment deposit to NSVI per the instructions in that page.