NSVI Missions have become popular. We don't want to forget vasectomists who express interest in certain missions. This little sheet helps. Most updates about missions are sent to the Vasectomy Network Google Group, but we make double sure that vasectomists who have expressed an interest are kept informed.
As of January 2021, COVID-19 has made travel to Northern Haiti more complicated, and now American Airlines has discontinued the flight from Miami to Cap-Haitien, where we have our strongest domestic support team. Spirit Airlines flies from Ft. Lauderdale to Cap-Haitien, but Spirit is a poorly-rated airline with more complex baggage restrictions. There are still American Airlines flights to Port-au-Prince in Southern Haiti , but travel from there to the North is challenging and the ongoing civil unrest (for which we cancelled two missions in 2019) is worse near the capital city (PAP). So all 2020 missions were cancelled. As of late March 2021, vaccines are becoming more available, and most mission doctors are vaccinated. So we feel more safe traveling, and we pose less risk to our patients and staff in Haiti. So we resume missions to Haiti May 6-9
Up until March 2016, Haiti missions could accommodate only 2 guest vasectomists because (1) each site has room for at most 3 procedure tables served by one supply and sterilization table, and (2) we had only one person (Elisabeth Kaplan from Orlando) who could handle the rather complex processes of (a) tracking and paying facilitators for each patient they educate, and (b) providing income replacement payments to patients so they don't return to work after their procedures. During the March 2016 mission, two goals were accomplished: (1) We were able to safely store enough supplies in Haiti to partially equip a second team working at a second site; and (2) we taught an assistant fluent in English and Creole (Covsky Aimable from Cap Haitien) how to manage payments to educators and patients. Covsky, our Administrative Director since 2016, has subsequently trained Assistant Administrative Directors to handle a second team. When we can procure a second vehicle, we can invite 4 guest vasectomists to join us. Each evening, we are reunited at our hotel to dine, compare experiences, and enjoy the company of the larger group. The logistics related to equipment are a bit unwieldy, but we are getting better with each mission.
Facilities are larger in the Philippines, so at most locations we can set up enough procedure tables to accommodate 8 guest vasectomists, who often enjoy working in pairs.
The only fair and logical thing to do is to accept those experienced vasectomists who donate first to NSVI "FBO [country] [date] Mission". $500 reserves a spot on any mission still open. The donation is not refundable, but if your plans change, you will know that you have donated to one of the most worthy causes in history.
As of March 2018, the current total donation for Haiti (4 days, 3 nights) is $1500 to cover vasectomy fees ($50 apiece for an anticipated 30 vasectomies per guest) PLUS $500 to cover room, group meals, and domestic transportation.
Through 2018, Philippines Missions were 9 days. $2500 covered vasectomy fees ($50 apiece for an anticipated 50 vasectomies per guest). For room, group meals and domestic transportation, the fee was $1500 for single occupancy. However, we have shortened the trip, and, without our NSVI Founders promoting vasectomy, numbers have fallen (only 101 during the 2019 mission). So, starting in 2020, the donation for Vasectomy Fees will be $1500 and for room, board, and transportation, the donation will be $1000.
In Kenya, the acceptance of vasectomy is more difficult to predict. NSVI would suggest $1000 to cover vasectomy fees for an anticipated 20 vasectomies per guest.
Licensing has not been an issue in Haiti or the Philippines, but we ask all guest vasectomists to carry copies of the credentials listed in #8 below. Kenya requires foreign doctors to obtain a Temporary License for a fee of $200. The application is #17 HERE.
To be added to the list for one of the missions in the table above, please contact Doug Stein through the Contact Us page in the menu above. To secure a spot, donate $500 to NSVI "FBO [country] [date] Mission" through the Make a Donation link above. Detailed instructions are at the Donors link above.
Missioners should bring:
1. Headlights and extra batteries I will have a few extra headlights for our host-country trainees, but if you have more than one, please bring an extra for a trainee. Having seen many lights brought by guest vasectomists, I thought the best for the money was Coast HL7 for $31 on Amazon. But I recently purchased a 2-pack of Coast FL82 headlamps for only $19.88 at Home Depot.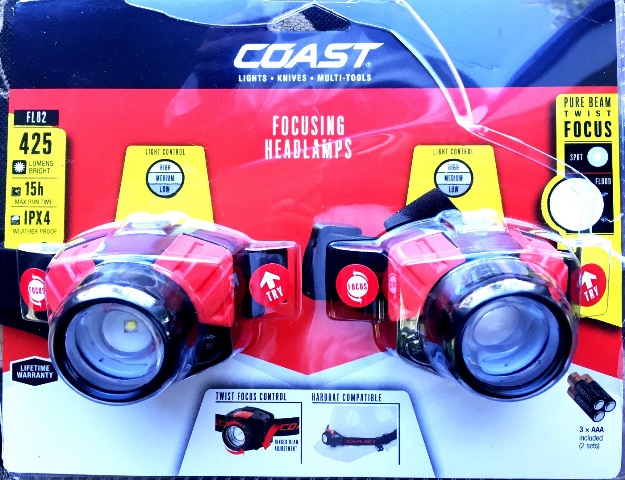 Rechargeable units can be more of a nuisance than just changing batteries periodically. I use either alkaline batteries or Ni-MH rechargeable batteries. Both work fine.
2. Optical loupes if you have a pair. 2.5x loupes make vasectomy SO much easier for many of us. My take on loupes is HERE.
3. Your NSVI shirt(s) from prior missions if applicable.
4. Sterile surgeon's gloves in your size (80 for the Philippines and 60 for Haiti). We often work together and two pairs are consumed for most cases. We share our gloves with host-country doctors, and that's why I ask you to bring more than the estimated number of cases that you will perform. We leave behind extras for future missions or as donations to our domestic team surgeons.
5. 1 box of 100 non-sterile gloves in your size. Better yet, 1 box of 200 or 300 nitrile gloves. They pack more tightly than latex gloves, go on almost as easily, and may be cheaper. Vinyl gloves to be difficult to don.
6. Your re-usable thermal cautery unit handle (and six tips) if you have one.
7. Nuts, soybeans, granola bars, etc. for lunches. We eat big for breakfast and dinner, but scarf lunch while traveling between morning and afternoon sites.
8. Copies of your passport, medical degree, specialty certification, medical license and certificate of status (usually a printout of your state licensing board indicating that your license is active as of a certain date close to the mission). I carry mine in my computer case in a plastic sheet protector. I also have it uploaded HERE and can upload those of anyone else if sent to me.
9. It's nice to bring your own MadaJet … (1) I can bring one fewer, which cuts down on my weight, and (2) it's good to practice MadaJet care if you plan to perform vasectomies at more than one site in your geographic region. Pack it sterile in a see-through sterilization pouch without its glass cylinder. Autoclave the glass cylinder in a smaller separate pouch and pack that into a rigid container like a plastic pill bottle so that it doesn't get smashed in transit. Keep the MadaJet brochure with the MadaJet. If you carry it on, put it alone with its brochure in a TSA bin, even if you have TSA PreCheck. TSA will fret over it EVERY TIME, especially if it is "hiding" in your bag. If you leave it in your checked bag, that bag may be delayed at an intervening airport if they run it through another scanner. I check 4-6 MadaJets, but leave them on top of the other supplies in the suitcase with a MadaJet brochure. ON my checked bag and IN my checked bag I affix/insert (in a plastic sheet protector) a page that looks like THIS.
10. Personal items: Ear plugs for loud-breather room-mates, night-time street noise, or noisy A/C units. Short extension cords with 3 plugs to make the most of scarce poorly-located power outlets in our hotel. Shampoo in case the hotel has run out or you don't like what it offers.
11. Clothes: Swim suit (the hotel has a nice pool). I wear the same NSVI quick-dry polyester polo shirt over a fresh T-shirt every day. A washed NSVI polo shirt will dry overnight in the AC of your hotel room. I always bring a supply of new NSVI shirts for first-time international and domestic team members. Bring some laundry detergent in an old pill bottle. I wear khaki pants (cotton or polyester), usually the same pair for 3-4 days. Scrub pants are comfortable also, but I need pants pockets. I wear a fresh pair of socks every day. Personally, I think shorts are too informal for a doctor to whom men are entrusting their valuables. During each evening at the hotel in Haiti however, I do wear shorts and flip-flops.
12. Extra pens. You'll have to sign the chart for every patient whose vasectomy you perform. Pens often disappear, so bring about 6.
13. Despite occasional ridicule, I wear a waist pouch. It's very handy for my pens, markers, extra headlight batteries, my loupes, my camera, rubber bands, our money, and much else, always handy. A back pack is also handy to carry your own gloves, headlight, and snacks. The hotel does not have safes. I know of no instance of theft, but I usually keep my passport in a passport pouch draped around my neck and positioned between my t-shirt and my outer polo shirt.
14. I bring my own computer to keep patient logs and to do some office work and check emails during the evening. I keep it with me in a computer backpack all day, sometimes even wearing the backpack when I am operating. Most missioners don't bring a computer and just rely on their phones. The hotel has acceptable WiFi in the lobby.
Transportation Considerations:
Two Haiti Guest Vasectomists missed their flights from Miami to Cap-Haitian (CAP) when American Airlines was our carrier to CAP. One doctor cancelled altogether and the other came a day late. DON'T TAKE CHANCES. As of late March, our final flight to CAP will be on Spirit Airlines from Ft. Lauderdale (FLL). I strongly advise you to either:
1. Arrive in FLL one day before the FLL-CAP flight and spend the night in an airport hotel, or
2. Choose a flight from your home city so that you have a 3-hour layover in FLL in case the flight from your home city is delayed. When given the option of 2 morning flights to MIA (when we were taking American Airlines), I always took the earlier flight to MIA. If I booked the later flight, and if that flight had been delayed, all of our equipment might not have made it onto the MIA-CAP flight and the whole mission would be spoiled. So I plan a layover in FLL of at least 3 hours before the FLL-CAP flight..