Here is how the Domestic Program works in Cebu City, Philippines:
1. The Local Team: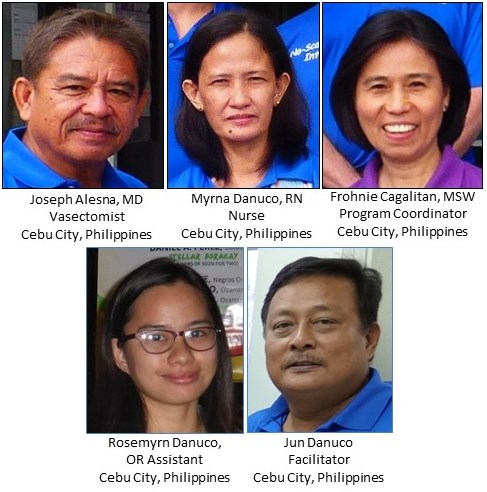 2. NSV Venue & Regular Schedule:
The local Team holds a Regular Free NSV Clinic 1-2 times per month, depending upon the availability of our surgeon. Venues include Sacred Heart Hospital (SHH) on Urgello Street, a Training Hospital of Southwestern University PHINMA in Cebu City, Danao Provincial Hospital in Danao City, and Talisay District Hospital in Talisay City.
3. Specific Dates:
The Domestic Team does not perform vasectomies during January as they prepare for NSVI missions in February.
NOTE: PhilHealth pays for vasectomy!
Any person with PhilHealth Insurance can have his vasectomy performed in private by the NSVI Domestic Team at the Reproductive Health Clinic at SHH by appointment. Please call Myrna Danuco, RN at 0927-222-0906.
4.  "Livelihood Assistance" Special Project:
This Special Project hits 2 birds with one stone. It addresses at least 2 social problems in the Philippines:  Poverty and Overcrowding due to a high rate of unintended pregnancies.
The  Livelihood  Assistance Project is specially intended for Men who have had a Vasectomy already. The aim is to provide them with extra income. However, this is only for those who are willing to promote Vasectomy, to fellow fathers, especially the low-income men who desire no additional children.  Those who have had NSV are more credible as educators, because of their experience.
The NSV Promoters are in 2 Categories:  "Motivators" and "Facilitators".
The Motivators are those who are first timers in referring clients for No Scalpel Vasectomy (NSV).  Each Motivator will receive Php 100 for each client he refers. As soon as he has referred 20 men for Vasectomy, he is promoted as a Facilitator and he will now receive Php 300 for each client referred, starting from his 21st client.
However, if the client was referred by one of his "downlines" or Motivators, the P100 goes to his Motivator and he as a Facilitator will receive Php 200.  The function of the Facilitator, is to guide and oversee his Motivators. He can recruit Motivators. The more Motivators he has, the more extra income he will receive. The same thing with the Motivators: the more clients they can educate and refer for NSV, the more extra income they can have. The "uplines" of the Motivators are the Facilitators and the "downlines" of the Facilitators are the Motivators.
Each Motivator will receive Referral Slips imprinted with his name either directly from the Local Team or from a Facilitator. When he finds an interested potential client, he will add the name of the client to the card and give the card to the client. This will be used for monitoring purposes and for payment of the Motivator for his efforts after the client's NSV procedure. The NSV clients/patients will also be given Php 1000 as income replacement, to be used for food and needs of the family, because they will be advised not to do heavy work/lifting or strenuous activity until 2 days after the vasectomy.
5. At the completion of each vasectomy clinic, the following payments are made: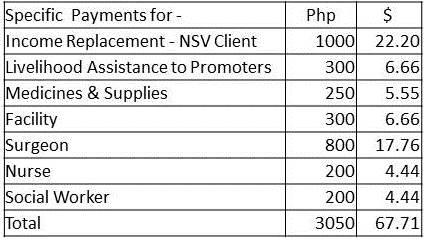 So the total for each vasectomy is about $67.71, varying with the exchange rate.
So if you would like to DONATE, rest assured that a donation of $677.10 will provide vasectomy services for 10 men. Those men will be able to better provide for the children that they already have, thereby enhancing the quality of life for their families and Philippine society overall. Your donation will greatly help reduce POVERTY and Overpopulation .
Foreigners (non-Filipino nationals) may have their vasectomies on NSVI Domestic Program Vasectomy Days. The fee is P 10,000. Payment must be made in cash given to Myrna Danuco, RN, on the day of the procedure..
To arrange a vasectomy on a Domestic Program day or by appointment (men with PhilHealth), please contact Myrna Danuco, RN, at 0927-222-0906.