The COVID-19 pandemic of 2020 led to cancellation of all missions planned for 2020 (March, June, September, and December). But given the success of the "Mission" of March 2020 (without the international doctors), NSVI decided to repeat the effort in recognition of World Vasectomy Day 2020.
Communicating by WhatsApp, I instructed Administrative Director Covsky Aimable to print some promotional banners to notify local populations that they were coming – one location on each of 4 days during the week of World Vasectomy Day.
First Day – Tuesday, November 17 – Lopital Kominotè Gran Rivyè di Nò. – 22 vasectomies.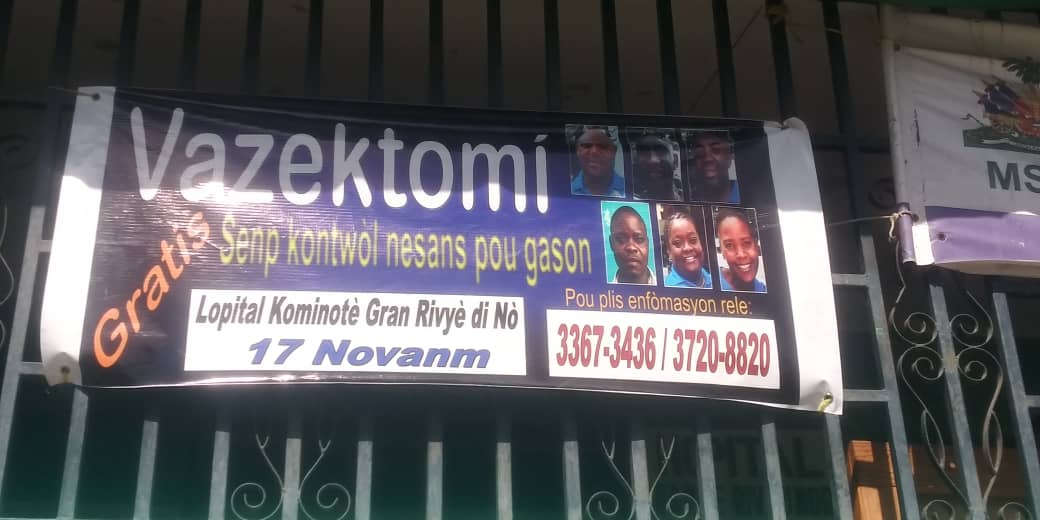 Second Day – Wednesday, Nov 18 – Dr. Mesadieu's own ULS Clinic in Ft. Bourgeois – 25 vasectomies.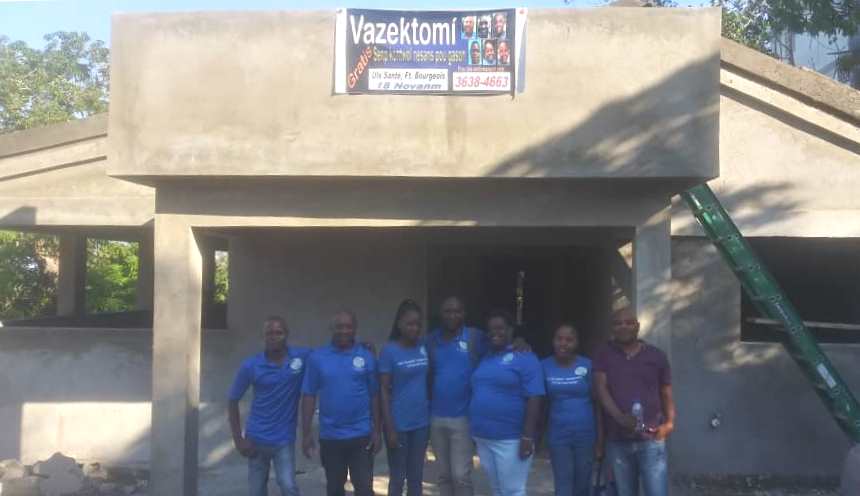 Third Day – Thurssday, Nov 19 – Hopital Ft. St. Michel in Cap-Haitien – 33 vasectomies.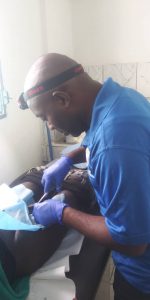 Fourth Day – Friday, Nov 20 – Complexe Medico-Social de LaFossette in Cap-Haitien – 17 vasectomies.
All TOTAL, vasectomies were provided for 97 men who had had a total of 553 children (range 2 to 13, although only 1 man had only 2 children). The average age of the men was 49.7 (range 32 to 65) and the average age of their present partners was 38.5 (range 24 to 43). The average number of partners with whom the men had had children was 3.0 (range 1 to 9). The average age of the youngest child of each man was only 1.13 years – the youngest child of nearly all men was less than 2, with many having newborns and pregnant wives.
Supplies and brochures shipped to Haiti reached the agent (CAS Xpress) in Ft. Lauderdale in late October. They were shipped by boat (no air shipments to Cap-Haitien) on Nov 8 and arrived on Nov 12, but they had not cleared customs by the start of this endeavor on Nov 17. So the staff had to improvise and use what little they had.
The biggest challenge was payment. Western Union does not send to bank accounts in Haiti. Cash pickup is available but the wait time at Western Union offices can be well over 2 hours, and it is dangerous to walk away from a Western Union (or Unitranfer office) carrying money in a poor country. Remitly offered transfers to bank accounts and indeed my initial transfers to the Unibank accounts of Covsky and Maudelin went fine. But later transfers (maximum transfer size to Haiti is $500) all failed to go through despite hours on the phone with Remitly agents in Hyderabad, Manila, and Colombia. The NSVI account is with Wells Fargo which does not offer online wire transfers to Haiti and the bank is far from my office, which makes in-person wire transfers logistically challenging. I finally went to the bank to arrange the transfers after Remitly had refunded all of my transfers, and our staff finally got paid 3 weeks after the "mission".
Haiti is a challenge, but our staff is wonderful, and vasectomy is really needed and appreciated. So we will continue to overcome as many obstacles as we can and hopefully resume missions with international doctors in 2021, depending on COVID, travel options, and the political situation in Haiti. American Airlines has discontinued jet service between Miami and Cap-Haitien, but Spirit Airlines now offers 3 flights per week between Ft. Lauderdale and Cap-Haitien.