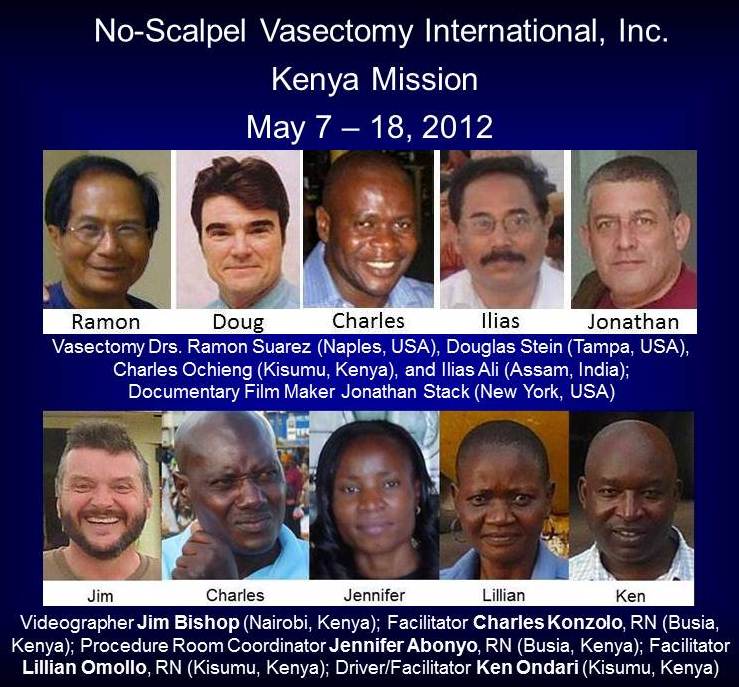 Itinerary: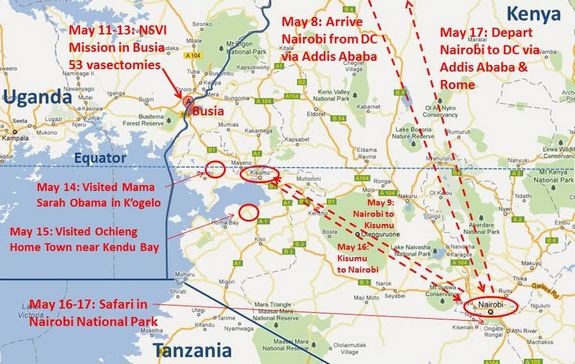 Four months of planning flights, accommodations, and ground transportation. Our host doctor, Charles Ochieng, MD, chose Busia in Western Kenya to be the site of our mission. He had performed vasectomies there and had supportive patients and facilitators, as well as a clinic willing to host the mission and allow patient reimbursement for transportation and lost wages.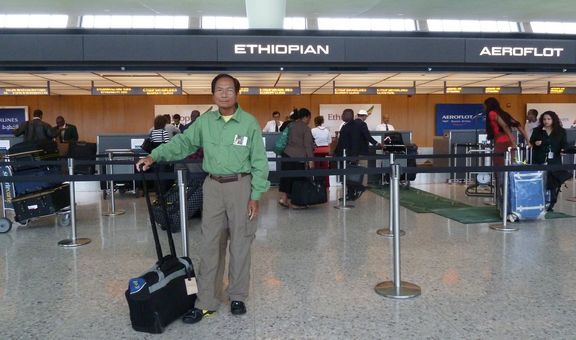 Ethiopian Airways: An excellent choice. Non-stop from Dulles to Addis Ababa, then a short connection to Nairobi.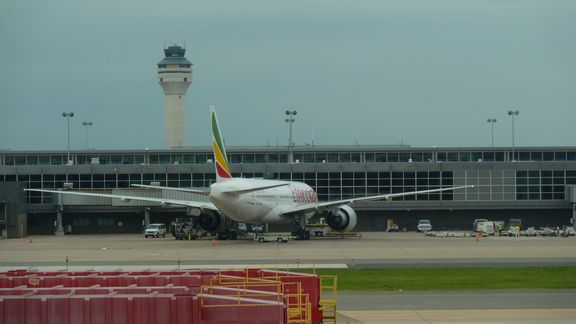 Our plane awaits. A new Boeing 777.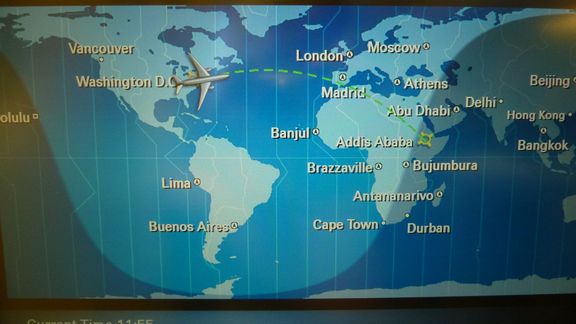 NSVI Spanning the Globe: We left at noon on Monday May 7, arrived in Addis Ababa at about 8 AM Tuesday, where we met Dr. Ilias Ali coming from India. After a quick layover and a late-morning flight, we arrived in Nairobi just after noon, about 18 hours after leaving Washington.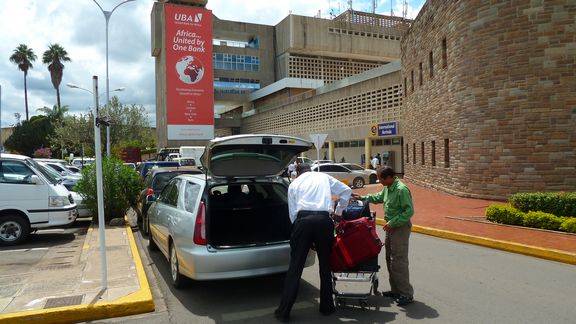 Arrival in Nairobi – With enough instruments and disposables in 2 suitcases to perform 50 vasectomies.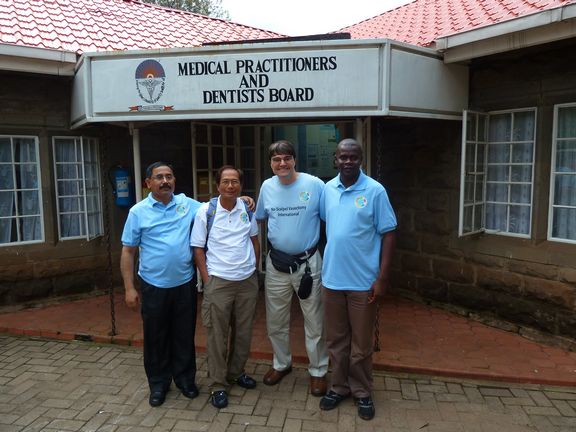 Picking up our licenses to practice medicine. We had applied 5 months earlier, so we were legal!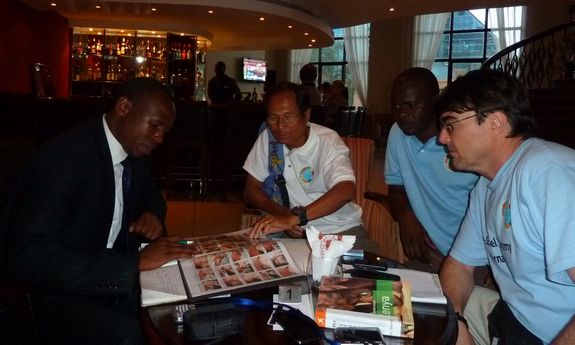 Meeting the Press. Charles had set up interviews in advance. This was Simon Anyona from Standard Newspapers. His article was published on May 18 and can be read here. Another reporter from East African Standard Newspapers, Renson Buluma, met the NSVI team in Busia days later and produced two articles, one on May 15, and another follow-up article on June 9.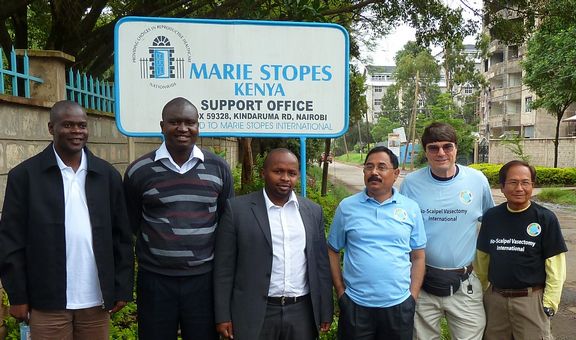 Visiting Marie Stopes in Nairobi. It was here that we learned that only 67 vasectomies had been performed in Kenya during all of 2011. Only 67 in a country of 41 million!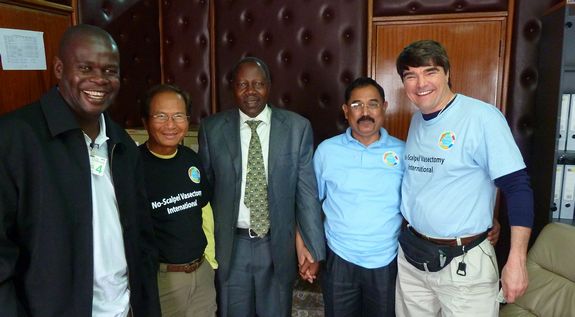 Mr. Kimeli Chepsiror … Director of Corporate Services, National Council for Population & Development. He had excellent insight into family planning trends in Africa.
On to Kisumu. The flight was full.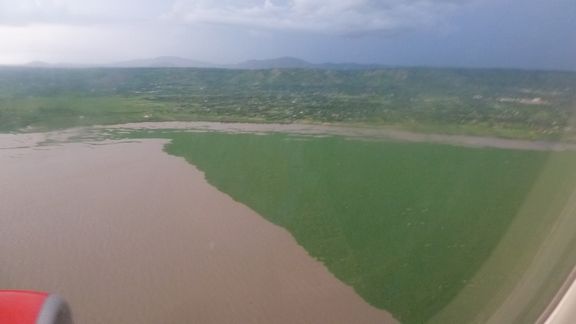 Winam Gulf of Lake Victoria. Water hyacinth chokes parts of the lake.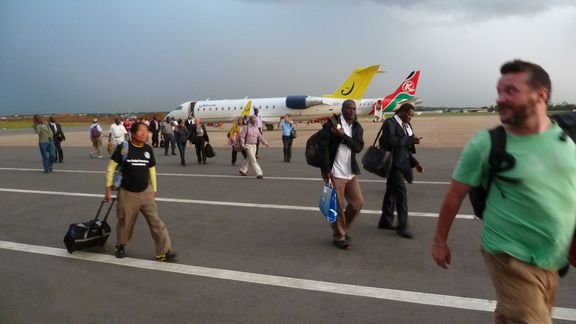 Arrival in Kisumu. April and May are Kenya's rainy season, with the rains usually coming in the late afternoon.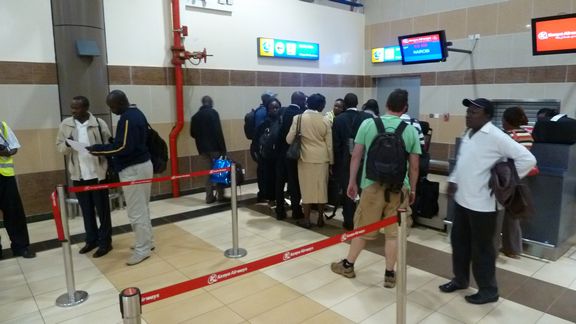 Missing luggage. Four of our group's eight bags were held in Nairobi because the flight was too full. They would arrive next day.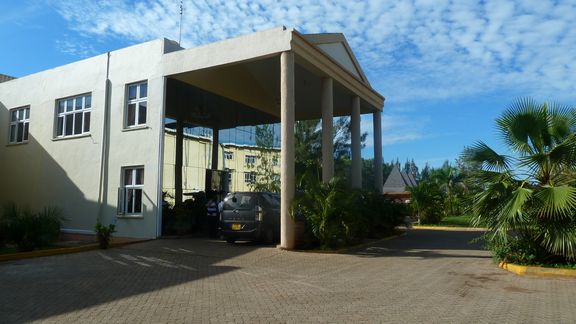 The Vic Hotel in Kisumu. Very nice accommodations.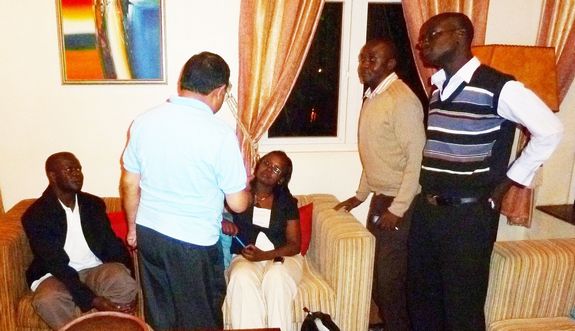 On the evening of our arrival in Kisumu, we met in the lobby of the Vic Hotel with reporter Stella Cherono and her team from Nation Media. Here Dr. Ali explains how he promotes vasectomy within the Muslim population of Assam, India by emphasizing the Koran's directives to care for Nature, which means not overpopulating the earth. Ms. Cherono's article appeared in the Daily Nation on May 15. Here you may read Page 1 and Page 2.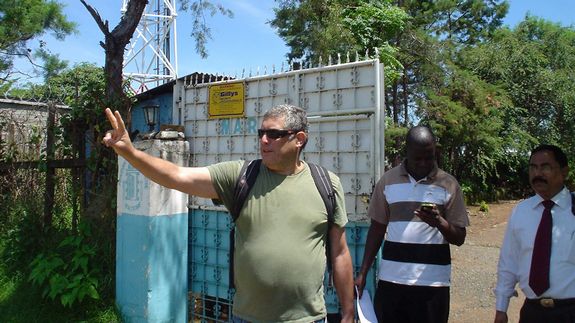 Arrival at Marie Stopes in Kisumu. Film maker Jonathan Stack documents our mission within the broader context of overpopulation and the role of men in family planning.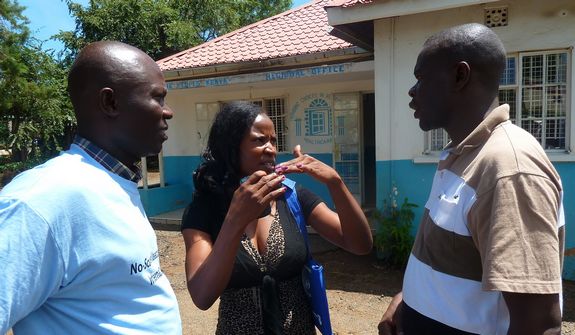 Planning our strategy. Jennifer Abonyo, RN, Field Coordinator for the Packard Project in Western Kenya, discusses our plans with Dr. Ochieng, Mission Director.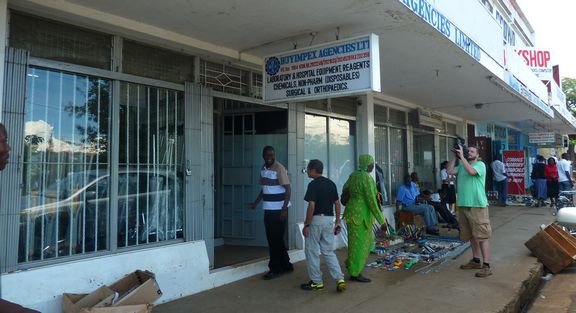 Procuring supplies … before the drive to Busia, a small town compared to the city of Kisumu.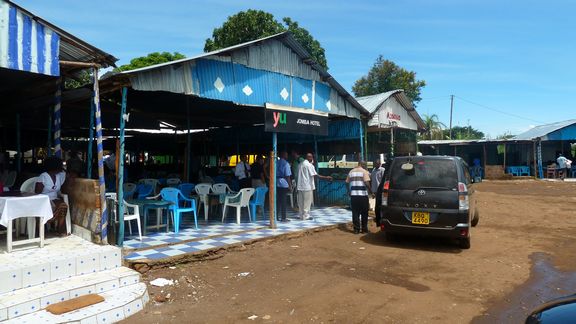 Lunch at one of many fish restaurants that line the shore or Winam Gulf of Lake Victoria.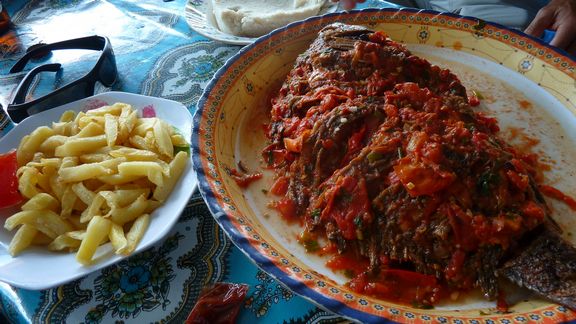 Kenyan cuisine. Fish and chips eaten with washed fingers. No utensils.
Memories of a friend … recently taken by a particularly virulent form of malaria.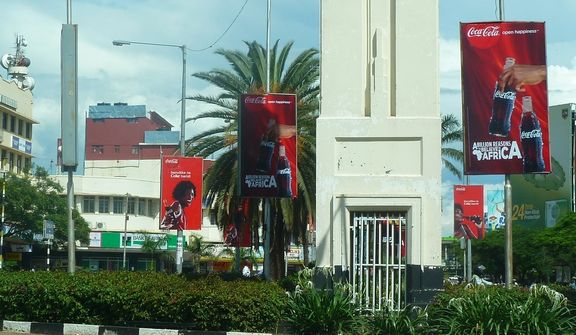 Bright red Coke ads facing every direction on nearly all busy roundabouts in Kisumu. The ads read "A Billion Reasons to Believe in Africa" and "Open happiness". Such a simple way to achieve national pride and personal fulfillment. Oh to have such an advertising budget to promote vasectomy, much safer than obesity and diabetes.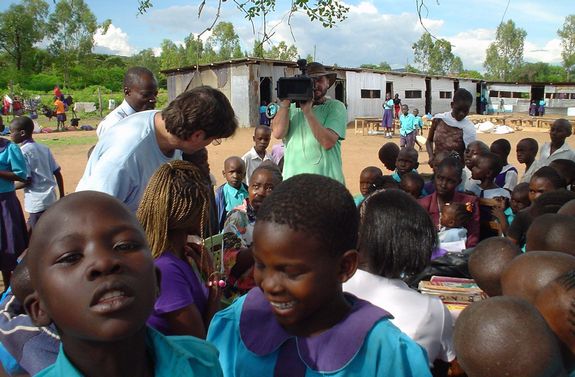 A school just across the Kisumu-Busia Road from the Kisumu Airport caught our eye as we waited for our delayed baggage. We visited and learned that the school is for orphans (usually AIDS and maternal birth-related mortality) and for children whose parents are too poor to afford even a public school. 30% had no shoes.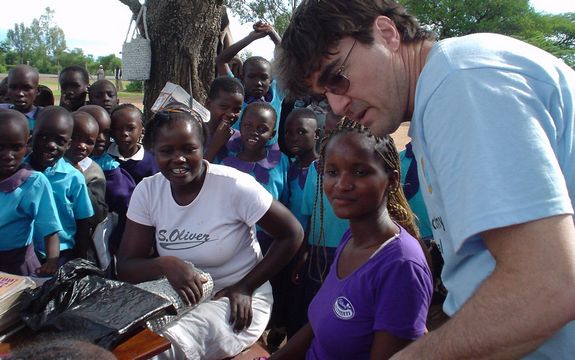 Dedicated teachers. Headmaster John Abonga invited us to return after our mission in Busia to talk to fathers about vasectomy.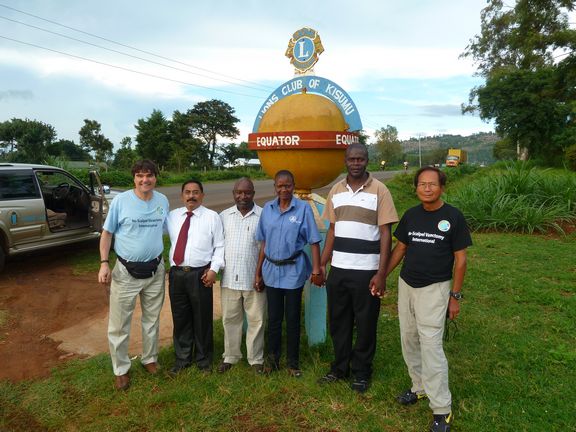 Crossing the equator … en route to Busia.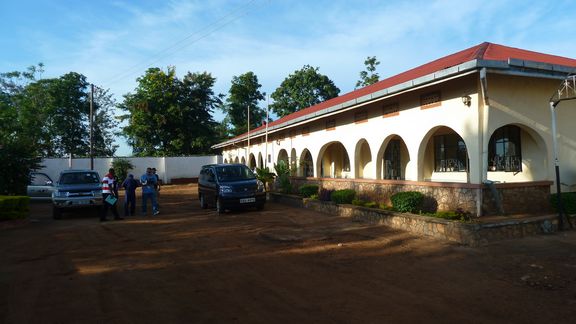 Farm View Hotel in Busia.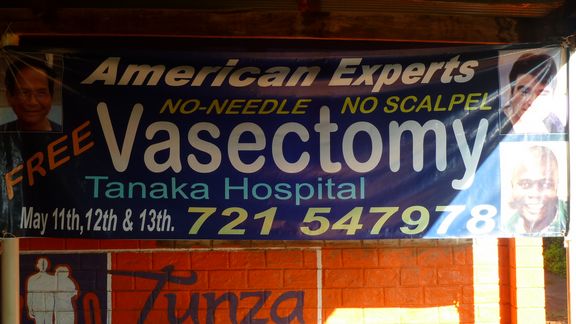 Tanaka Nursing Home and Hospital. A banner was hung to announce our mission. In Kenya, a nursing home is anywhere medical care is provided.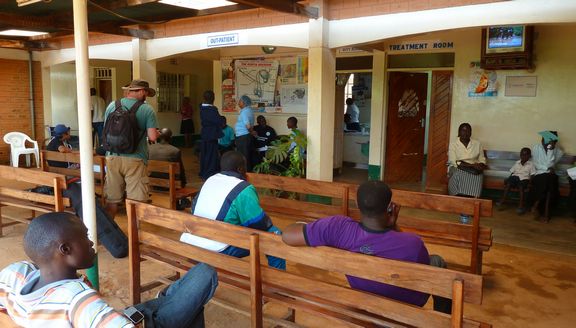 Waiting/counseling area … right outside the Treatment Room.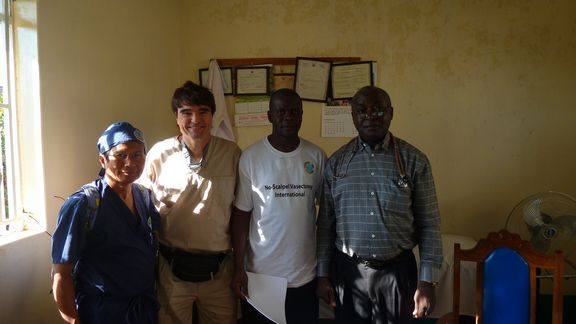 Dr. Nakaya … is owner and Medical Director of Tanaka Nursing Home. NSVI is grateful to Dr. Nakaya for hosting NSVI's first mission in Kenya. His facility receives no aid from USAID, which prohibits patient reimbursement for transportation costs and lost wages.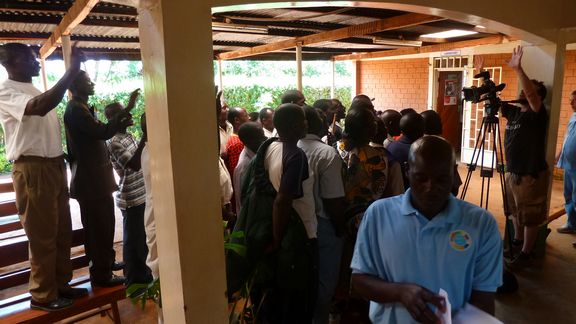 A lively group. Film crew rallying the vasectomy crowd to "I support World Vasectomy Day", May 11.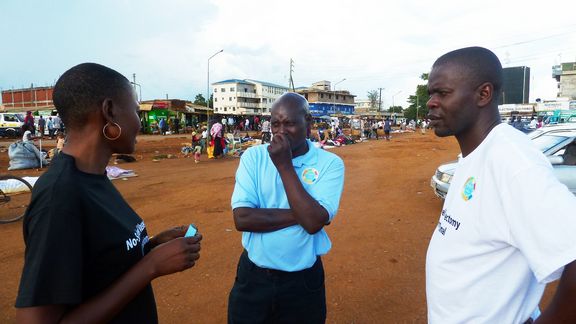 After a day of 24 vasectomies, on the Kisumu-Busia Road … near the border with Uganda. Lillian Omollo, RN, Charles Konzolo, RN, and Charles Ochieng, MD consider ways to inform the masses about free vasectomies at Tanaka Nursing Home.
Public relations. We were soon surrounded by men excited to learn about vasectomy, though not quite as ready to accept it.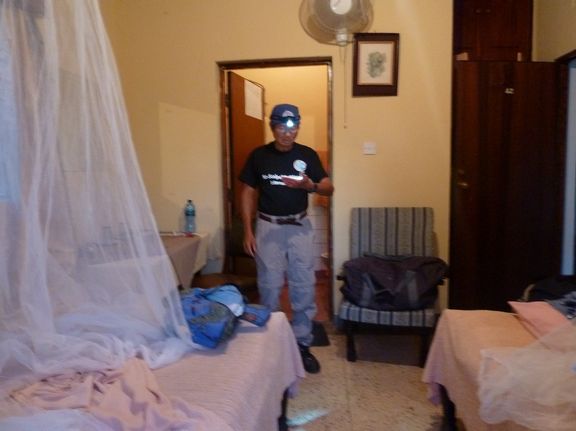 Back at the Farm View Hotel. Mosquito nets and a quiet fan. All the comforts of home.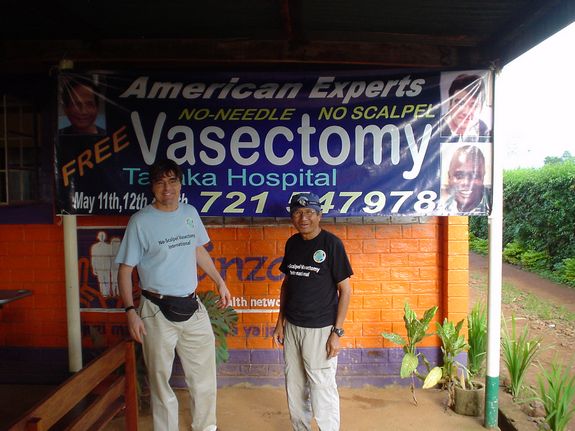 Ready for Day #2. 24 vasectomies on Day 1. A few patients were waiting upon our arrival but not as many as we had hoped. Only 14 on the second day. Many who promise to come, if only to learn, never show up.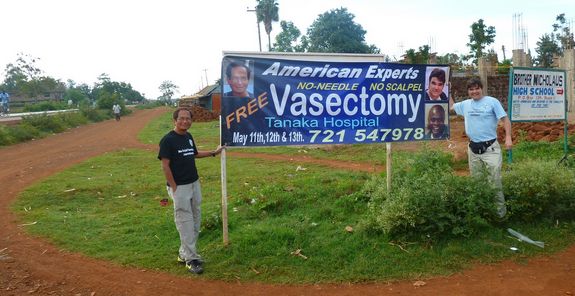 Getting the word out. Tanaka Nursing Home was about 100 yard off the main road, so we brought the banner out. Most men knew nothing about vasectomy, and most of what they had heard was wrong.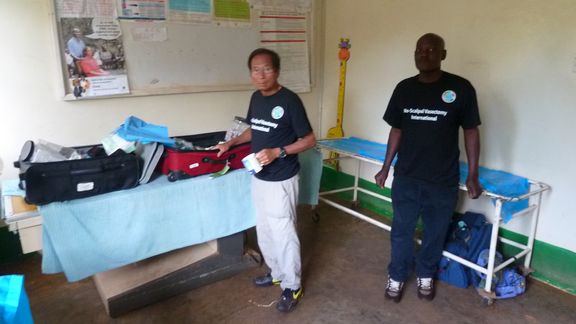 Setting up. Our procedure room was large enough for two tables.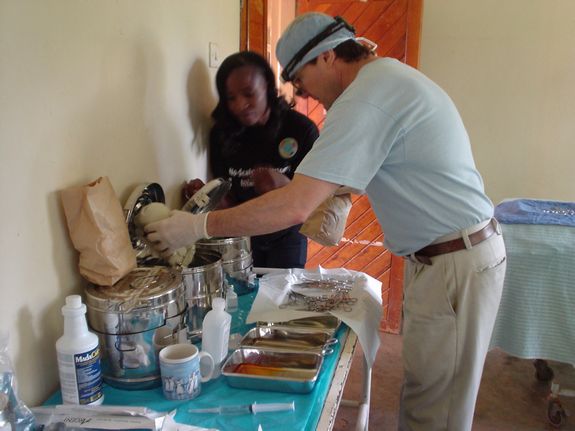 Our equipment table. A broken gurney worked fine for holding supplies. Instruments were washed, then soaked in MadaCide (which kills everything), then rinsed in sterile water between cases.
Working together. Given his limited practice (probably 150 cases including those he did during the 2012 NSVI mission to the Philippines), Charles Ochieng is an outstanding vasectomist, truly the "Kenyan King of Vasectomies".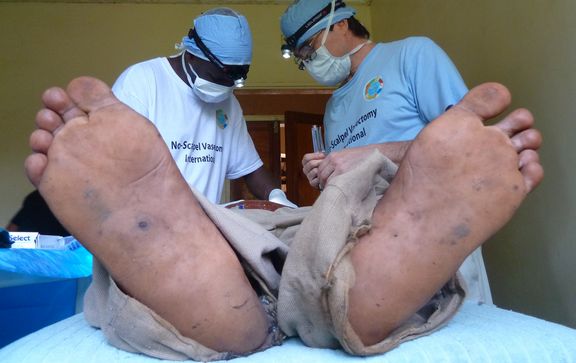 Barefoot. Some men arrived wearing worn sandals on worn feet. After his vasectomy, he can invest his limited resources in himself and in the children he already has without the added burden of even more mouths to feed.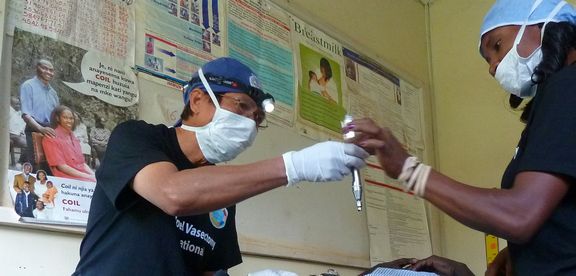 The Best … Jennifer Abonyo, RN, was one of the best procedure room coordinators and assistants that we have ever encountered. She is already accepted to medical school and will start next year.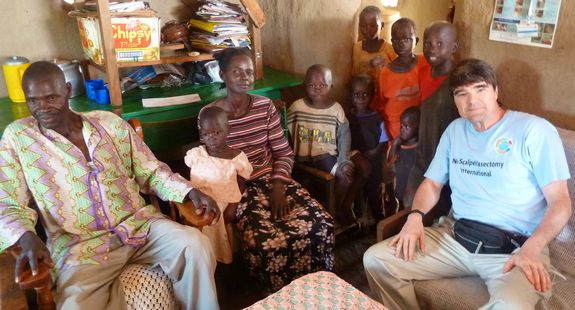 Post-vasectomy visits. Africanus Taabu,the father of 4 had come many miles from his farm in Matoyos to get his NSV. He was comfortable and pleased.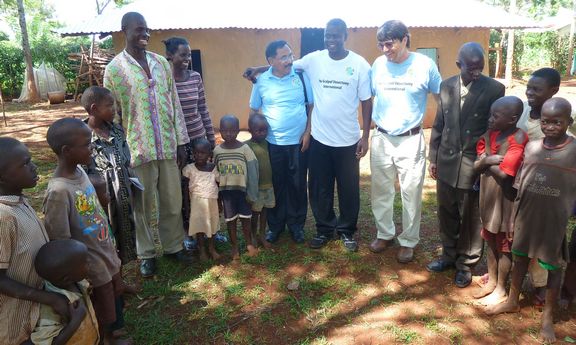 Children everywhere. Where will they all find jobs 20 years from now?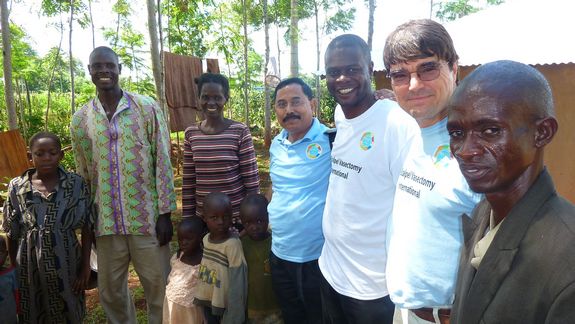 Our best recruiter. The man in the foreground, Marion Andere Orute, was a former vasectomy patient of Dr. Ochieng. He was our best recruiter/facilitator.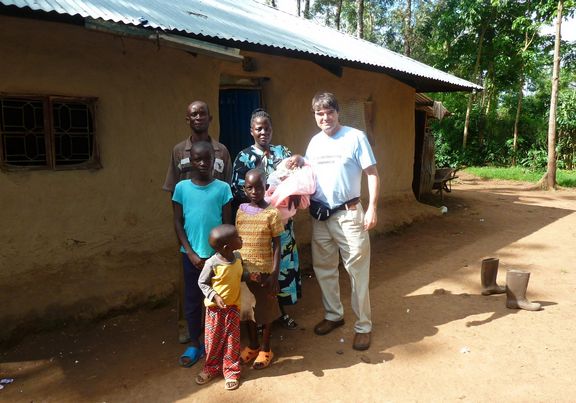 No more risk. The wife of Simon Wandera had had serious problems during the delivery of their 4th child. His vasectomy eliminated that burden of risk carried by so many Kenyan woman. Earthen homes with metal roofs. Thatch roofs are cooler and less noisy in the rain, but more expensive.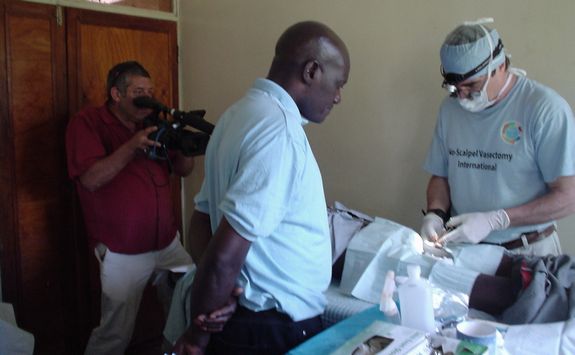 Charles Konzolo, RN. Charles oversaw operations and provided post-procedure counseling. He learned vasectomy by observing … and by HAVING one! He was our 53rd patient.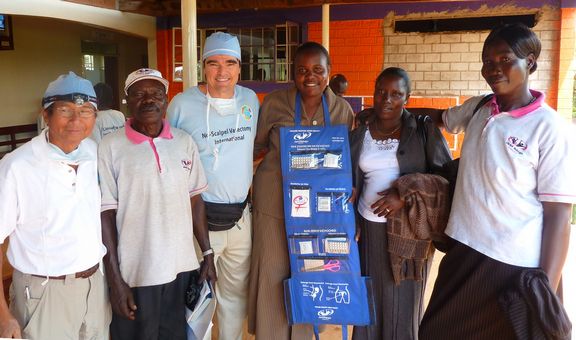 True Heroes. Butula Community Health Volunteers: Lillian Anne Wanguria, Rosemary Atieno Mangira, and Evarline Auma Wanzala. Butula is a district of Busia County and they travel to the most remote areas to promote family planning. One of their recruited patients proudly poses.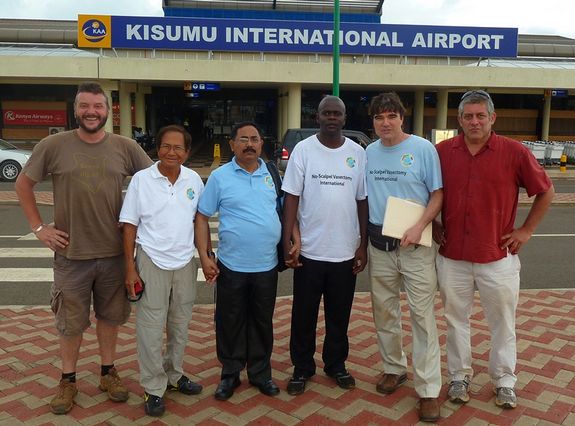 Good-bye to the film makers. Videographer Jim Bishop had another job in Nairobi, and Jonathan Stack had to return to the States to meet Paul Ehrlich ("The Population Bomb") at Stanford. The rest of us stayed in Kisumu for two more days to see the sights, to visit Mama Sarah Obama in Kogelo, and to visit the parents and boyhood home of Dr. Ochieng in Kendu Bay.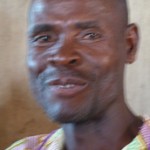 We had performed 53 vasectomies on men ranging in age from 26 to 70, the average age being 44 years. The man who was 70 had had 13 children, 6 with his present partner, the youngest child being 2 years of age. The average number of children per man was 6.8 total (these 53 men had fathered 358 children), 5.6 with the present partner. One man age 54 had had 20 children with one woman, and one man age 59 had had 18 children with one woman; in both cases, their youngest child was less than 5 years old. Only 3 men their 20's (26, 28, and 28) had opted for vasectomy, two after 3 children and one after 6 children.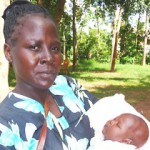 Because of the increase in morbidity and mortality with maternal age and parity, we felt that, for couples with many children, NSVI was providing preventive health care for women. But for couples with few children, the real benefits of vasectomy would be realized through the opportunity of both parents to more fully realize their own vocational potentials and to provide their children with nutritional and educational options and advantages that are not available to children in large families with limited resources.