From July 22 to 25, 2015, NSVI conducted its 8th mission to Haiti: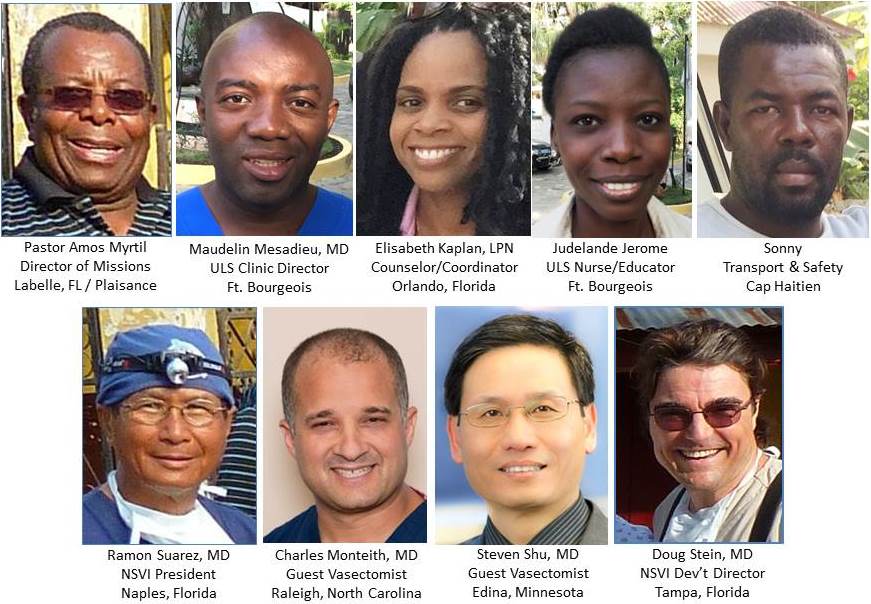 Dr. Mesadieu became an excellent vasectomist during our November 2014 and July 2015 Missions, and improved his skills even further during this mission. Elisabeth joined NSVI again through the Cap Haitien Health Network. Our two Guest Vasectomists were Drs. Monteith (a veteran of NSVI missions in the Philippines and Kenya) and Shu (a devoted contributor to Philippines missions in 2015 and 2016). Sonny often works for the Medical Director of the Department du Nord, Dr. Ernst Jasmin, who very generously donates a large SUV during our missions. Sonny was flawless is transporting our Team and Equipment on time and intact to our three locations in Northern Haiti.
We continued to serve the same three locations as in November 2014 and March 2015: the Uls Sante Clinic in Ft. Bourgeois, the town of Plaisance, and the Ft. St. Michel Health Center in Cap Haitien. We performed vasectomies on 88 men, who had had 506 children.  The numbers have continued to rise over the past 3 missions: November 2014 – 48; March 2015 – 55; July 2015 – 88.
Here is some geographic orientation: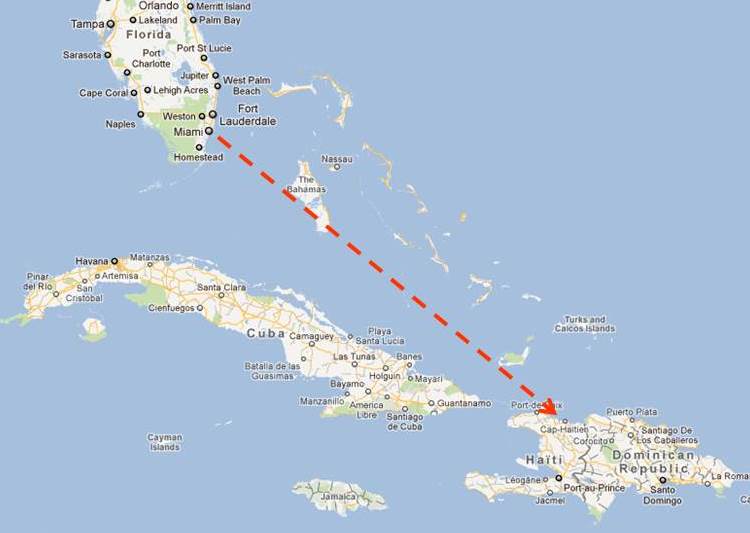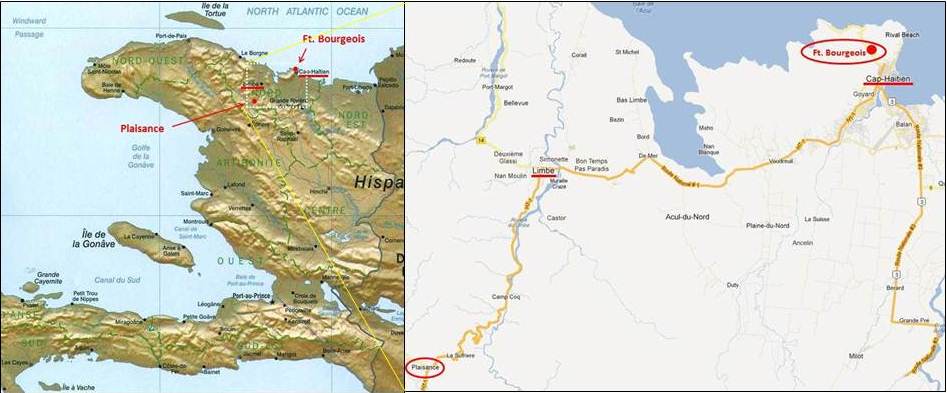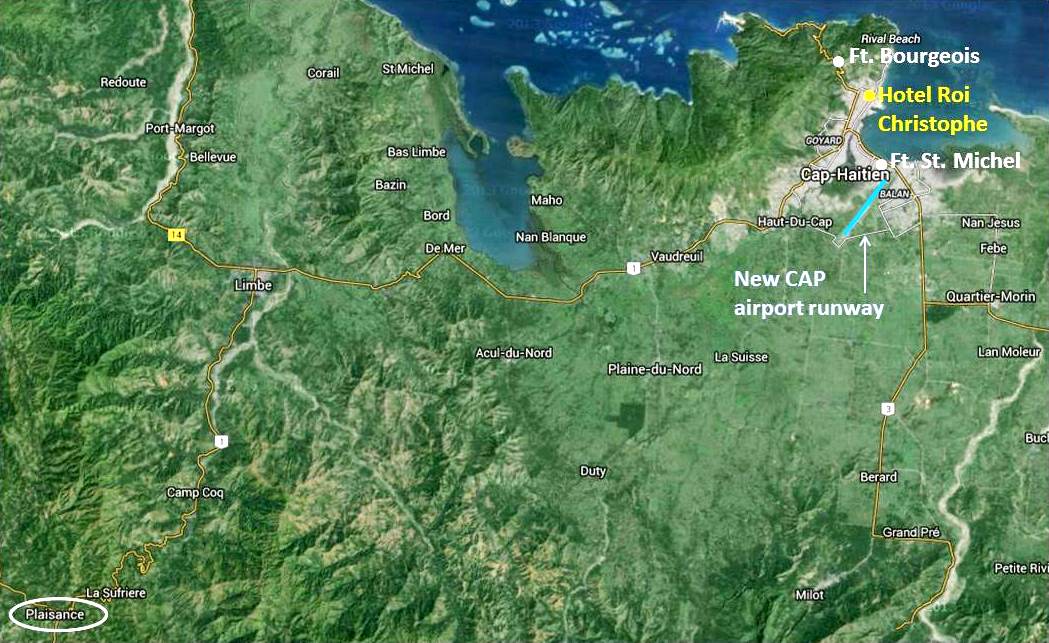 The schedule for the July 2015 mission was as follows:
Sunday July 19: Elisabeth arrived in Cap Haitien to take care of some business for the Cap Haitien Health Network and to prepare for the mission.
Monday July 20: Pastor Amos Myrtil arrived in Cap Haitien with banners and educational posters, some of which he transfered to Dr. Mesadieu and Dr. St. Martin for posting and distribution in Ft. Bourgeois and Ft. St. Michel. He then traveled to Plaisance to (1) secure a clinic location and (2) begin a 3-day campaign to increase public awareness in Plaisance of NSVI"s arrival on July 23.
Wednesday, July 22: Drs. Suarez, Stein, Monteith, and Shu, arrived at 2:40 PM on American Flt. 1632, met by Elisabeth, Maudelin, and Sonny. The Team converted dollars to gourde, then went directly to Ft. St. Michel to see whether the air conditioner in the procedure room had been repaired. It had not, we were told that it could not be repaired, and so NSVI had to spend $550 for a new unit, and a promise of installation by the time of our return at noon on July 24. Brochures were given to the the Administrator of Hopital Ft. St. Michel for further distribution to community health workers. We then spent the night at Hotel Roi Christophe.
Thursday, July 23: The team traveled to Plaisance (about 2 hours) and performed 35 vasectomies then returned to the Hotel Roi Christophe.
Friday July 24: The Team traveled to Ft. Bourgeois and performed 18 vasectomies in the morning, then transferred to Hopital Ft. St. Michel and, with the new A/C unit installed, performed another 15 vasectomies in the afternoon before retiring again to the Hotel Roi Christophe.
Saturday, July 25: After breakfast at the hotel and packing personal items, the Team returned to Hopital Ft. St. Michel where 13 more men were waiting for vasectomies. The new A/C unit was not working because there was no fuel to run the generator. But after a call to Dr. Jasmin, the electricity was magically restored and another 20 vasectomies were performed. We then went straight to the airport to catch American Flt 1632 to Miami at 3:22 PM.
In Ft. Bourgeois and Ft. St. Michel, we trained Dr. Muriel Pothel, who runs her own clinic in the heart of Cap Haitien. After training with Drs. Suarez and Shu …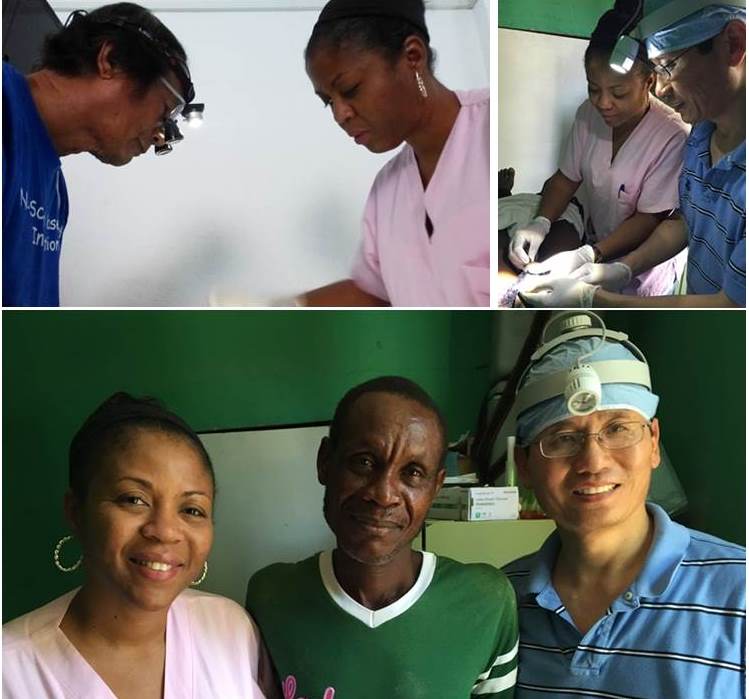 … Dr. Pothel poses with a happy patient.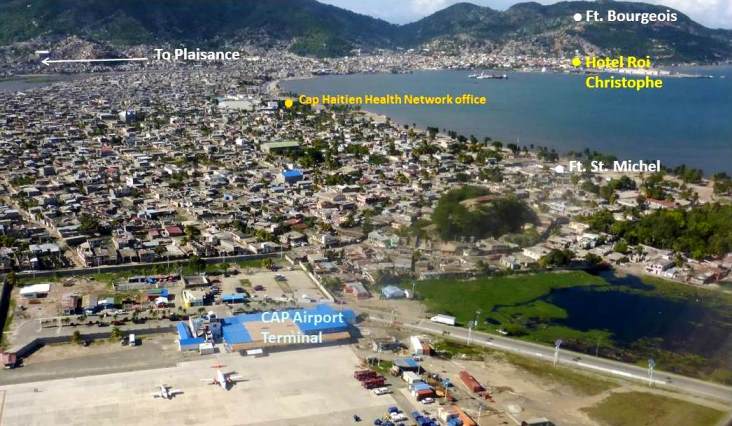 The cost of each NSVI vasectomy in Haiti is 2300 Gourdes, about $45, but this varies with the exchange rate. This includes compensation of:

patients for lost-income and transportation ($11),
community facilitators/motivators (former vasectomy patients who educate men in the community; $9),
our counselor/coordinator, who overseas informed consent and records ($4.50),
the Haitian vasectomists ($11),
our OR nurse/equipment person ($4.50) and
facility fees ($4.50).
During this mission, 88 vasectomies were performed. Payments above amounted to $3762, which is $42.75 per vasectomy, slightly under budget, but there were many other expenses, including supplies brought from the US, banners and brochures, airfare and accommodations for Paster Myrtil, the new A/C unit for Hopital Ft. St. Michel, fuel for the SUV, and gratuities for Sonny and other helpers.
Complementary transportation is usually provided by the Department of Health, directed by Dr. Ernst Jasmin, but for now that is our only support from the government of Haiti. Until NSVI is blessed with a generous grant, the only way to meet our budget has been to ask each guest vasectomist for a donation of $1500, paid to NSVI as a donation "FBO Haiti Mission". Mission participants from outside Haiti also purchase their own air tickets, bring their own sterile and non-sterile gloves, and pay for their own accommodations. For this mission, Drs. Monteith and Shu donated $2000 and let NSVI cover their room and board, which made life a little simpler.
For those of you who have never been to Haiti, an NSVI mission would be an experience that you will NEVER forget. While you are always free to arrange your own mission, and we can provide advice, NSVI cannot accept more than 2 "guest" vasectomists due to limitations in transport and the size of our facilities. Anyone with questions can e-mail Doug Stein at steinmail@vasweb.com or call him at 813-390-3032 (cell) or 813-972-1365(office).
Even if you cannot join us, feel free to steer a few of your philanthropic dollars toward NSVI. You probably already give to other organizations with top-heavy administrations who are strangers to you. What better gesture than to donate $45 to help a poor Haitian man (1) reduce his overhead, (2) reduce the risk to his partner of another unintended pregnancy, (3) more successfully nurture fewer children, and (4) reduce overcrowding in a small country whose environment has already been stripped of many resources by a population of over 10,000,000.
Now more photos: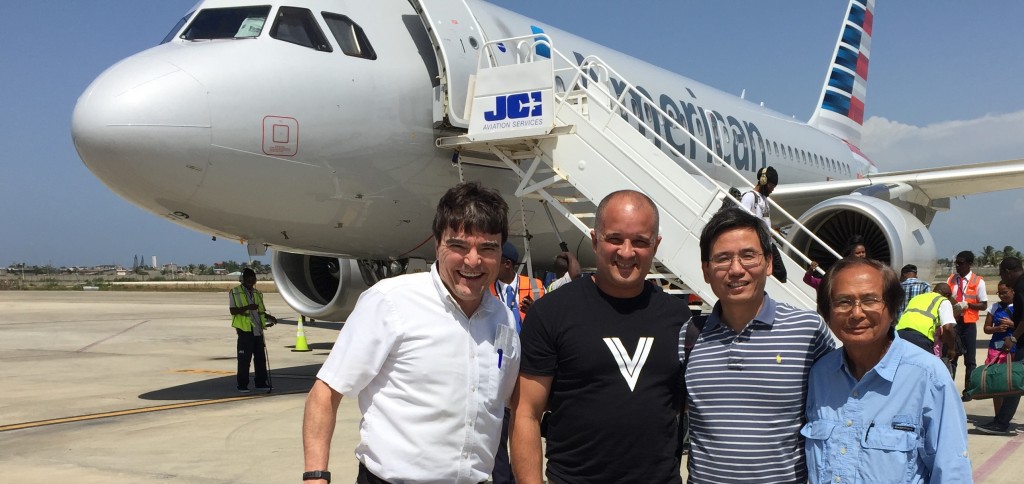 Arrival on a quick flight from Miami.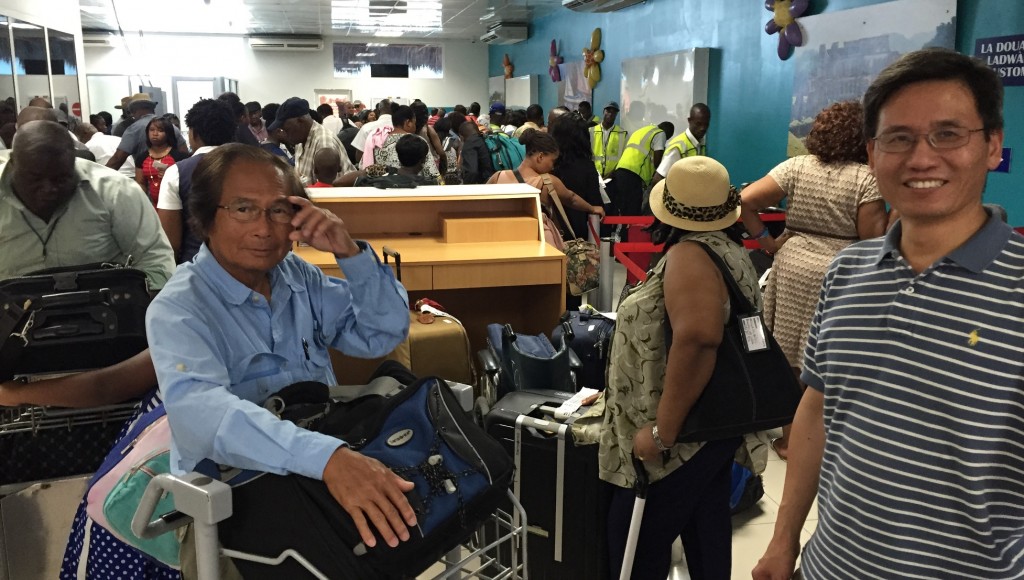 Baggage claim: all bags pour in through one small window.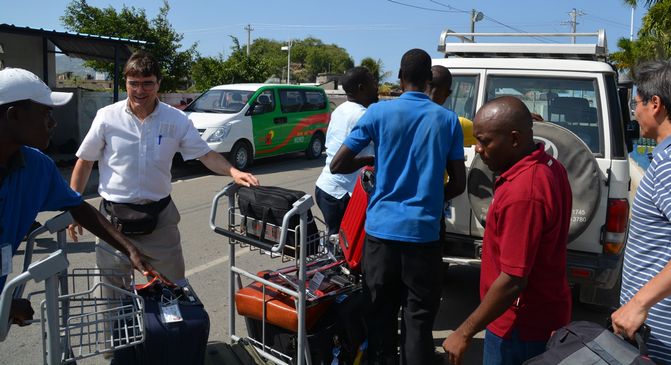 Loading up the SUV generously provided by Dr. Jasmin at the Department of Health.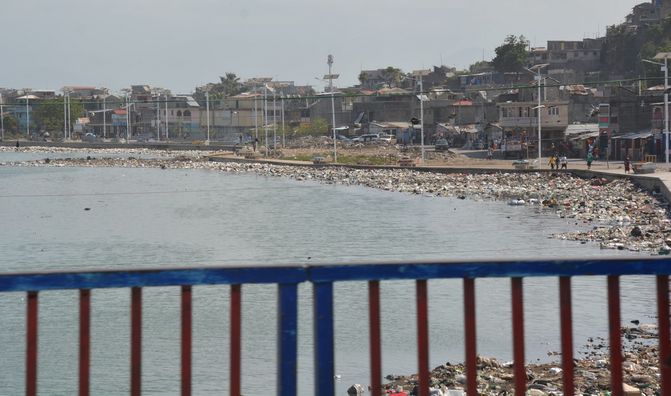 Garbage in the main river through Cap Haitien.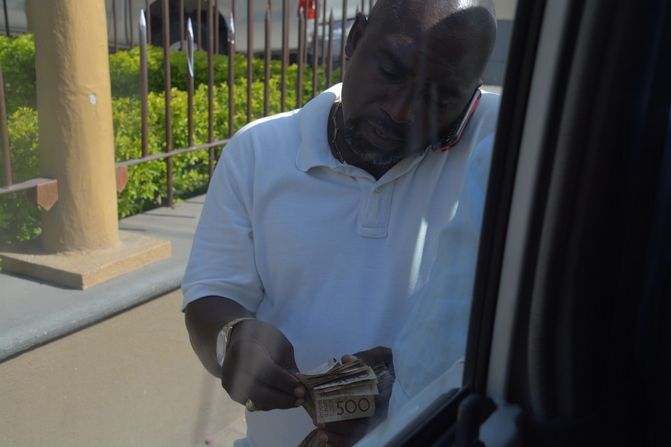 Buying Haitian gourdes with dollars.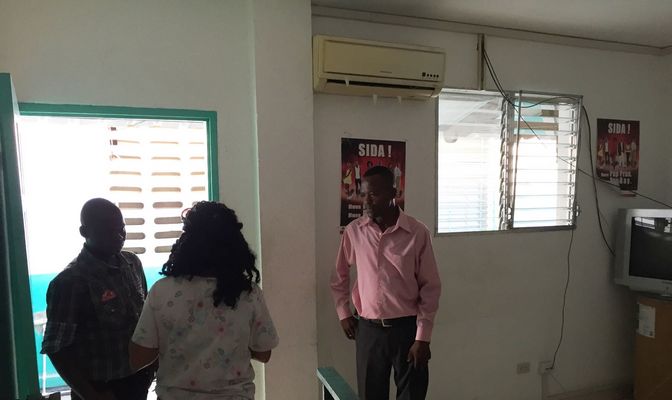 Arrival at Hopital Ft. St. Michel. Despite multiple requests over 2 prior months, A/C not working.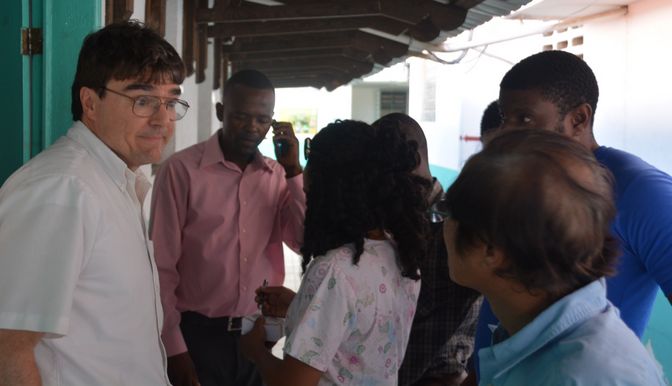 If we don't buy an air conditioner ourselves, we will not have one. $550! The room was 95F, 36C. Looks like we had no choice.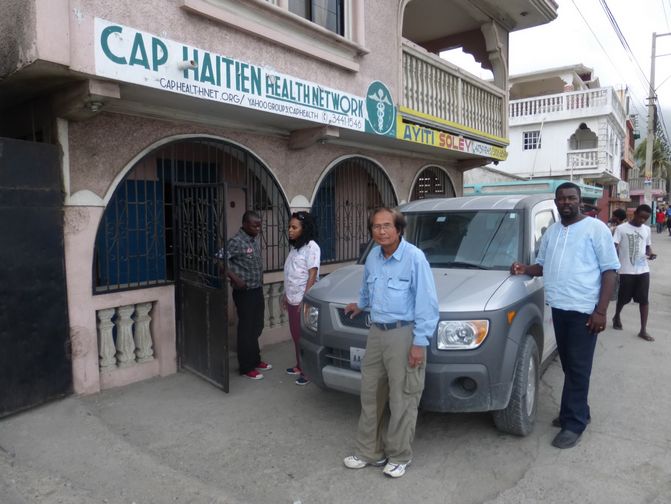 Pit stop at the Cap Haitien Health Network and Ayiti Soley facilities near Hopital Ft. St. Michel. Here we can store supplies such as Mayo stands for use during future missions.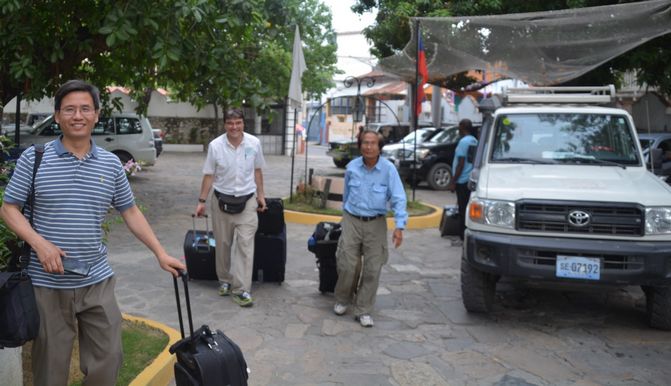 Arrival at the Hotel Roi Christophe.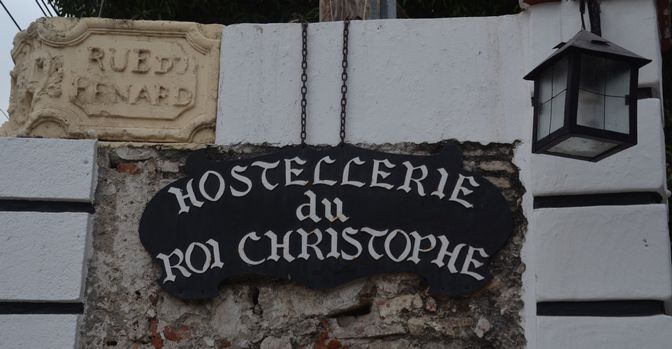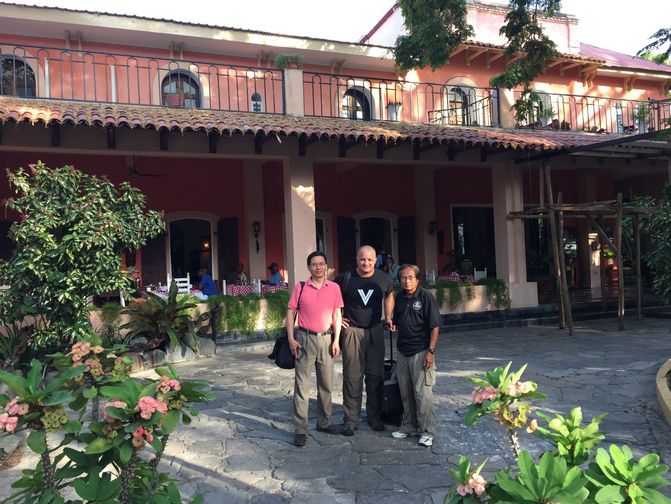 Up early next morning for the journey to Plaisance.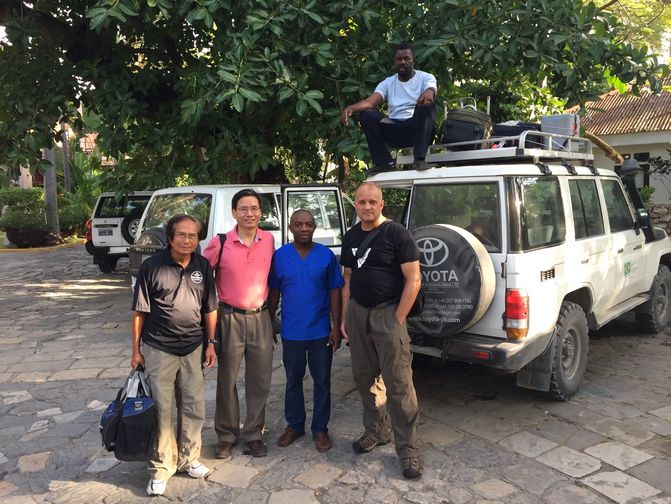 Sonny helps load supplies on our SUV provided courtesy of the Department of Health.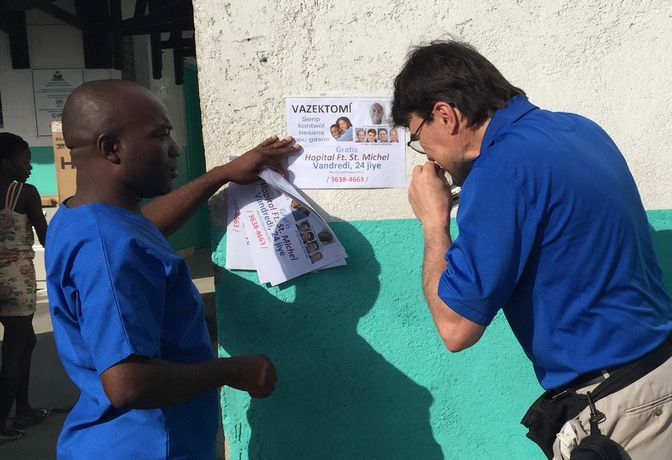 Before heading to Plaisance, we stopped to hang posters at Hopital Ft. St. Michel to increase awareness of our return to provide vasectomies next day.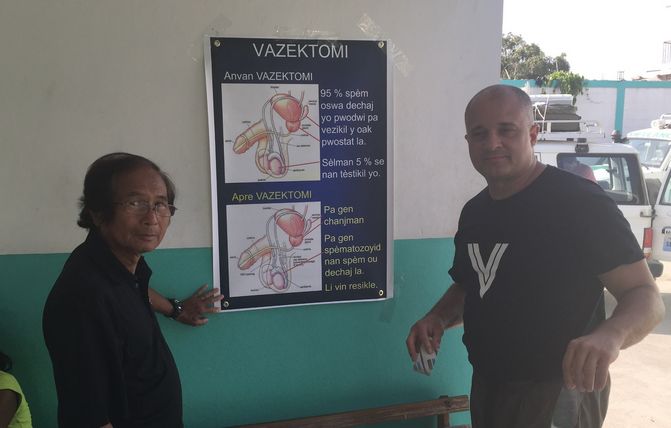 Anatomy diagrams with explanations of vasectomy in Creole were also hung in public waiting areas.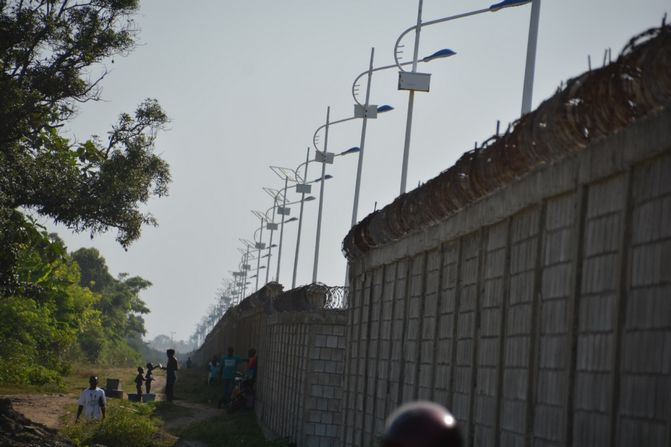 En route to Plaisance, we drove around the airport. Solar panels and LED lighting installed to illuminate the airport grounds had all been stolen. Ayiti Soley, another endeavor of Ted and Elisabeth Kaplan to improve the situation in Haiti, will provide new lights and solar panels that are much more secure. They have already provided solar power for Dr. Mesadieu's ULS Clinic in Ft. Bourgeois.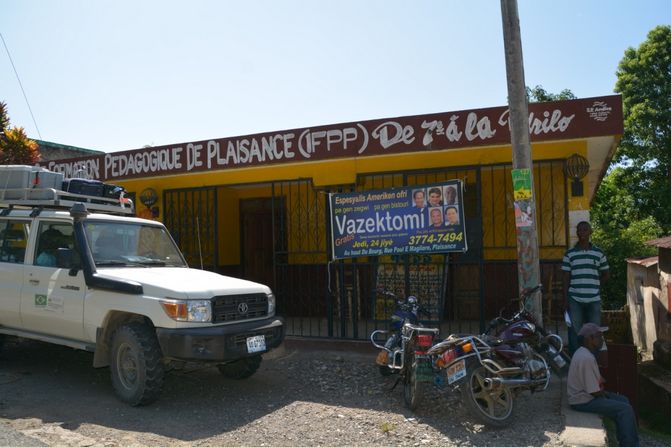 Arrival at the school in Plaisance (not in session in July) where we will perform vasectomies. Amos had arrived two days earlier and posted banners announcing our arrival.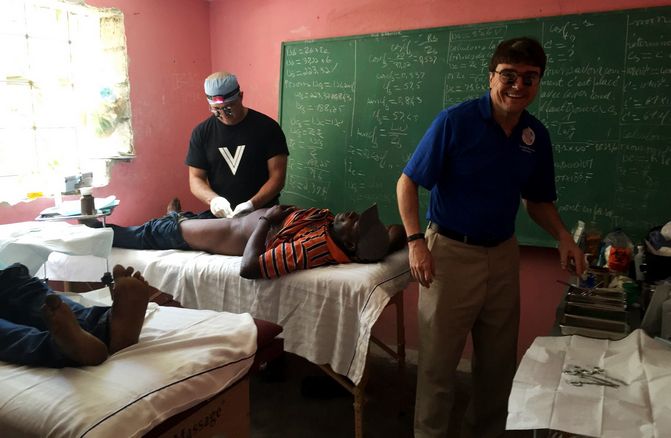 In the basement of the school, where algebra is taught, we set up the massage tables that we use as procedure tables. Doug Stein unloads and sets up all equipment brought from the USA. Charles Monteith gets right to work on his first vasectomy.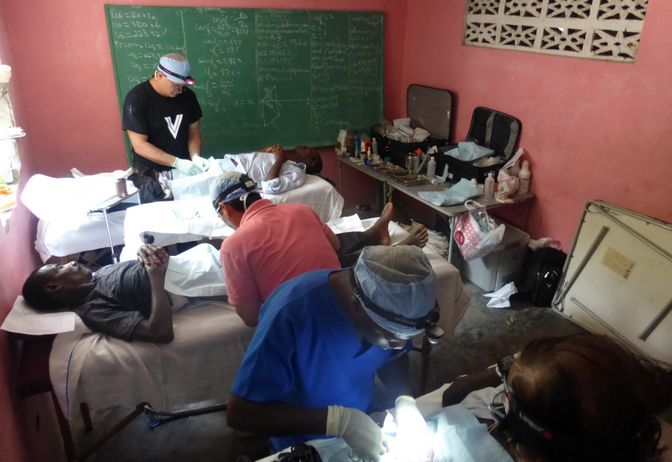 Soon three teams are hard at work.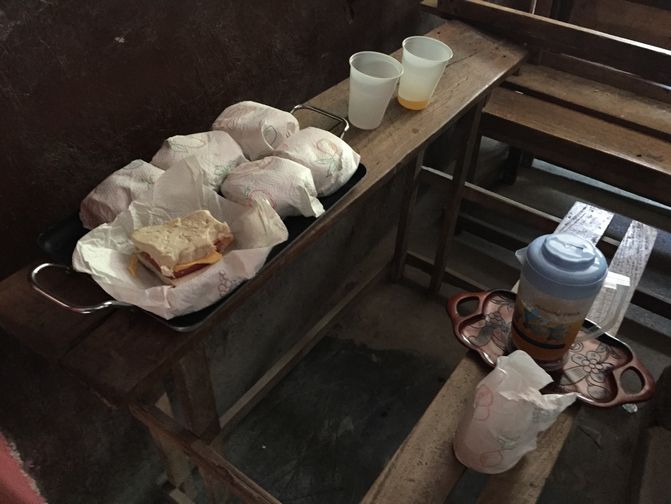 Lunch is Spam&Cheese sandwiches and fruit drink.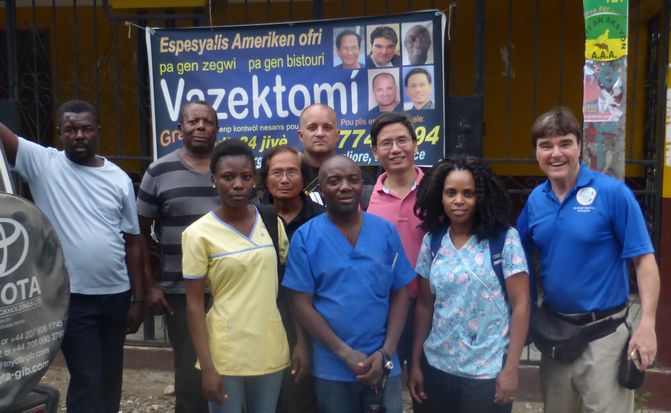 After vasectomies on 35 men (average age 49.7) who had collectively had 196 children, the team poses for the traditional end-of-day photo.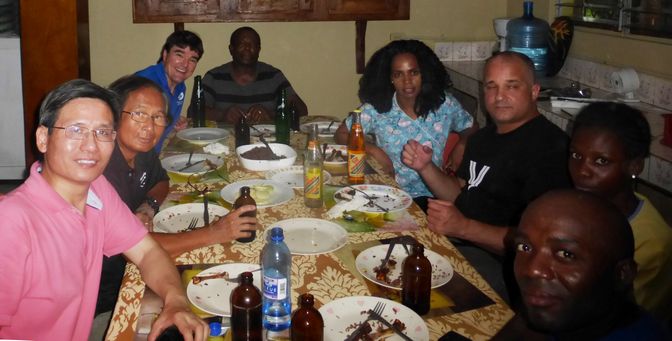 Early dinner of chicken and rice at Amos's residence two doors from the school, before heading back to Cap Haitien.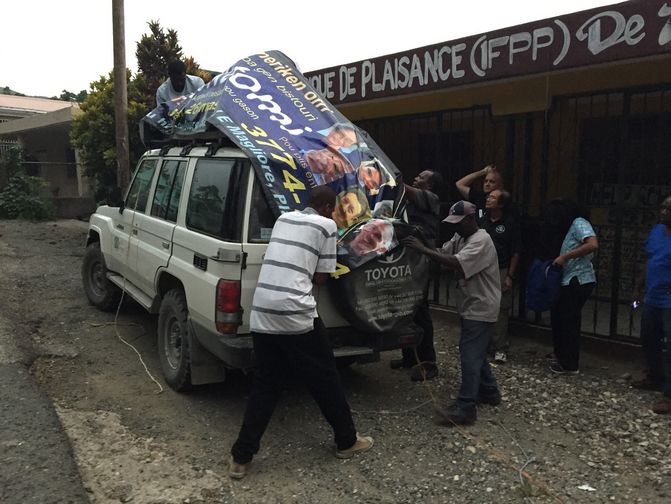 We got the equipment loaded and protected with a tarp just moments before a downpour.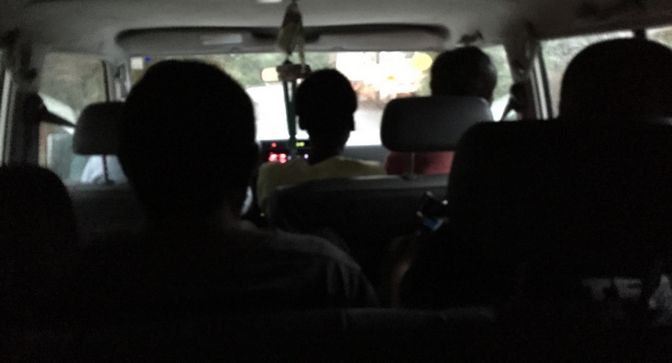 Nine team members crammed into the SUV all happy to have the best driver in Haiti.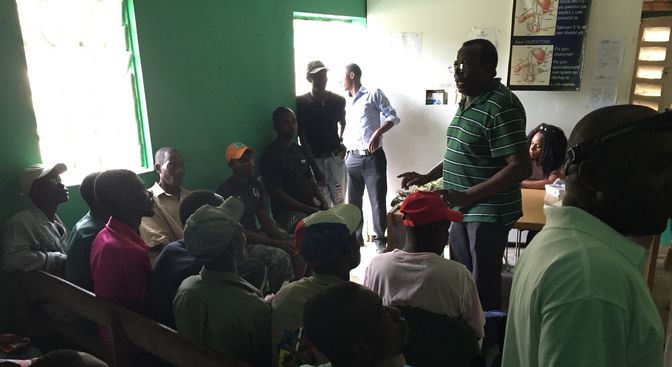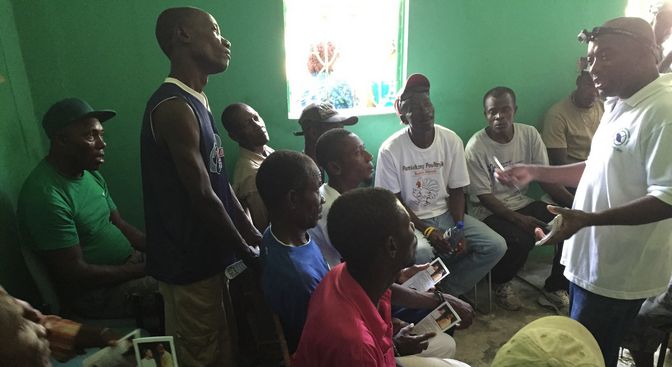 Next morning the Team started in the Clinic of ULS Sante in Ft. Bourgeois. Amos and Maudelin counseled men while Elisabeth trained Maudelin's staff members in how to fill out demographic data sheets, finalize informed consent, and provide post-vasectomy instructions.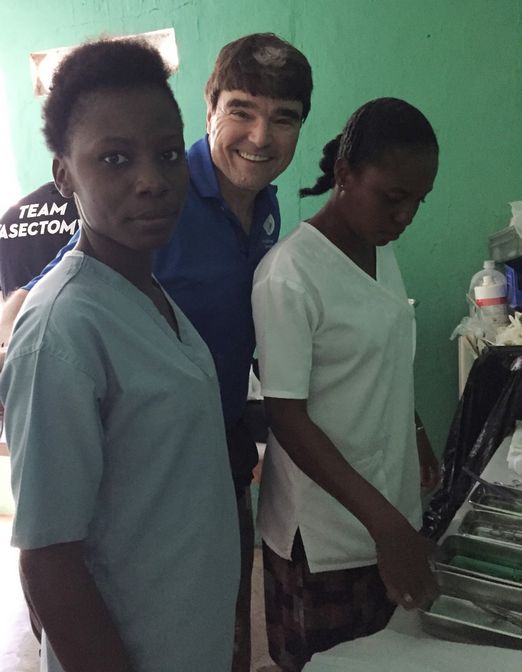 Doug trained helpers Judelande and Rodeline to wash and soak-sterilize instruments …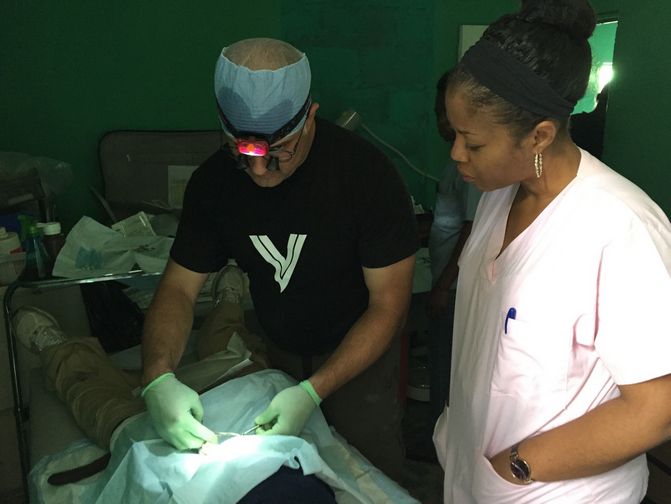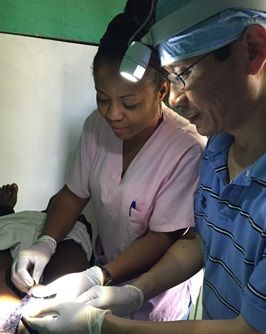 … while Charles and Steven trained Dr. Pothel …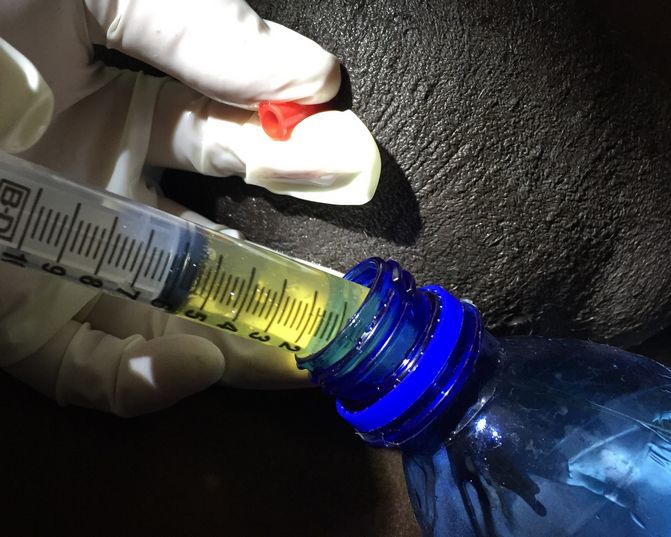 … and Urology Professor Dr. Ramon Suarez drained a very large hydrocele with nothing more than an 18G needle, a 10-ml syringe and a water bottle. He could then complete the vasectomy.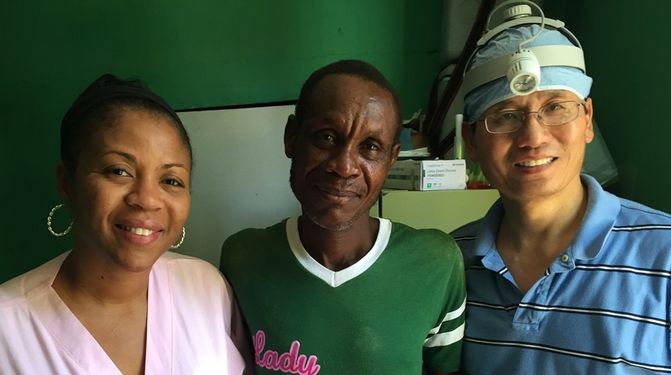 Dr. Pothel was pleased to pose with her first vasectomy patient …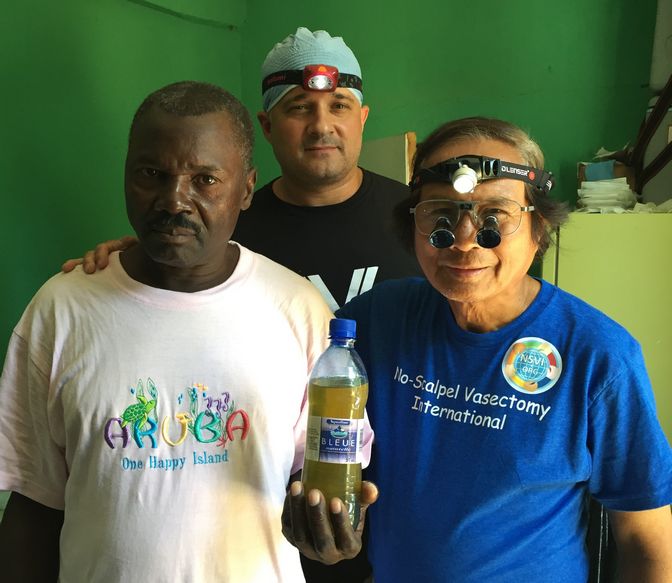 … and Ramon's hydrocele/vasectomy patient was proud to show off his nearly 20 ounces (more than one pint!) of hydrocele fluid.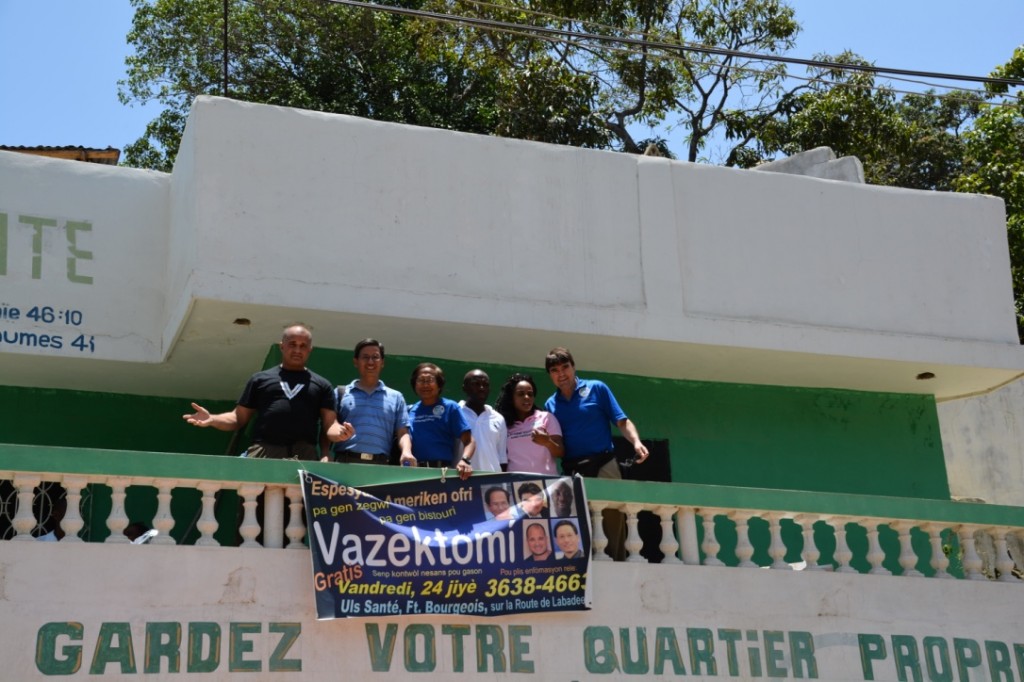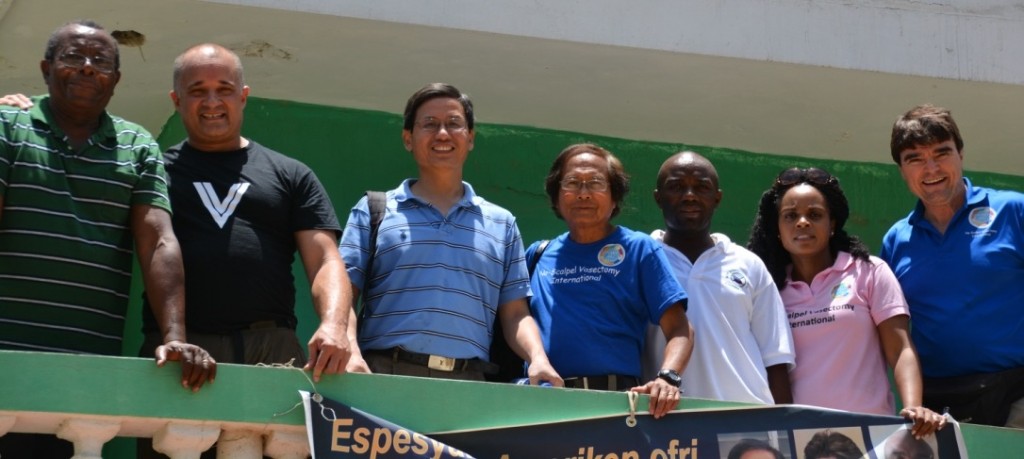 After a group shot on the balcony of Maudelin's ULS Clinic …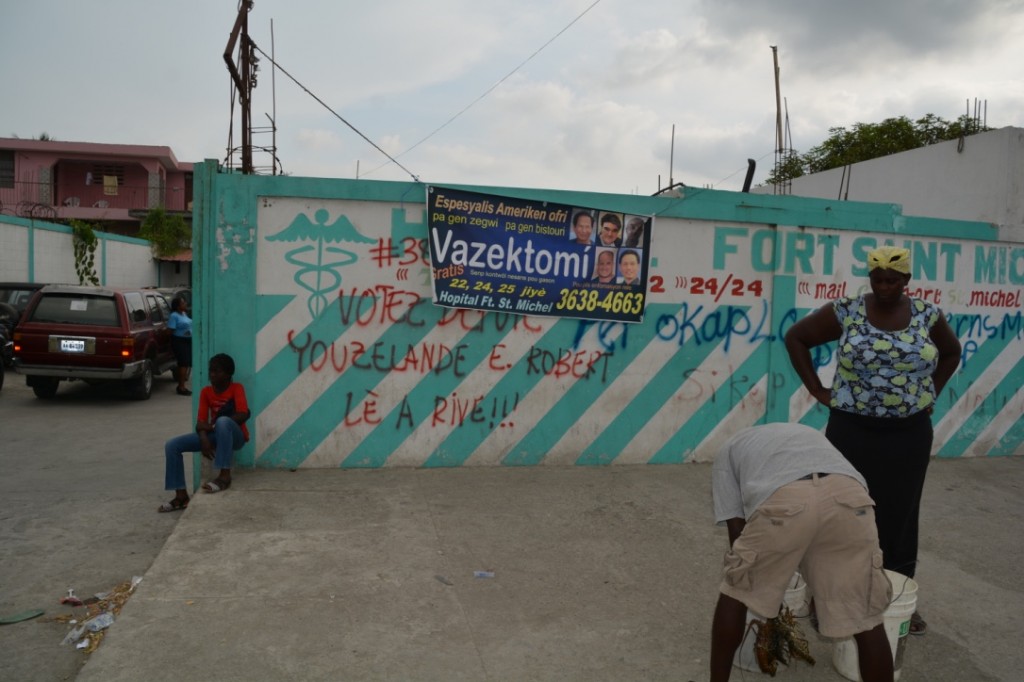 … the group moved on the Hopital Ft. St. Michel in Cap Haitien.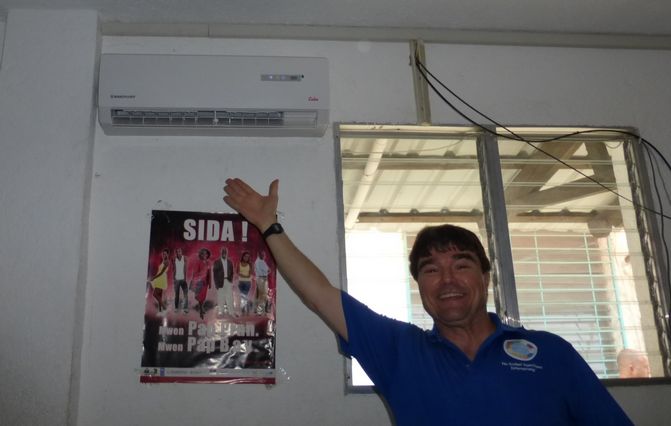 The air conditioner had been replaced and was working well!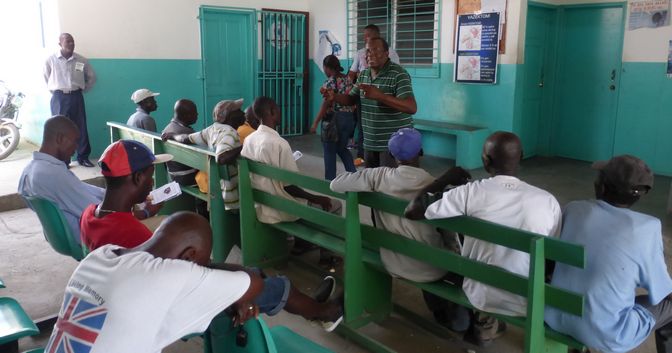 Once again, Amos set to work counseling …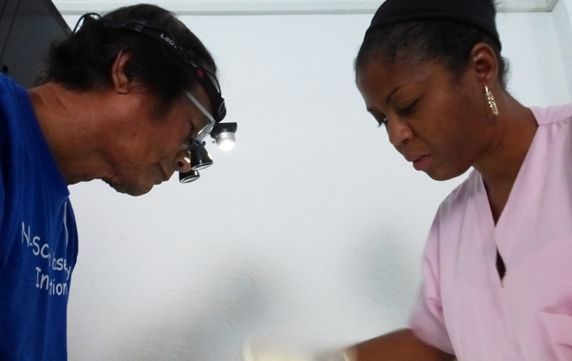 … and Ramon continued to train Dr. Pothel.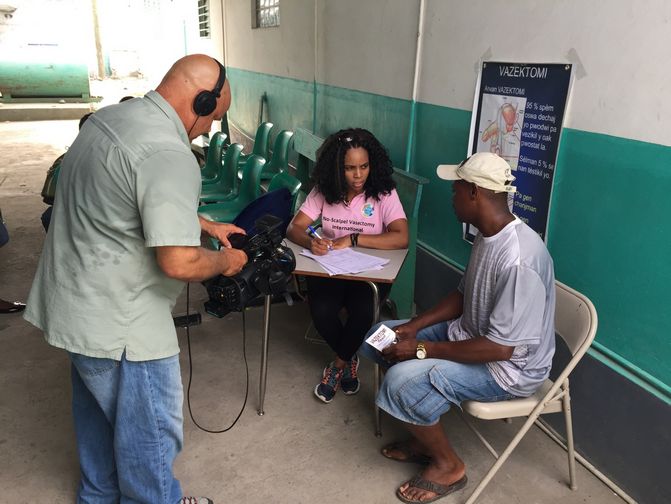 Quite by accident, we ran into documentary filmmaker Joel Trimble, a very well known celebrity in Haiti, probably because he stars in his own documentaries about the beauty and appeal of Haiti. (Go to YouTube.com and search "bonne nouvelle frere joel".)  "Frere Joel", as he is known throughout Haiti, saw so much value in our mission that he prepared a Creole video documenting the process of getting a vasectomy from counseling through the procedure itself. The "mini-documentary" will be aired on TV in Haiti and in the US Haitian communities just before our next mission in November 2015.
Our volunteer patient will be the star of the show.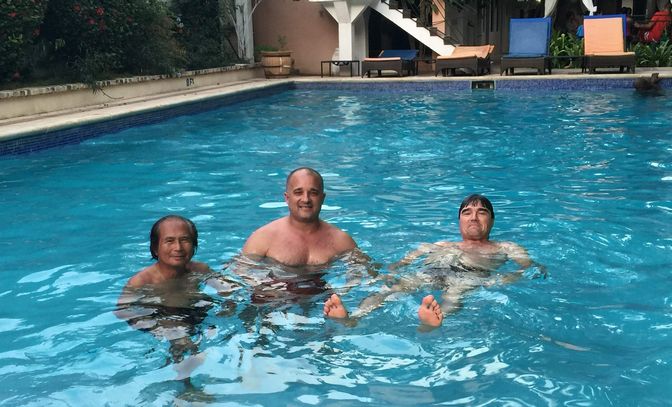 A refreshing dip in the pool of the Hotel Roi Christophe.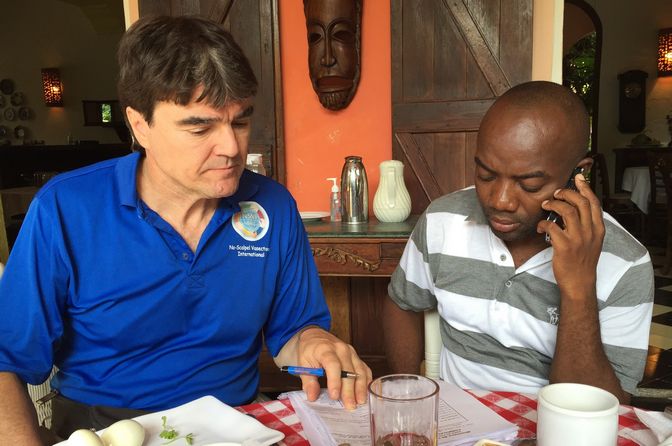 Next morning, follow-up calls to yesterday's patients. Many don't have cell phones or enough money for load, but the men we contacted were very pleased.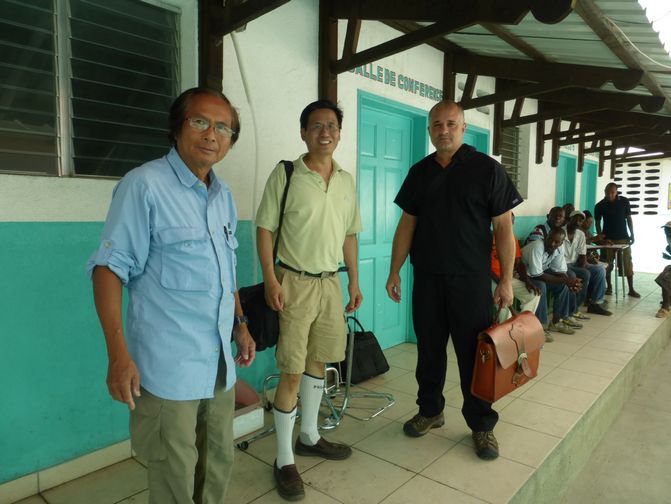 Back to Hopital Ft. St. Michel Saturday morning …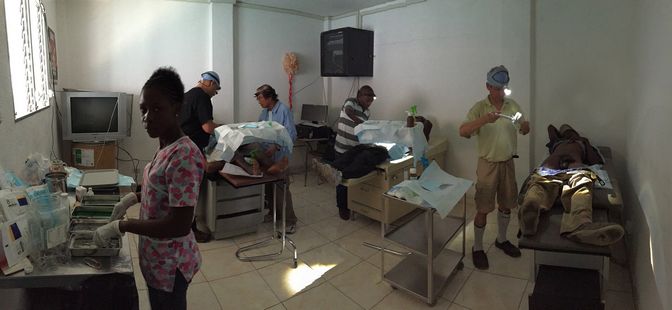 … for another lineup of patients encouraged by men from the day before.

Judelande had become so capable of keeping three surgeons supplied with sterile instruments and disposables that were were able to serve another 20 men before …
… our return flight to Miami.
We had provided vasectomies for 88 men, 3 of whom required drainage of large hydroceles to enable the procedure. Another 3 had come for vasectomy, but one had a large hernia extending into the scrotum, one had bilateral hydroceles too large to drain in the time allotted, and one decided he wanted a fifth child. Those 91 total men had had 531 children!
The next NSVI mission to Haiti will be Nov 17-20. My travel arrangements are: