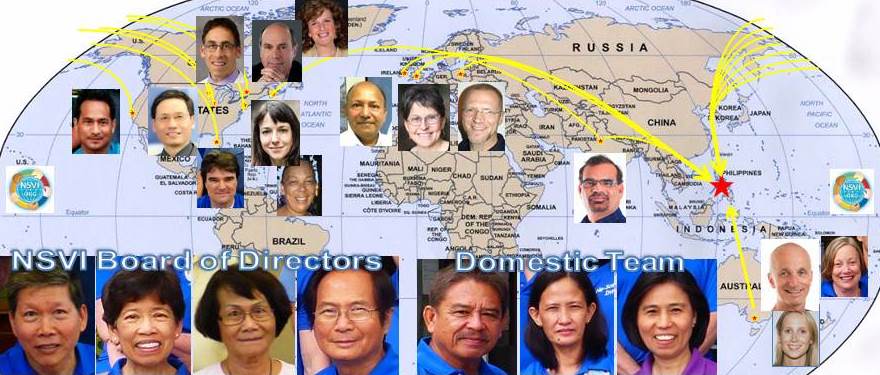 This year's annual mission to the Philippines was comprised of the largest team ever. Our Philippines missions, especially ones of this magnitude, would never be possible without the months-long preliminary work of our Domestic Team and the weeks-long efforts of our Board of Directors to inform local communities and prepare facilities for our arrival. Ten guest vasectomists and four helpers from six countries shared their skills and knowledge with the needy families of Cebu, Danao, and Tuburan, with the medical students of Southwestern University College of Medicine, and with six vasectomy doctors visiting from Davao, Mindanao.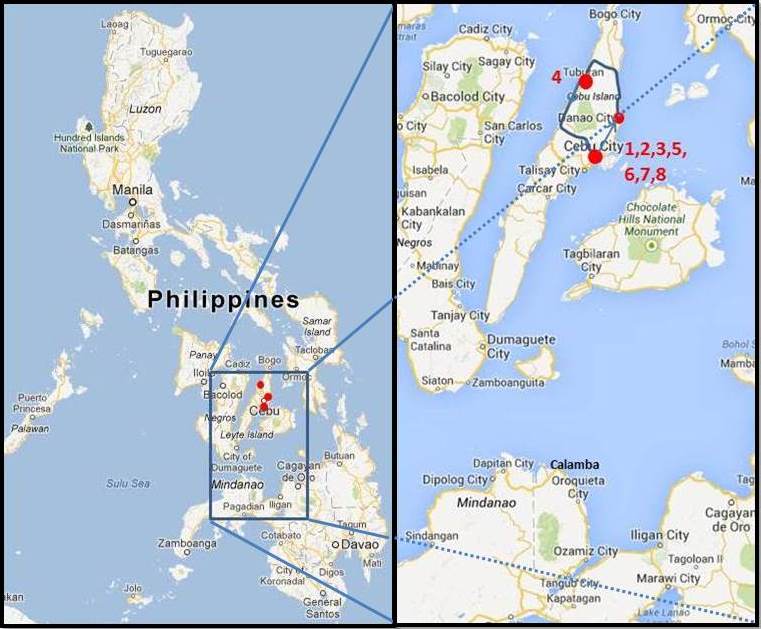 This year, we enjoyed the variety and convenience of 3 different mission sites all on one island. We stayed at the Mandarin Plaza Hotel in Cebu on all but the 4th night of the mission, when we stayed in Tuburan. We all had cameras (at least phone cameras) and we all took and shared many photos. It was very difficult to select those which capture the essence of such an uplifting mission, but below is a sample.
Day 1: Tuesday February 3: Mission begins at Sacred Heart Hospital in Cebu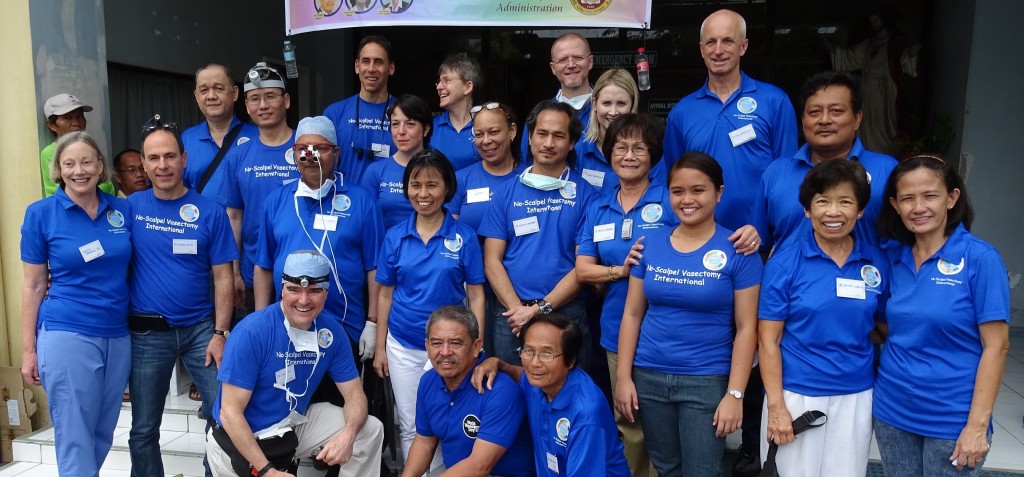 If you don't like posing for photos, you'll never survive a Philippines NSVI mission. Here's a group photo even before we begin.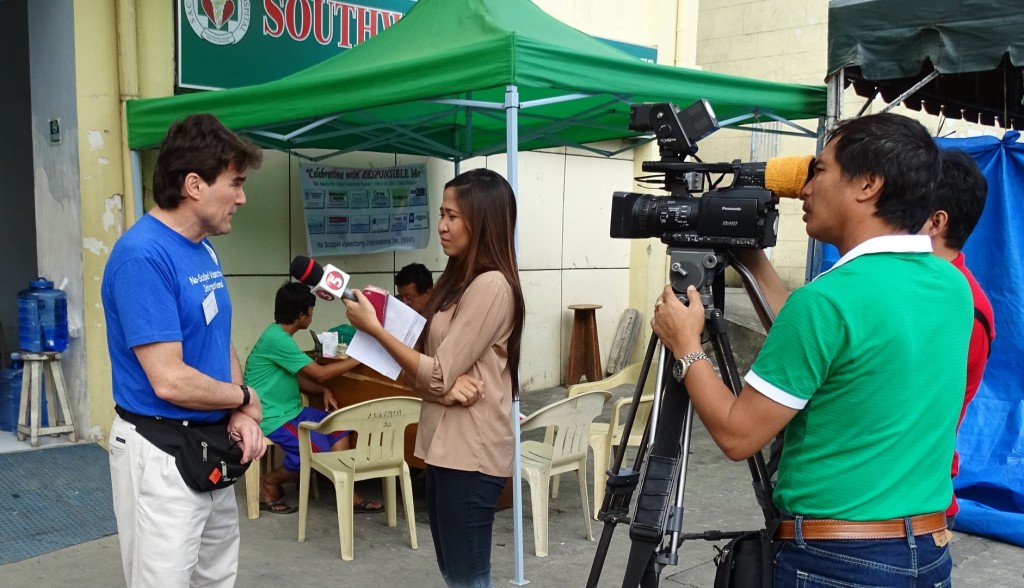 Our Domestic Team had notified the media, and they were eager to capture our story. NSVI Development Director Doug Stein provided an overview …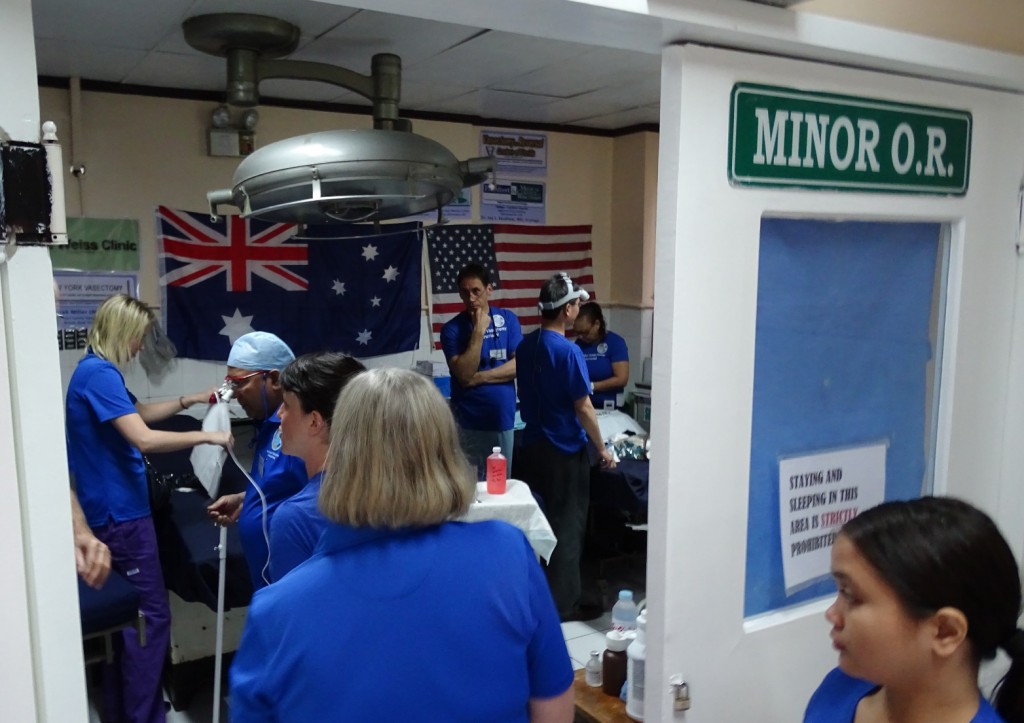 … while the rest of the team set up the procedure room and got right to work.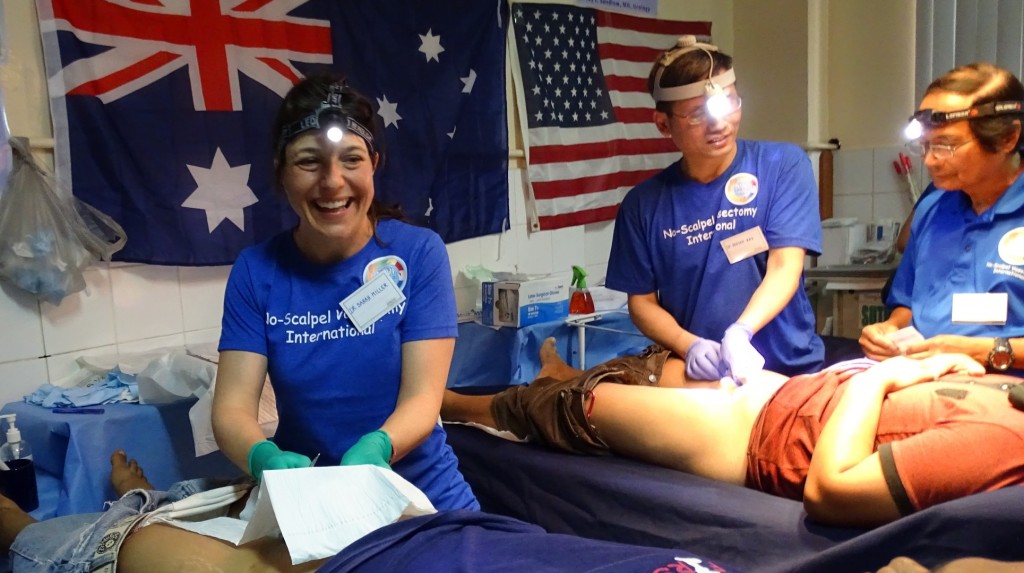 Day 2: Wednesday February 4: Press Conference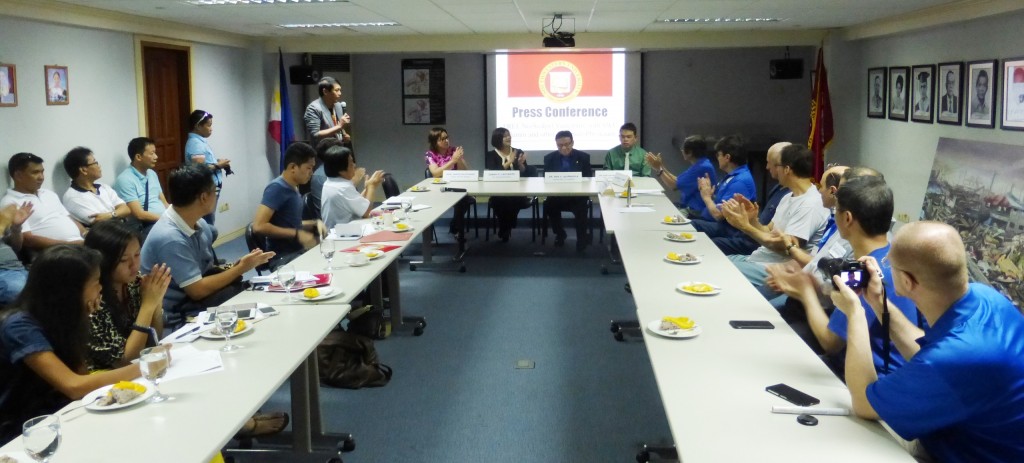 Southwestern University Medical School, the alma mater of the NSVI Board, is proud to partner with Sacred Heart Hospital as hosts of the important work of NSVI in a country of over 100 million people.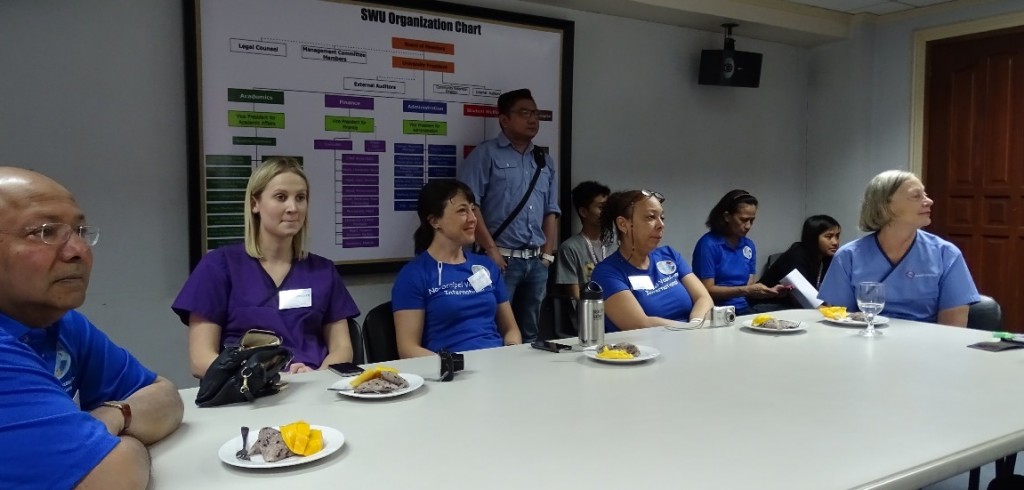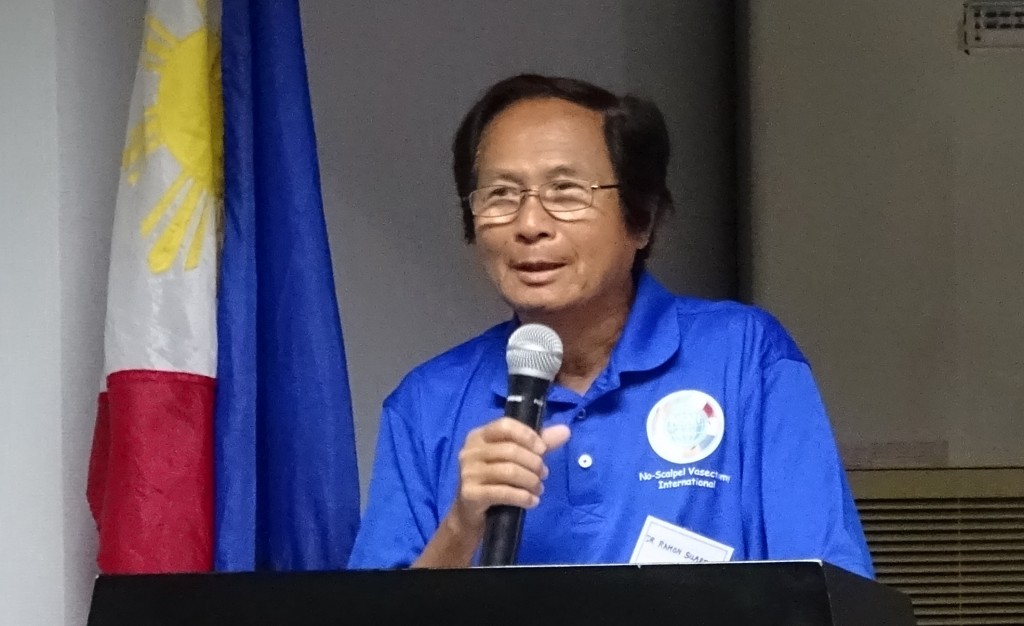 Dr. Suarez presented the history of NSVI and Dr. Stein described the use of patient-friendly no-needle anesthesia and other advantages of NSV for couples whose families are complete.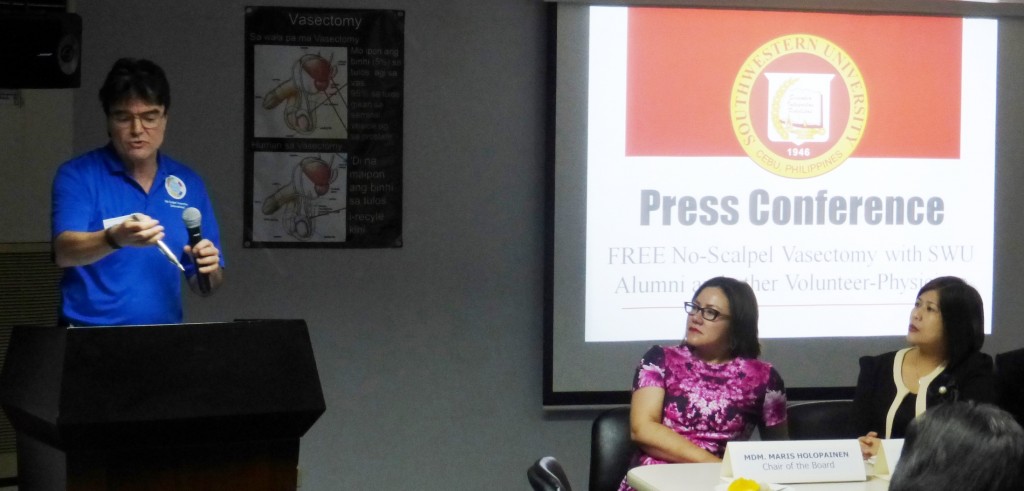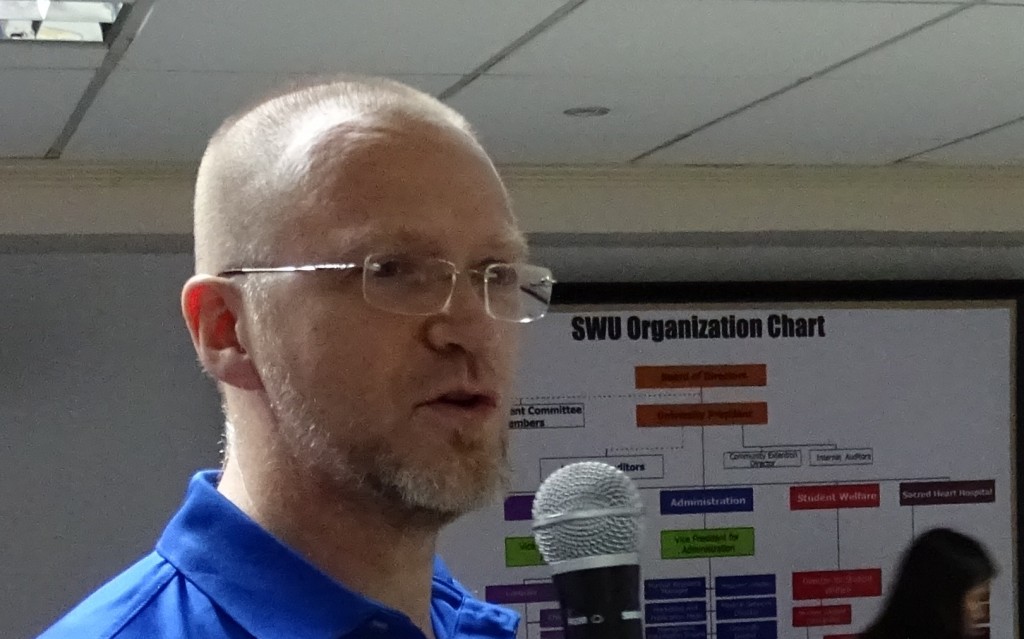 The press was fascinated by the fact that NSVI Missioners like Robert Kulik had come at their own expense from far-off places like Poland.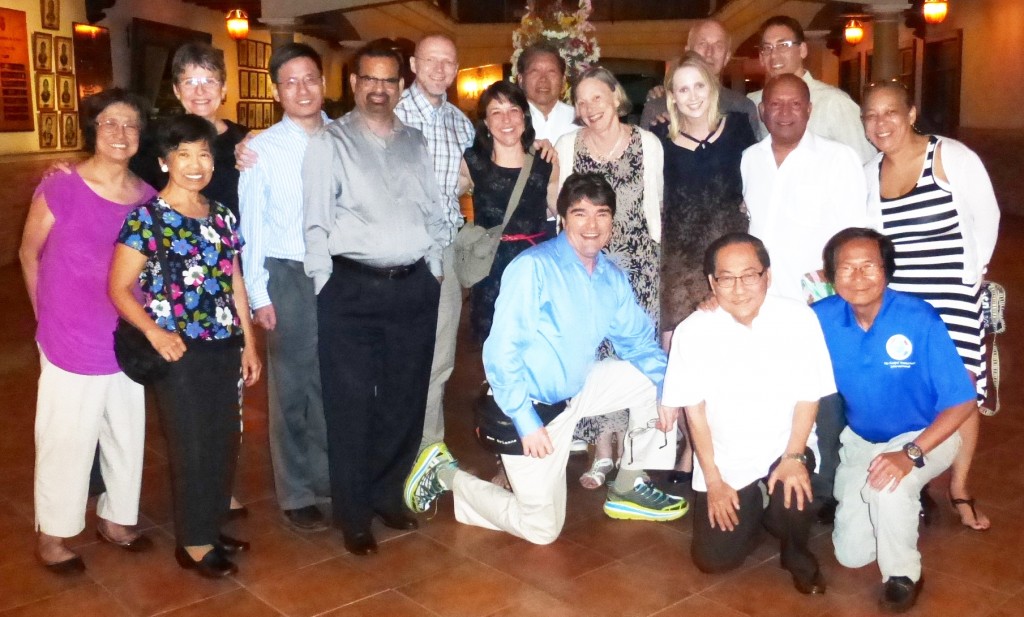 After a second busy day at Sacred Heart Hospital (SHH), Dr. Alex Lemkaking, a Filipino-American urologist from Maryland (kneeling beside Dr. Suarez), treated NSVI to an elegant dinner at a local country club. Alex has been so supportive of NSVI missions over the years that he has become an honorary member of the Team.
Day 3: Thursday February 5: Vasectomies in Danao, BMA Party in Tuburan
The provincial hospital in Danao has been a vasectomy site of the Domestic Team for over a year, but they had not prepared us for what an ideal facility it would be for a team as large as ours. The room was bright, spacious, and filled with narrow procedure tables perfect for vasectomists working in pairs.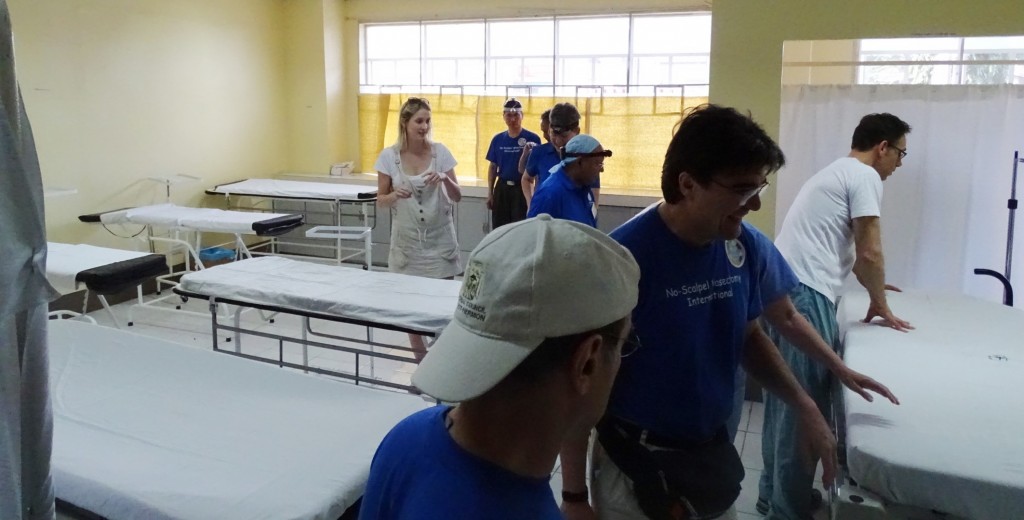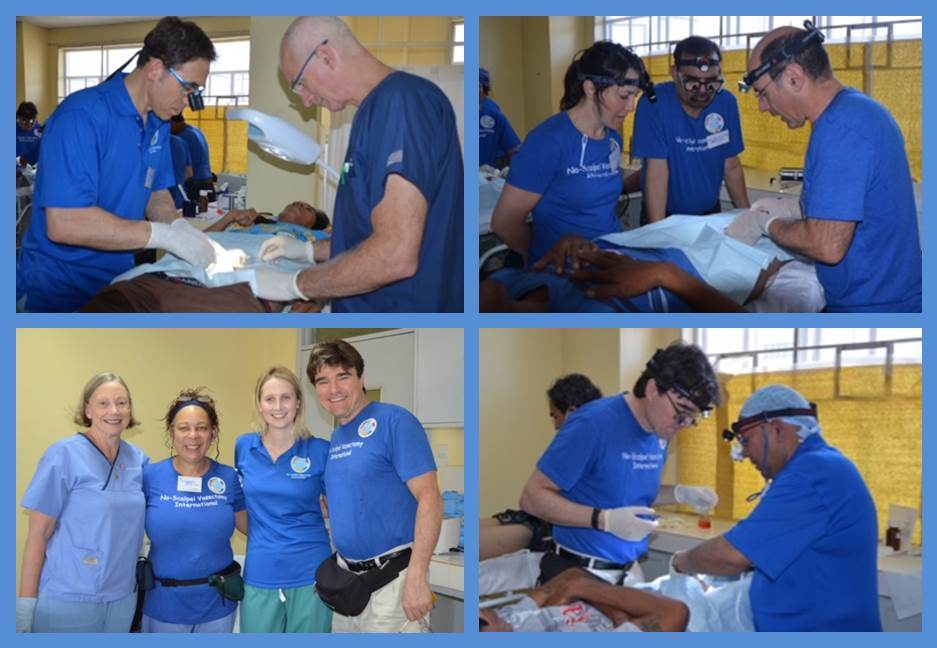 One of the best aspects of having a large group of vasectomists from many backgrounds is the opportunity to work together to share ideas and techniques. NSVI missions are learning experiences for all of us. Special praise must be bestowed upon Elizabeth Davis (lower left and second from left), Dr. Sarah Miller's right hand in the USA, who, along with Felidity, Lucy, and Debbie) NEVER failed to keep us supplied with trays of sterile instruments faster than we could perform vasectomies.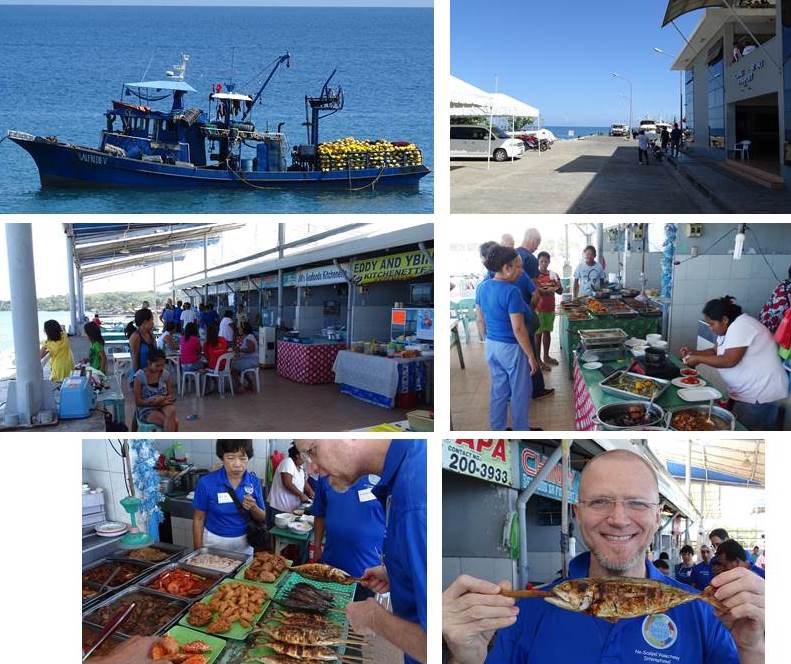 Dining in the Philippines is always a cultural and culinary treat. Danao's fishport is a delightful place to sample fresh seafood just caught that morning. After lunch, our patients and local staff were delighted to pose a few NSVI team members.
After Danao, our two vans took us to Tuburan where we joined the Bisaya Medical Association for their own end-of-mission party. NSVI is grateful to the BMA for allowing us to partner with them and for handling NSVI temporary medical licenses.
Day 4: Friday February 6: Vasectomies in Tuburan; Zipline Adventure
Our overnight stay in Tuburan was at a seaside resort full of character.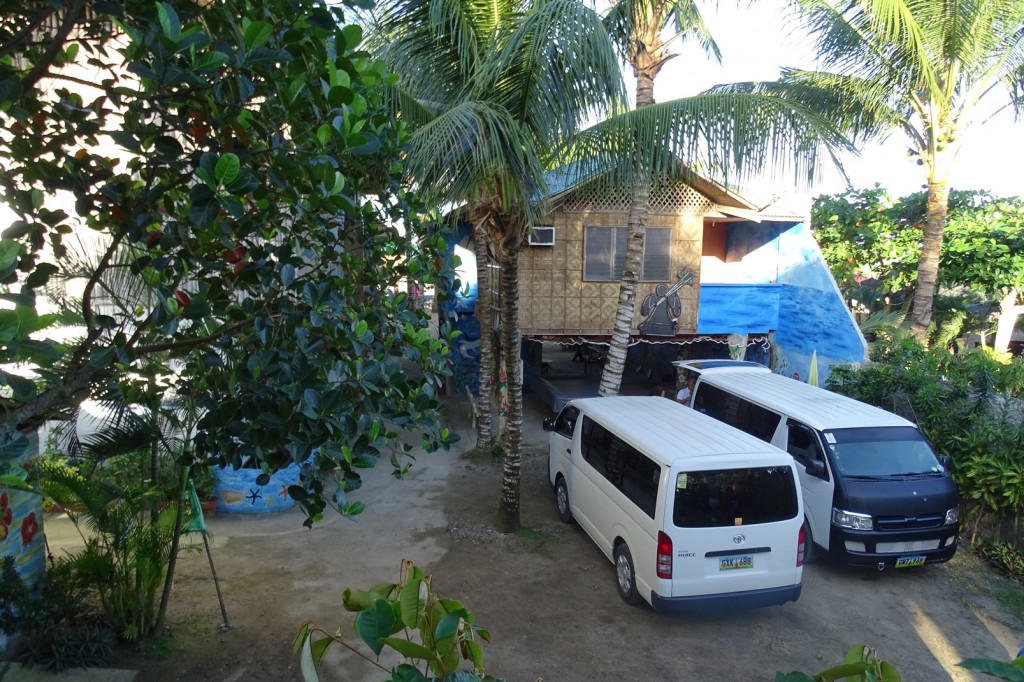 The beach was nothing to rave about, but one man was enjoying it!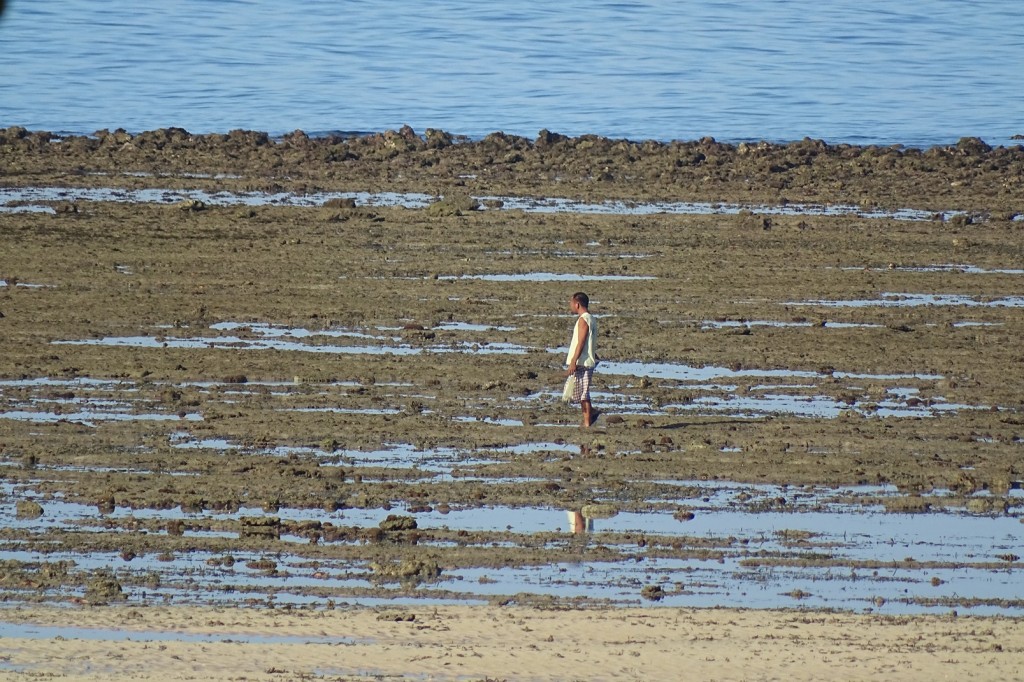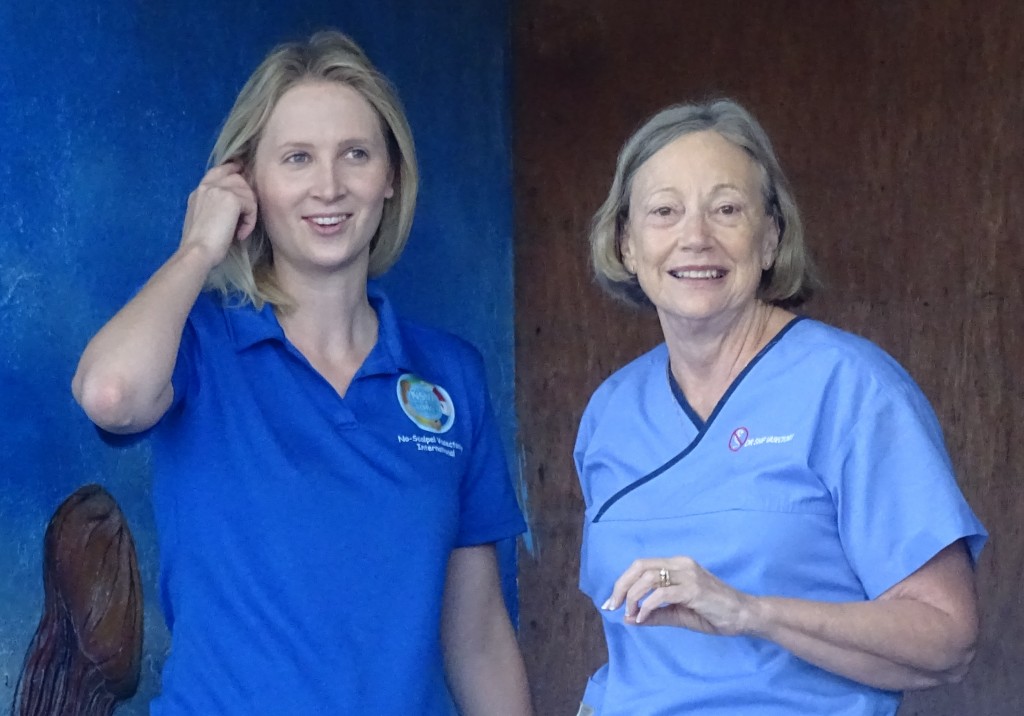 Support staff Lucy and Felicity Demediuk awakened fresh-faced and ready for …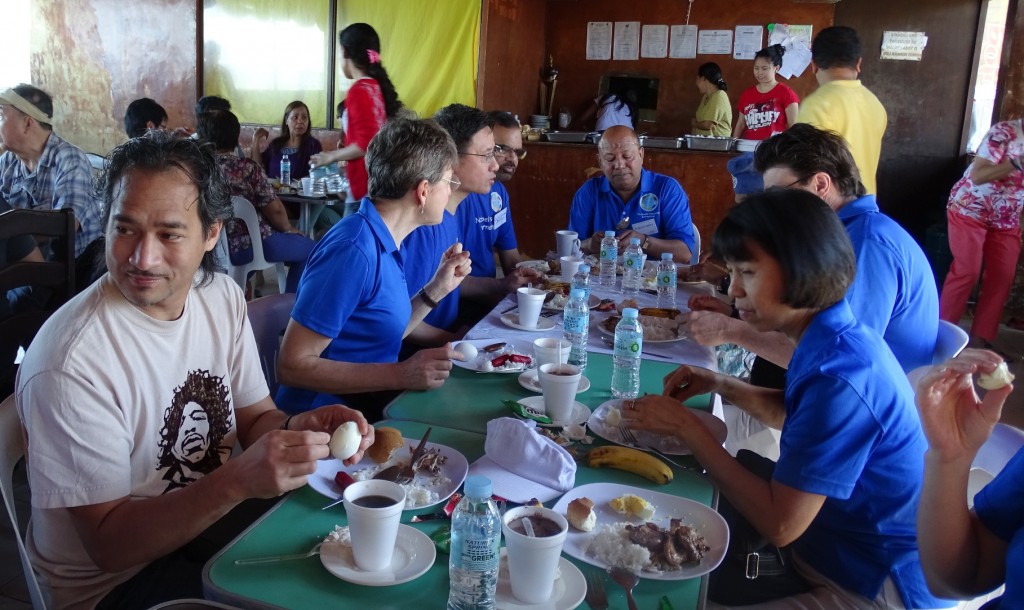 … an ocean-side Philippine breakfast …
… while mission director Bob Kiamco counseled men at Tuburon District Hospital.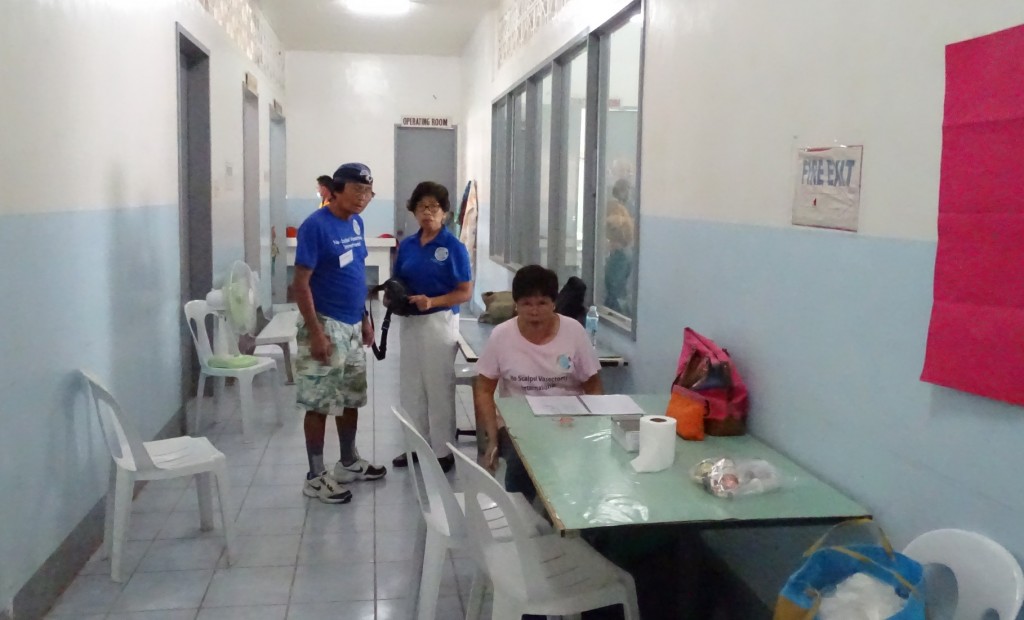 It is also an ideal facility. A holding area hallway leads to …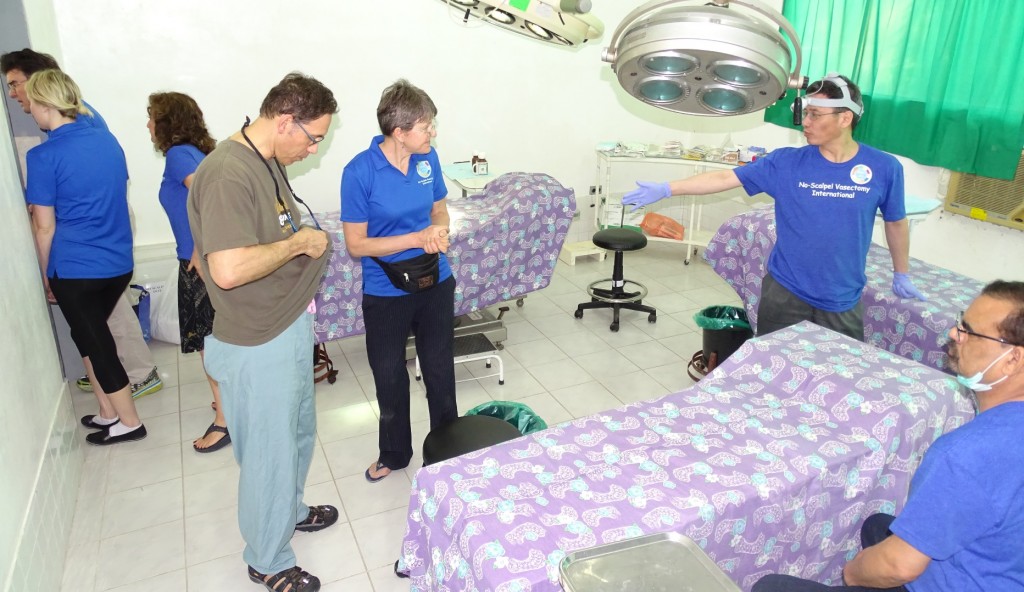 … two excellent procedure rooms with multiple procedure tables.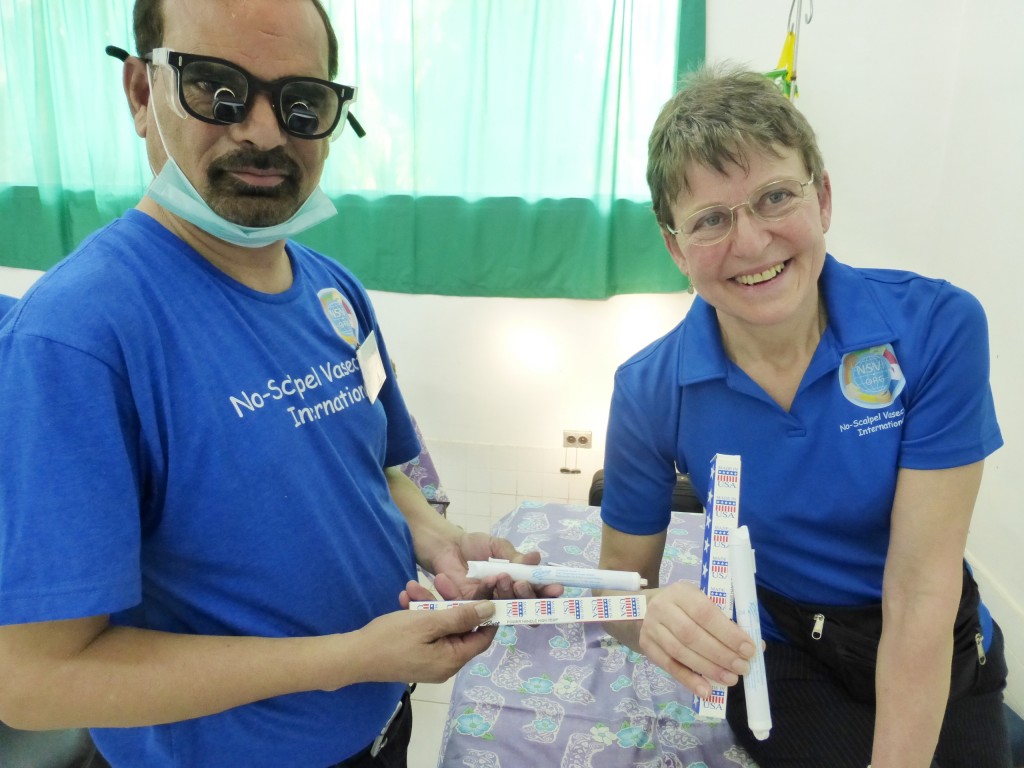 Bovie Medical Corporation provided the thermal cautery units so important to making vasectomy the most effective form of contraception available.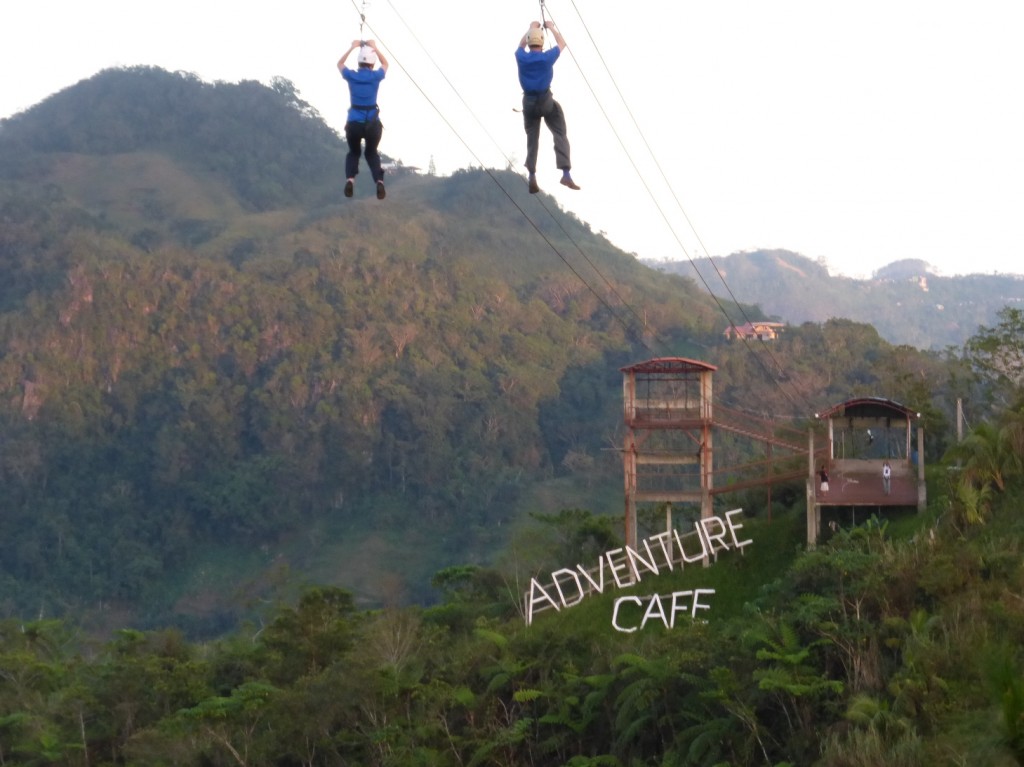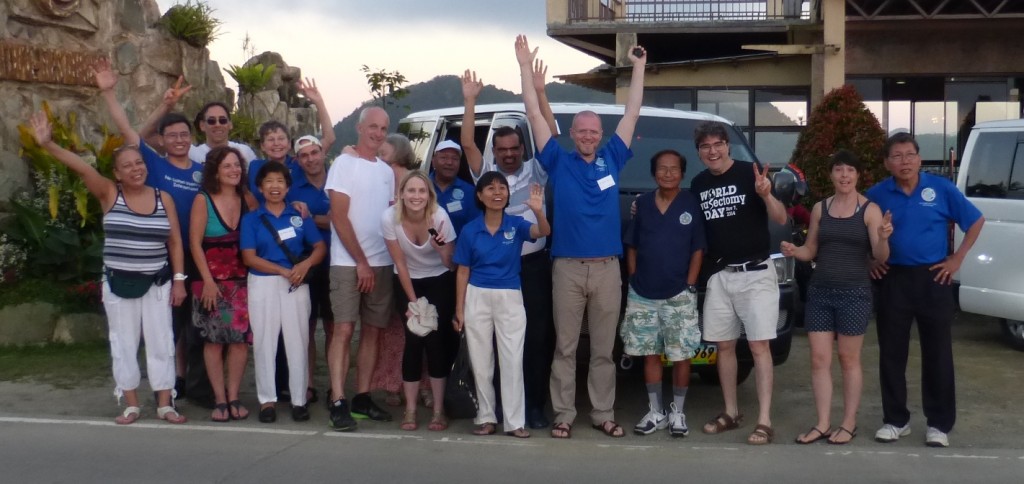 Day 5: Saturday February 7: Seminar at SWU Med School; Vasectomies at SHH; Cultural Program.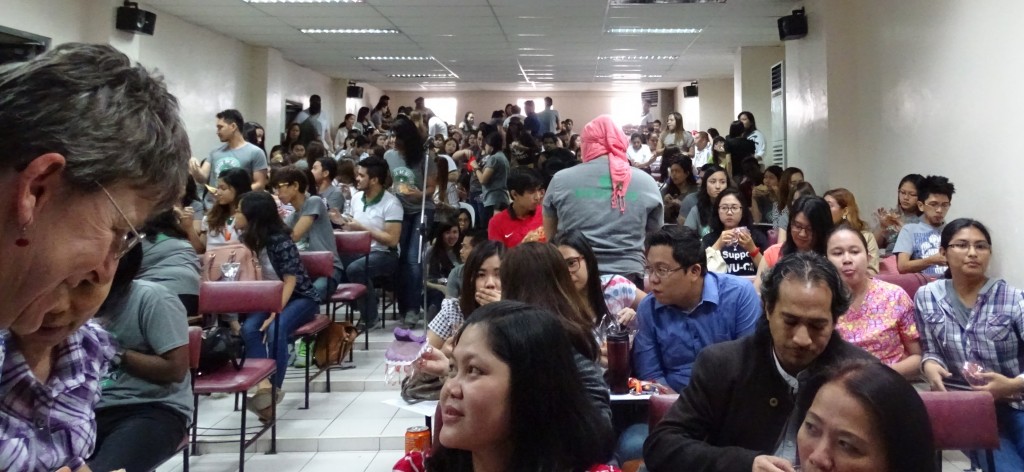 It is an NSVI tradition to thank our Southwestern University Medical School hosts by providing a Saturday morning Family Planning Seminar for the medical students of SWU.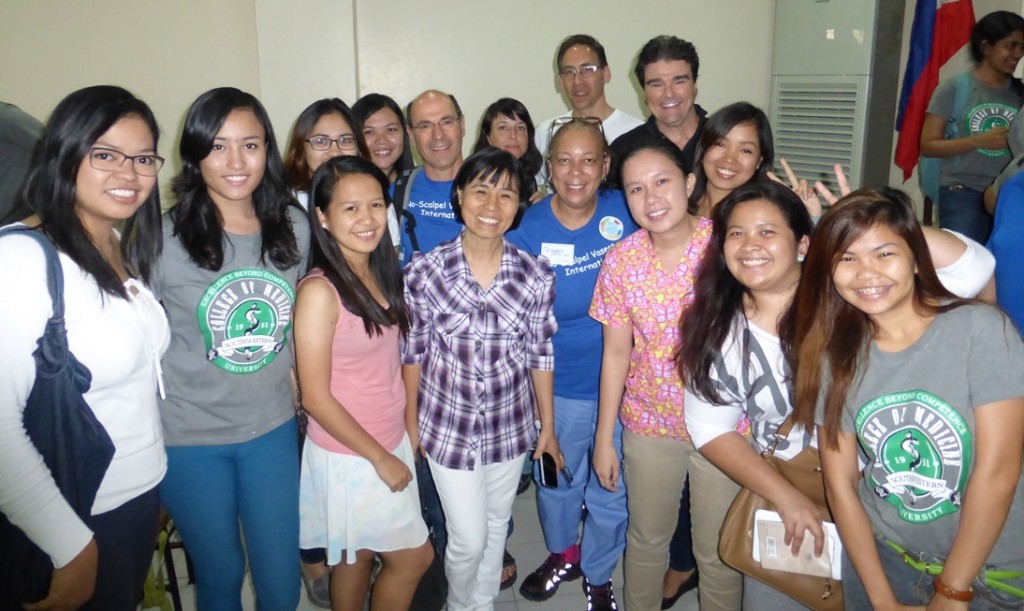 They really enjoyed the Program, the photo ops that followed, …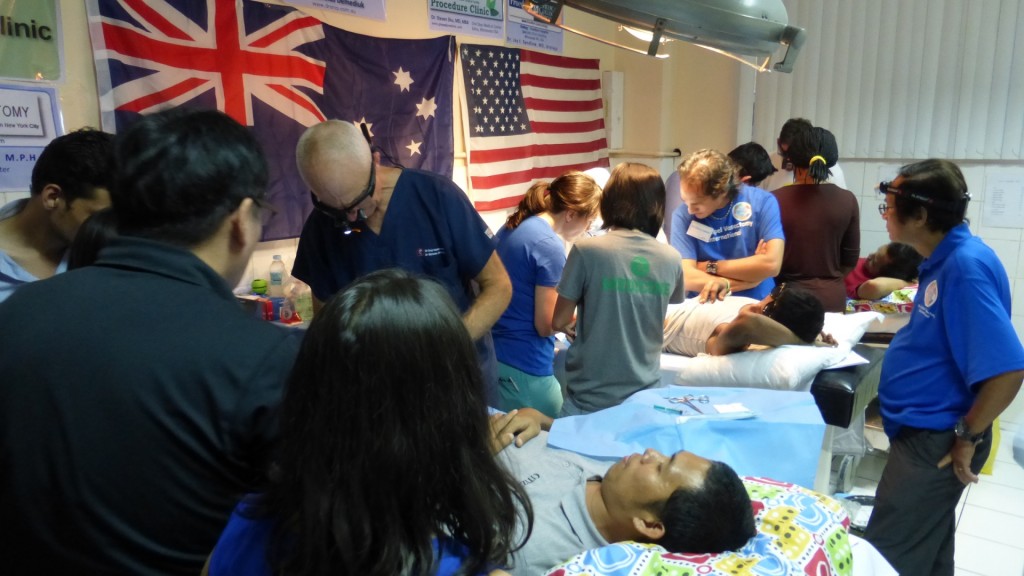 … and a trip to the procedure room …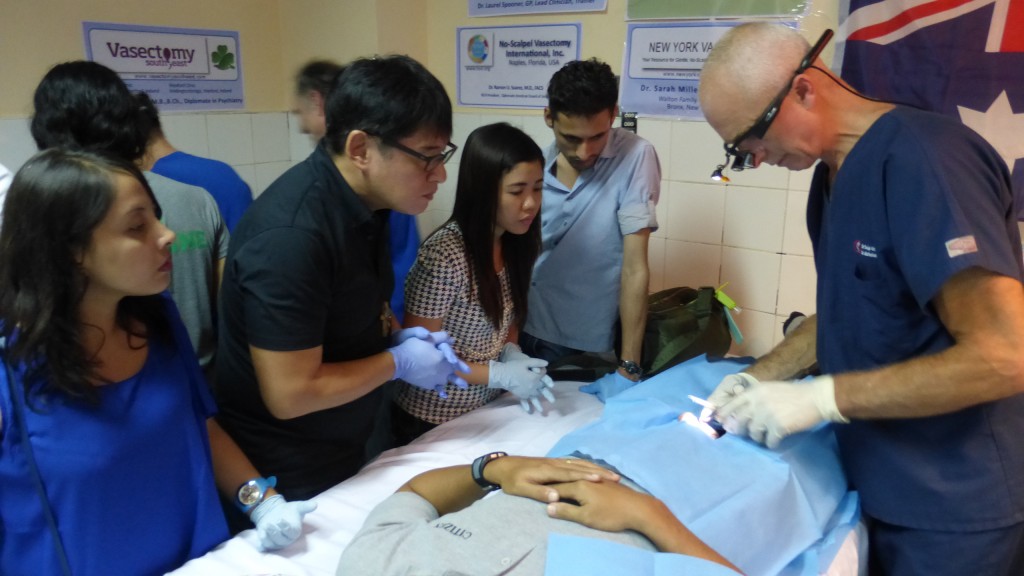 … to watch some of the world's best vasectomists in action.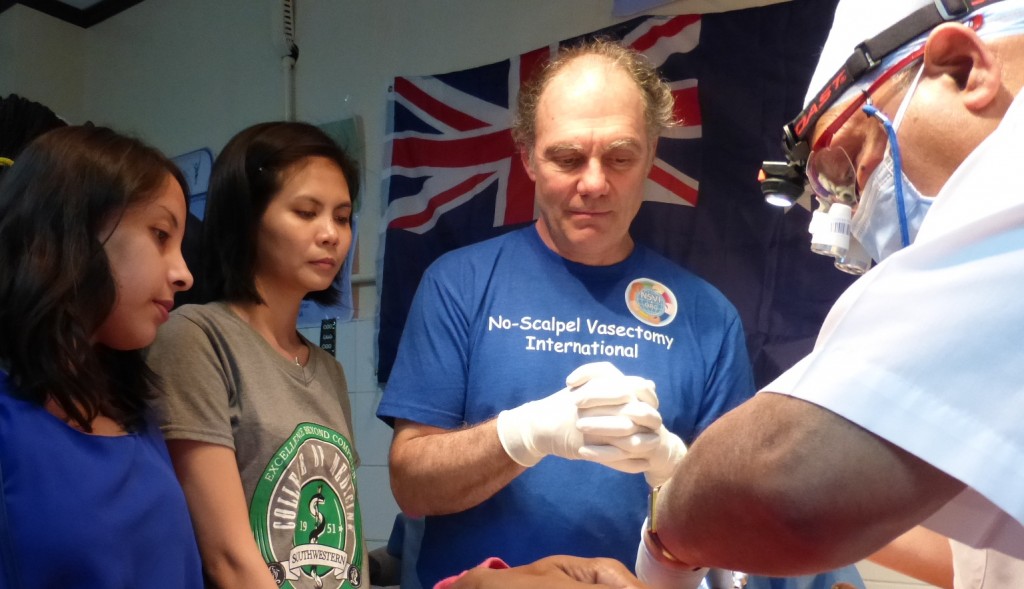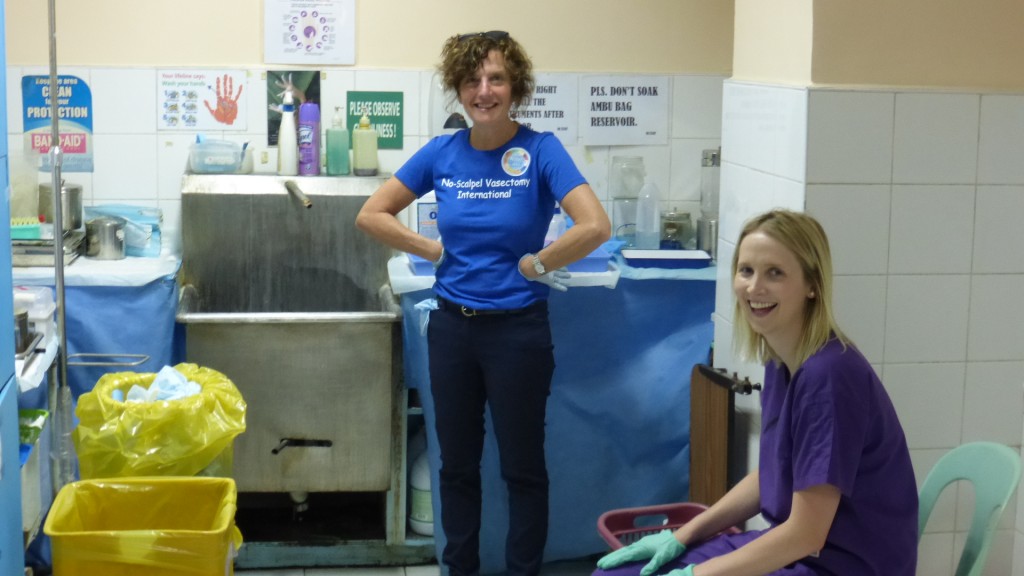 Indispensable support staff Debbie Weiss and Lucy Demediuk were willing to wash instruments …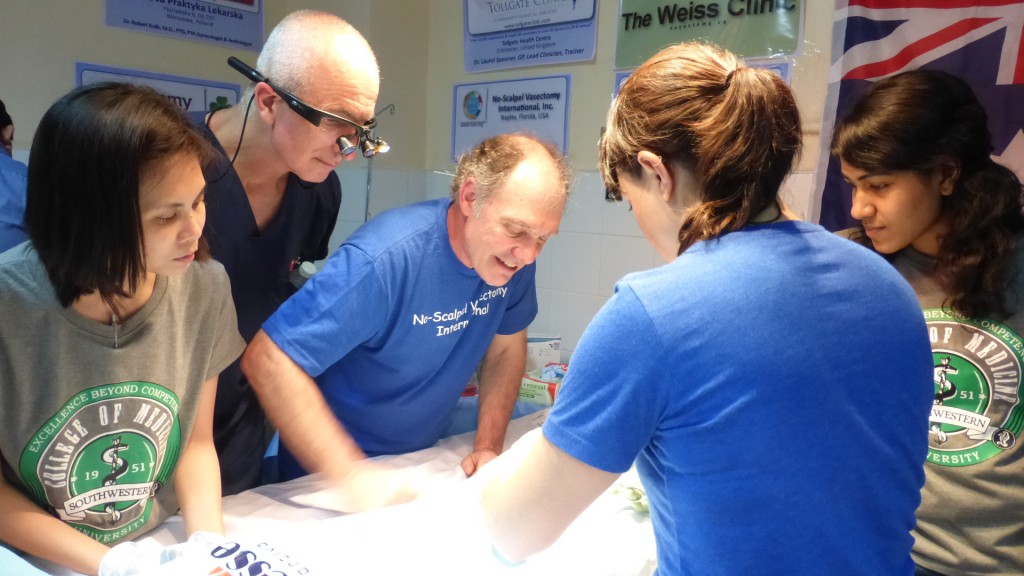 … while the vasectomists had all the fun.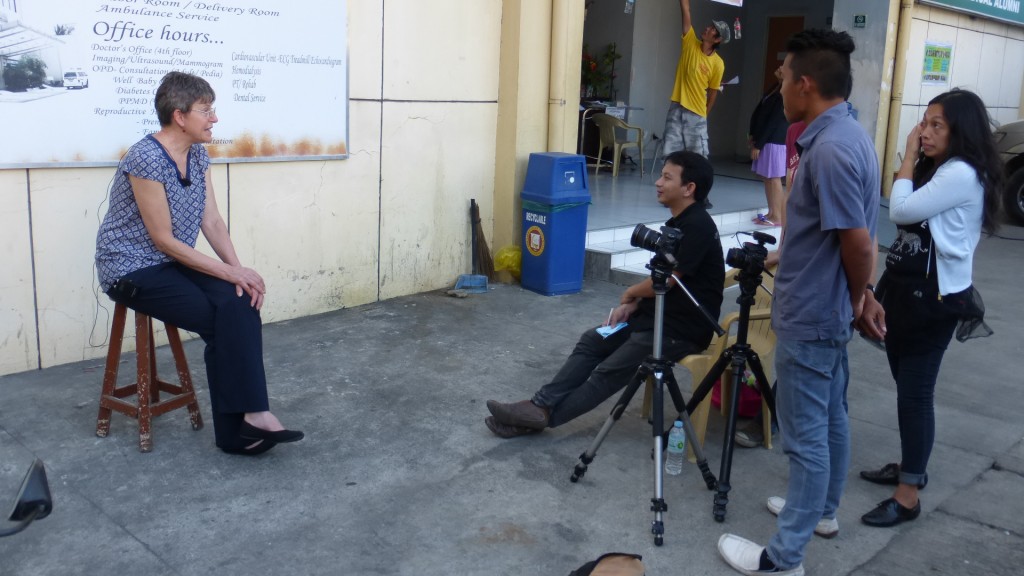 After 5 days of providing vasectomies at 3 locations, mission vasectomists were happy to offer their impressions of NSVI missions so that our film crew could prepare the video above.
Our Saturday night cultural program sponsored by SWU Medical School is an annual treat …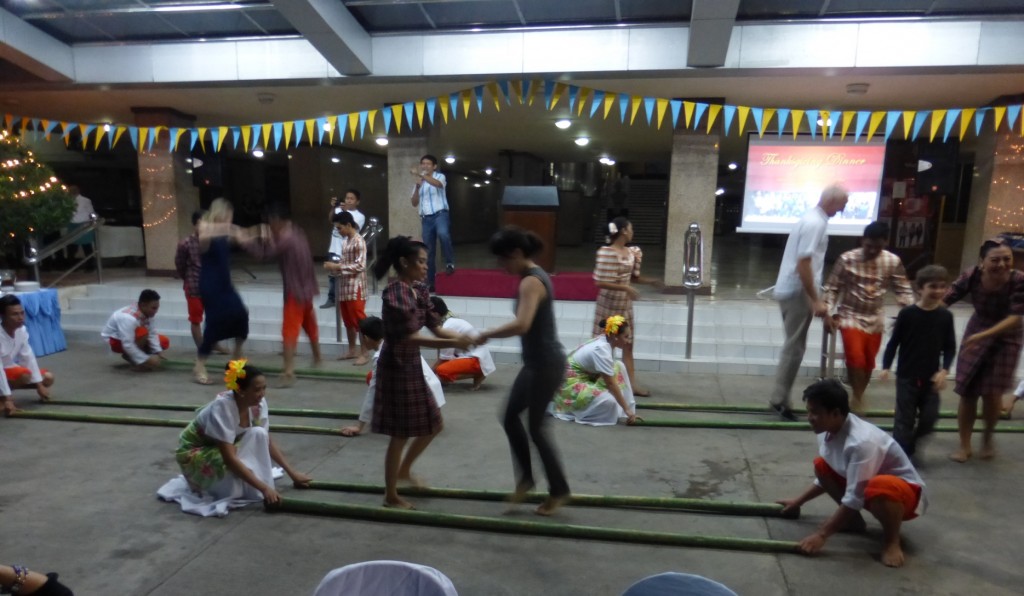 … especially when Missioners are taught traditional Filipino dances.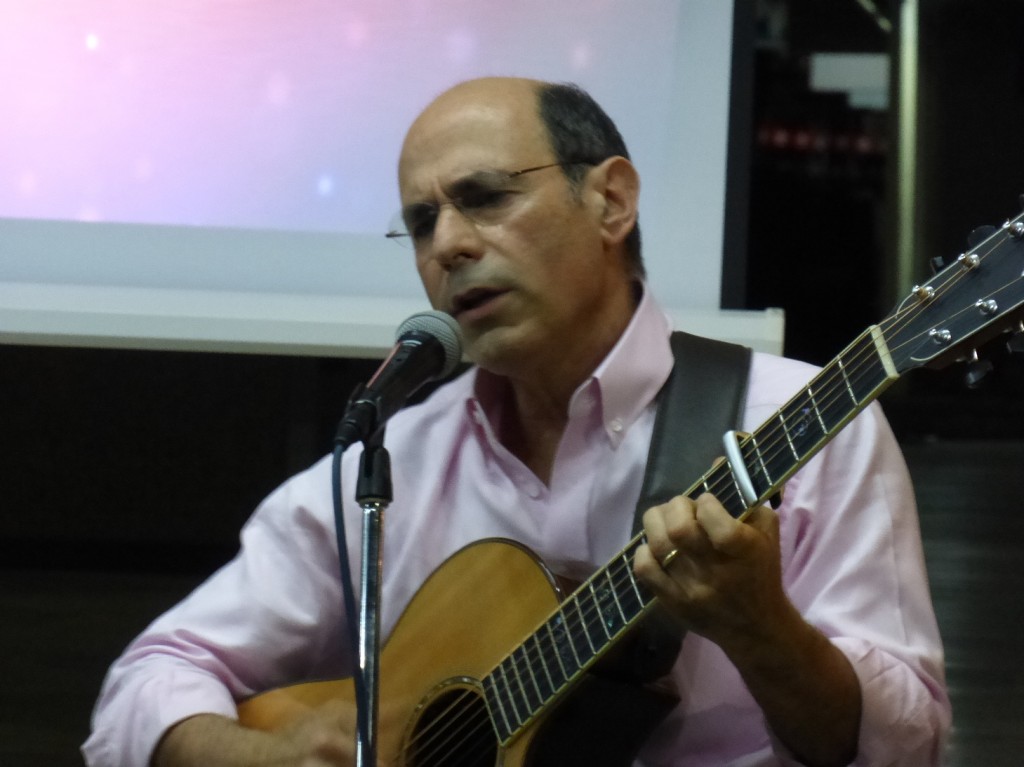 Dr. Ron Weiss brought his guitar all the way from Canada to provide another highlight of a wonderful evening.
Day 6: Sunday February 8: R & R: Tour of Cebu; Swimming with Whale Sharks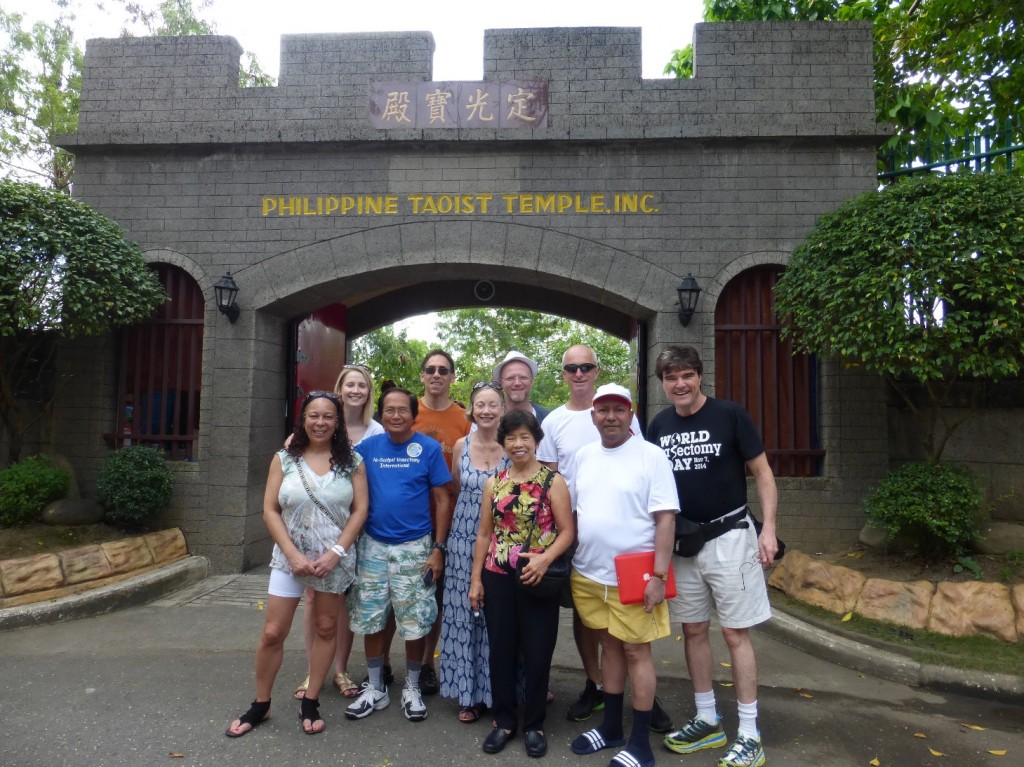 Mission Sundays provide not only an opportunity to see the cultural attractions of Cebu,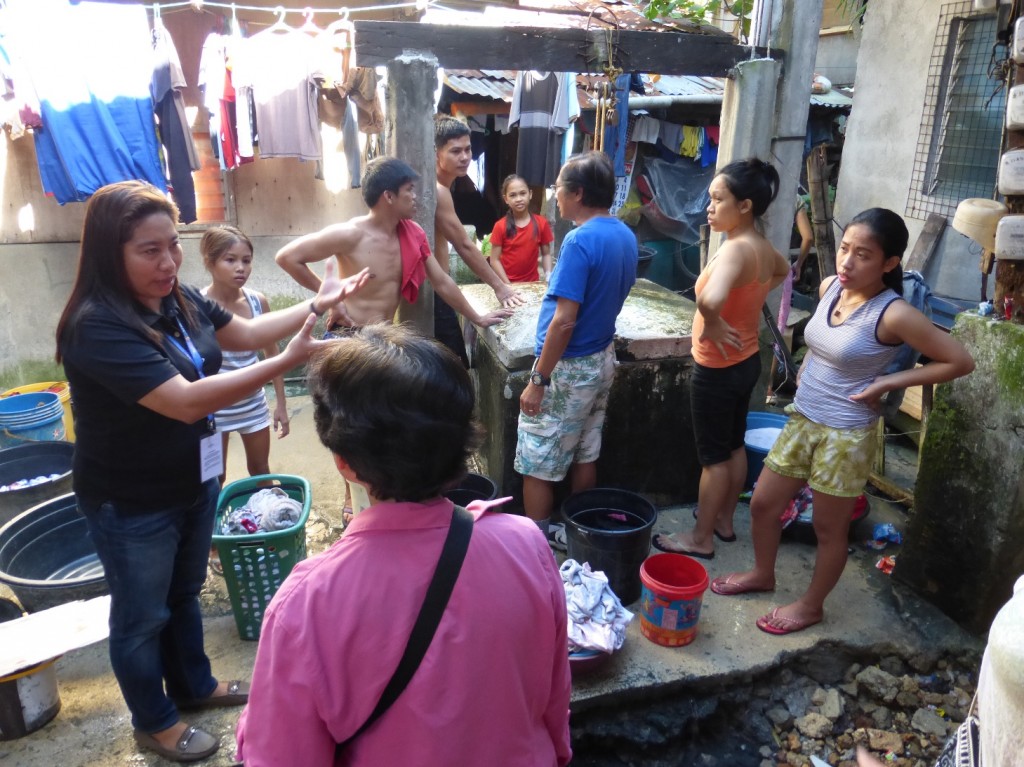 but also the opportunity to experience the home lives of the poor people that we serve.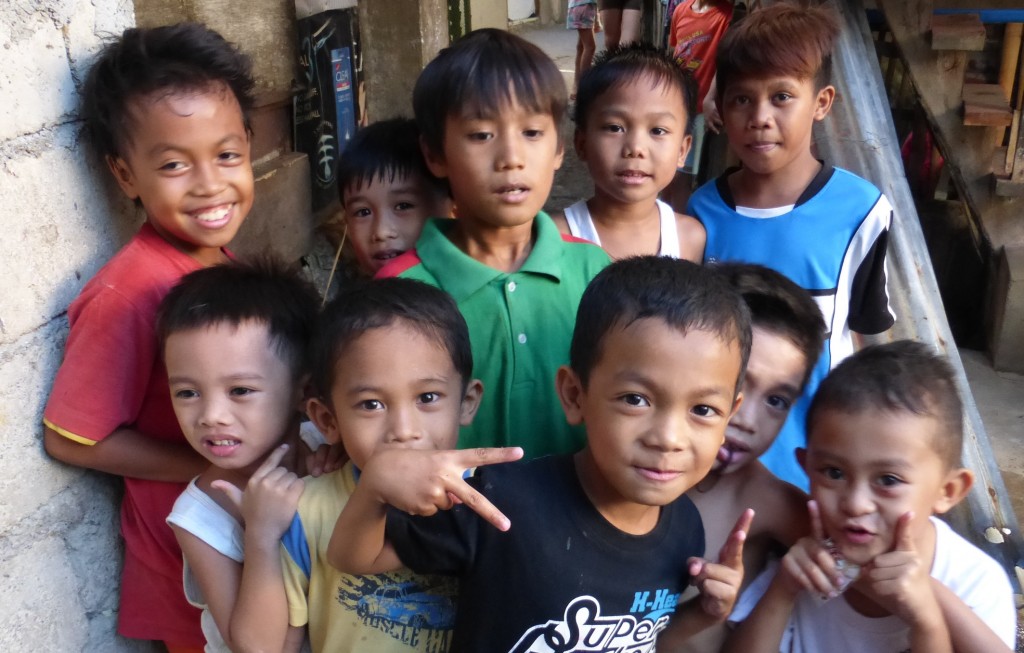 Day 7: Monday February 9: Back at Sacred Heart Hospital; Prison Adventure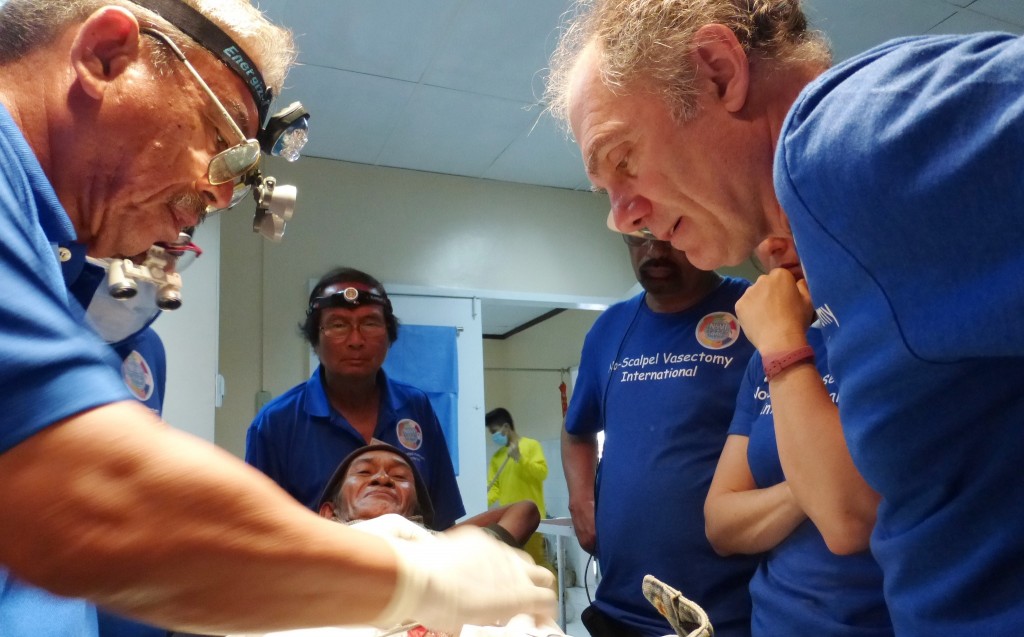 While touring East Asia with his family, Dr. Michel Labrecque, the world's academic authority on vasectomy and one if its best trainers, joined NSVI for the last 3 days of the mission, a wonderful surprise to all but the NSVI Board members, who kept his secret. During a less busy Monday morning at SHH, word came that Frohnie's husband Edgar had offered NSVI vasectomy services, through the warden, to inmates of the local prison.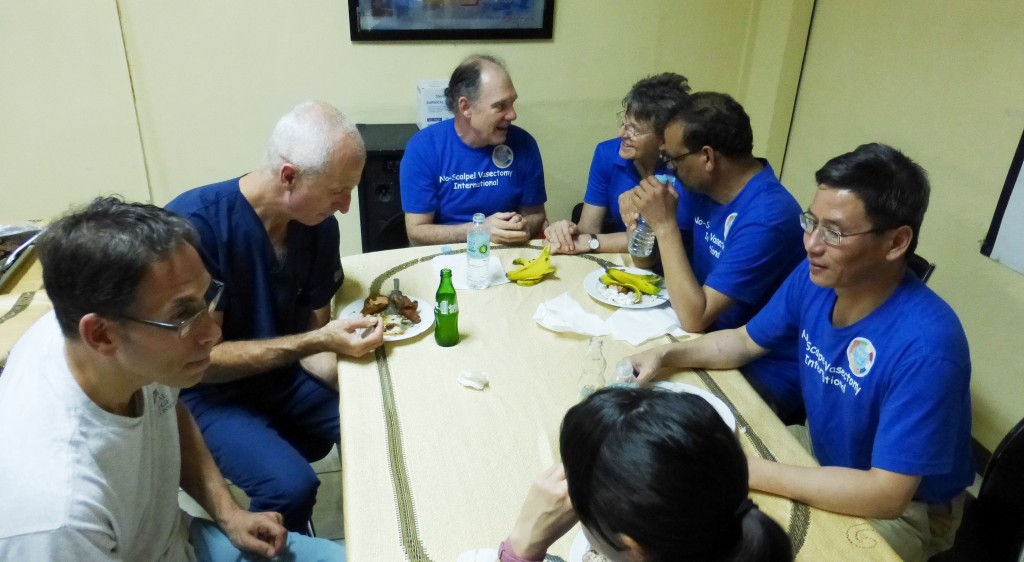 During lunch, we learned that 72 inmates wanted to avail themselves of the free service, as condoms were not allowed during conjugal visits and the pregnancy rates are high among the partners of the inmates.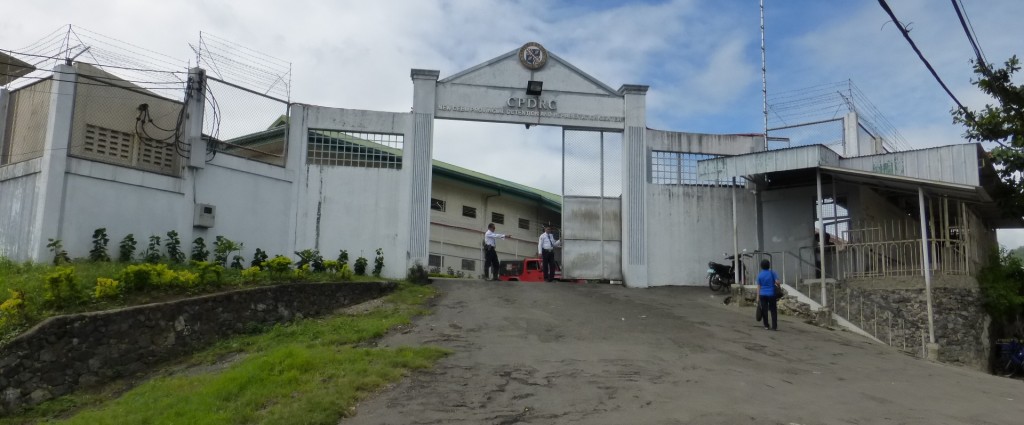 The prison is located in the mountains above Cebu and it was interesting to learn about prison society, culture, and programs.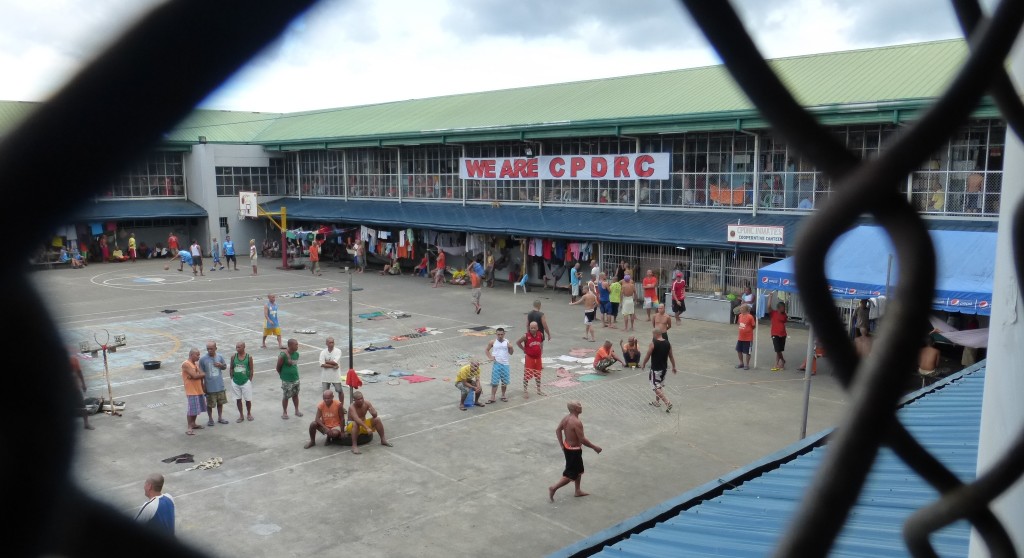 Through a temporary misunderstanding, the inmates initially expected to be given a stipend for lost income and transportation costs, but that would have been improper since they are unemployed and live at the prison.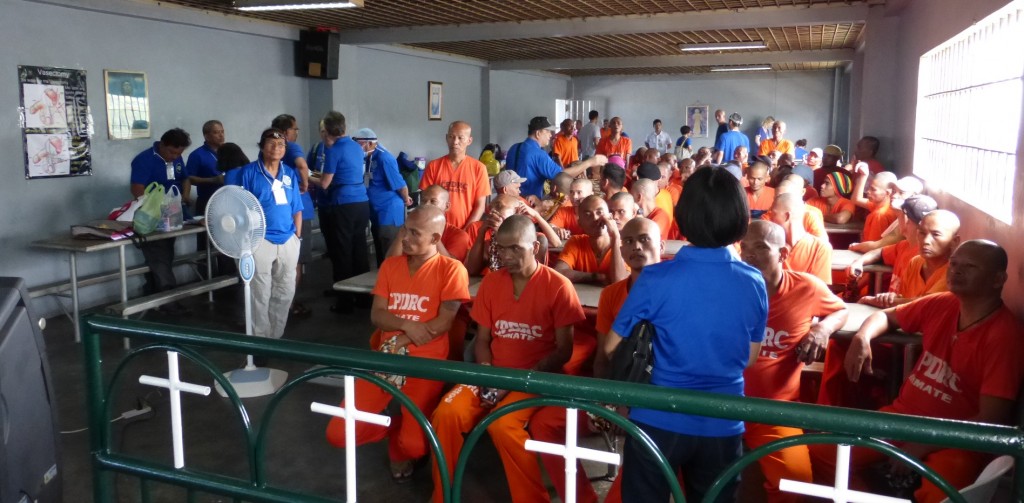 Nonetheless, 42 of the 72 who received counseling decided to proceed.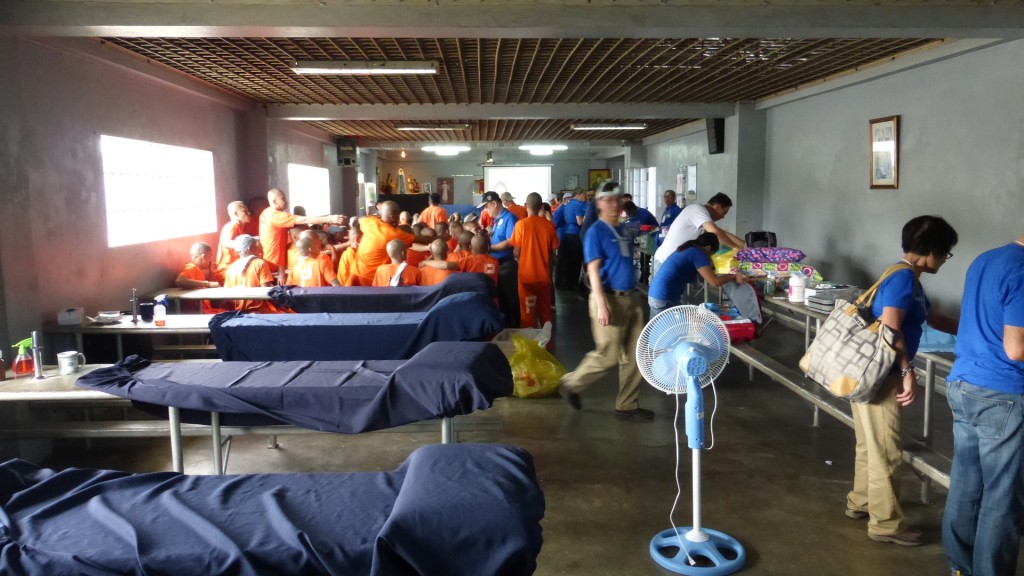 The large prison chapel / meeting hall turned out to be an excellent facility – bright, cool, and breezy.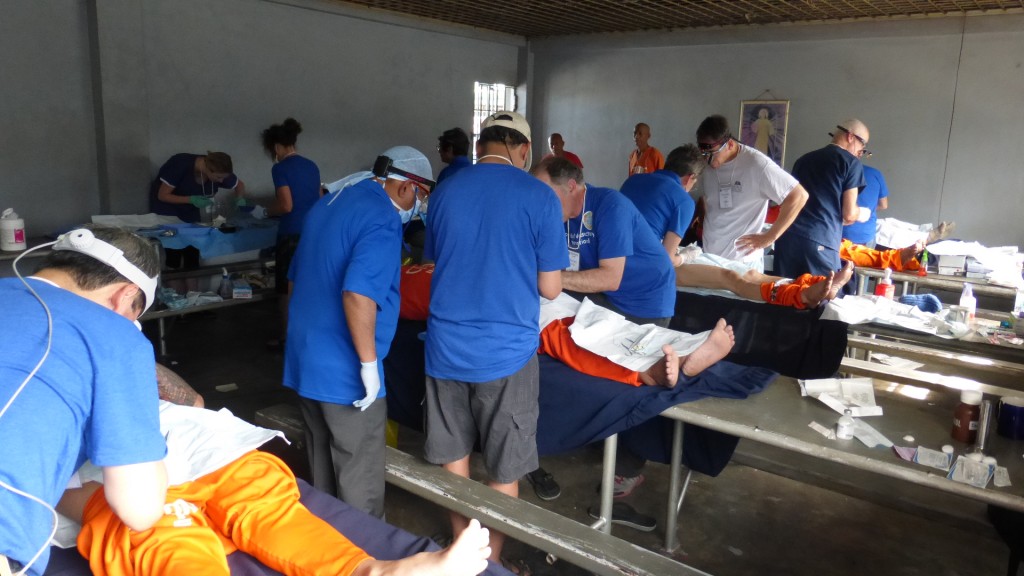 It was another opportunity to team up …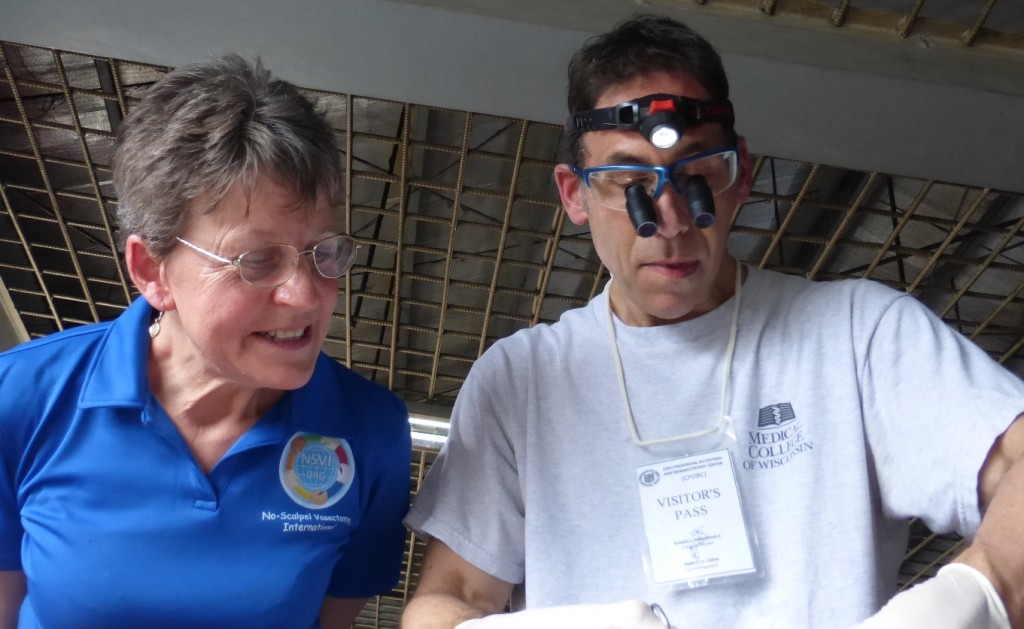 … and share techniques and ideas. Here Laurel Spooner, England's lead vasectomy trainer, observes Jay Sandlow, the most enthusiastic promoter of vasectomy training in American urological residency programs.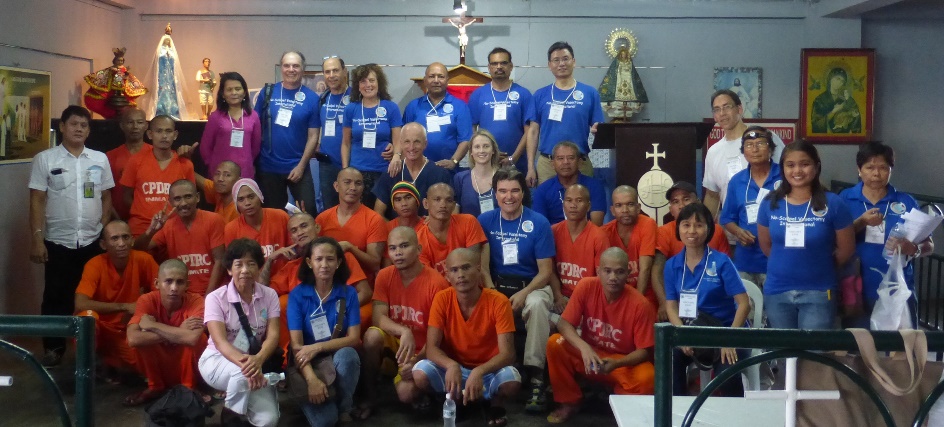 The inmates were delighted to pose with their vasectomy doctors for a group photo.
Day 4: Tuesday February 10:  Final Vasectomy Day at SHH; Farewell Dinner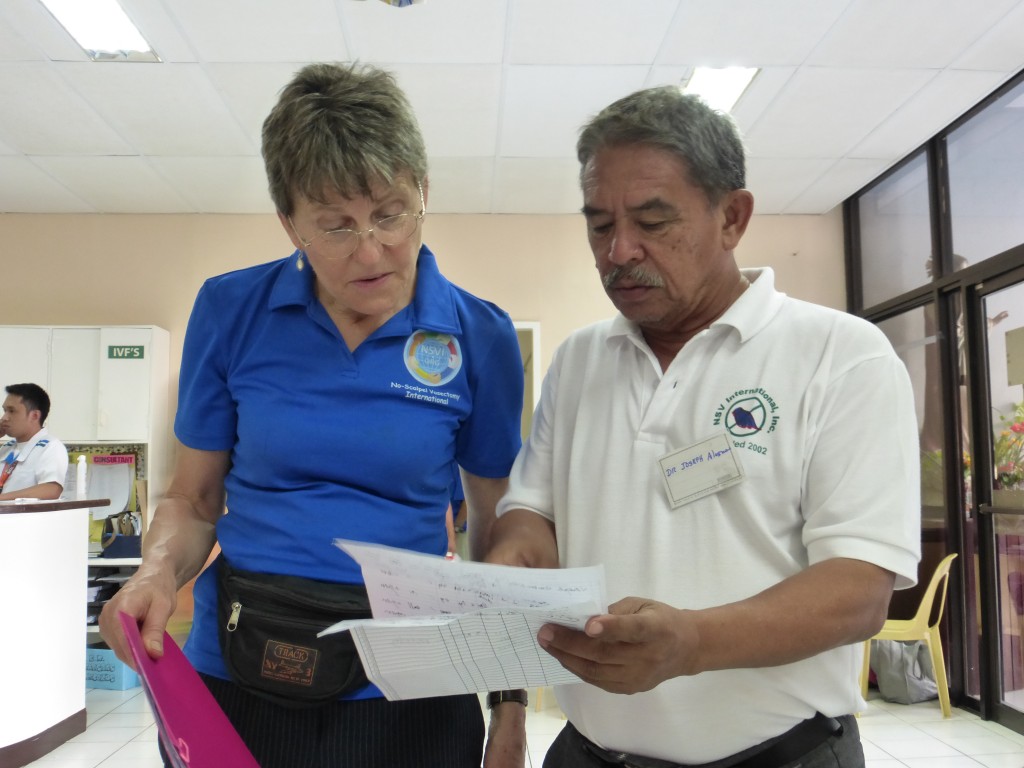 The visit to the prison was such a new and successful experience for NSVI that Drs. Spooner and Alesna returned to the prison for followup visits. The inmates were very receptive and grateful, there were no regrets or problems, and NSVI was encouraged to return next year.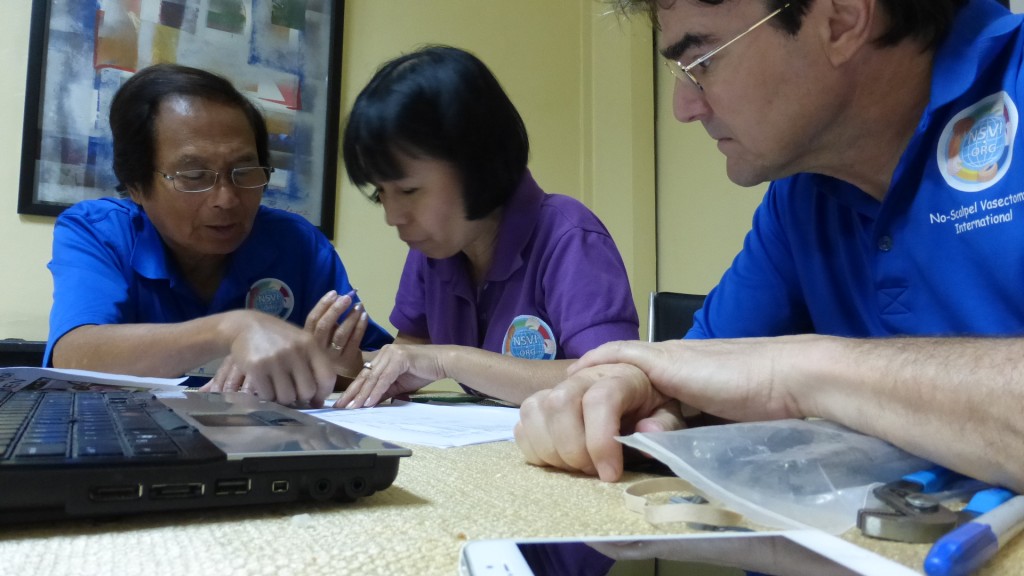 Back at SHH, the final corrections were made to the Cebuano-language Vasectomy Brochure to be commercially printed for use by the Domestic Team after the 2015 Mission.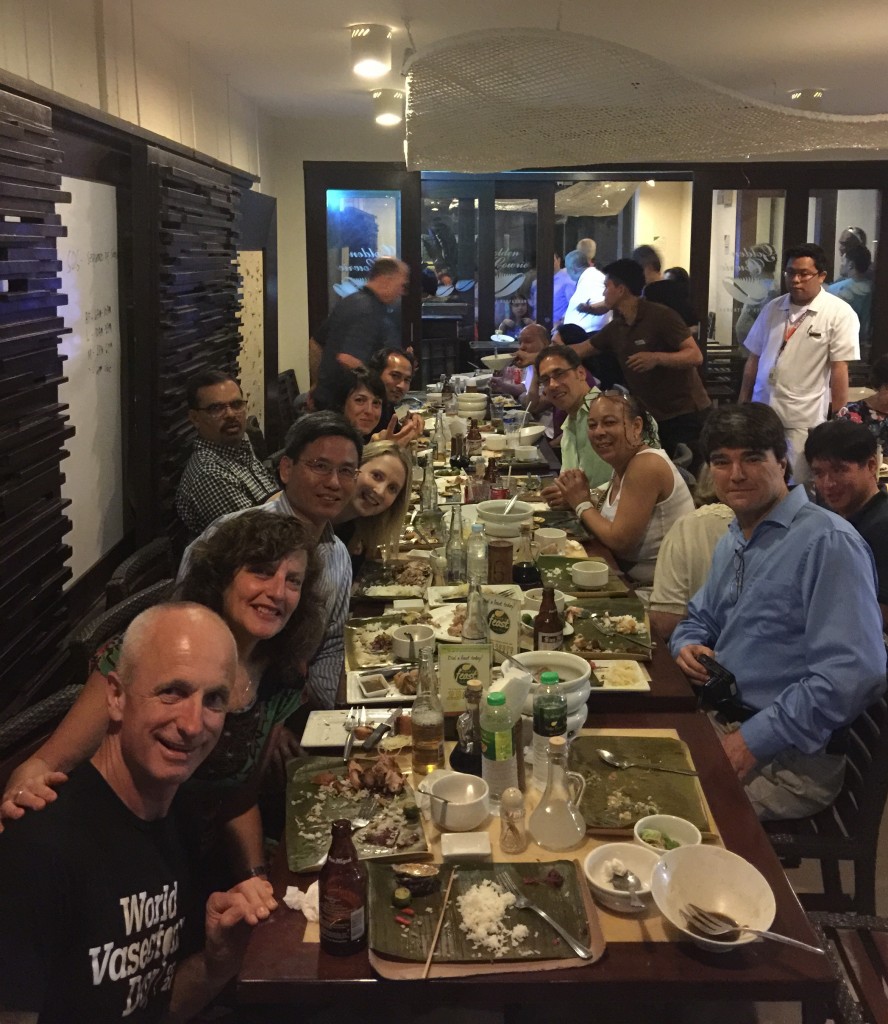 Our farewell dinner was a celebration of a successful mission and friendships that last forever.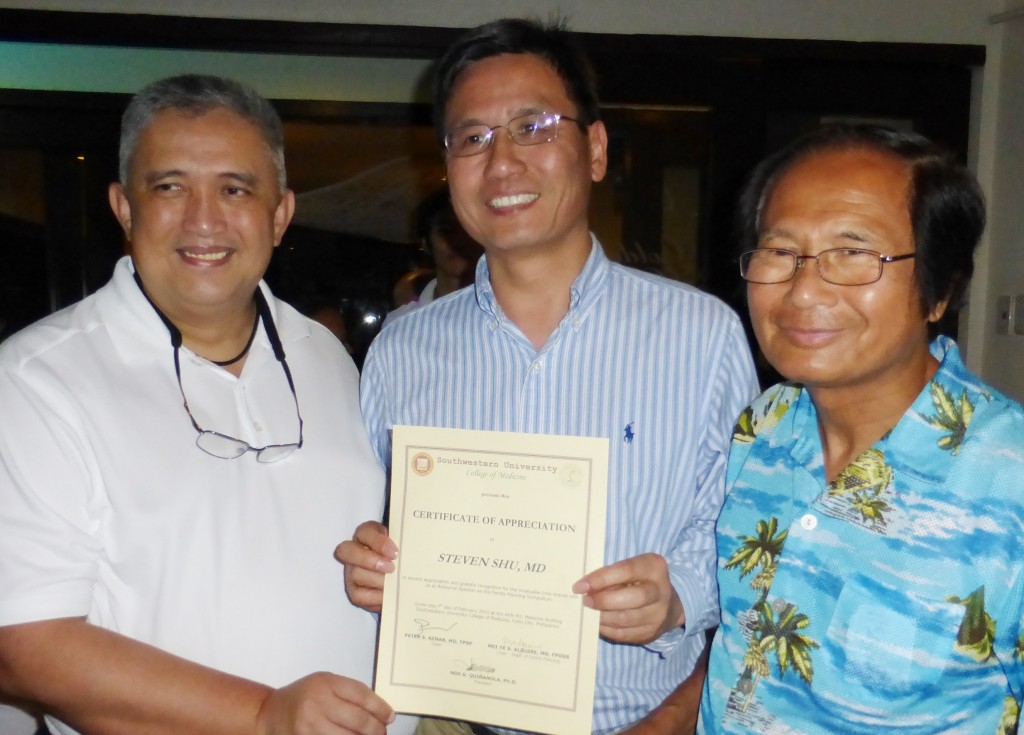 Dr. Peter Asnar, the Dean of SWU Medical School, our gracious host, and biggest supporter, provides a certificate of appreciation to all mission participants.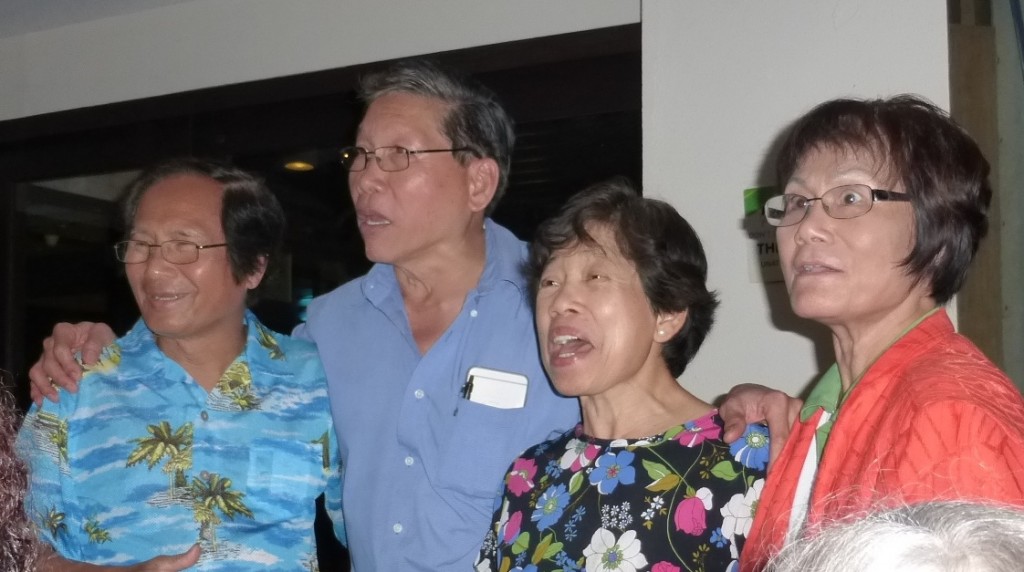 Our Board of Directors sang the official NSVI Vasectomy Song, Nenita's lyrics to the tune of Red River Valley.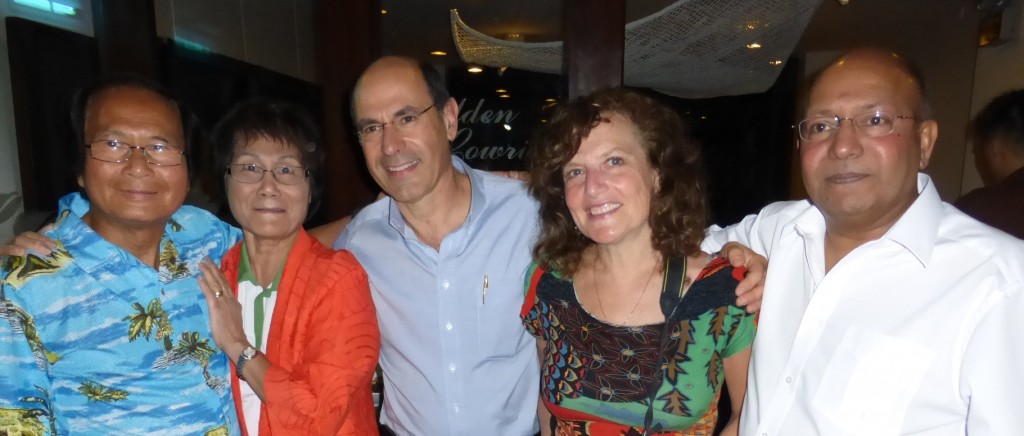 And photos were taken of every combination of Mission Participants before some had to leave to catch midnight flights back to our respective countries.
Jay Sandlow expressed our collective post-mission sentiments best:
"Hi everyone-
As I sit in the airport in Seoul, I am reflecting back on the last 10 days with great fondness.  This experience was one of the best of my life on multiple levels.  I signed up to try and accomplish something positive doing one of the things that I feel I am good at (only to be shown quite quickly that I wasn't as good as I thought).  However, I think I got more out of this trip than I gave.  Meeting all of you was a phenomenal experience.  I cannot express what a wonderful time I had.  The fact that we were giving something to the people of the Philippines was of course the primary mission, but the friendships that were formed run a close second."