Ramon Suarez, M.D., Robert Kiamco, M.S.M.E., Nenita Suarez, M.D., and Benita Kiamco, M.D. formed NSVI, Inc., a 501(C)(3) incorporated in the State of Pennsylvania in May 2002.  For details about the history behind its founding, please see our History Page.

Myrna Danuco, R.N., has been Dr. Suarez's in-country surgical assistant for many years. Her job is to make sure that we surgeons have enough sterile instruments and supplies to do our jobs. Frohnie Cagalitan, M.S.W., has been a social worker dedicated to family planning forever. She is our point person, often arriving ahead of the surgical team to educate couples about the health and social advantages of smaller family sizes and to explain the ease and simplicity of NSV. Dr. Joe Alesna, with the help of Myrna, provides vasectomy services not only during missions, but year-round in Cebu. Dr. Doug Stein has participated in Philippines missions since 2010 and has expanded NSVI's sphere of services to include Haiti, Kenya, and Florida.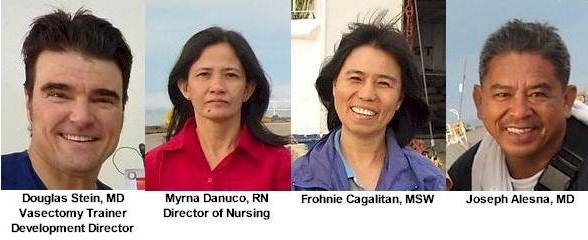 Giovanni Suarez, R.N., helps Myrna with nursing and technical assistance in Hilongos and Cebu. Stephen "Popol" Suarez got this website started and structured the online Donate Now page, which we hope you will use so that his efforts won't be in vain. Jojo Suarez, himself a vasectomy patient (as most of us guys are), generates enthusiasm for NSV among the men of his home town of Hilongos. He is our best salesman. Delia Kiamco is the money person in the Philippines, arranging transfers from overseas to Philippines accounts so that we can purchase supplies and transportation.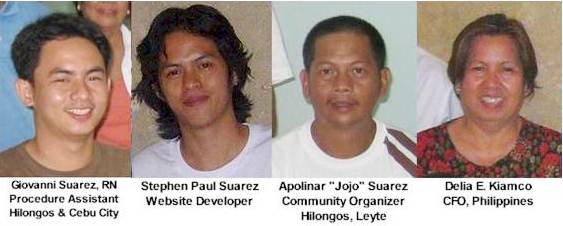 Following two exploratory visits in 2010, NSVI found a formula in 2011 with our first truly successful mission. Dr. Fritz Lolagne is really the driving force for modern surgical contraception in Haiti. Lisette has been the coordinator of his surgical teams at multiple service sites throughout Haiti. And Pastor Amos Myrtil is the social/spiritual leader whose influence in Plaisance made the the missions of May 2011, October 2011, and March 2012 such a success.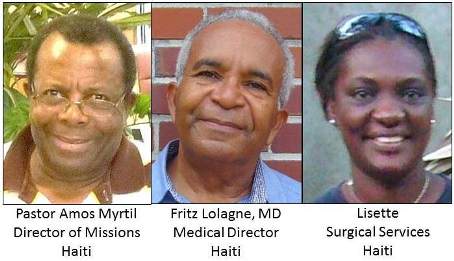 Charles Ochieng, MD is a specialist in Family Planning in Kenya. His fascinating story is in our Kenya page. Charles directed the first NSVI mission to Kenya in May 2012 with an excellent staff from Kisumu and Busia in Western Kenya. But future missions may be in his new home base of Mombasa in Eastern Kenya, and new staff may be needed. The Western Kenya staff are featured in the Kenya page.
Now you can read about the History of NSVI, see Where We Work, or, already convinced that we are great people providing a wonderful service, Donate Now.