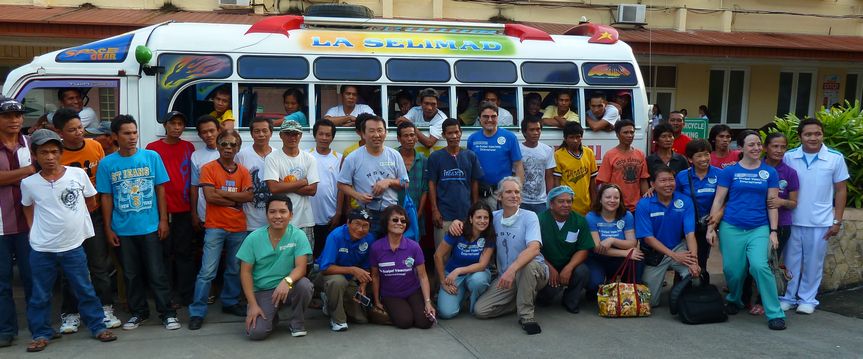 The NSVI Philippines Mission of February 2013 was the largest NSVI mission ever. 385 vasectomies were performed by 9 vasectomists in 8 days at 3 locations on 2 islands (Cebu and Bohol) in the Central Philippines. Pictured above is the NSVI team and a group of happy post-vasectomy patients preparing for their return by NSVI-sponsored bus from Sacred Heart Hospital in Cebu to their home town about one hour outside the city.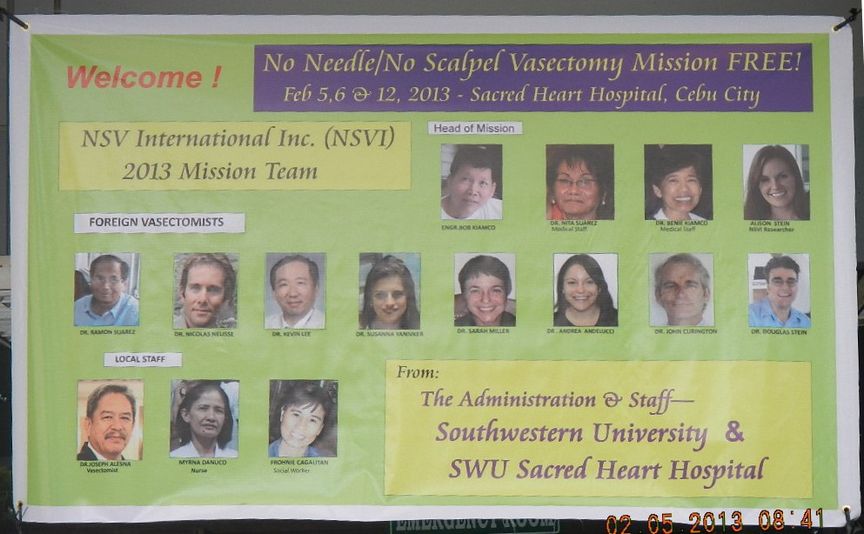 Most of the vasectomies were performed by 6 "guest" vasectomists from the USA and Canada. But none would have happened without the dedicated preparation, community mobilization, and organization of our local Philippines Team members: Pictured in the poster above (reading like a book) are:
Bob Kiamco, MEng; NSVI CEO, Head of Mission, and Pre-op Counselor; Chicago, Illinois
Nenita Suarez, MD; NSVI VP, Logistics Coord'r, and Post-op Counselor; Naples, Florida
Benita Kiamco, MD; NSVI Sec/Treas and Lead Post-Op Counselor; Chicago, Illinois
Alison Stein, BA; NSVI Equipment Coordinator and OR Assistant; Tampa, Florida
Ramon Suarez, MD; NSVI President and Vasectomy Trainer; Naples, Florida
Nicolas Nelisse, MD; NSVI Vasectomist; Montreal, Quebec
Kevin Lee, MD; NSVI Vasectomist; Winter Haven, Florida
Susanna Yanivker, MD; NSVI Vasectomist; Toronto, Ontario
Sarah Miller, MD; NSVI Vasectomist; New York, New York
Andrea Angelucci, DO; NSVI Vasectomist; Los Angeles, California
John Curington, MD; NSVI Vasectomist; San Diego, California
Doug Stein, MD; NSVI Development Director and Trainer; Tampa, Florida
Joseph Alesna, MD; NSVI Philippines Medical Director; Cebu Philippines
Myrna Danuco, RN; NSVI Philippines Director of Technical Services; Cebu, Philippines
Frohnie Cagalitan, MSW; NSVI Philippines Director of Community Relations & Counseling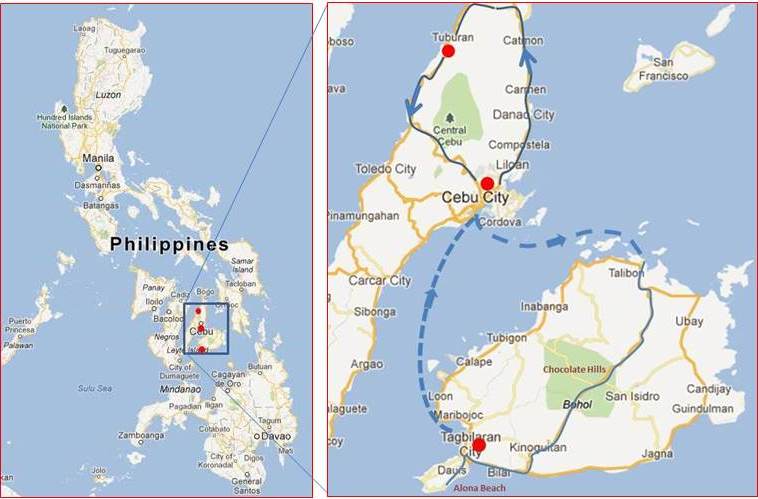 This year, NSVI provided free vasectomies in Cebu City on Feb 5, 6, 9, & 12; in Tuburon (the site of the BMA Medical/Surgical Mission) on Feb 8; and Tagbilaran City on Feb 11. Feb 10 was a Sunday, on which we enjoyed an early-morning fast-ferry from Cebu to Talibon, then a scenic tour of Bohol including the Chocolate Hills, then an evening on Alona Beach, famous for its diving. On Monday morning, 3 team members went diving before joining the rest of us at the vasectomy site in Tagbilaran City. We returned to Cebu on an evening ferry for another full day of vasectomies in Cebu before our farewell dinner on Tuesday evening. For more details, read on.
Arrival: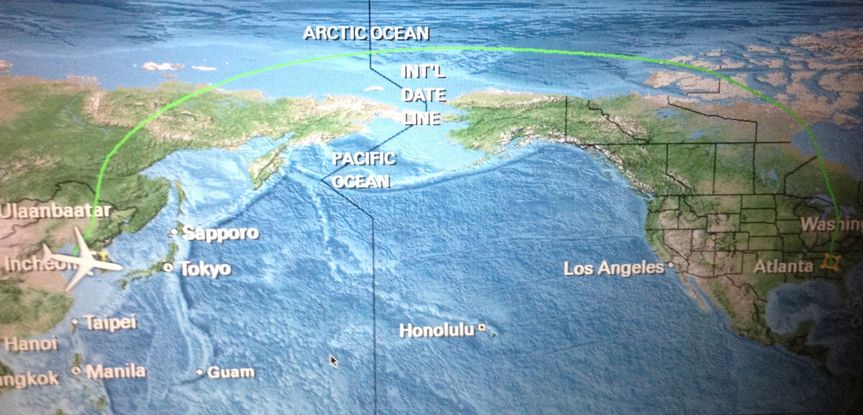 From the eastern USA, most routes take passengers over the Far North.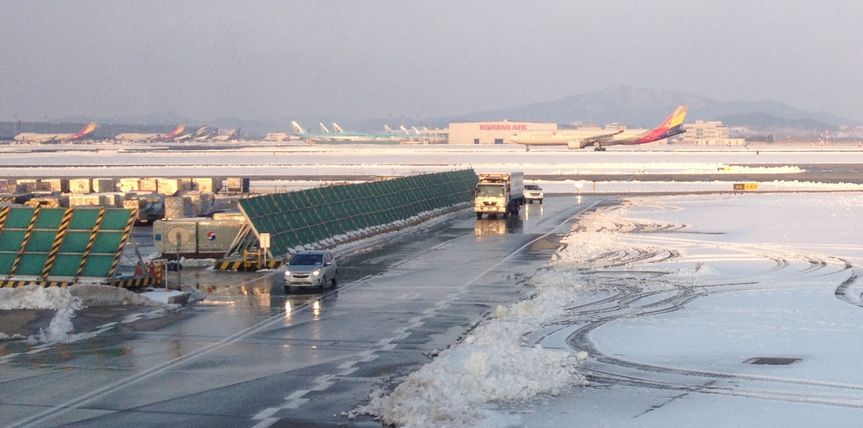 Incheon Airport on Seoul can be a chilly stop, but it's home for Korean Airways.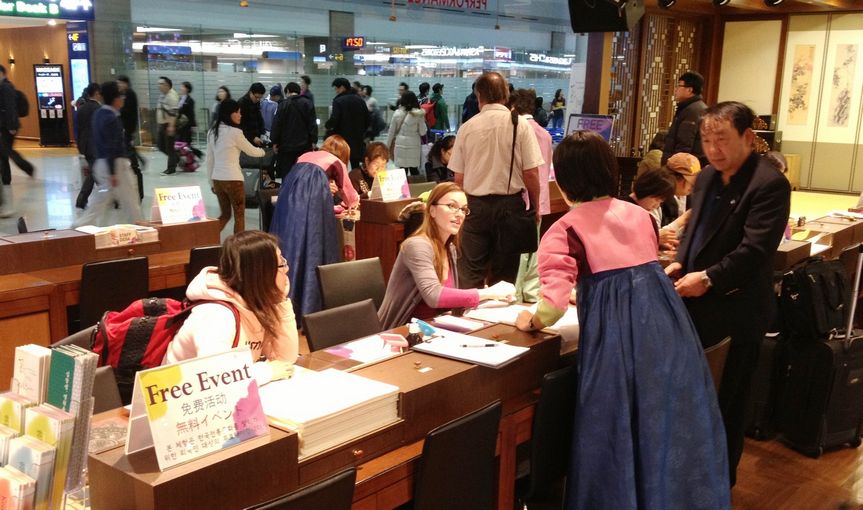 Alison and Kevin pass the time between flights learning Korean crafts at the Korean Cultural Center in the Incheon terminal.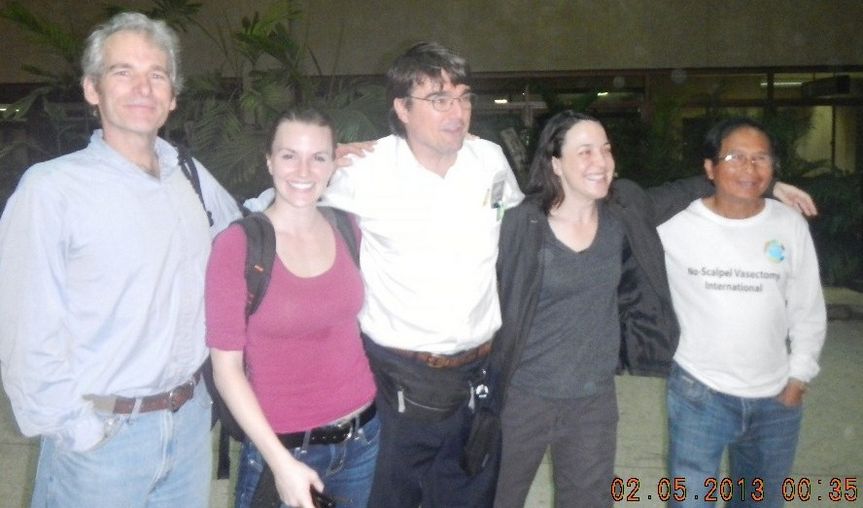 John, Alison, Doug and Sarah are greeted by Ramon, who had already been in Cebu for a week.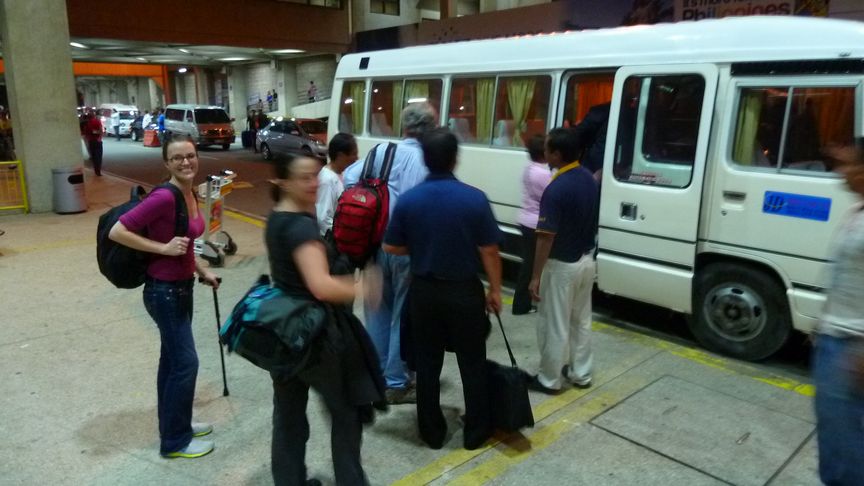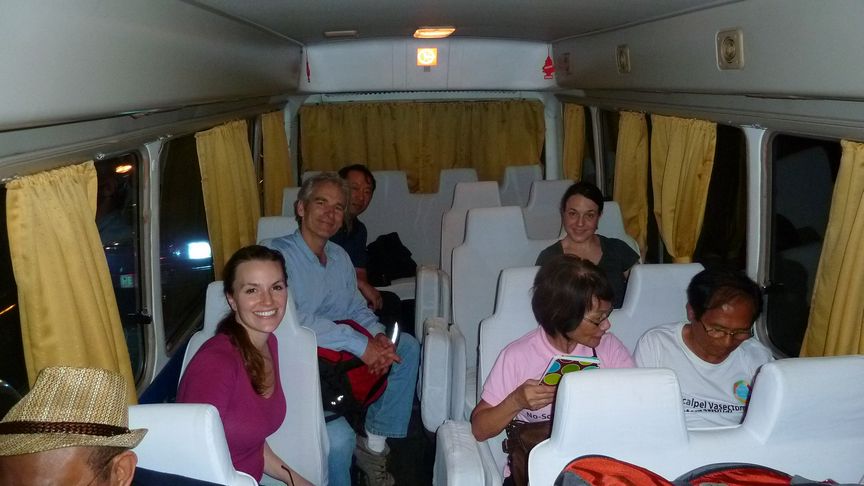 Our midnight arrival left little opportunity for sightseeing, but our NSVI bus was a comfortable ride …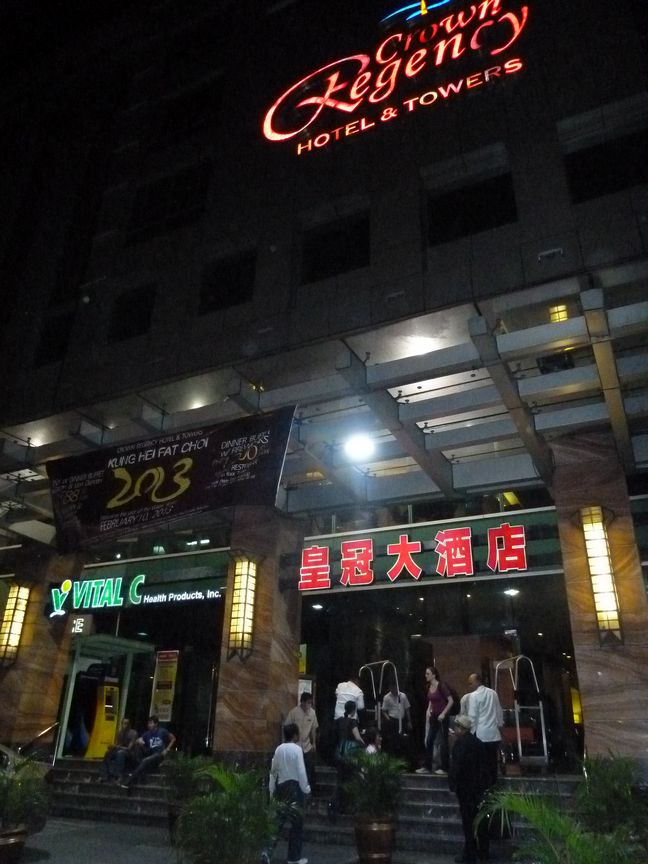 … to the landmark Crown Regency Hotel where Nenita had negotiated a bargain rate for our rooms.
Sacred Heart Hospital, Cebu City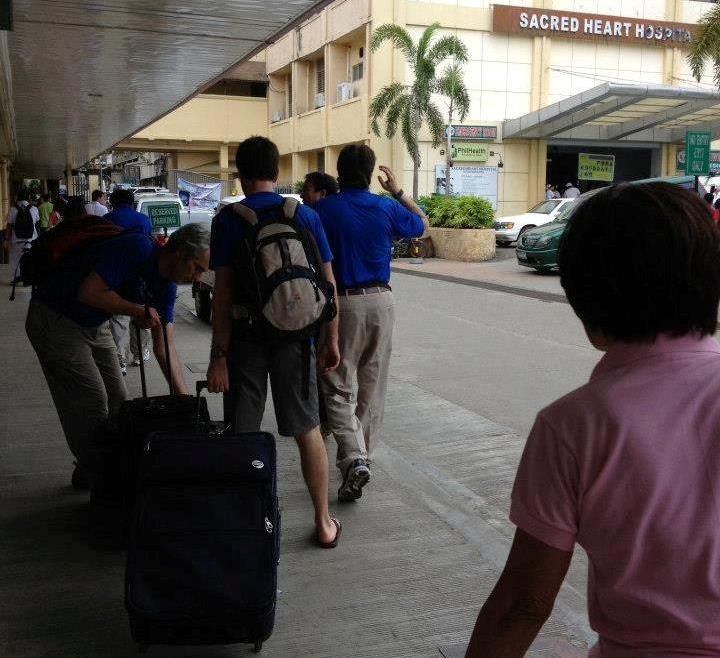 We were all excited to arrive next morning at Sacred Heart Hospital.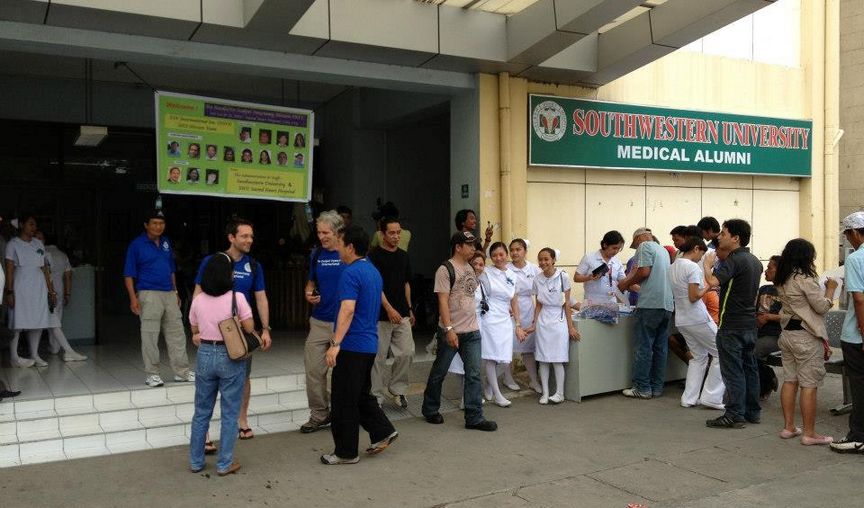 Our banners were up and the staff was waiting.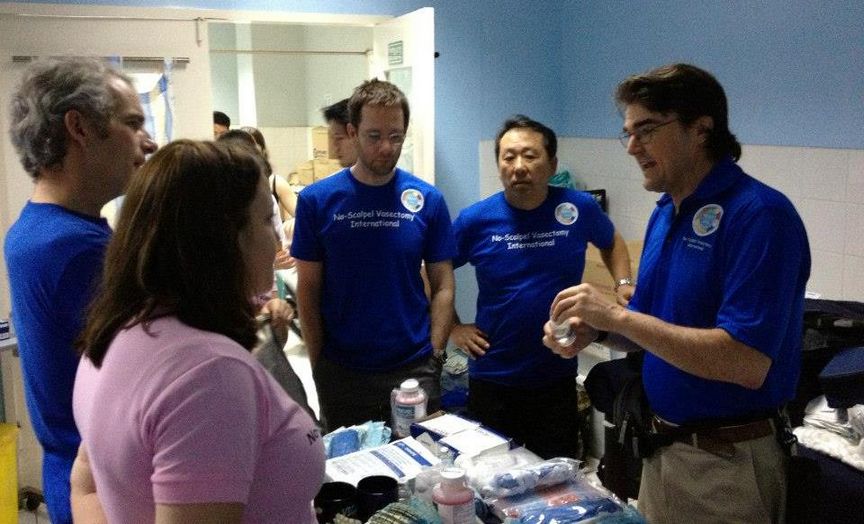 NSVI equipment brought from the USA was unpacked and prepared. We powwowed about equipment care and sterile technique.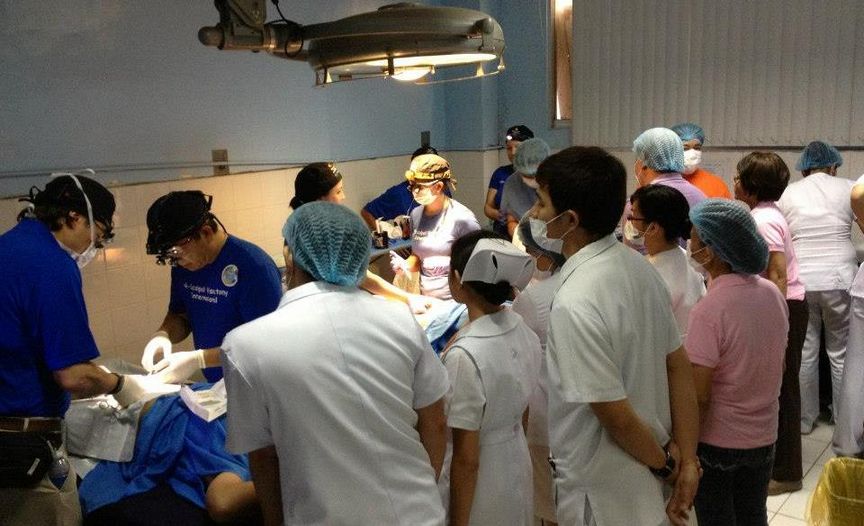 We teamed up at 4 tables in one room and two in another. Medical and nursing students were fascinated and helpful.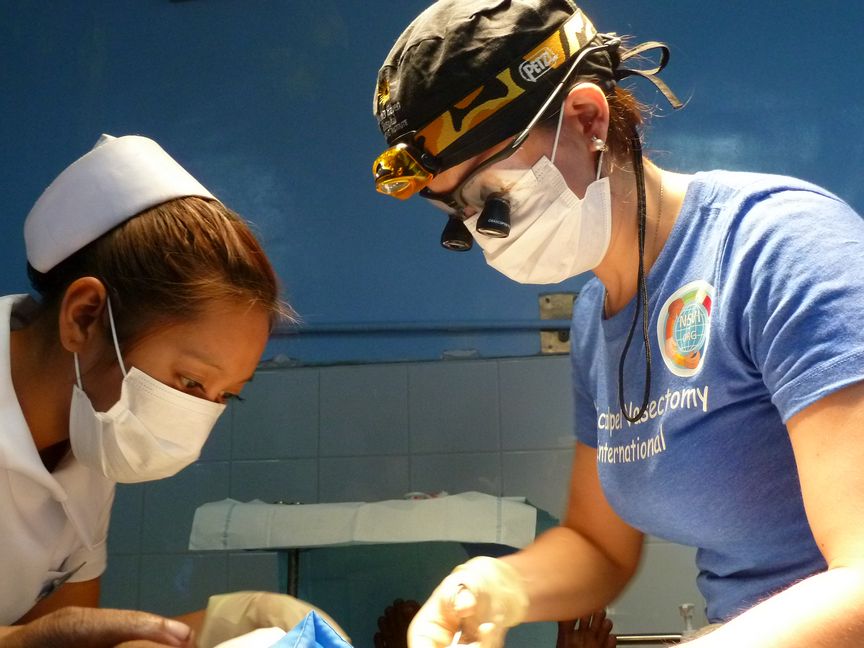 Susanna impressed a nursing student with her expertise …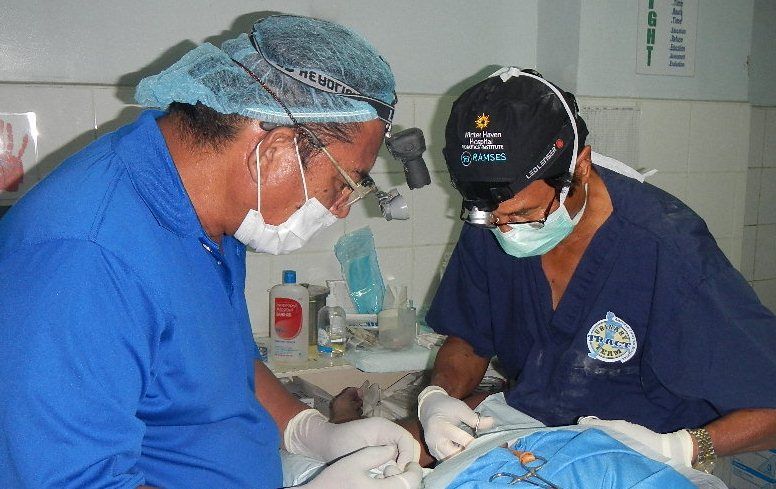 … while veterans Joe and Ramon swing into action as though the mission last year was just yesterday.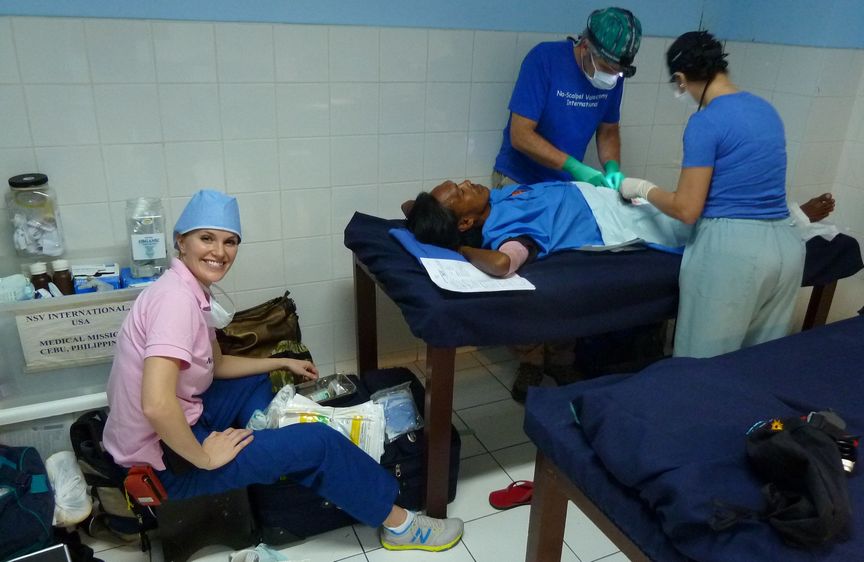 Alison kept 4 tables supplied with sterile instruments and disposables.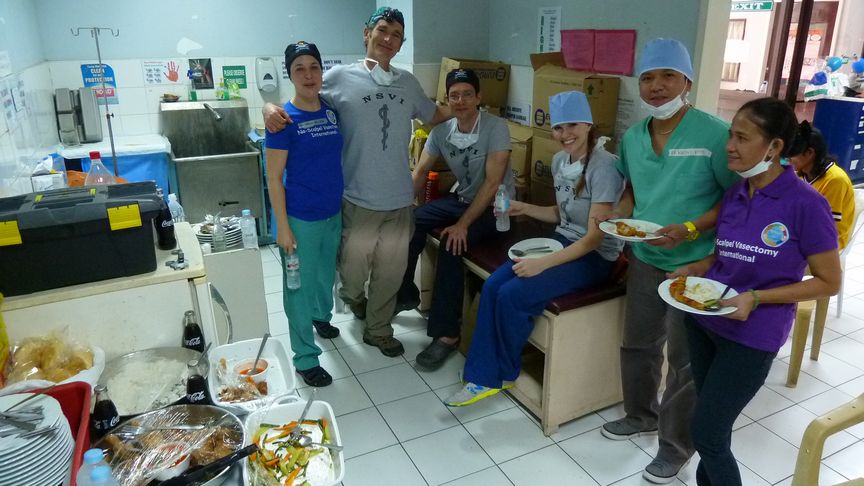 And Myrna (right) made sure that the Team never missed snacks and lunch.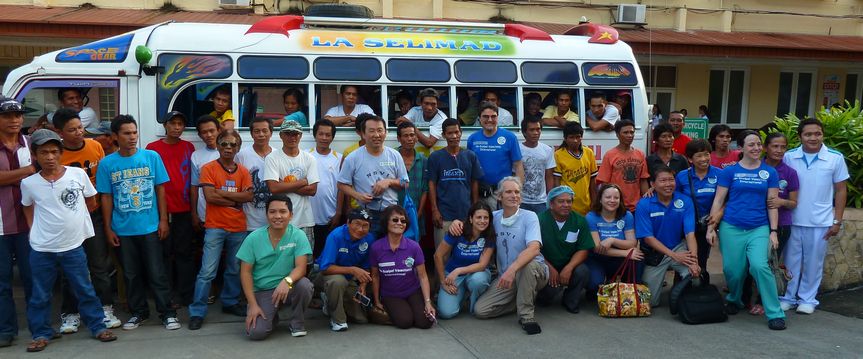 A productive first day ended with portraits of the Team … with happy patients above …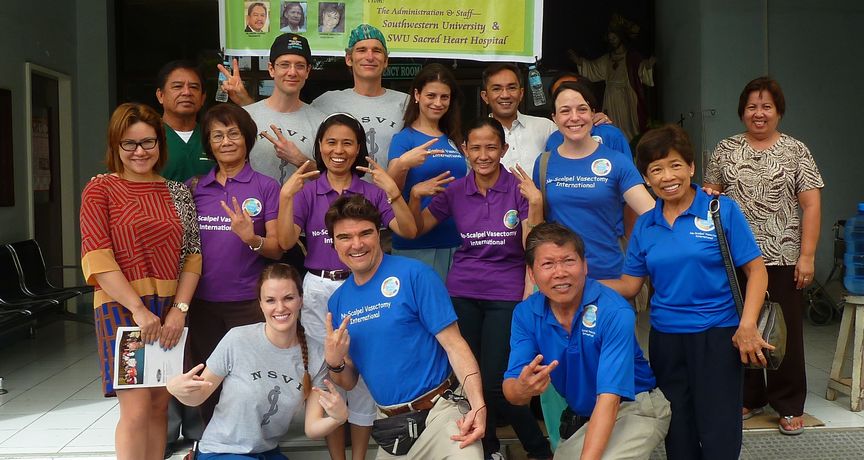 … and just the Team alone.
On to Tuburan, site of the 2013 BMA Medical/Surgical Mission: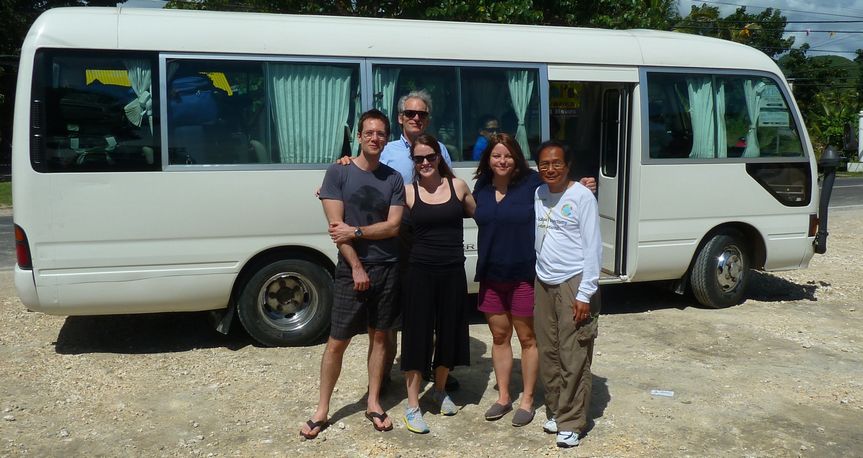 A glorious sunny morning for a bus ride up the east coast of Cebu Island.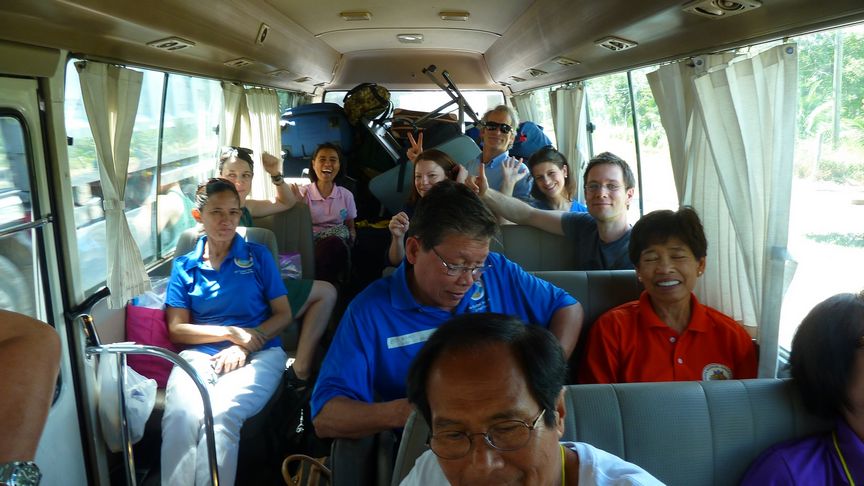 Big party atmosphere with everyone on one bus. Note the ceiling-high pile of NSVI equipment and luggage in the back.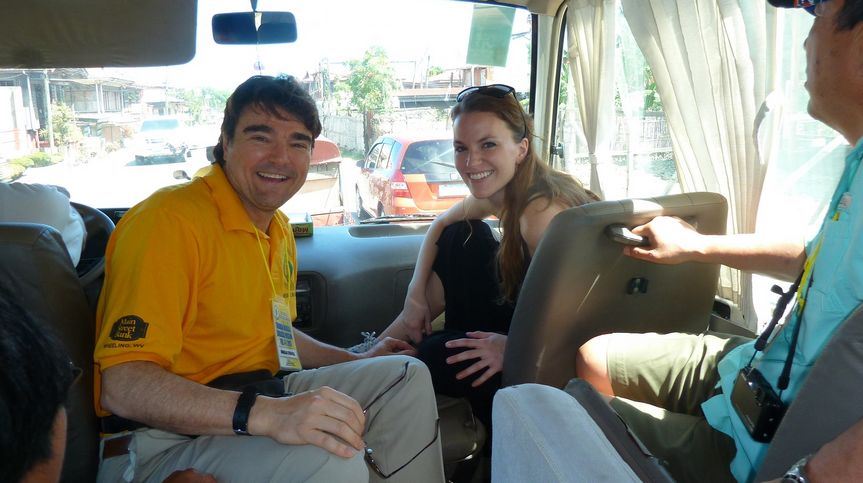 Father and daughter rode up front.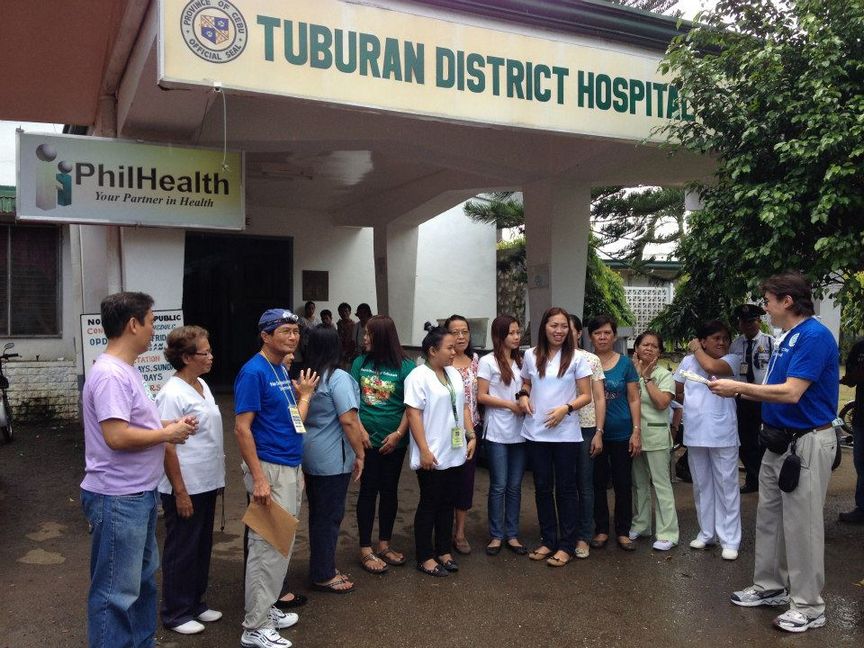 Once again, our excited staff was waiting. and what a pleasant surprise for us …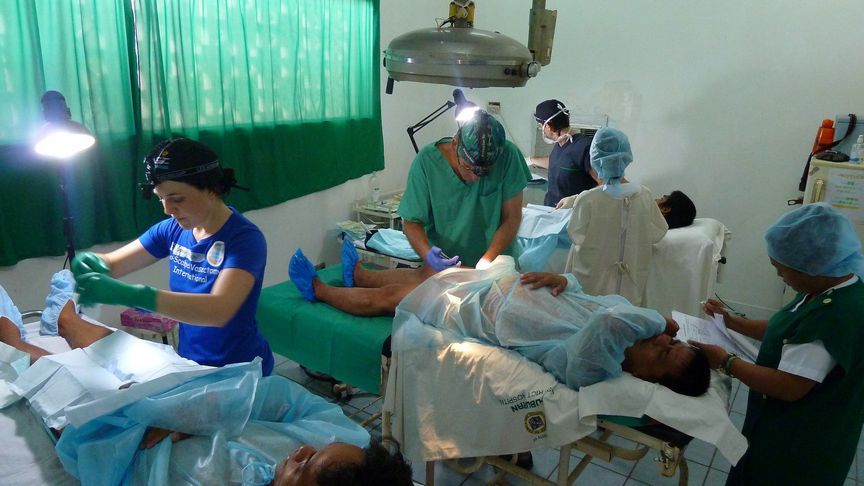 … two wonderfully equipped procedure rooms …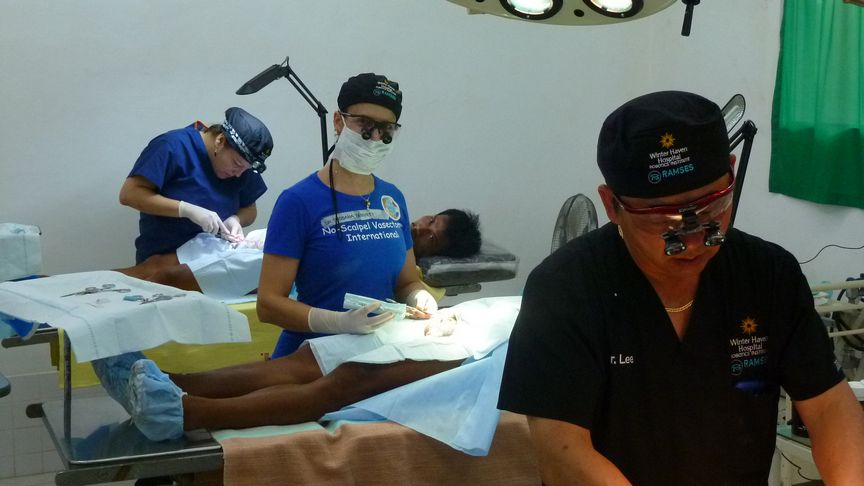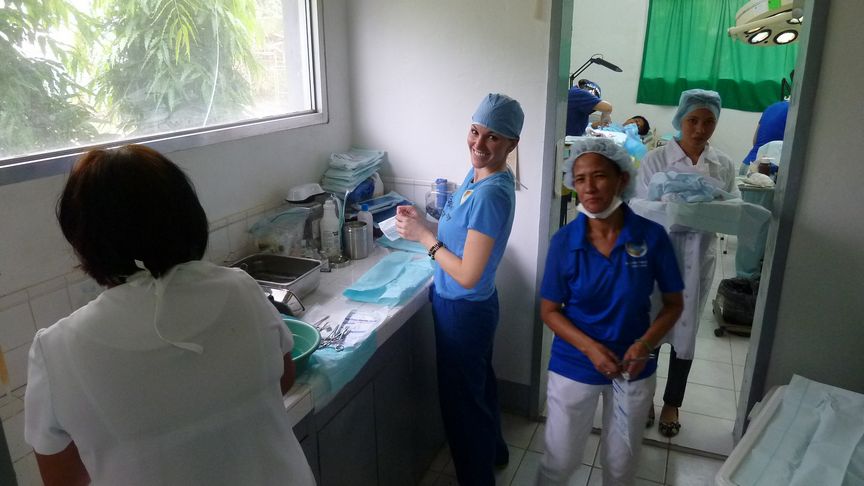 … served by an intervening prep room. An IDEAL environment for a high-volume vasectomy mission.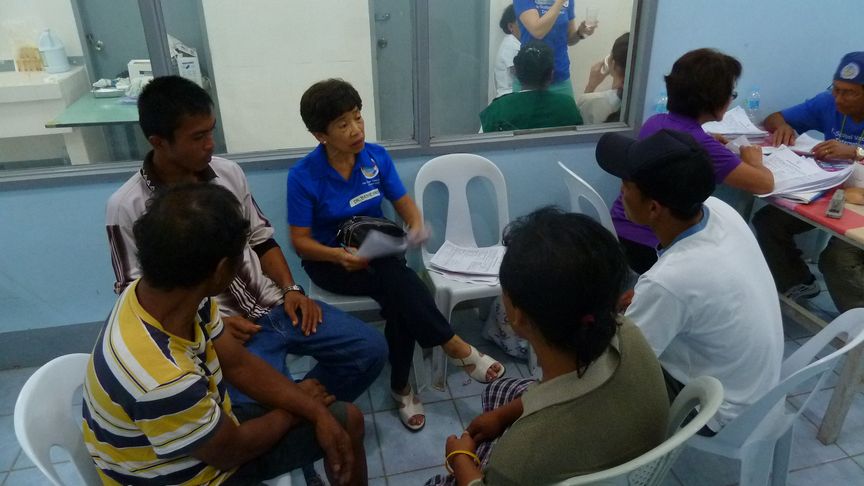 Benita provided pre- and post-procedure counseling while Nenita and Ramon kept close track of records.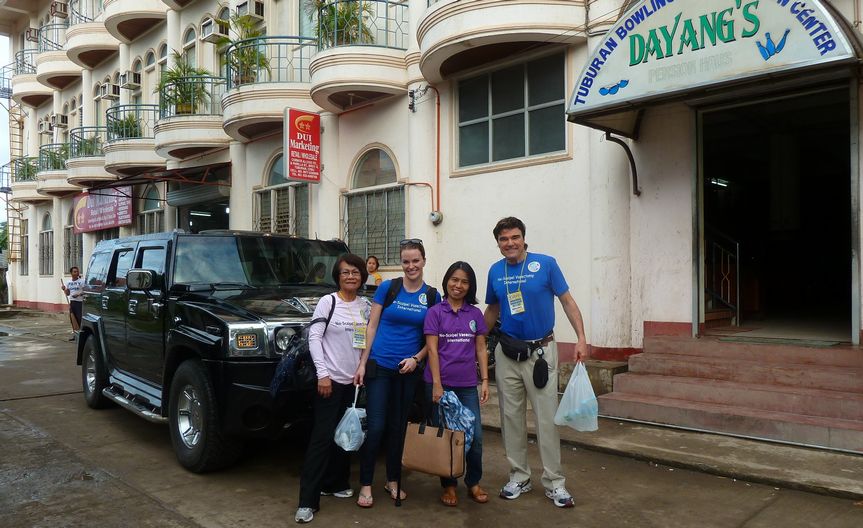 That night we stayed at Dayang's, Tuburan's landmark hotel ……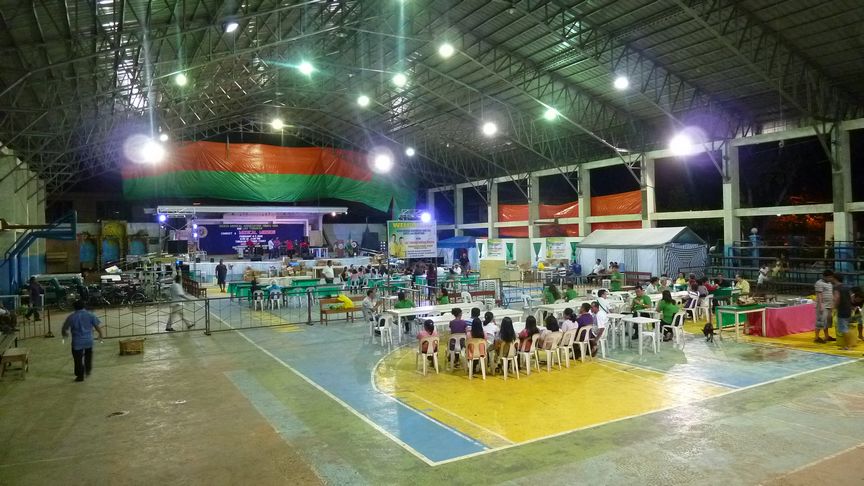 … and attended the BMA's own end-of-mission celebration.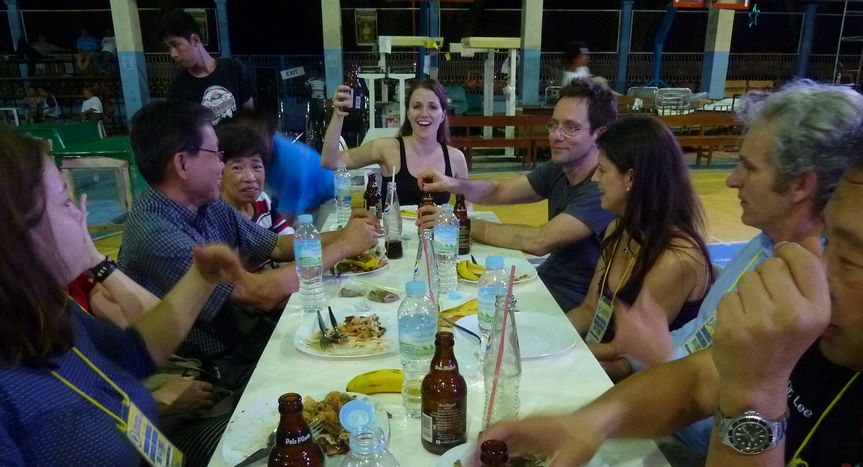 Great food,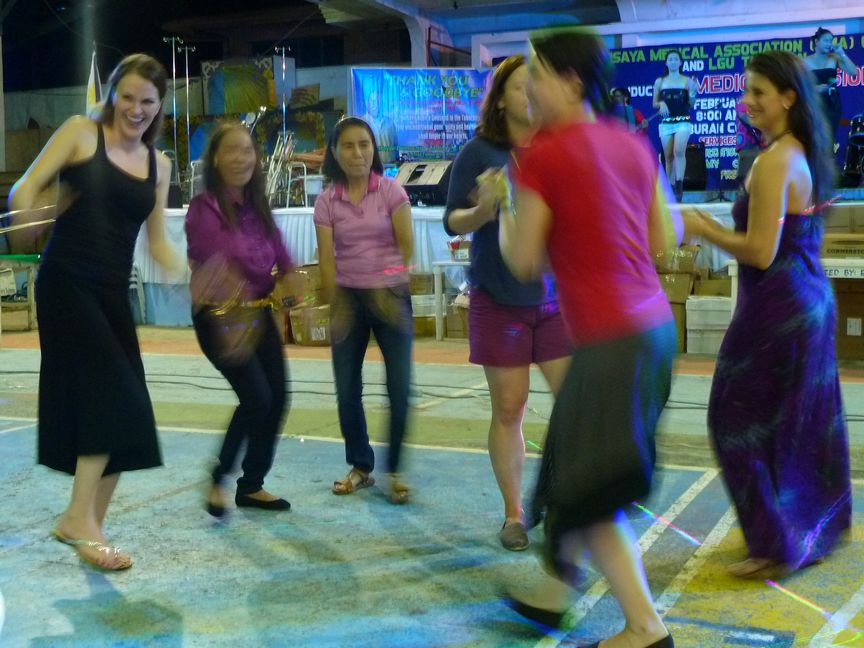 Dancing,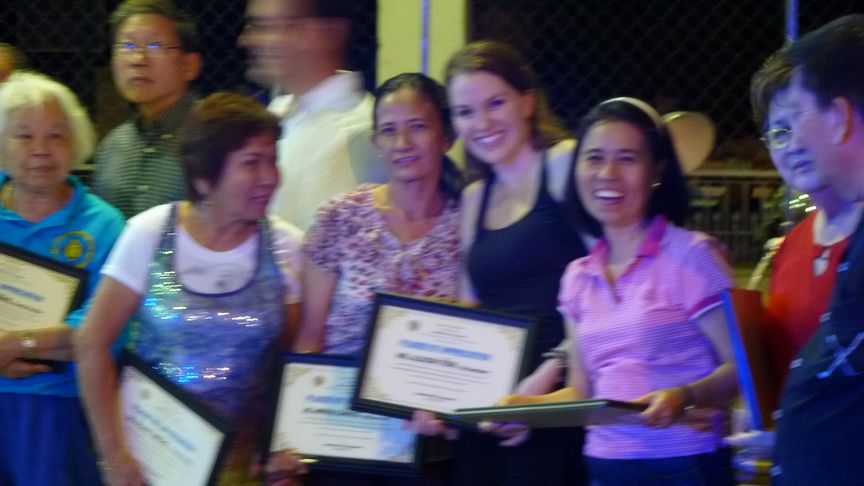 Service Appreciation Certificates,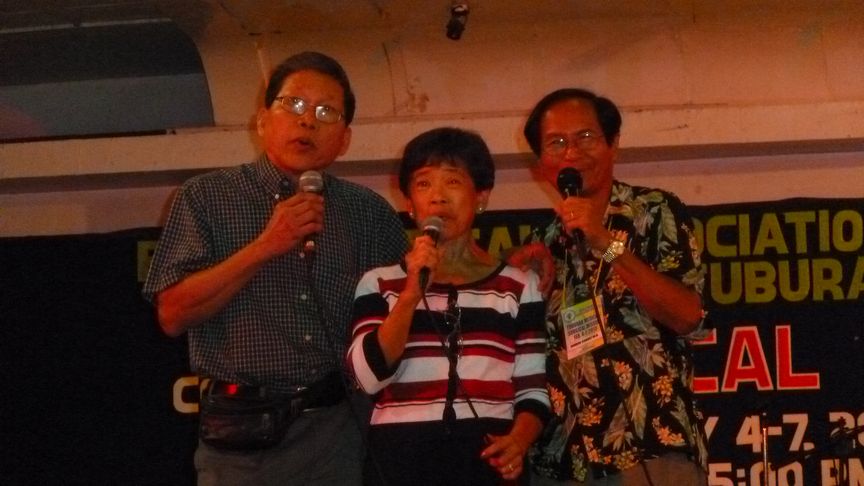 And The Vasectomy Song sung by the NSVI Trio.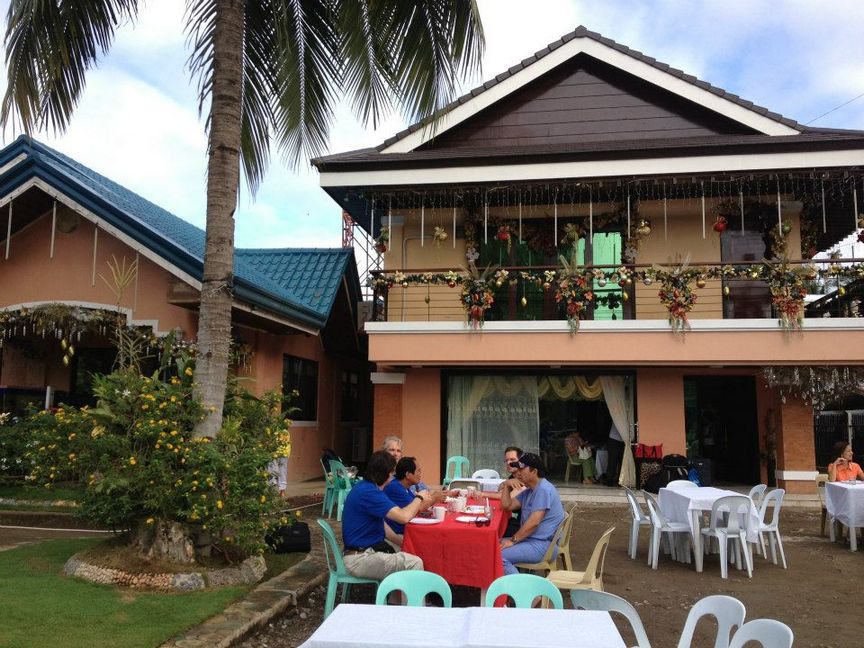 Mayor "Aljun" Diamante and his gracious wife "Tess" invited the BMA and NSVI to their beautiful home for breakfast …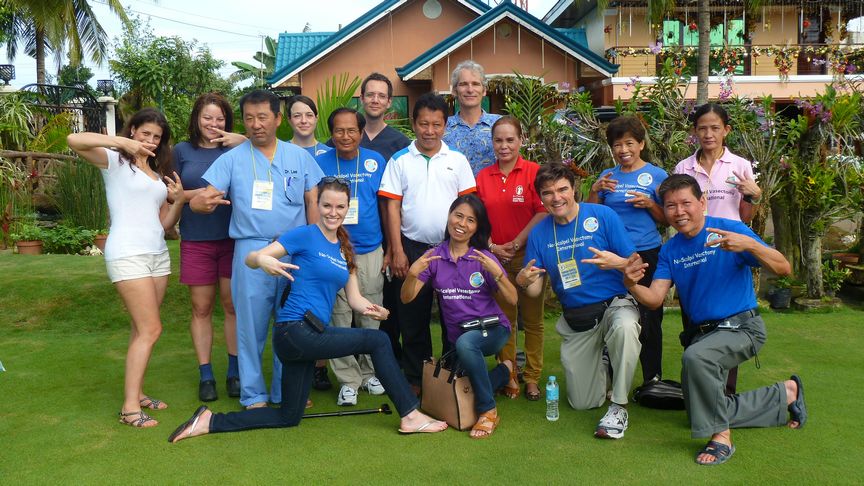 … and photos.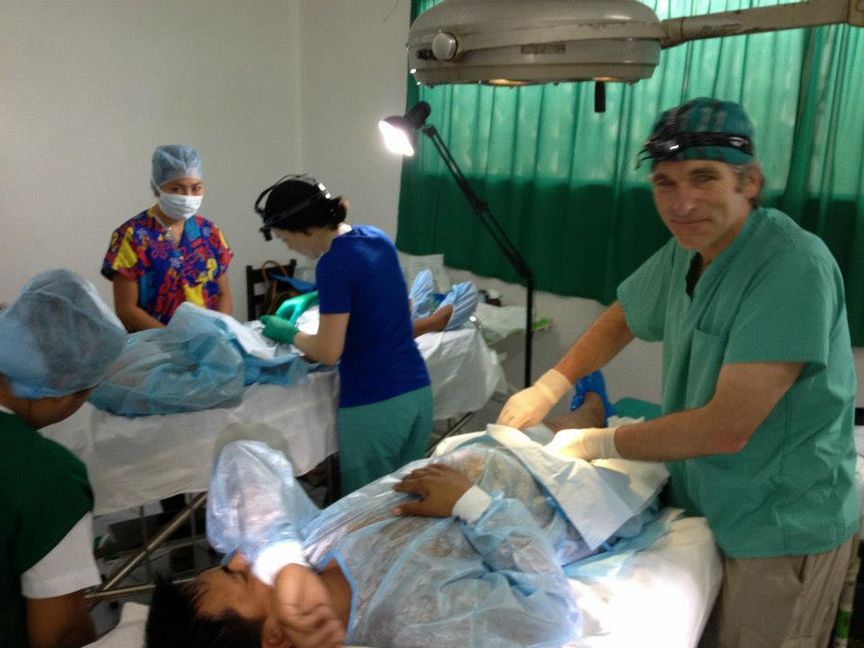 Then back to work for another morning of vasectomies before …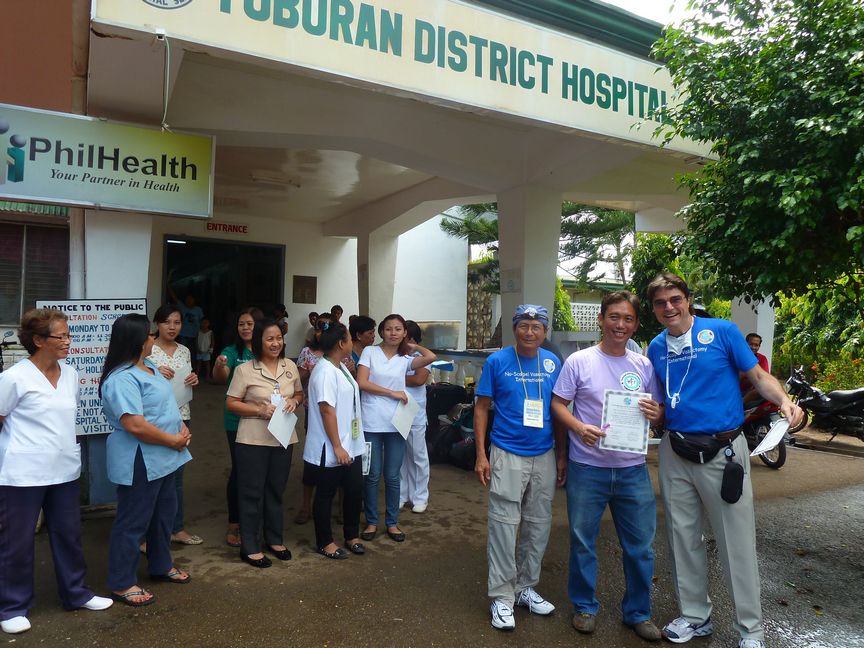 … honoring our assistants with certificates of appreciation.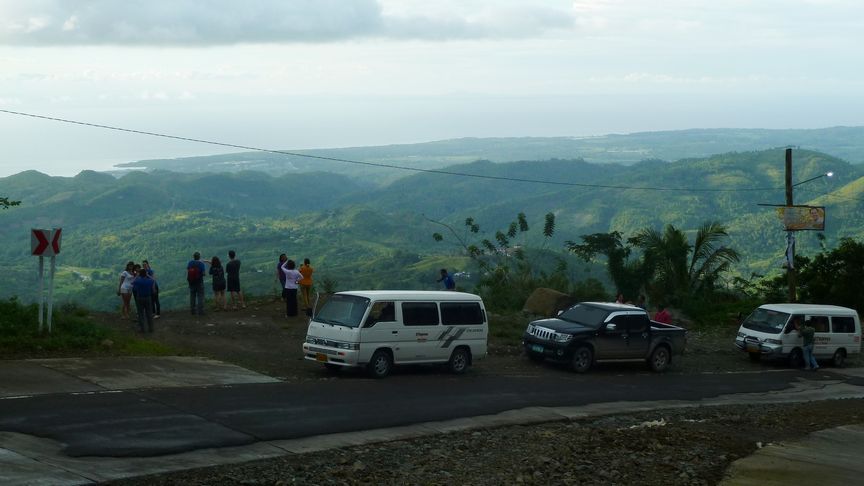 To experience the highlands of Cebu Island, we could not use our motor coach because the roads were too steep. But Mayor Diamante provided the solution in two smaller vans. And Mrs. Diamante came as our personal guide …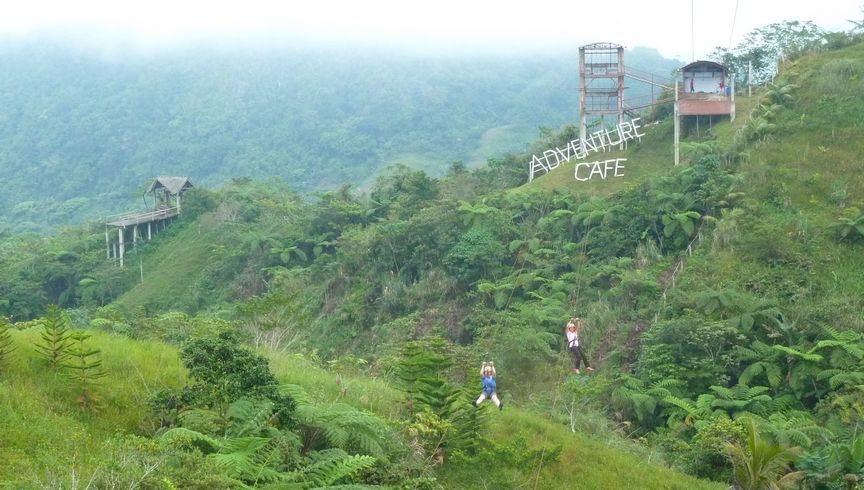 … and even treated us to a zip line adventure. She did not ride …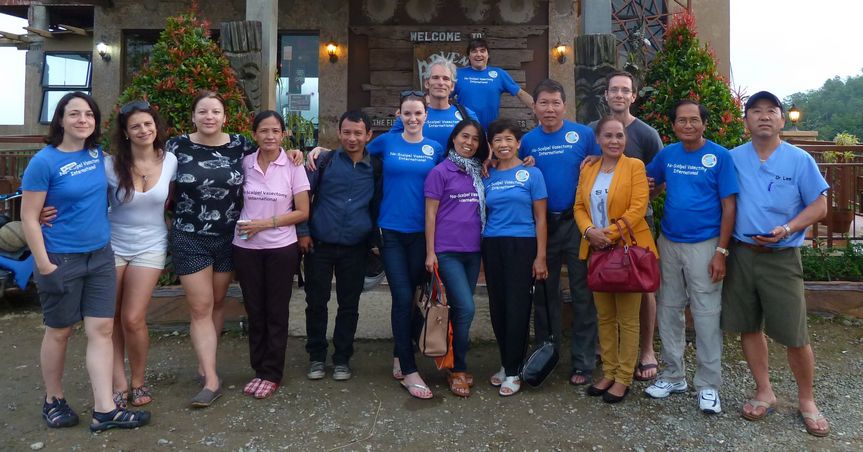 … but seemed to enjoy being a member of the Team for one day.
Back in Cebu on Saturday …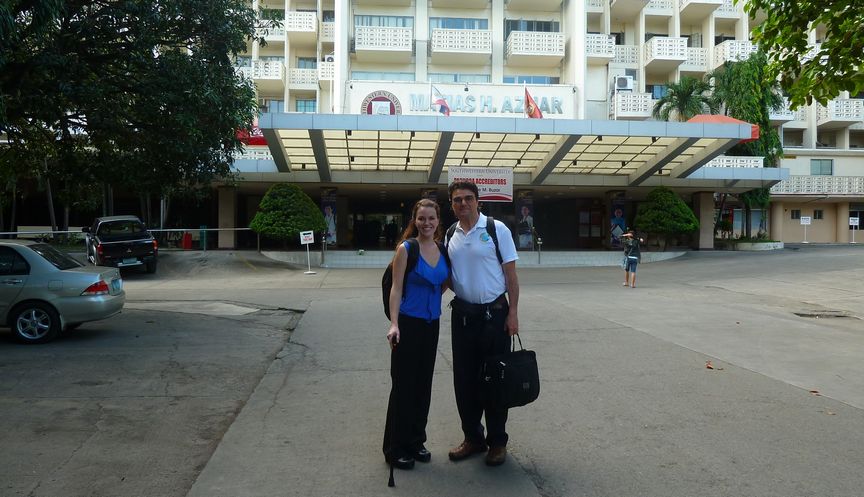 … the Team gave talks at Southwestern University Medical School.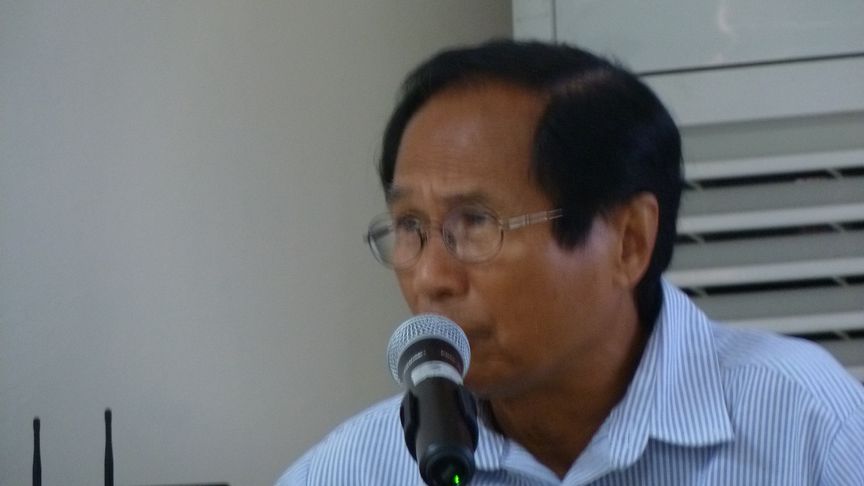 NSVI President Ramon was lead speaker at his alma mater …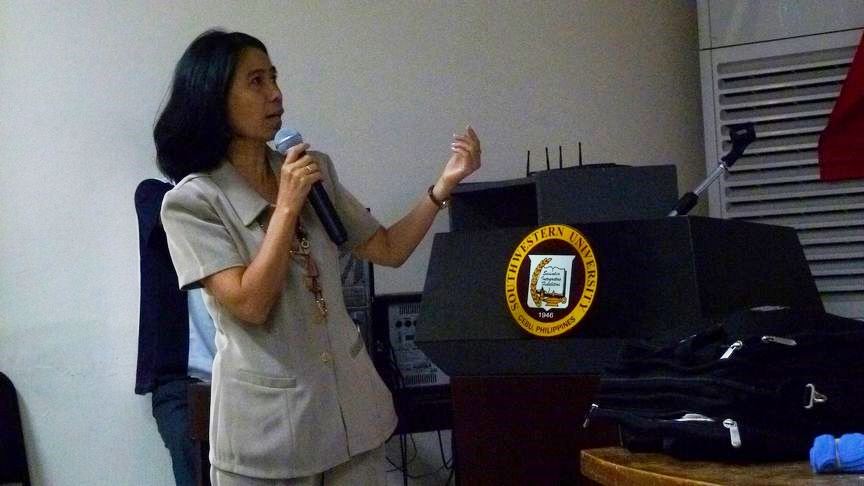 … and Frohnie fired up the audience with a passionate plea to support family planning for the benefit of future generations of this very crowded island nation.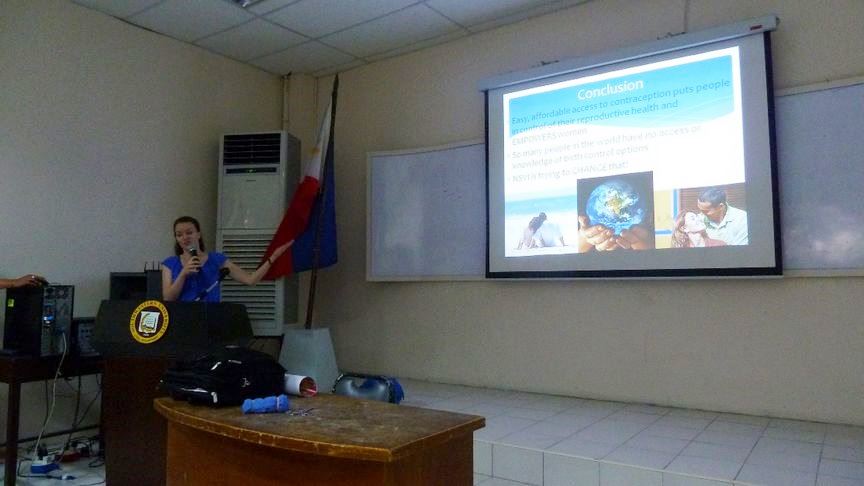 Alison identified with the audience in her own quest for a medical career in the USA.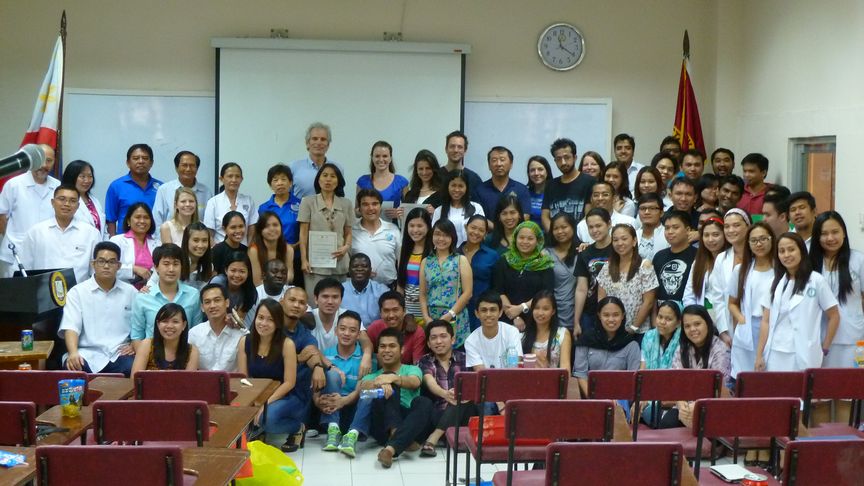 The audience was delighted to pose with the NSVI Team. Then NSVI was back to the procedure room …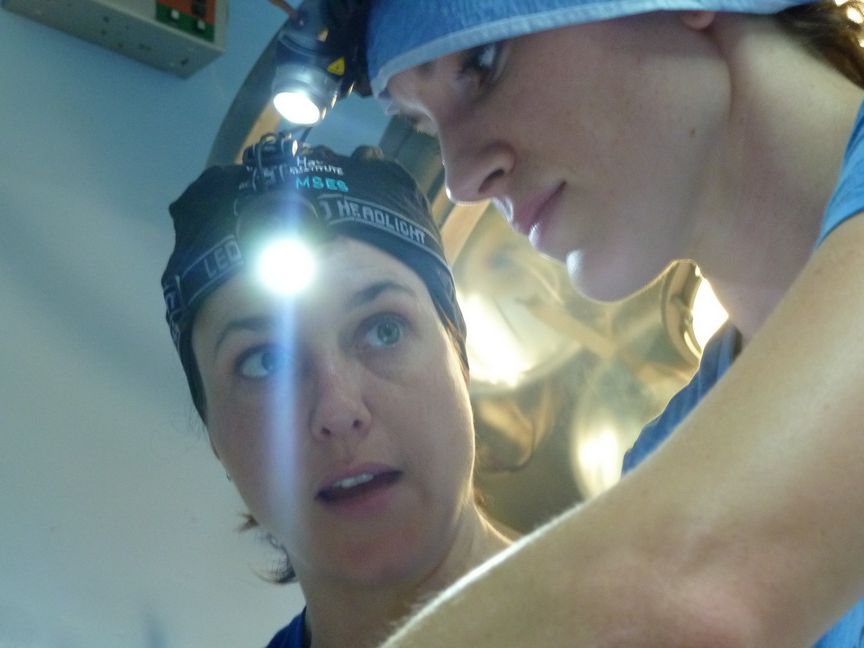 … for yet another series of vasectomies at Sacred Heart Hospital.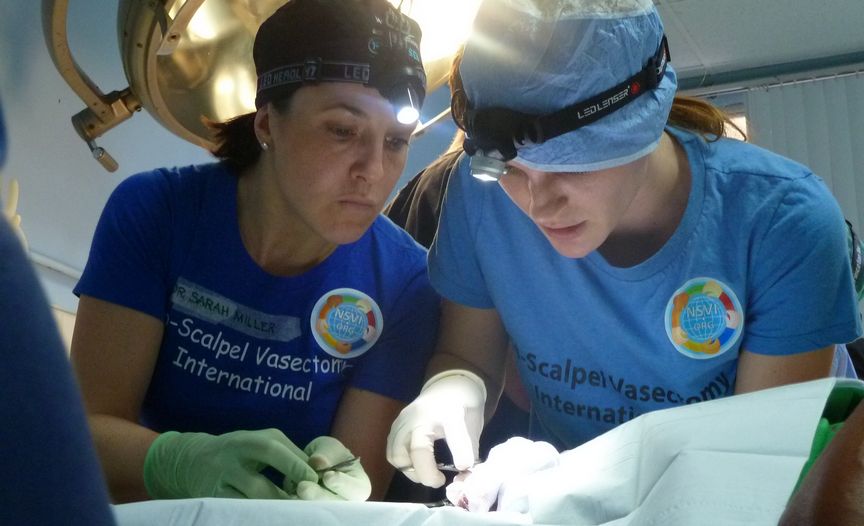 After about 50 vasectomies of her own during the previous 4 days, Sarah graciously provided Alison the opportunity to "get a feel" for family planning surgery to help her determine whether this would be the right career for her. Energized by the experience, Alison returned alone to the USA and to her studies in physics and organic chemistry that evening.
On to Bohol: Sunday was a day for some R&R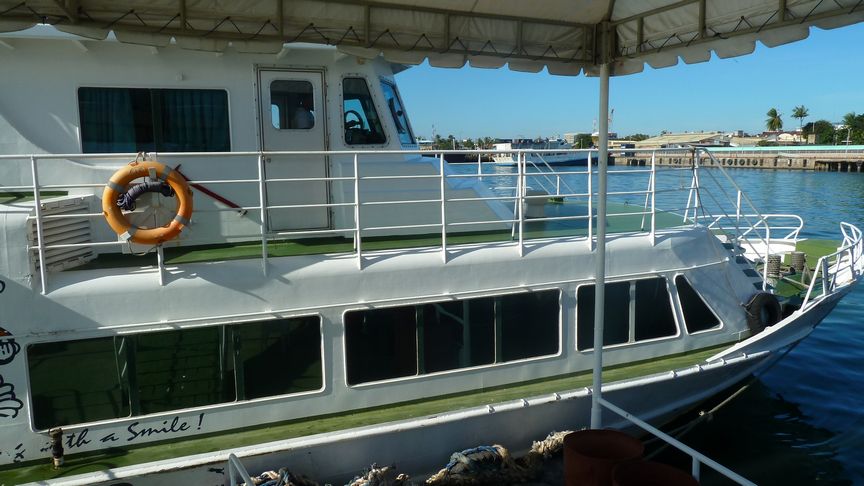 We took a fast boat from Cebu to Bohol (see the map above).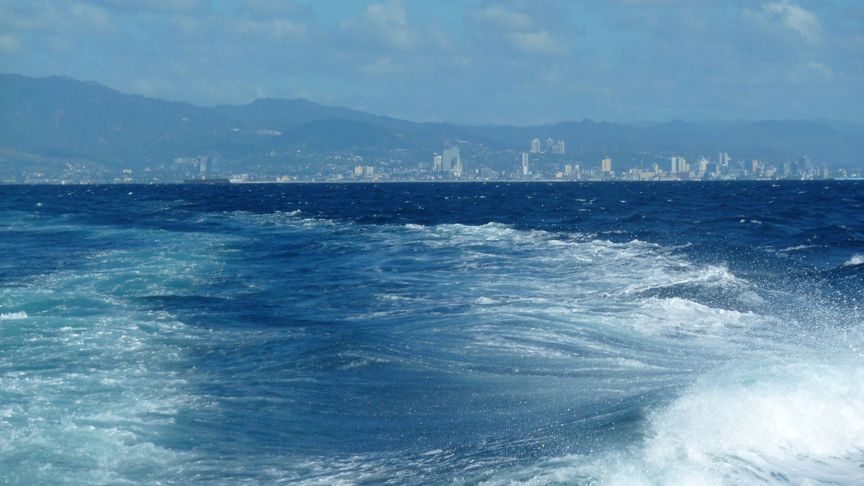 REALLY fast. The city of Cebu slowly faded behind us …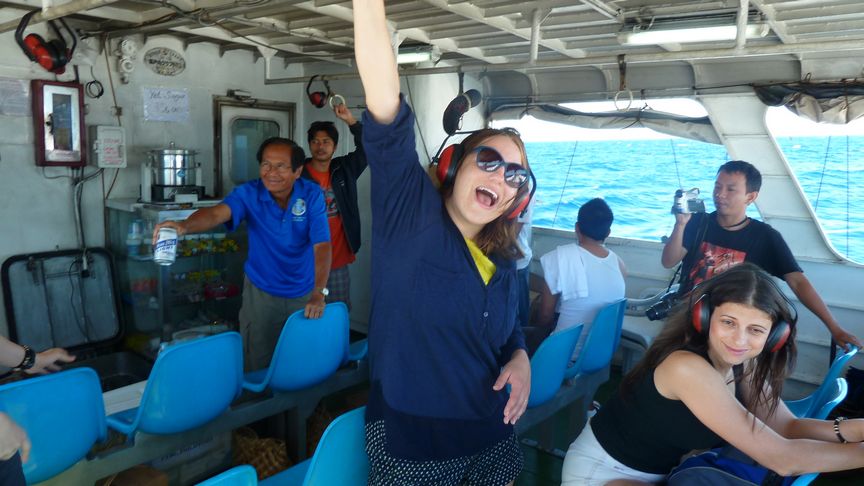 … as the powerful but noisy engines hydroplaned us over blue water waves.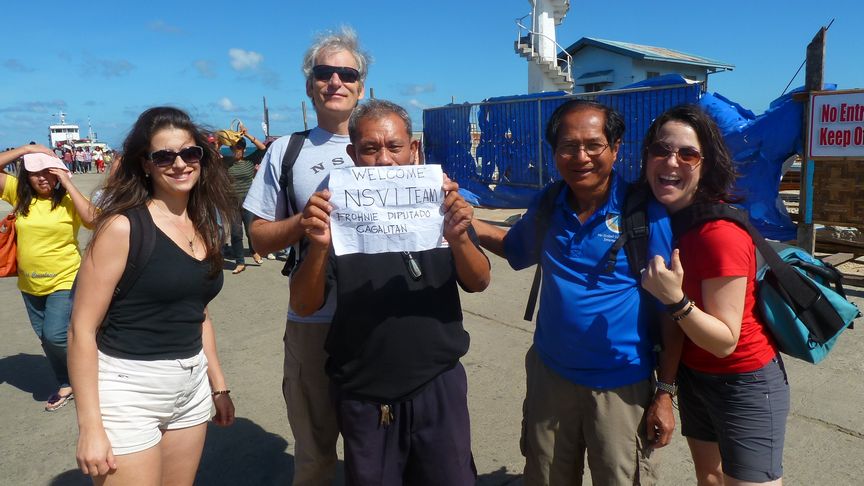 Our welcoming committee was waiting to take us to a fantastic breakfast …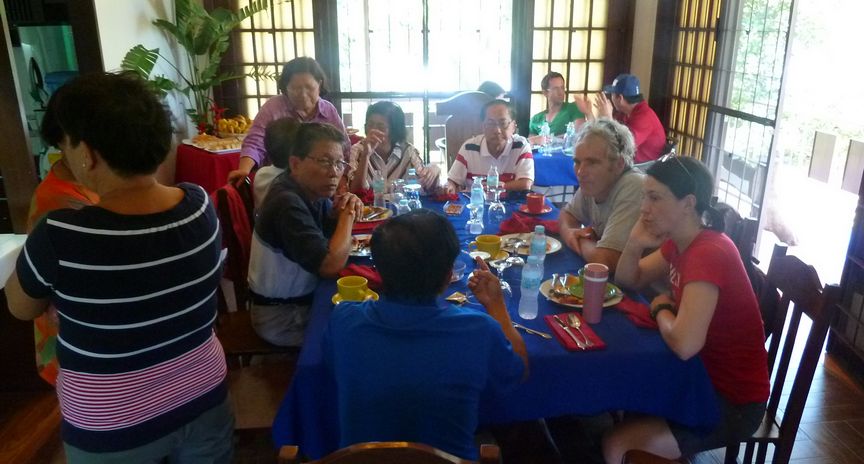 … at the beautiful home of a retired orthopedic surgeon. In the white striped shirt is Dr. Alex Limkakeng, a urologist from Grove City, Pennsylvania. He is one of NSVI's biggest supporters and generously paid for all of our transportation on the island of Bohol.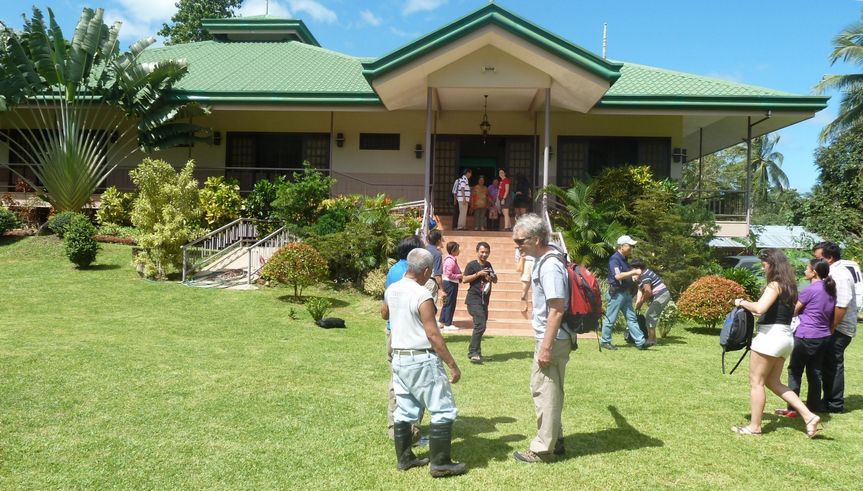 Our host now enjoys tending to his small farm and beautiful gardens.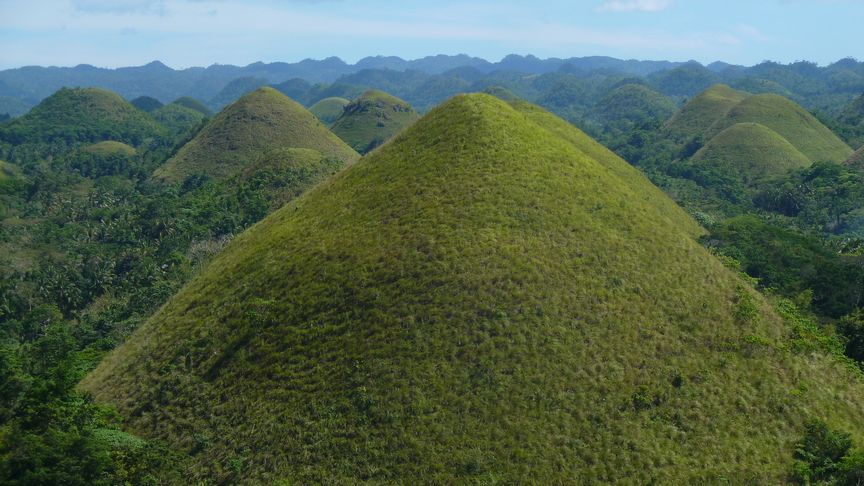 The Chocolate Hills are a spectacular and unique topography found nowhere else.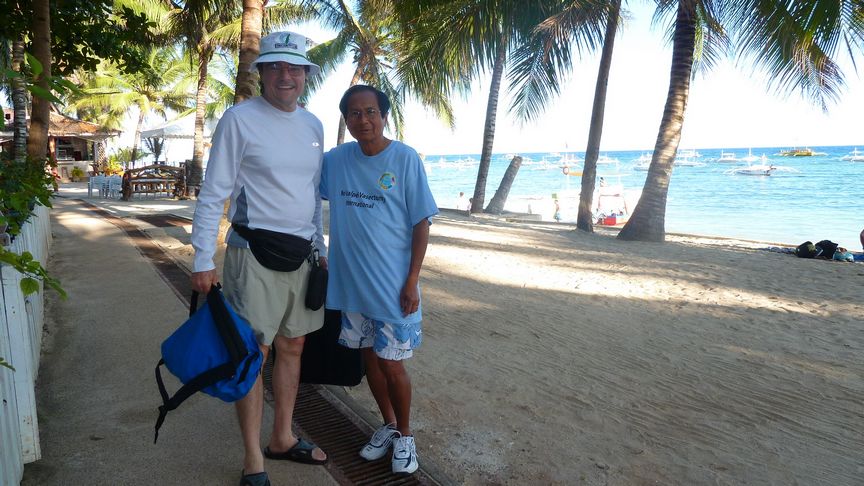 It was almost evening when we arrived at Alona Beach, but still early enough to enjoy the azure waters and tranquil setting.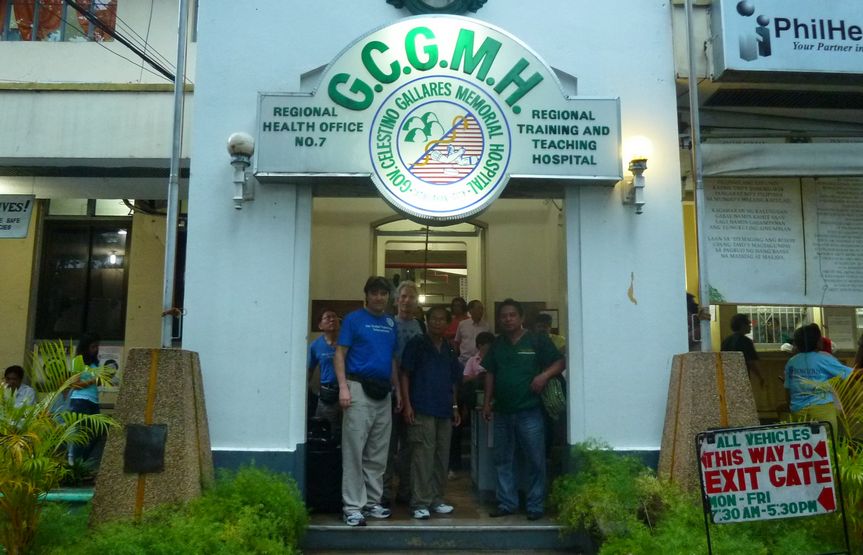 While 3 members of the team went snorkeling next morning, another group went to a large teaching hospital in Tagbilaran City, where we taught local doctors No-Needle Anesthesia and the No-Scalpel Technique.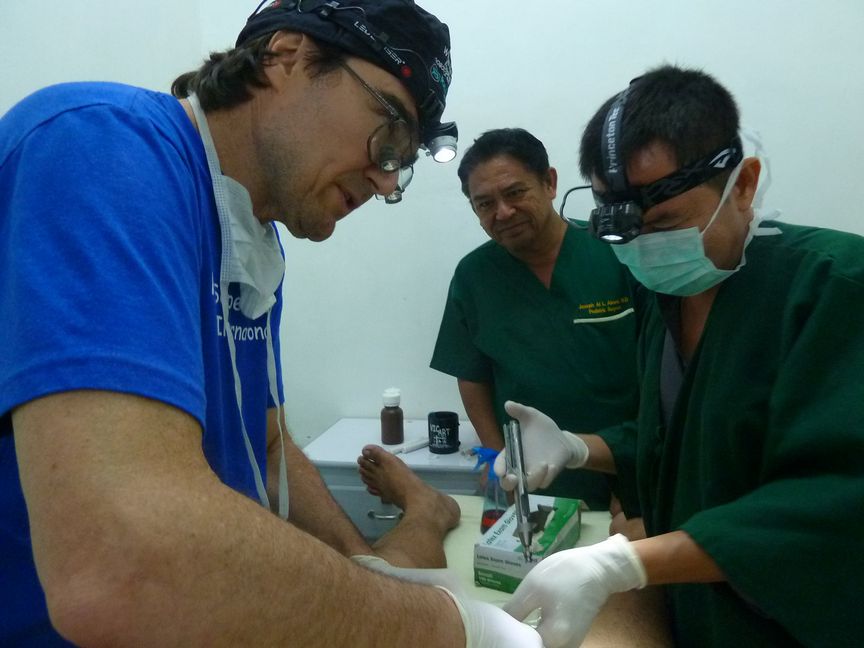 Final Day in Cebu: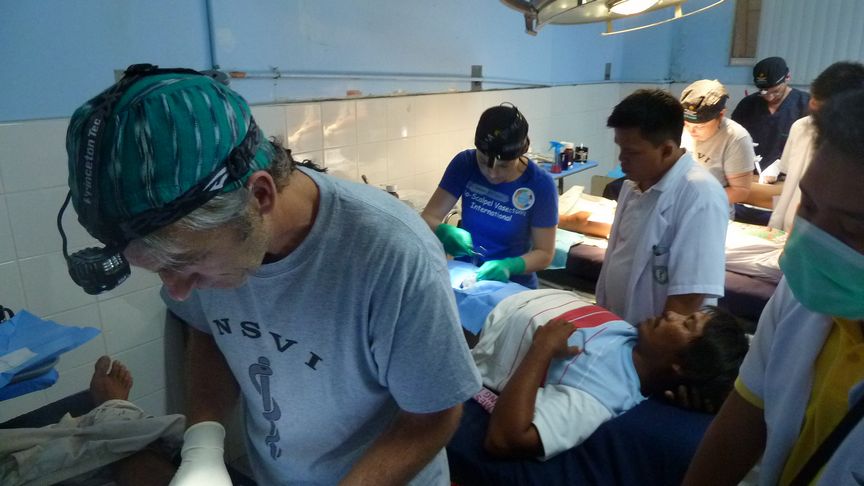 By the last day of our 8-day mission, vasectomists John, Sarah, Andrea, and Nicolas are fine-tuned operators unfazed by the most challenging cases.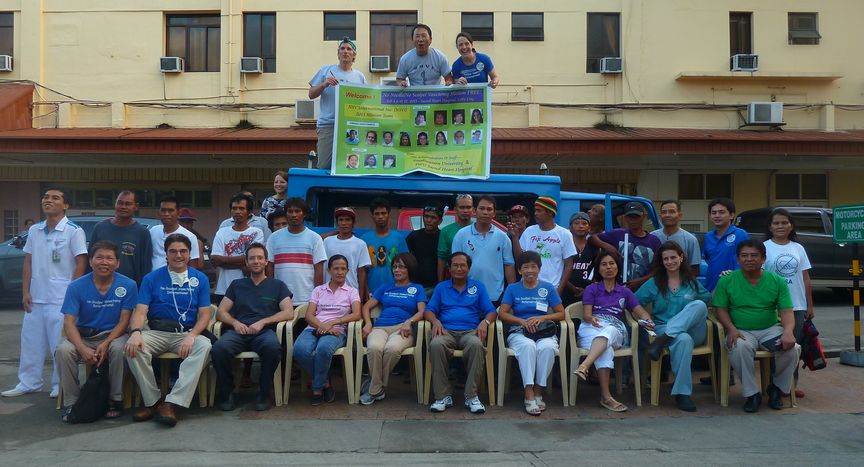 After 385 vasectomies, the Team is ready to take a seat or hold their banner as they pose with some of the last day's patients. After gathering equipment, we were off to our farewell dinner near the airport, already discussing plans for next year's mission.