Feb 24-29.
Seven vasectomy experts from three countries, NSVI President Doug Stein, and NSVI Founders Ramon and Nenita Suarez volunteered their time, paid their own travel expenses, and made donations to NSVI to help cover the expenses of the mission including payments to staff, community educators, and facilities.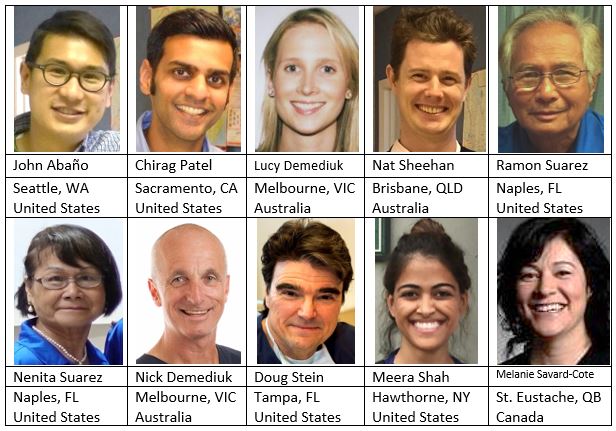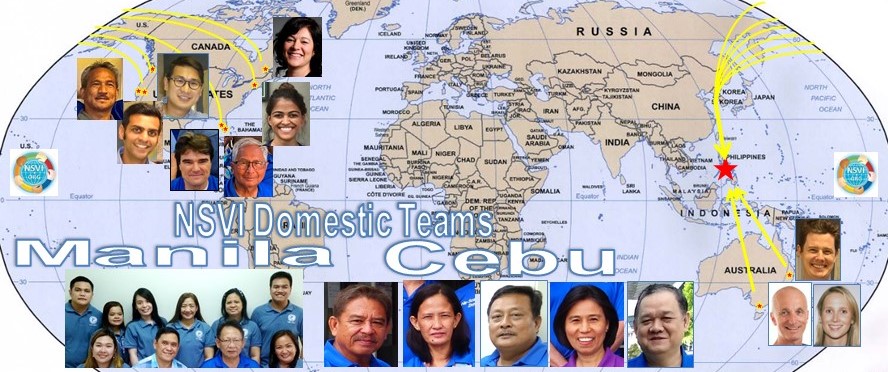 They traveled from two continents to join NSVI's Domestic Teams in Manila and Cebu on our annual Philippines mission.
Manila Feb 24-26. Headquartered at Mary Johnston Hospital.
Cebu Feb 27-29. Headquartered at Sacred Heart Hospital.
Before the mission, NSVI had promoted in three ways:
Online through Facebook: Frohnie Cagalitan, MSW, of NSVI's Domestic Team in Cebu, maintains and regularly updates NSVI's Facebook page, especially before international missions. With any Facebook search for Vasectomy in the Philippines (where Facebook is widely used), the NSVI page has an overwhelming presence. Questions sent via Facebook Messenger were answered promptly by Frohnie.
Online through the pages in this website Vasectomy in Manila and Vasectomy in Cebu. These pages come up first on searches by the same expressions. Queries sent via the Contact Us page in this website were answered quickly by Doug Stein.
Locally by our outreach coordinators in Manila and Cebu (Jelyn and Frohnie respectively). With NSVI funds, they (1) purchased and posted about 10 banners (see photos below) in community health centers and other public places, and (2) printed and distributed hundreds of simple brochures in Tagalog and Cebuano to community health workers supplied with many more for distribution in their communities.
In-person community presentations in Manila (photos below) by Doug, Nick, and Melanie, who arrived in Manila two days before the mission. Jelyn had scheduled three locations for these Sunday presentations so that members of the community could meet face-to-face with the doctors who would provide the service.
Manila is larger then Cebu. With about 14,000,000 people in the Metro Manila and 21,000,000 in the larger urban area, it is the world's most densely populated city, with a density (43,000/sq km) almost twice that of Mumbai (23,000/sq km). Mary Johnston Hospital is in Tondo, Manila's most populous district. By comparison, Metro Cebu has a population of about 3,000,000, with a density about 16 times less than Manila's and fewer large slums. From the view of this foreigner, the demographics of the two cities appear to be similar. The relative proportions of upscale districts vs. slums, well-to-do vs. poor, seem to be about the same.
Despite similar promotion in the two cities before the mission, there were profound differences in the demographics of the patients seen in Manila and Cebu.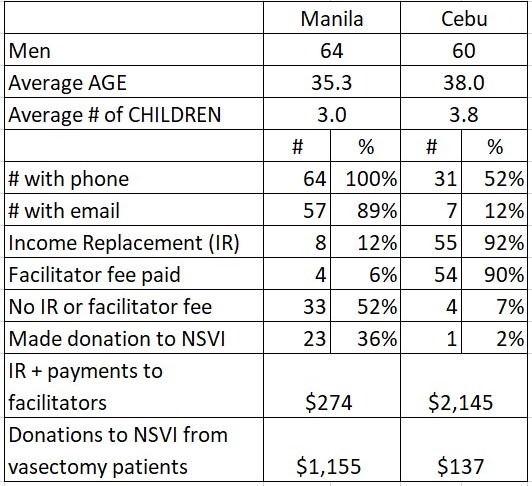 While average age and family size were slightly greater in Cebu, notice that the Manila patients were MUCH more likely to have a phone and an email address than the men in Cebu. Most learned about the mission online through the use of their smart phones or computers, and only 12% (usually the ones without email addresses) felt a need for income replacement. In fact 36% of them made small donations to NSVI in appreciation for our services. Very few patients had come from the local barangays (neighborhoods) despite the promotions of our Domestic Team before the mission and the in-person presentations of the doctors on the day before the mission.
By contrast, even though Cebu has a huge population of men with computers and smart phones, only 12% of the men who came for vasectomy had an email address, 92% requested income replacement, and 90% were referred by community educators happy to receive a facilitator fee for their efforts. Only 2% made a donation to NSVI, despite the fact that the presentations of our intake staff were very similar with regard to options for income replacement vs. donation vs. neither.
We don't know what we might have done differently to attract more low-income men in Manila, and we don't know why we got so few men in Cebu who learned about the mission on the internet. Perhaps family planning alternatives are more readily available in the barangays near Mary Johnston Hospital, and there are social services that reduce the burden of large families. Only 6 of 60 men (10%) served in Cebu reported "FB" (Facebook) or "Internet" as their referral source, whereas 50 of 56 men (89%) in Manila who indicated a referral source reported that source as "FB", "Internet", "web", or "NSVI page".
NSVI would like to thank Glenn Roy Paraso, MD, the Medical Director of Mary Johnston Hospital and Chito Salazar, PhD, President of Southwestern University PHINMA (owner of Sacred Heart Hospital) for opening their hearts and facilities to NSVI as it partners with us to make vasectomy readily available to Filipinos in two of the three principle metropolitan areas in the Philippines.
Photo Summary of the 2020 Mission:
Sunday, February 23:
Monday, February 24:
Tuesday, February 25:
Wednesday, February 26:
Thursday, February 27:
Friday, February 28:
Saturday, February 29: