by Doug Stein
As of May 13, 2019, the US State Department advisory "Do No Travel" to Haiti (released on Feb 14 and April 9) is still in effect. But civil unrest seems to have subsided in Haiti to the extent that Embassy workers in PAP have asked the State Department to lift the advisory and allow their family members to return. I have spoken with two other healthcare providers who have been to northern Haiti this spring, and they both felt that all is well. So, while other doctors are more cautious, Dr. Esgar Guarin (NSVI Director of Latin American Missions) and I feel comfortable proceeding with a mission, but a few weeks later than planned, when our Administrative Director is available.

Over the past few years, NSVI missions to Haiti have nearly all been Wednesday to Saturday. But American Airlines has tapered warm-season flights from Miami to Cap-Haitien to 4 flights per week: Sun-Tue-Thu-Sat. Tuesday to Saturday might be too long and would take to big a bite out of each missioner's work week. So we are going to try Thursday to Sunday, unsure whether men will be receptive to getting vasectomies on Sunday morning before our return flight leaves at 2:11 PM, or whether our Haitian staff will want to work on Sunday.
My flights: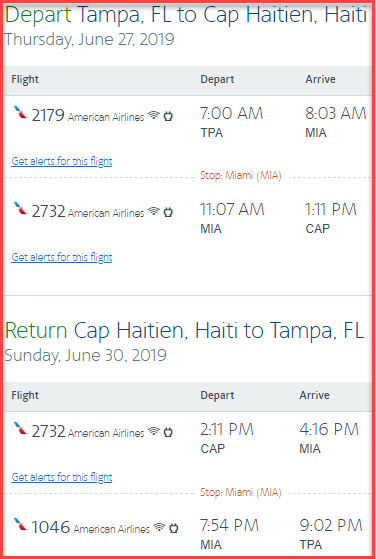 The schedule will look like this, subject to change:
Thursday June 27:
Arrive in Cap Haitien on American Airlines #2732 at 1:11 PM. Before we arrive, our Haitian Team will bring our stored supplies (tables, Mayo stands, and some equipment) from the Cap Haitian Health Network (CHHN) office to Hopital Ft. St. Michel. We will perform vasectomies, continue with the training of Dr. Trevant, and begin the training of Dr. Constance. We will spend the evening at Hotel Roi Christophe, where we organize supplies.
Friday June 28:
Vasectomies at Dr. Mesadieu's ULS Clinic in Ft. Bourgeois. When finished, we will go to the Dugue Clinic in Plaine-du-Nord.
Saturday June 29:
Vasectomies at Dr. Saint-Vil's Clinique Metropolitaine in Limonade, then Dr. St-Martin's private clinic in Cap-Haitien or the clinic of Dr. Constance in Cap-Haitien, then the Hopital Ft. St. Michel (HFSM). When finished there, we simply lock the door so we can continue on Sunday morning without having to set up again. We pay all staff for the cases performed so far.
Sunday June 30:
Vasectomies at HFSM in Cap-Haitien until 12:00, at which time we depart to get the 2:11 PM flight back to Miami. As the other doctors work, I pay the staff for Sunday and divide supplies and equipment into (1) those that we donate to our domestic teams, (2) those that stay in Cap-Haitien for the next NSVI mission, and (3) those that I bring home to the USA.