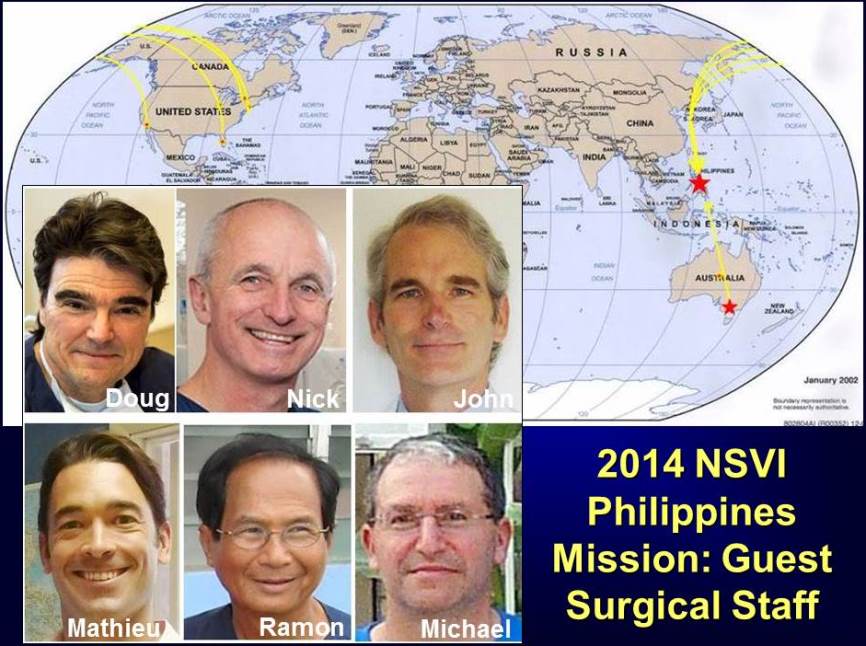 This year's NSVI International Team was comprised of "regulars" Doug Stein and Ramon Suarez (both from Florida), as well as Nick Demediuk (Melbourne), John Curington (San Diego), Mathieu Belanger (Montreal/Ottawa) and Michael Werner (New York). Nick was Doug's Australian sponsor for World Vasectomy Day, John is a veteran of the 2013 Philippines Mission and the Third Kenya Mission, and Michael is a veteran of the 2013 Haiti Mission. Other members of the international team were the other officers of NSVI (Mission Leader Bob Kiamco and Drs. Nenita Suarez and Benita Kiamco), all of us supported by the NSVI Philippines Domestic Team (Joe Alesna, MD; Myrna Danuco, RN; and Frohnie Cagalitan, MSW), without whom these missions would not be possible.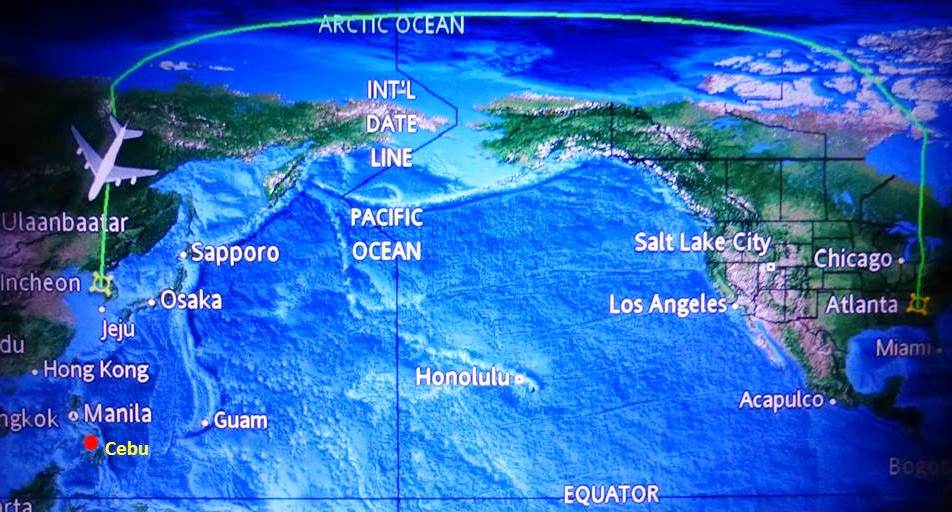 Travel for those of us from eastern North America is usually via the Arctic and Seoul on Korean Airways, an adventure in itself.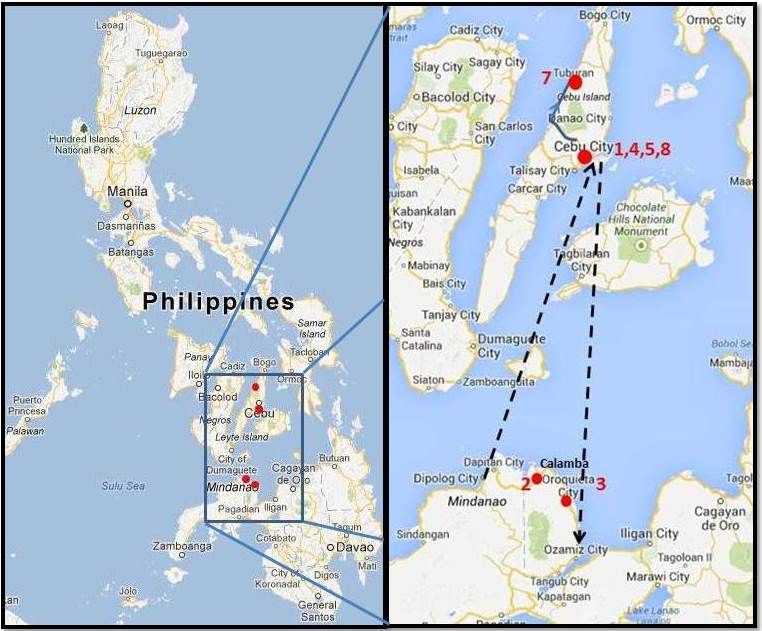 Vasectomies were accomplished at 4 sites over 8 days, each day indicated by the red numbers. The Domestic Team and early international arrivers visited and energized these sites beforehand to prepare for the vasectomy days ahead.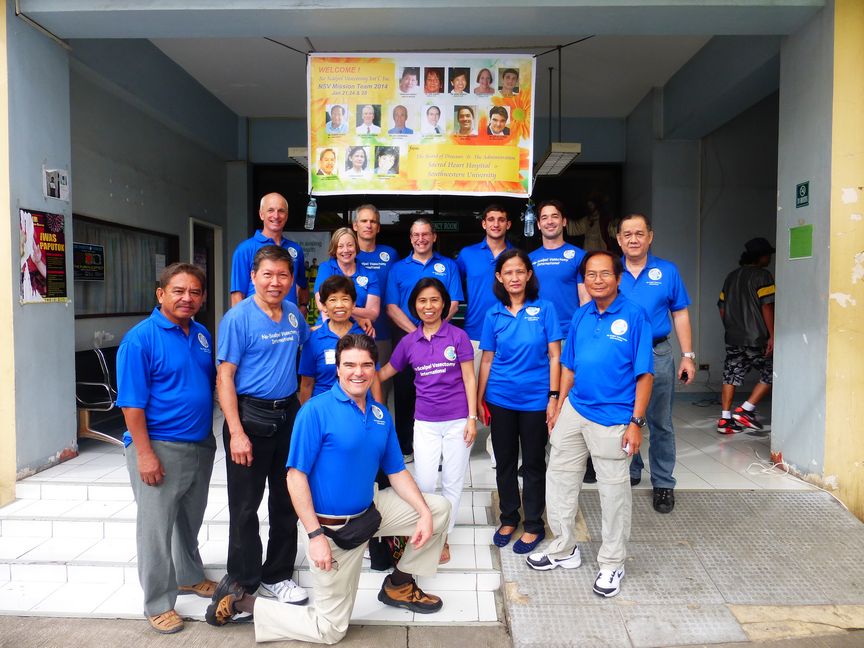 Sacred Heart Hospital in Cebu is home base year after year. Each mission is planned six months in advance. This year we arrived on the heels of a major earthquake and typhoon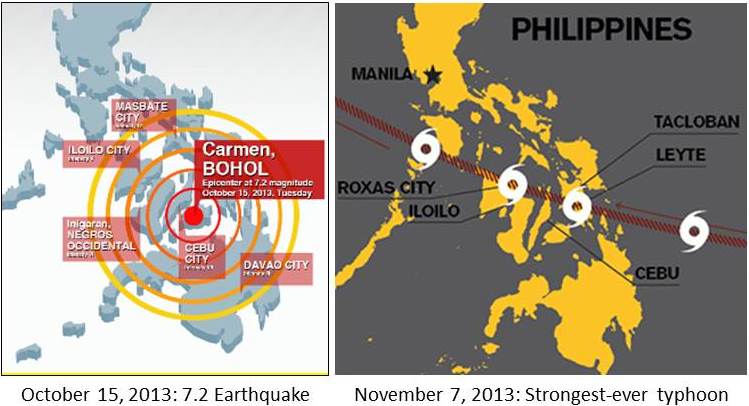 … and we were not sure how that would effect personal decisions about family planning.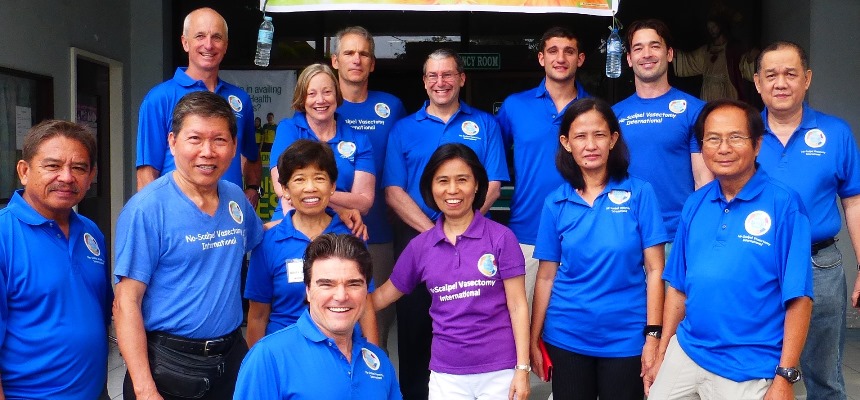 We also had a guest RN, Felicity Demediuk adding cheer and OR talent, and Michael's son Evan adding youth to the group. At far right is Frohnie's husband Edgar Cagalitan, an informal but equally energetic and invaluable member of the Domestic Team.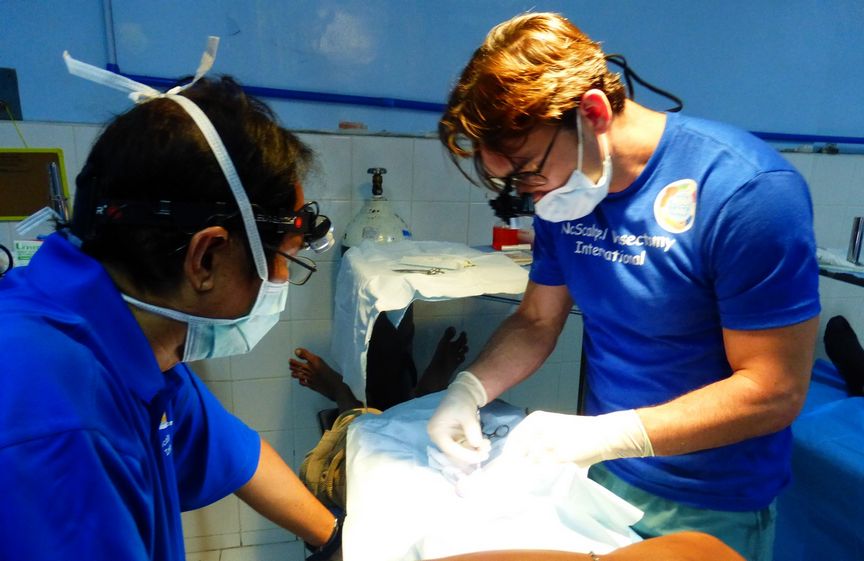 All NSVI Mission vasectomists have experience, but these missions are a great opportunity to hone one's skills and share ideas and techniques. Here Dr. Mathieu Belanger is critiqued by senior vasectomist Dr. Ramon Suarez, who was trained personally by Dr. Li himself.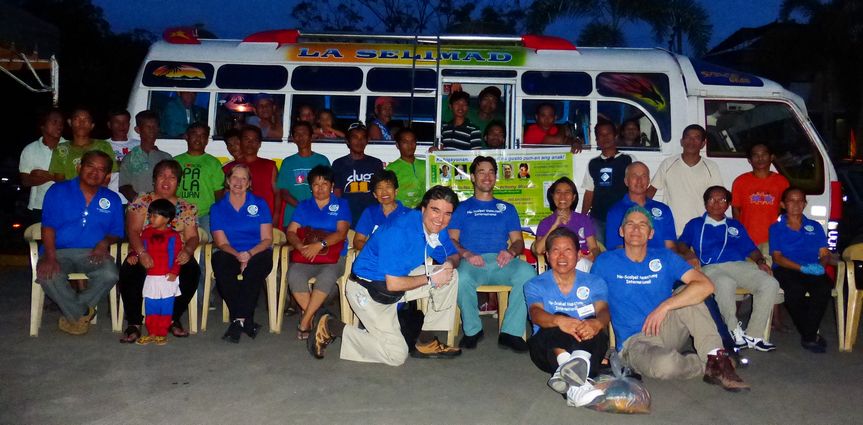 On Day 1 in Cebu, the team worked until dark to complete 72 vasectomies, here posing with a busload of happy clients.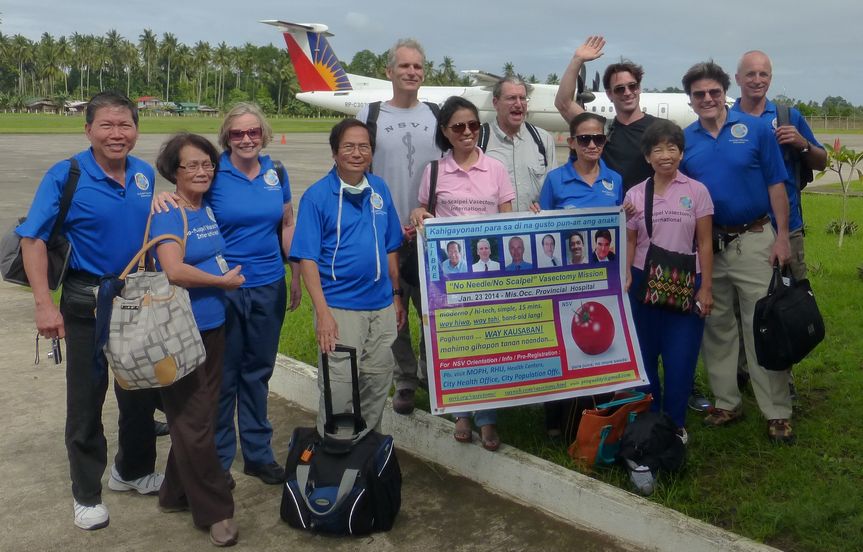 Day 2 started with an early flight from Cebu to Ozamiz City, where vans took us to Oroquieta (see map above) …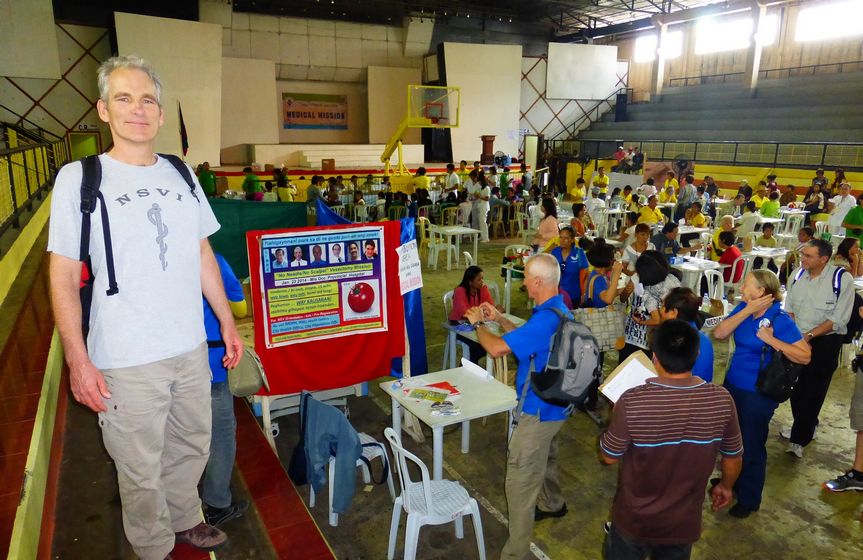 … the site of the 2014 BMA Medical/Surgical Mission.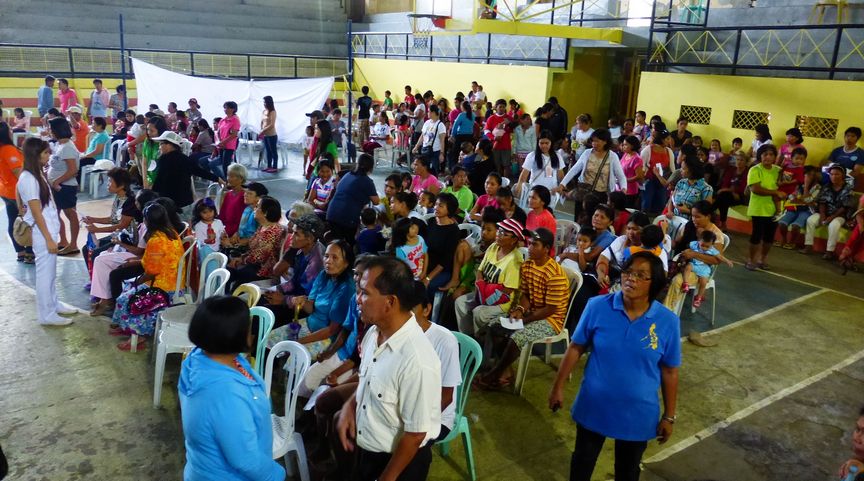 The BMA treats thousands of needy clients each year and handles licensing for NSVI. We squeezed in 3 urology consults during our brief visit before traveling on to …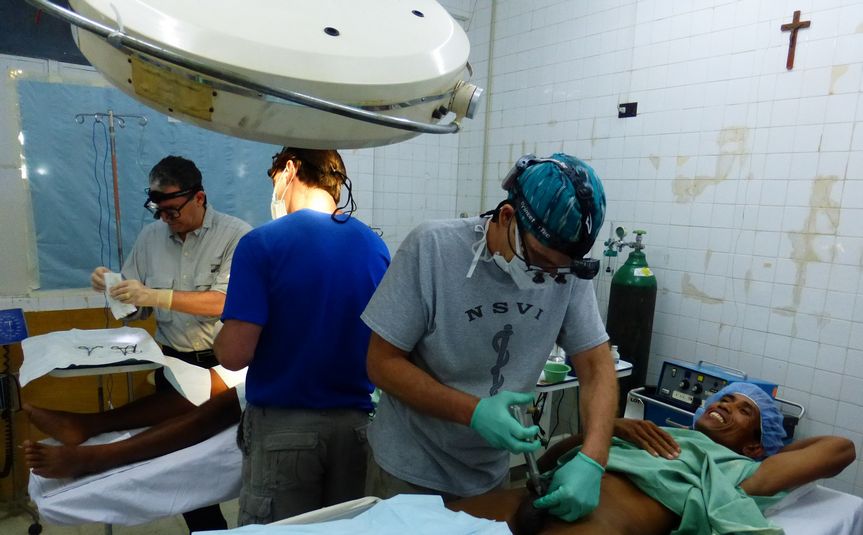 … Calamba, where we set to work quickly. Here Michael, Mathieu, and John, primed from their big day in Cebu, are in a team rhythm.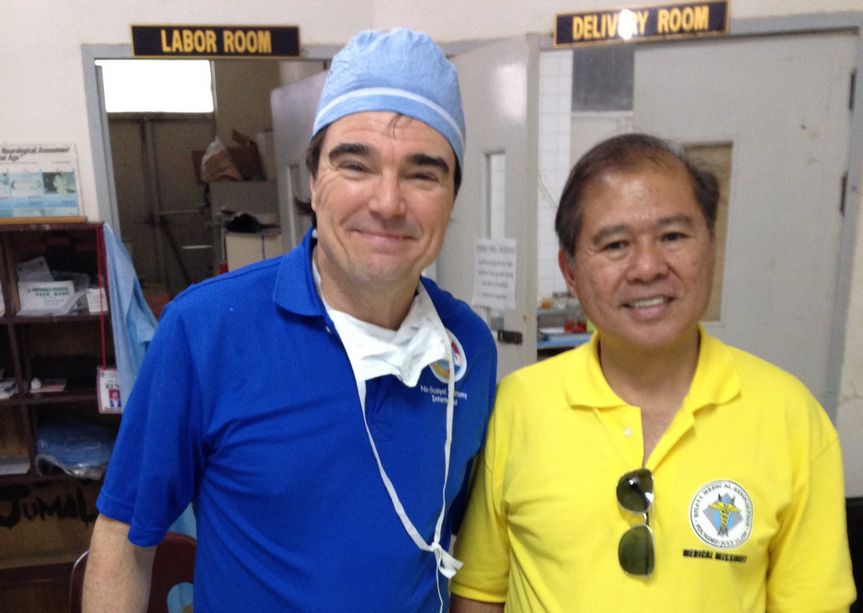 Jun Villanueva, MD, an ENT surgeon in Cumberland, Maryland, has been soliciting NSVI to visit his home town Calamba for 2 years. He had obtained the enthusiastic support of the mayors of 5 nearby communities, and he fully expected over 100 patients. We performed fewer than that, and Jun was a bit disappointed, but NSVI has learned that "you never know" and you must take vasectomy patients as they come. It was clear that parts of the Philippines were still recovering from the recent earthquake and typhoon.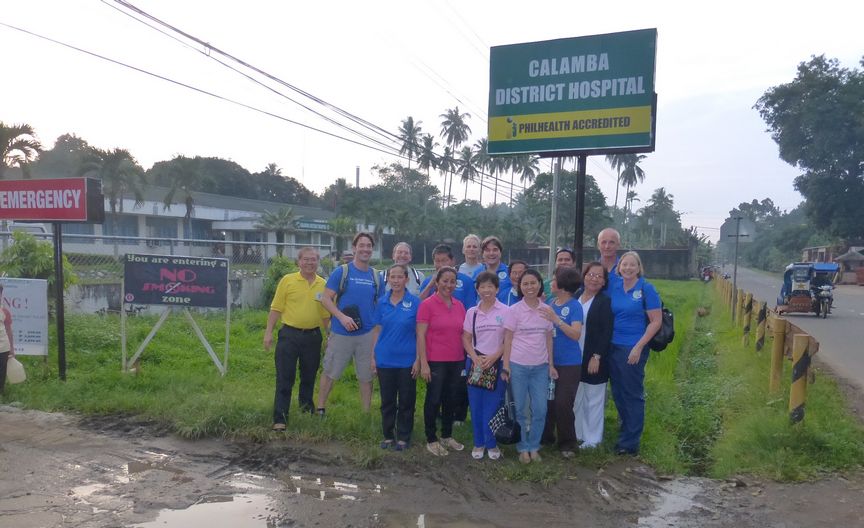 Anyway, the extra time provided opportunity for photo ops.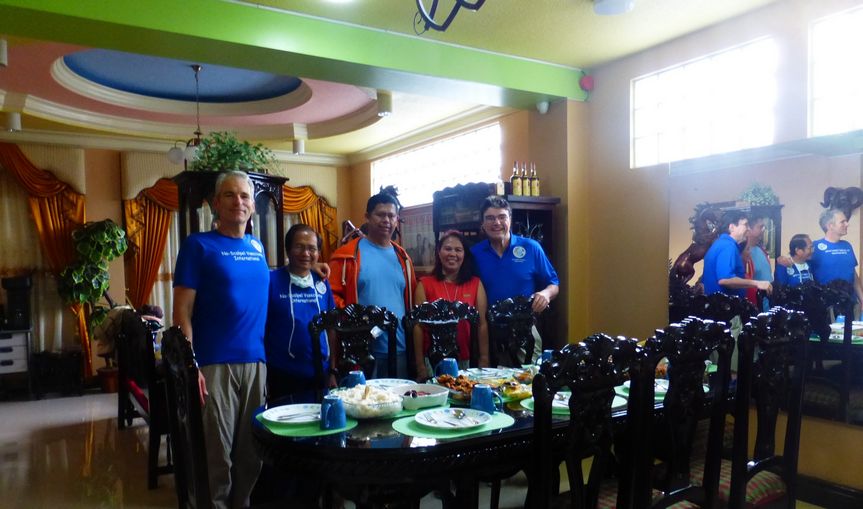 That night we stayed in the homes of generous local NSVI supporters, and had a feast for breakfast the next morning (Day 3) …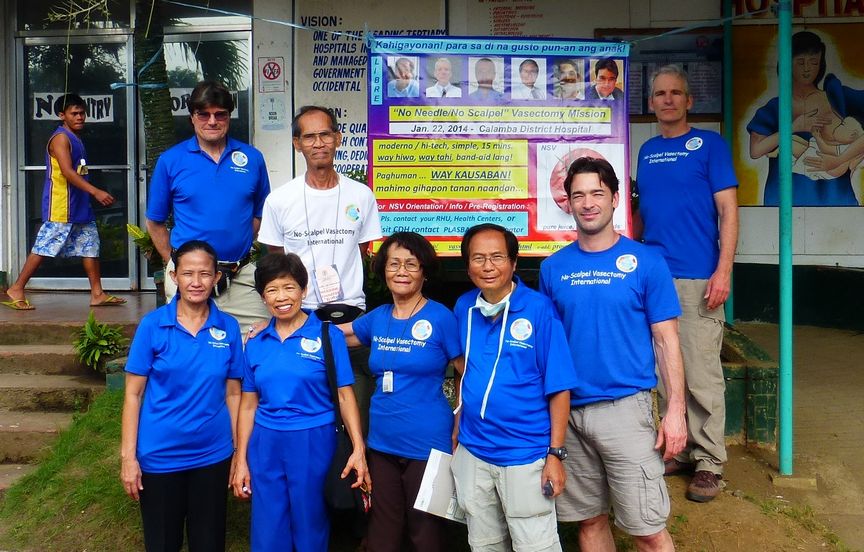 … before 12 vasectomies in Oroquieta and our return flight to Cebu.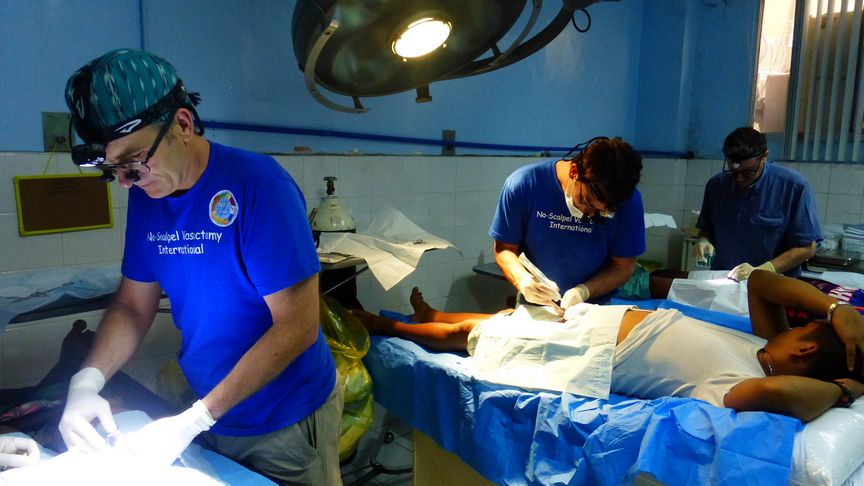 Day 4 saw us back at Sacred Heart Hospital for 37 vasectomies, following which we visited …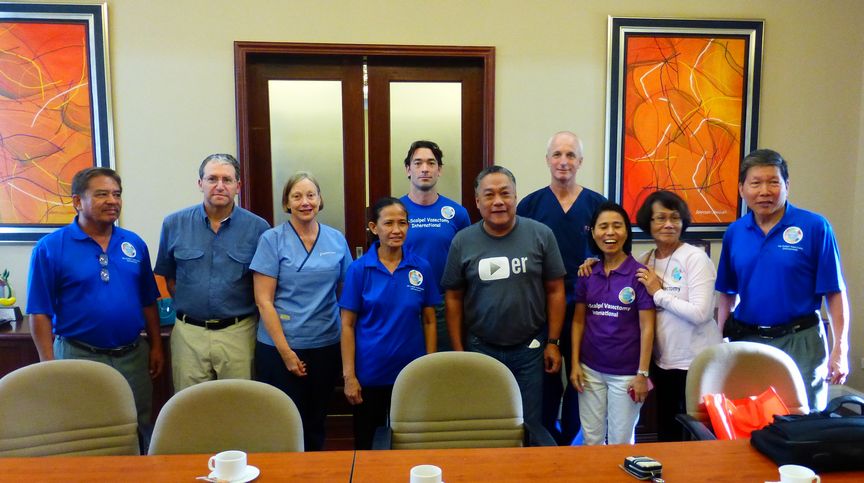 … the Governor of the Province of Cebu, Hilario P. Davide, III. He was very receptive and promised no opposition to NSVI's future efforts to promote our missions. (Politicians had removed NSVI mission billboards in 2011 under pressure from the Catholic Church.)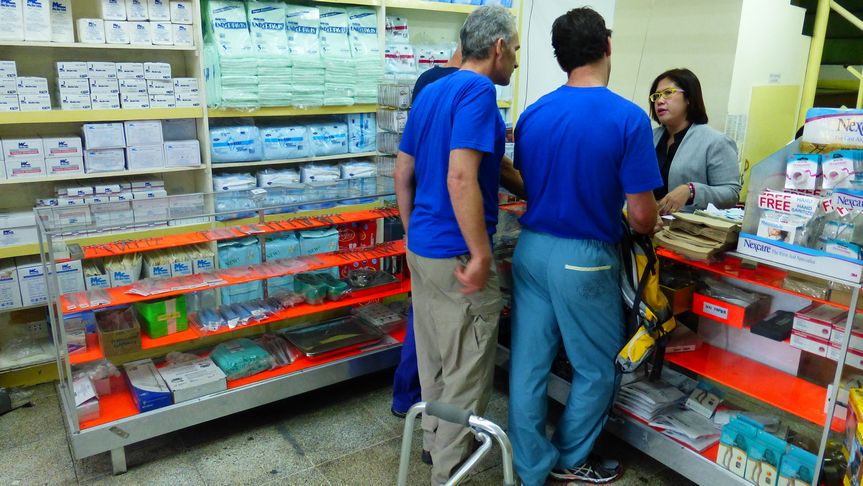 Between visits to the Governor and Mayor, we happened upon a surgical supply store, where we picked up 10 extra hemostats and formulated plans for next year's mission supplies (it was big job hauling 400 fenestrated and non-fenestrated drapes, 400 pairs of sterile gloves and all other supplies from the USA) and a between-missions ongoing domestic program.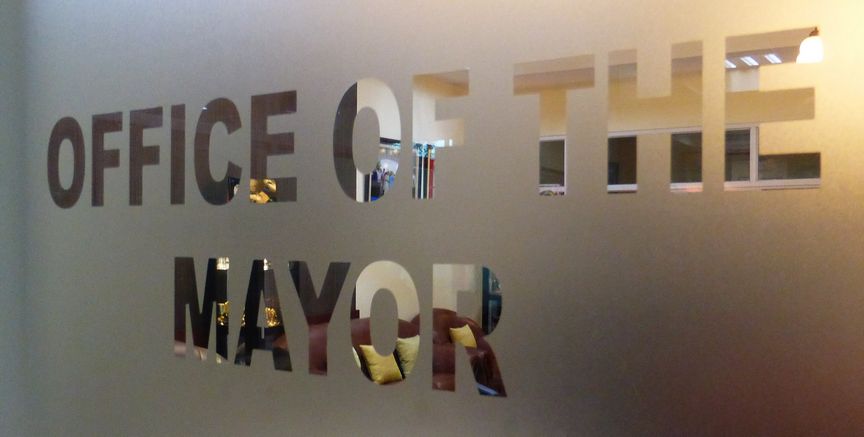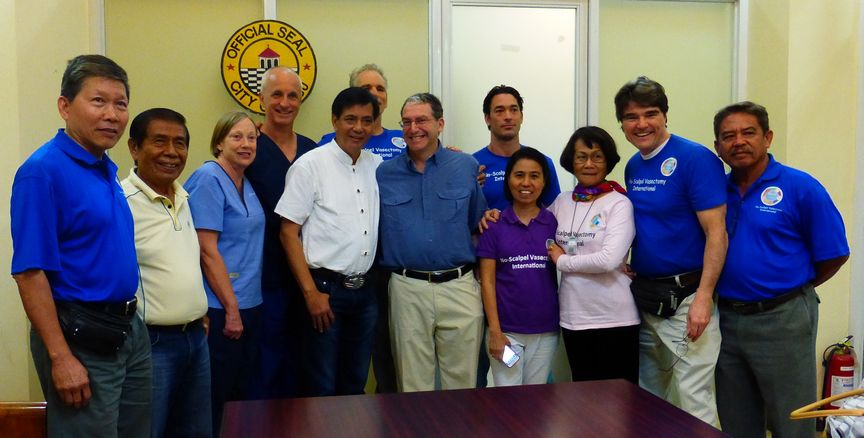 We met with the Mayor of Cebu, Mike Rama, in his office across the plaza from the historic Cross of Magellan. Mayor Rama apprised us of his somewhat conservative views on contraception. After much listening and dialogue, the conversation evolved into a respectful acceptance of NSVI's need for political support and even a potential warm friendship.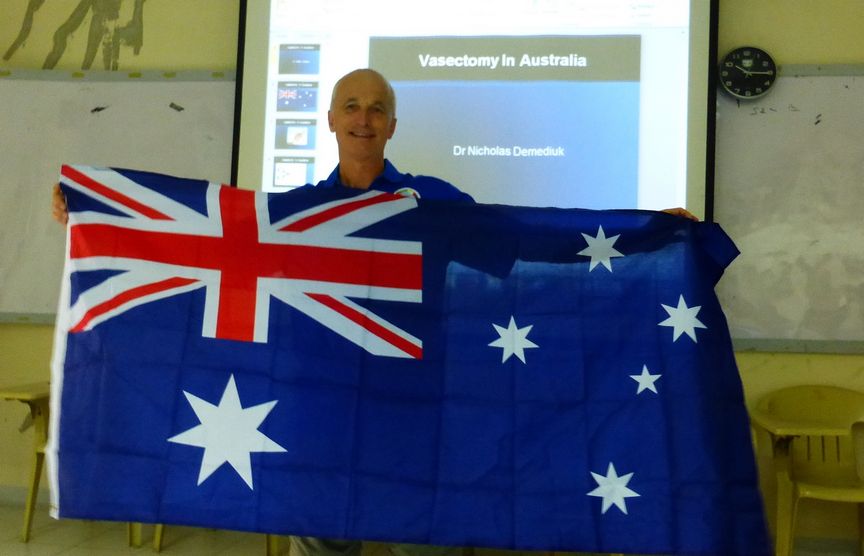 Day 5 (Saturday) is always the day of our "give-back" presentation to the students of Southwestern University Medical School. Dr. Demediuk gave a rousing presentation that was as entertaining as it was informative …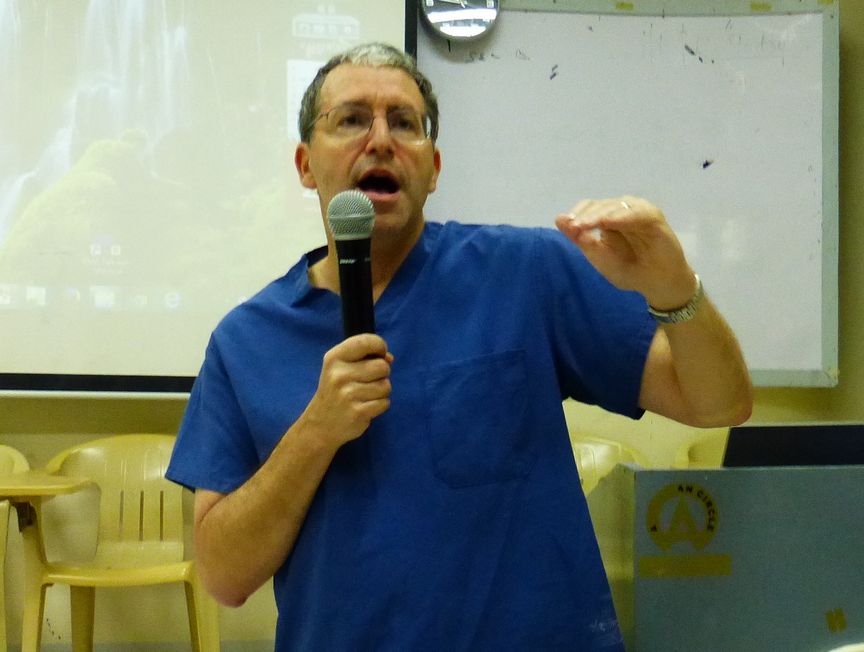 … and Dr. Werner presented erectile dysfunction and male hormone replacement in a concise, memorable, and lighthearted way. Other topics included the wide range of available contraceptive methods uncluding NSV, the history of NSVI, and sexual function after vasectomy by Drs. Curington, Stein, and Suarez and CEO Bob Kiamco.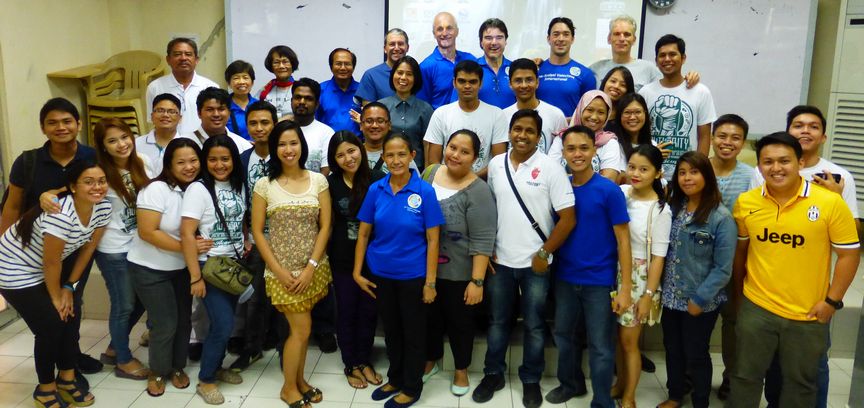 We hope we inspired those attending to go into family planning, especially after Frohnie's heartfelt presentation about the urgency of the population challenge in the Philippines.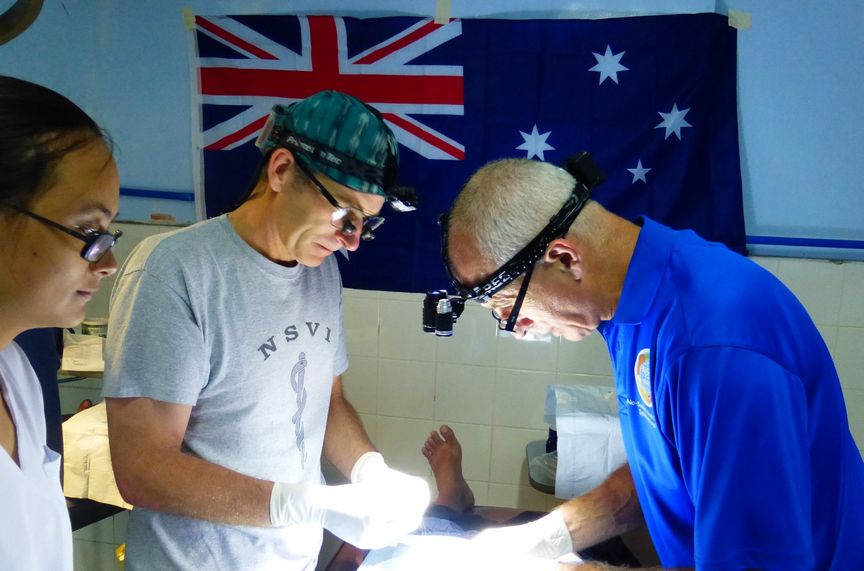 Back in the procedure room at Sacred Heart, Drs. Curington and Demediuk celebrated Australia Day with a big flag and 11 afternoon vasectomies.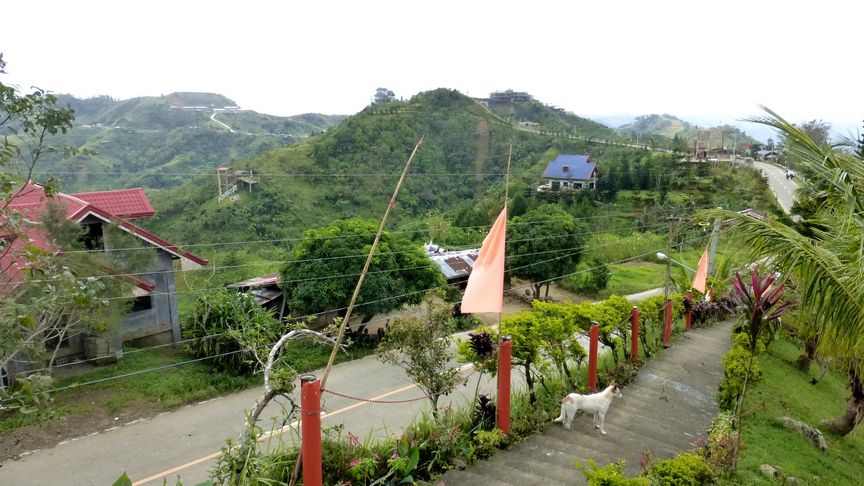 Day 6 was a Sunday, and we used our R&R day to travel over the Cebu Island mountains to Tuburan.The scenery is delightful …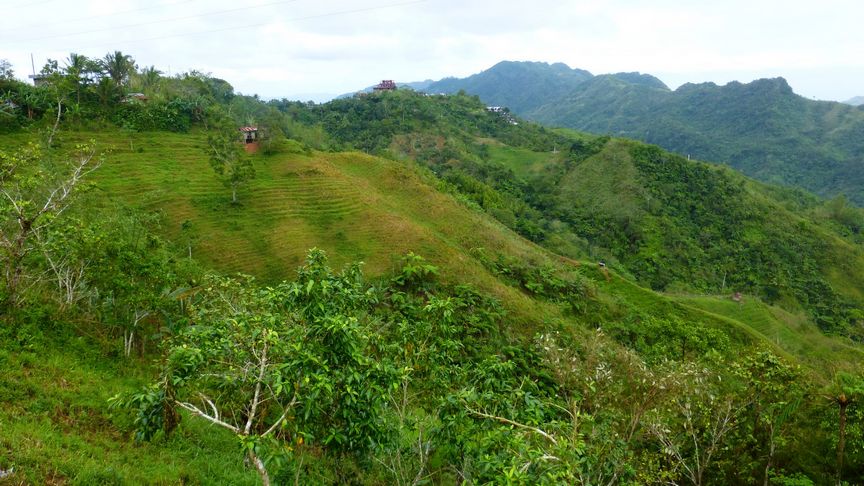 … if one tries to overlook the deforestation resulting from over 100,000,000 people occupying an area the size of Arizona.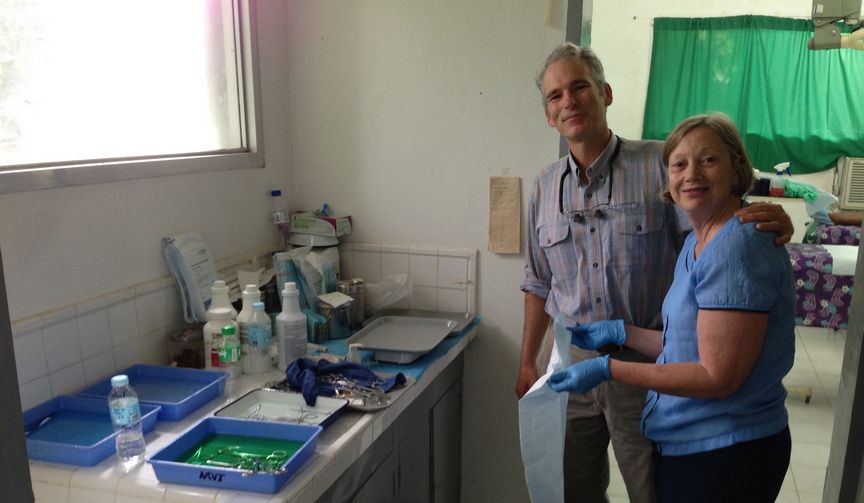 Tuburan was an unexpected surprise last year. With the strong support of Mayor Diamante, we did nearly 100 vasectomies there last year, and we expected over 100 this year.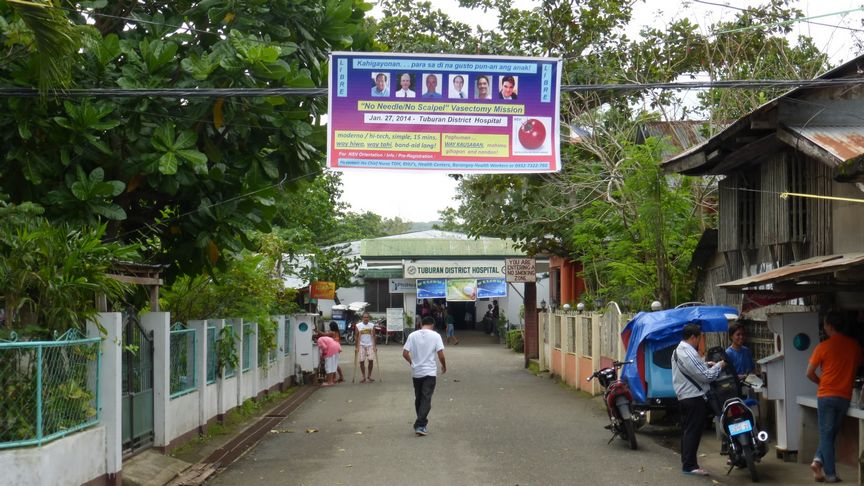 Once again turnout was a bit lower than expected, but we still performed 26 vasectomies without complication and the patients and staff were delighted.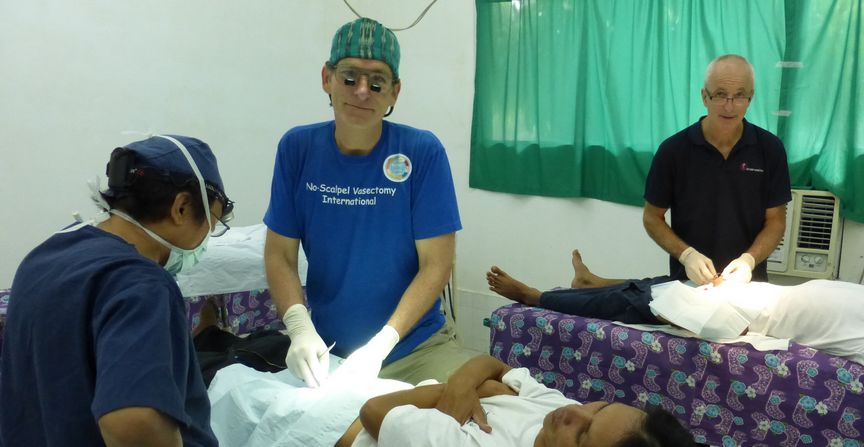 Each client and his wife will now enjoy the best contraception available, freedom from risk for her, and the opportunity to focus all of their resources on the children they already have.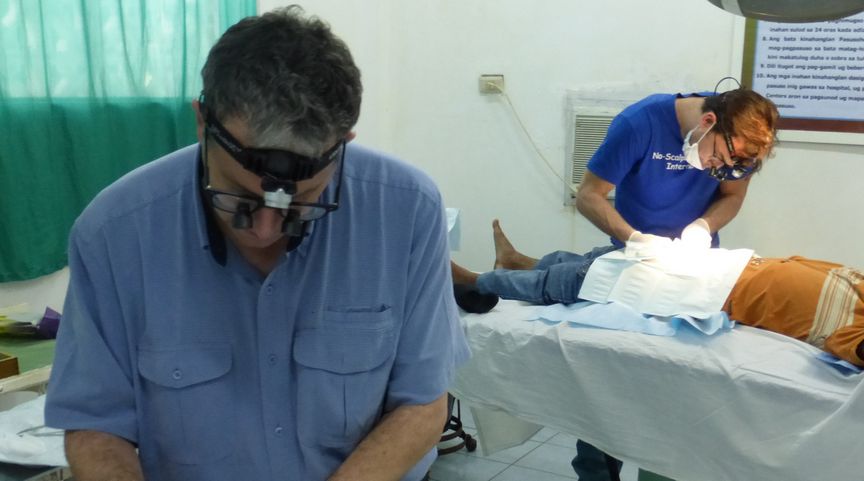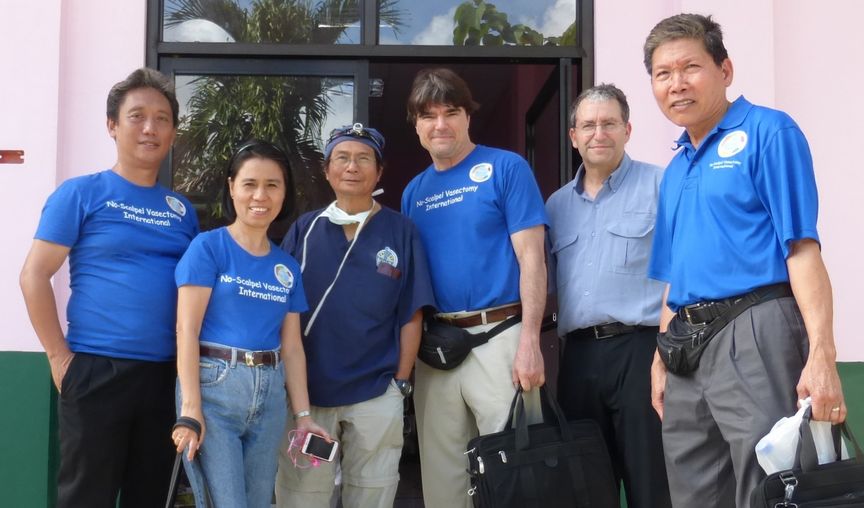 The Chief of Tuburan District Hospital, Dr. Steve Ligaray, was proud to show off his new facility and accept a pledge from NSVI for a contribution to the hospital for every vasectomy that we perform in it next year.
The staff was welcoming, and it was gratifying to work with nurses who enjoyed assisting during the previous Tuburan Mission in 2013, and who returned again for 2014. By working with local staff, we leave behind a cadre of locals who understand the gentle nature of vasectomy and will be advocates for family planning.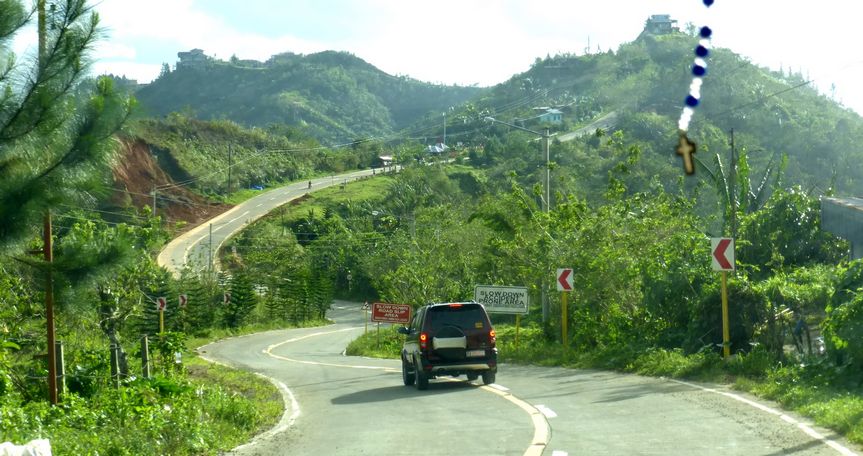 Back to Cebu …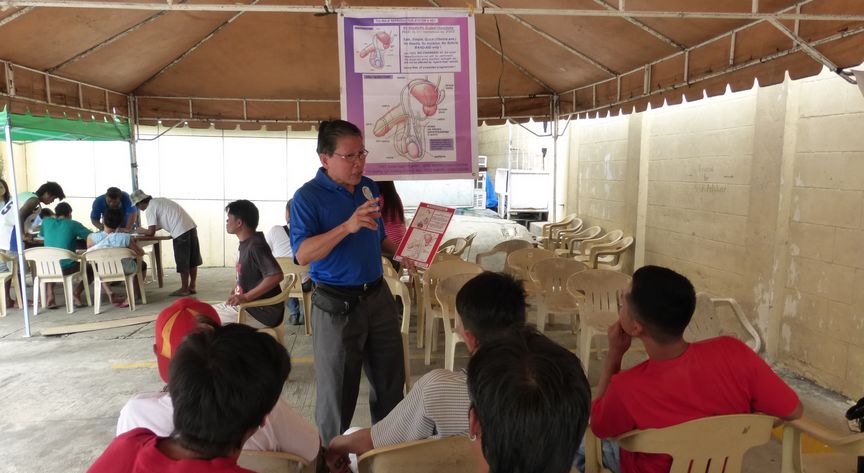 … and back to work on Day 8 for 79 vasectomies, our biggest day of the mission. Mission Leader Bob Kiamco puts his soul into every counseling session …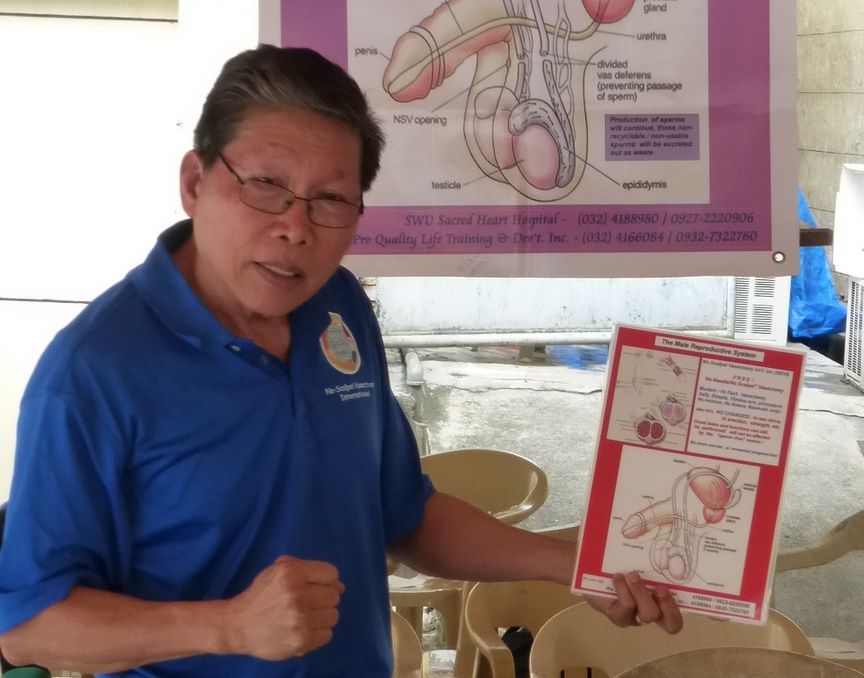 … whether his audience numbers 3 or 43.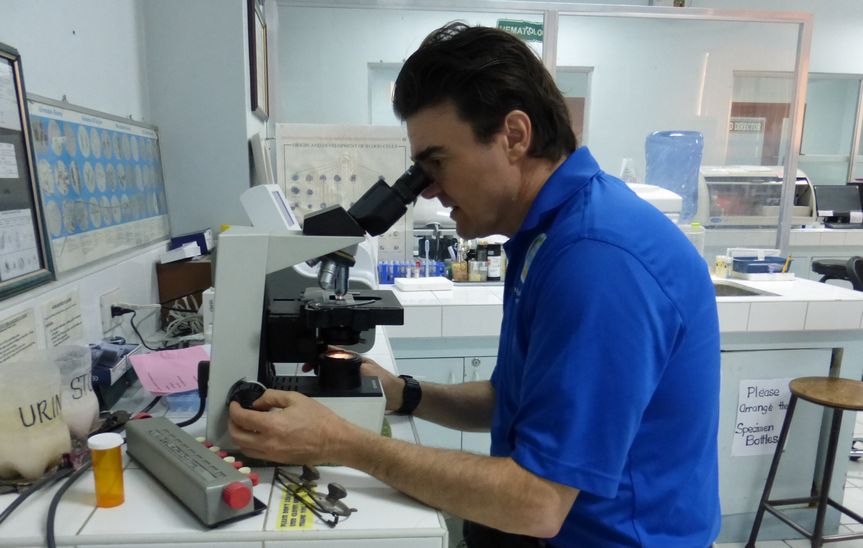 One man returned because his wife got pregnant a week after our last mission. Apparently he had not used the condoms provided after his vasectomy during his "clean-out period", but we confirmed that his semen was now free of sperm and that his first vasectomy was successful.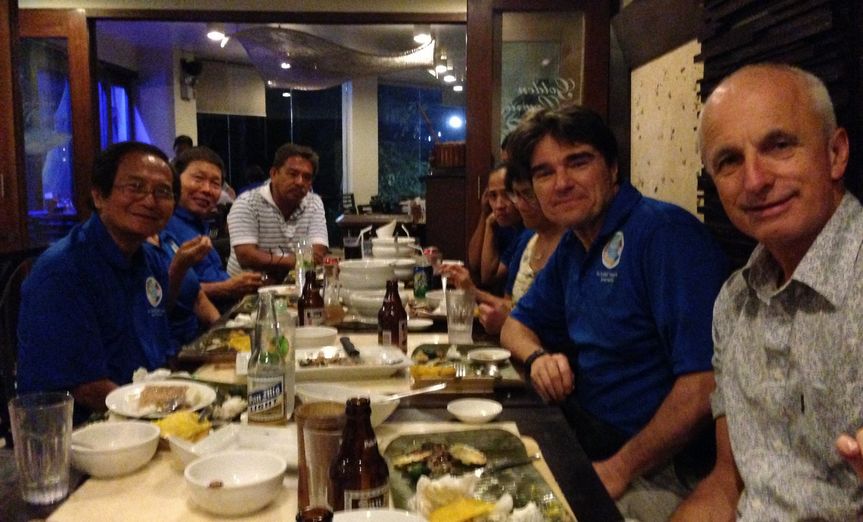 Our farewell dinner at a restaurant near the airport was a celebration of  245 vasectomies performed without complication, and of 8 days of fun camaraderie and cultural exchange. We had laid the groundwork for an ongoing between-missions domestic program. The Suarezes and Kiamcos (retired from practices in the USA) would remain in the Philippines to oversee the start of that program, while the rest of us return to work and incomes that provide enough to donate to NSVI and continue these trips that mean so much to those we serve.