The first 2017 NSVI Mission to Haiti took place March 15-18. At 6 sites, vasectomies were performed on 128 men who had fathered a total of 690 children.
Dr. Michel Labrecque joined us again. His primary interest is in training local doctors, as he did so well during the October 2016 Mission. During this mission, he continued the training of 3 Haitian doctors, two of whom are almost to the point of being able to work unsupervised and to direct their own domestic teams. Here is our group. This was the second trip to Haiti for Dr. Reuter, and Dr. Guarin's first NSVI mission. Notice that we had a Filipino-American, a French-Canadian, a German-Brit, a Columbian-American, and … well …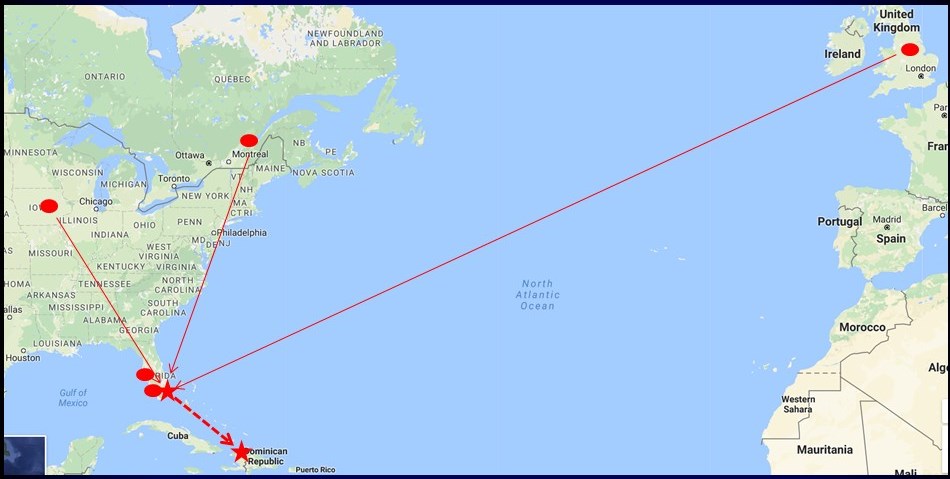 We were prepared to divide into two teams to serve two locations simultaneously.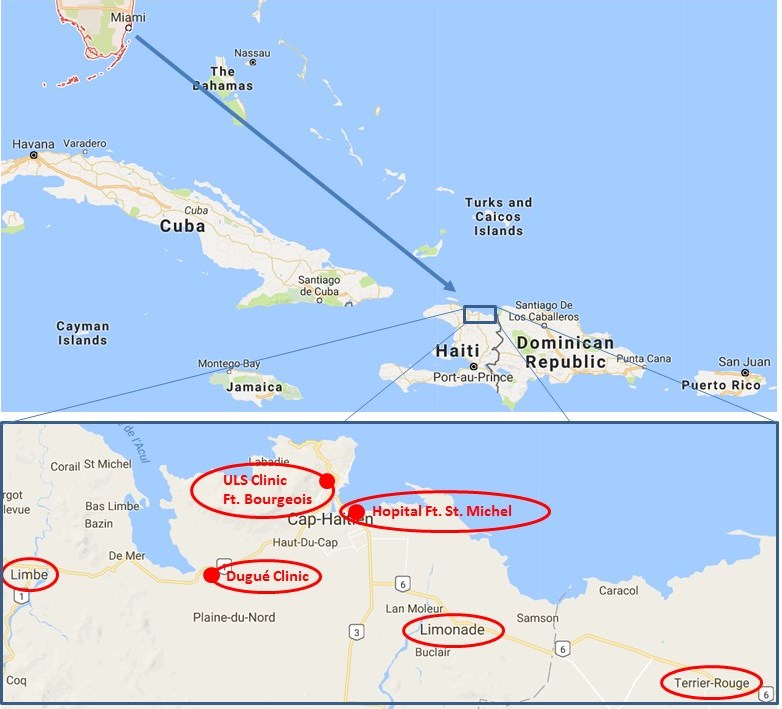 Our Hosts:


Our Trainees:


Our Support Staff:

Special Thanks:

Our schedule:
Wednesday March 15:
1. Arrived in Cap Haitien on American Airlines #2732 at 12:05 PM.
2. 1:30 – 3 PM: Exchanged money at Hopital Ft.St.Michel (HFSM).
3-5 PM: Five vasectomies performed at HFSM.
Thursday March 16:
Morning: Centre de Sante 2000 in Limbe (Dr. Manno spent the morning with some international diabetes specialists and was not able to continue his training). 20 vasectomies were performed.
Afternoon: Team 1 (Michel, Esgar and Ramon): Clinique Dugué in Plaine-du-Nord (Michel continued to train Dr. Dugué); Team 2 (Simone, Doug and Maudelin): ULS in Ft. Bourgeois.  Team 1 had the bigger caseload with 32 cases vs. 19, but one never knows how many patients will opt for vasectomy at a given site.
Friday March 17:
Morning: Clinique Esperance et Vie in Terrier Rouge. Michel worked with Dr. St.Vil. Two waiting patients changed their minds when they saw how long the first training case was "back there". Eleven vasectomies performed.
Early Afternoon: Clinique RJP-CRAPS in Limonade. Michel worked with Dr. Romel and it took a long time to drain a large hydrocele. The long wait scared 6 candidates who decided not to proceed. 13 vasectomies
Late afternoon: Hopital FSM in Cap Haitien. 17 vasectomies.
Saturday March 18:
8-11 AM: Hopital FSM in Cap Haitien: 11 vasectomies. A lighter schedule than we usually have on Saturday, but it provided an opportunity to (1) pay all of our staff, (2) take inventory of supplies left behind for the next mission, and (3) stock our Domestic Team with essential supplies.
Departed CAP at 12:55 on American Airlines #2732.
And Now Some Photos:
We went straight from the airport to Hopital Ft. St. Michel where 5 patients were waiting. An ideal number to allow assessment of each others' technique while not feeling too pressed for time.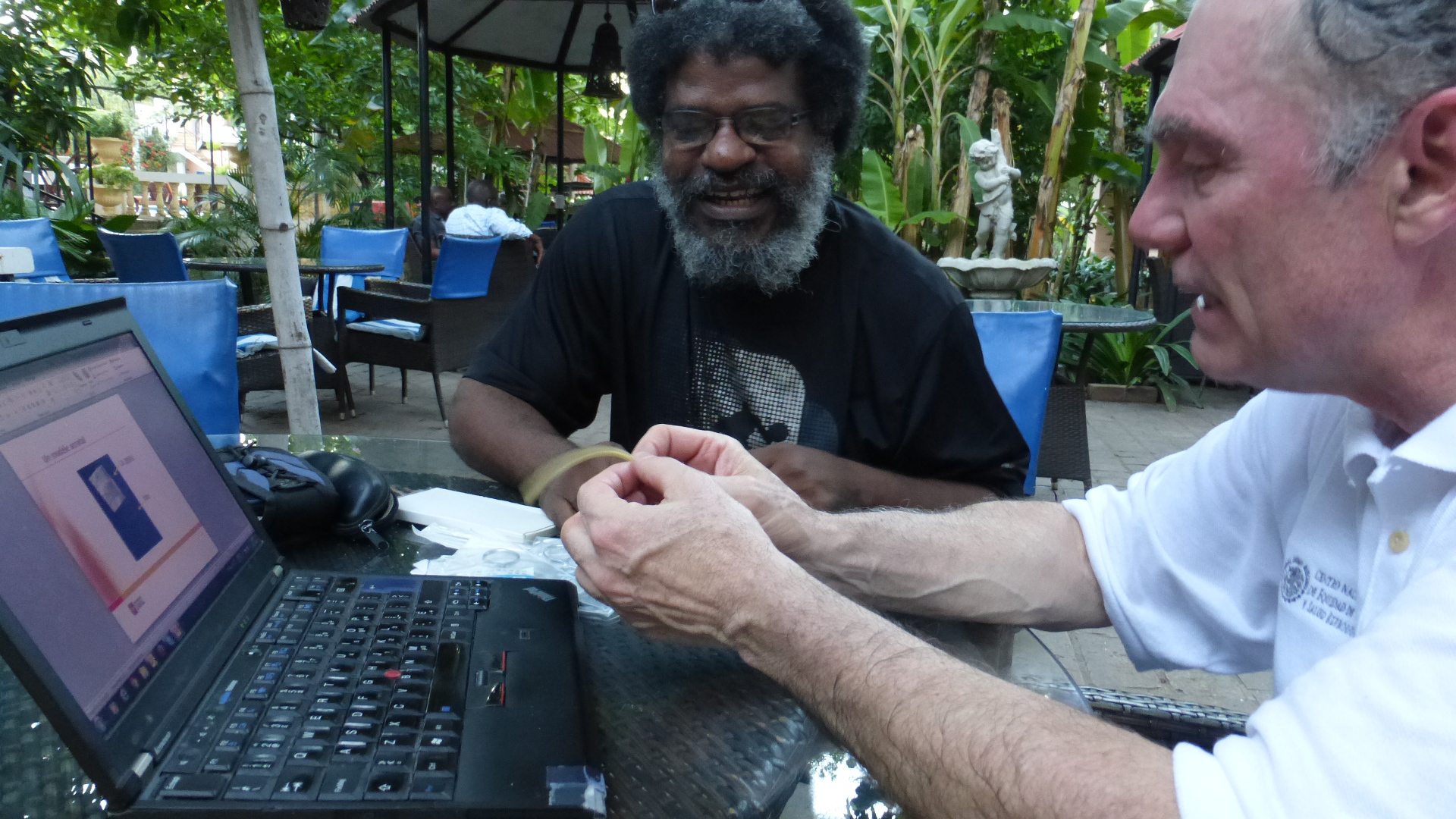 Michel could also start his pre-planned vasectomy training seminar at the hotel. Many prior trainees were invited by e-mail. Only Drs. Romel and St. Vil were able to attend, but they got very personalized training.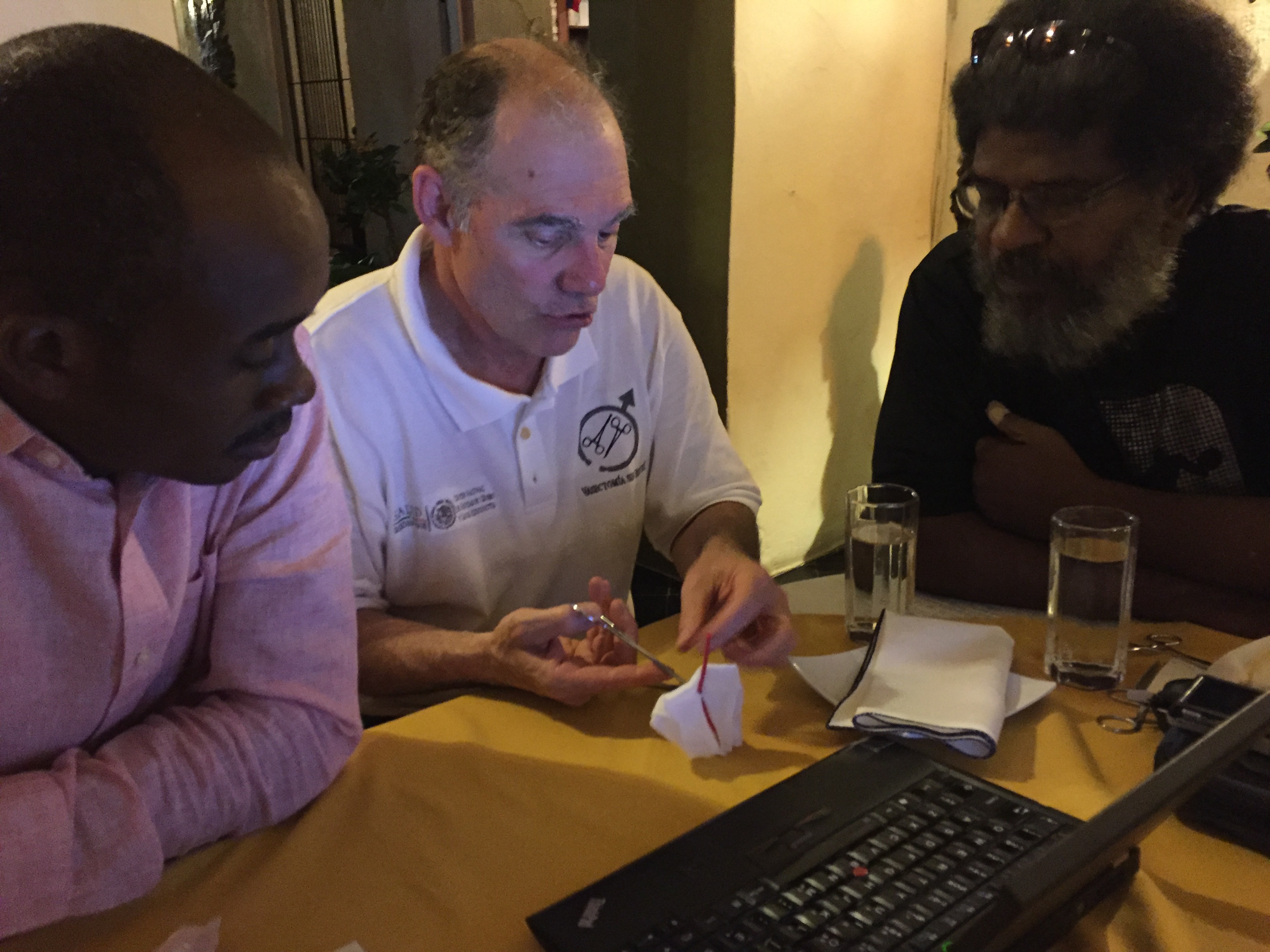 Thursday, March 16. Day 1, sites west of Cap Haitien.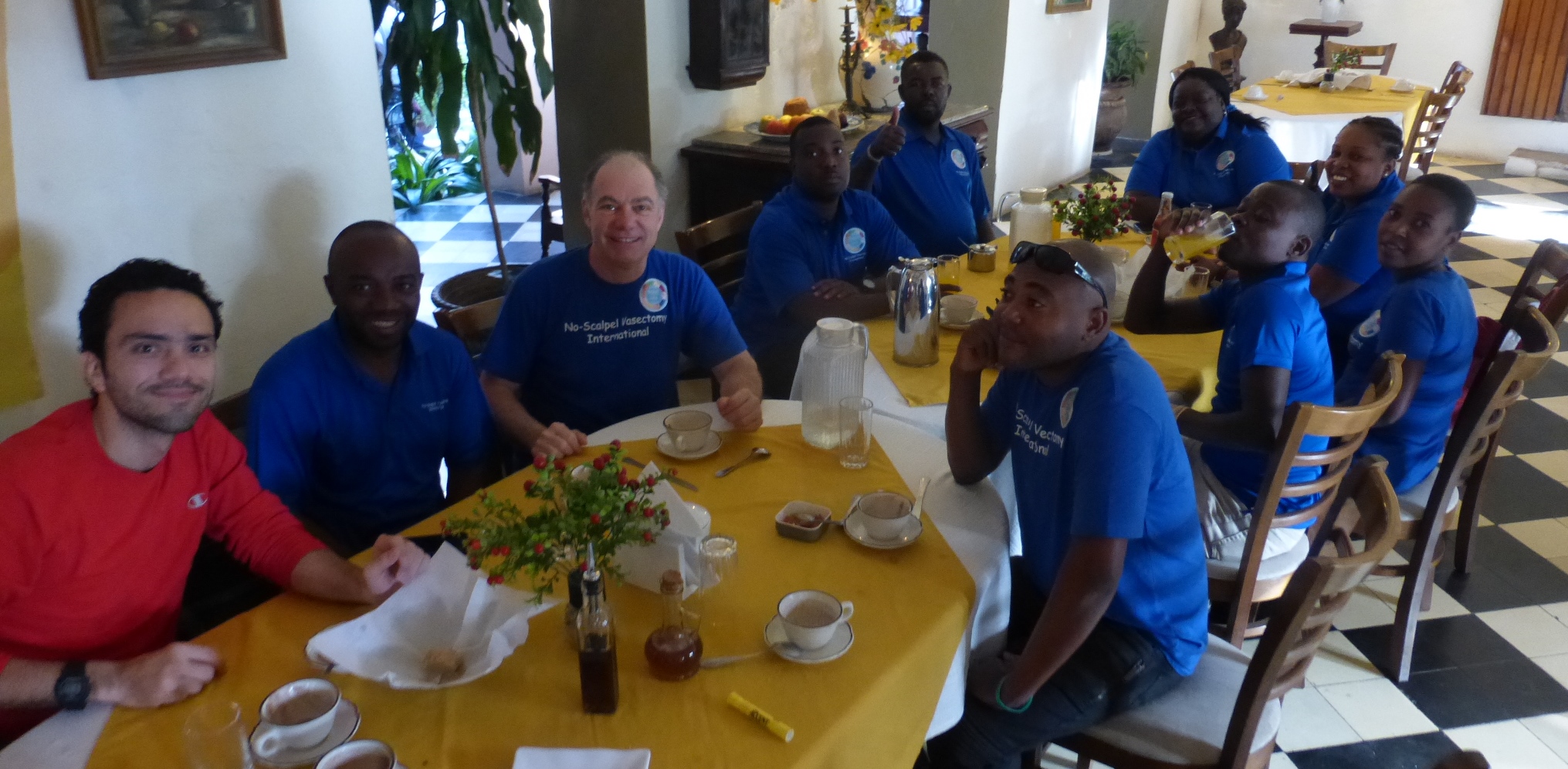 We start each day with a hearty breakfast for the Staff at the hotel, then load the transport vehicles with supplies.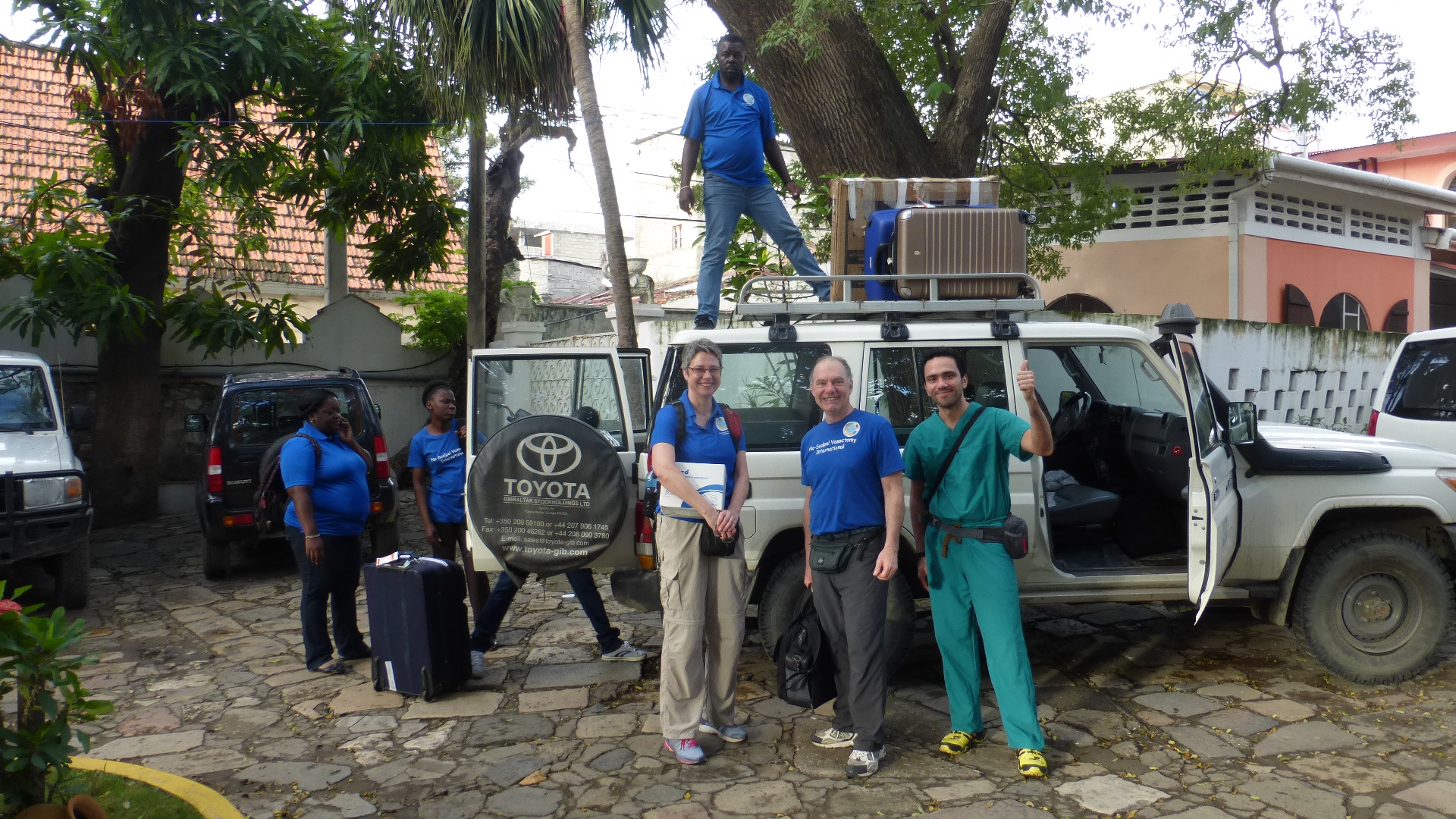 The traffic in Cap is always slow, worsened by piles of garbage around which traffic must weave …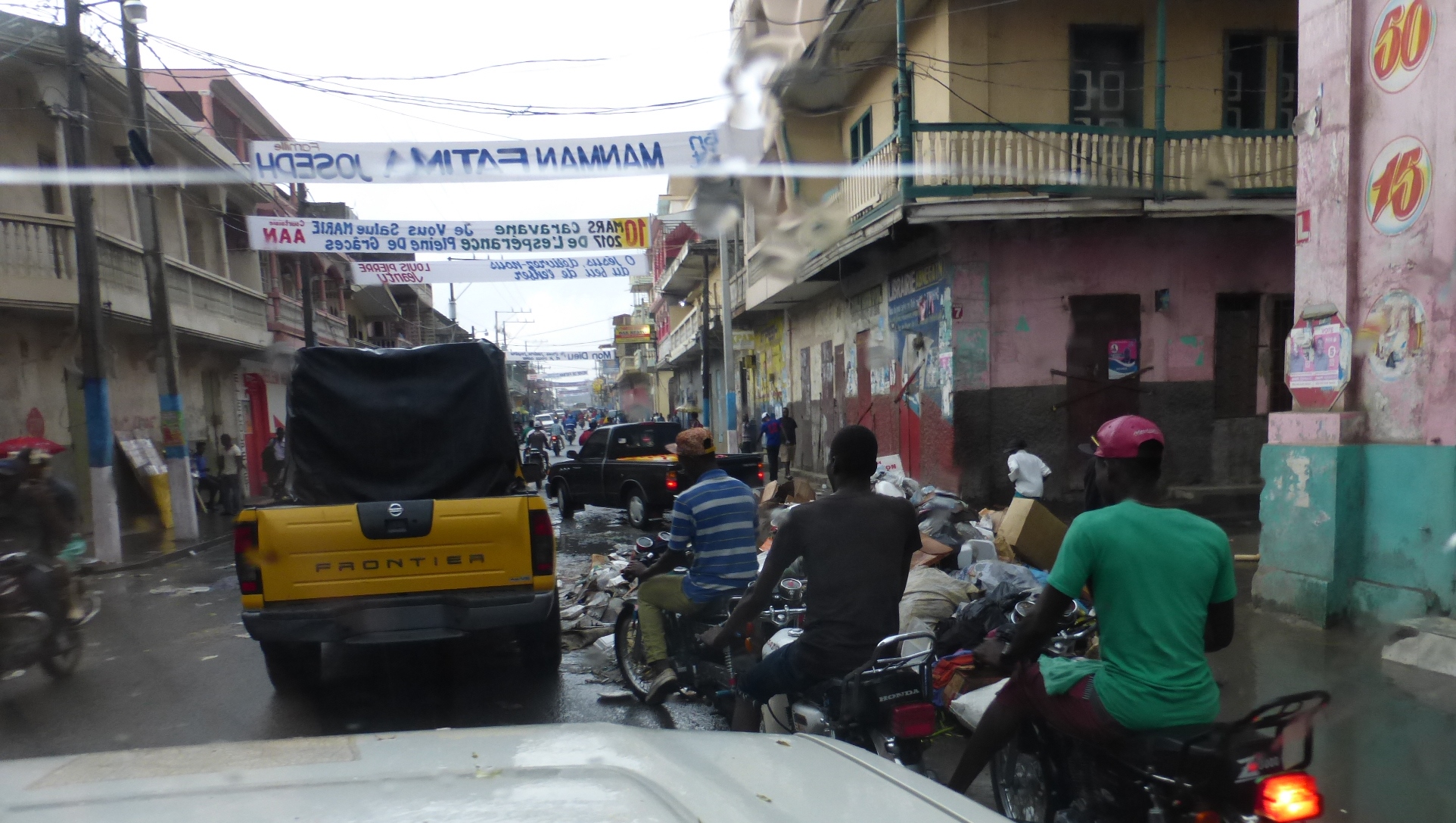 … but the sights are always interesting: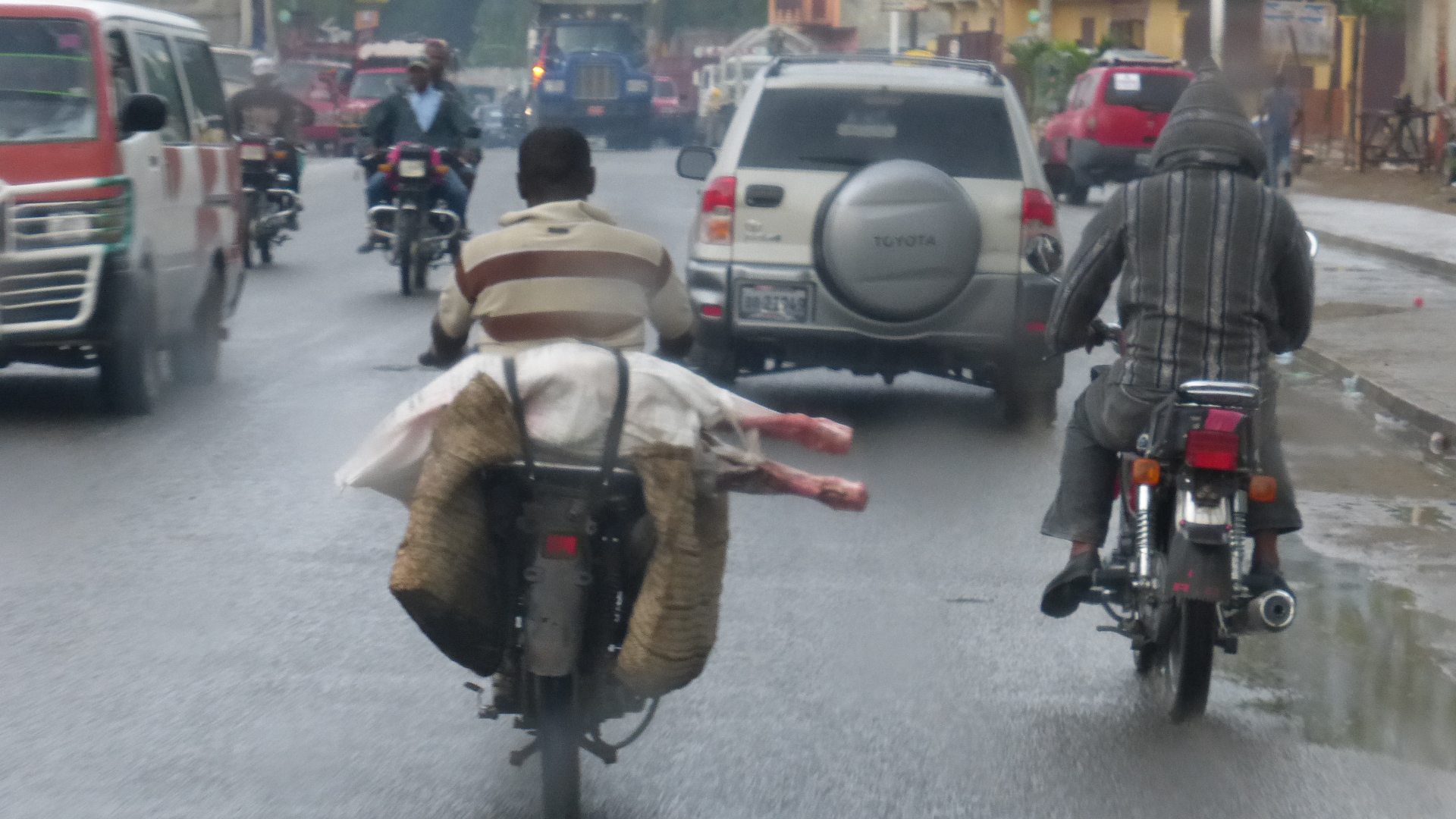 Traffic clears as one leaves the city, but the road to Limbe needs some work. Puddles from overnight rain hide the depths of potholes: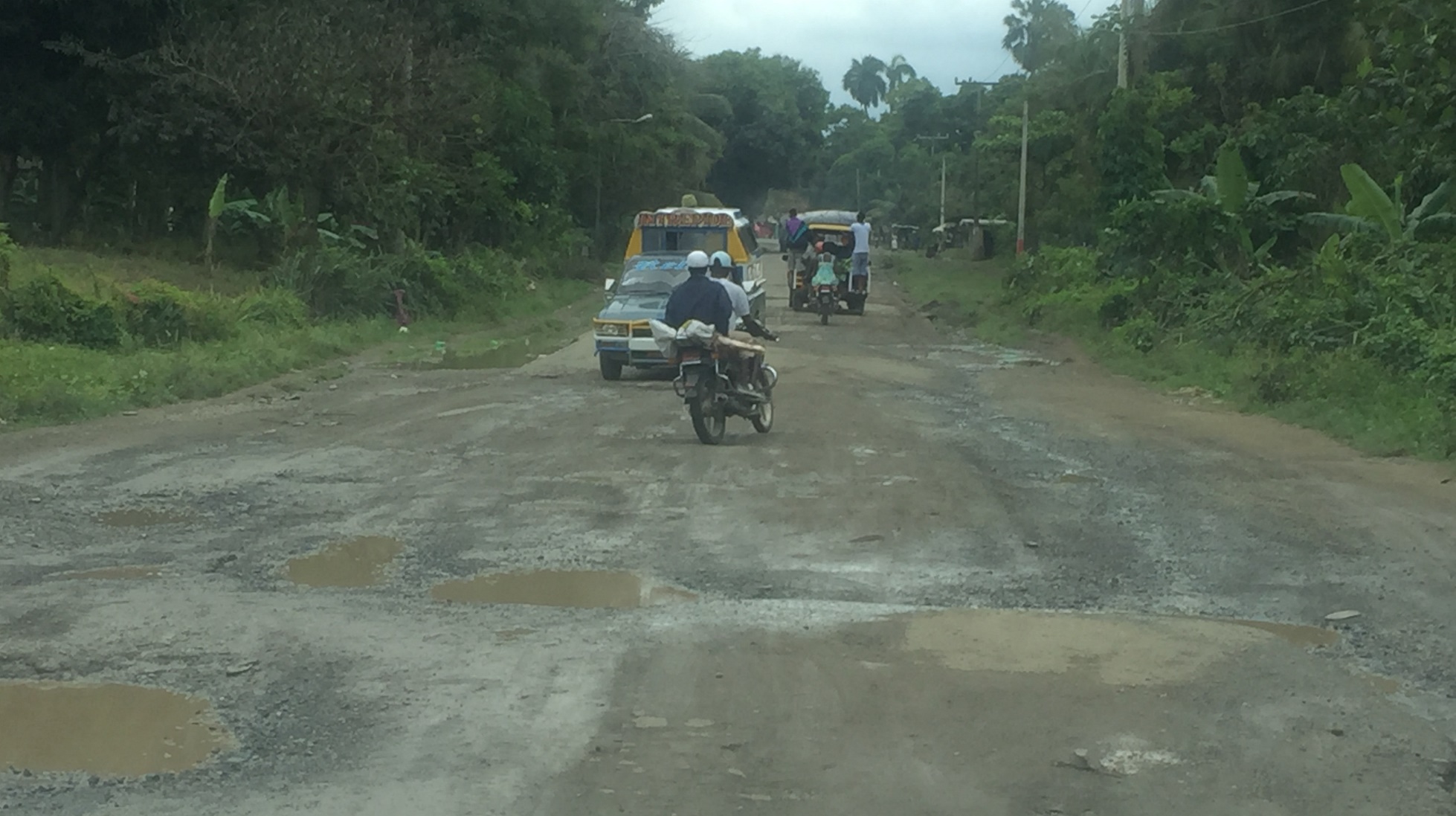 But Dr. Manno's facility in Limbe makes the journey well worth it: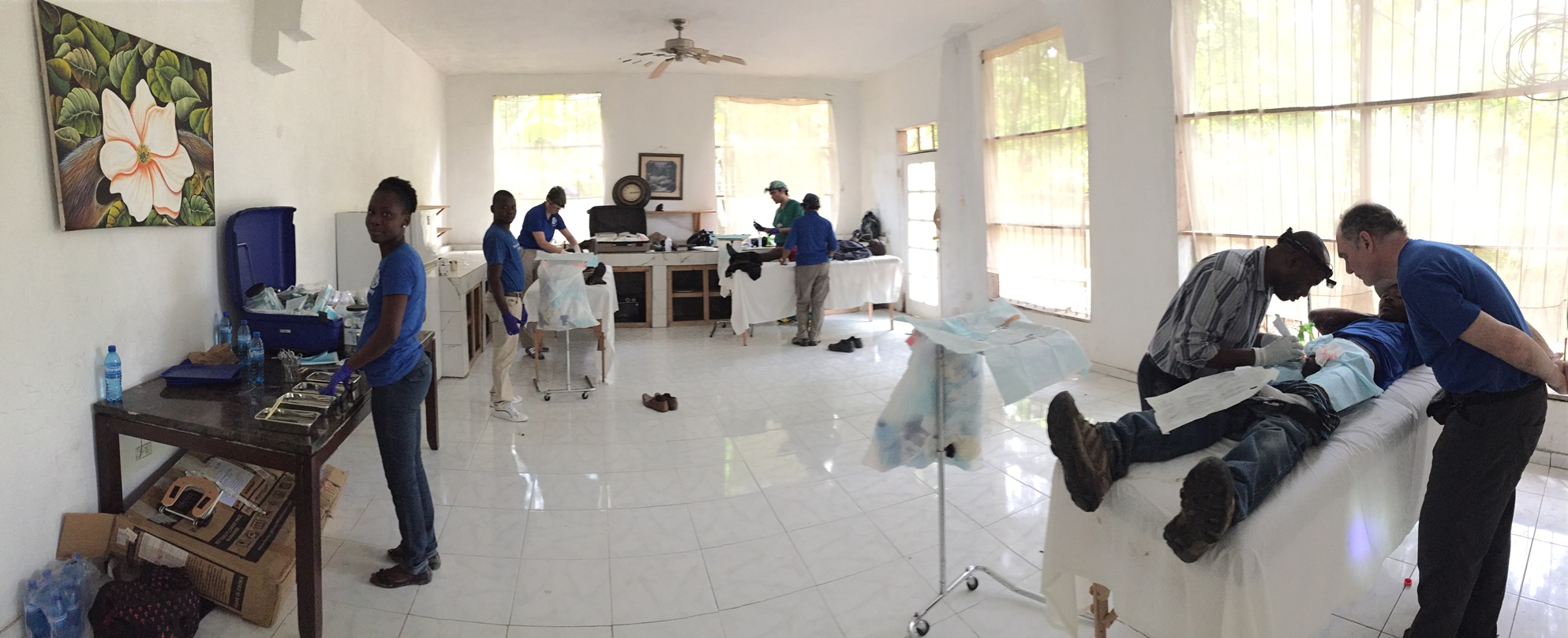 It is clean and spacious enough for 5 procedure tables.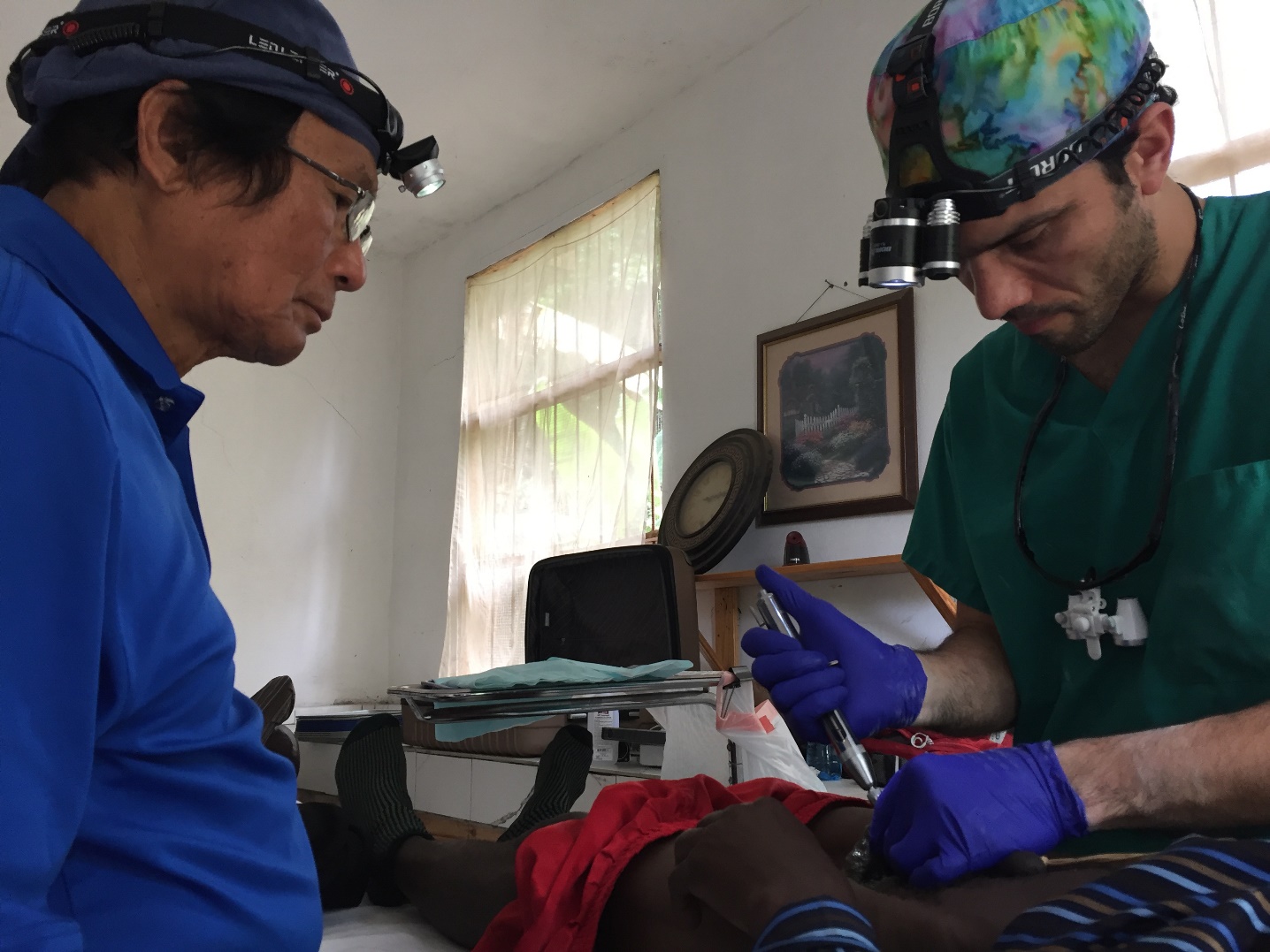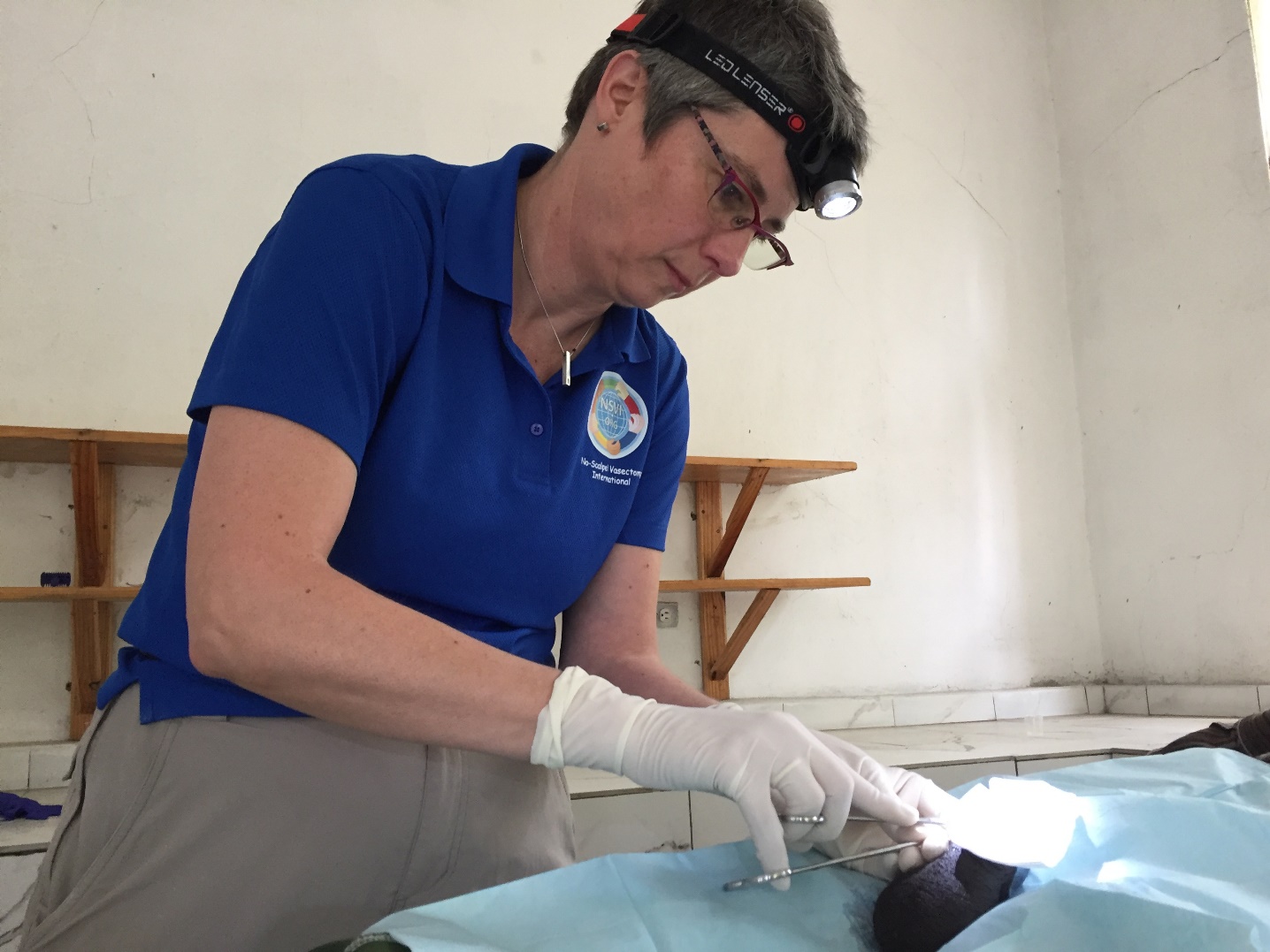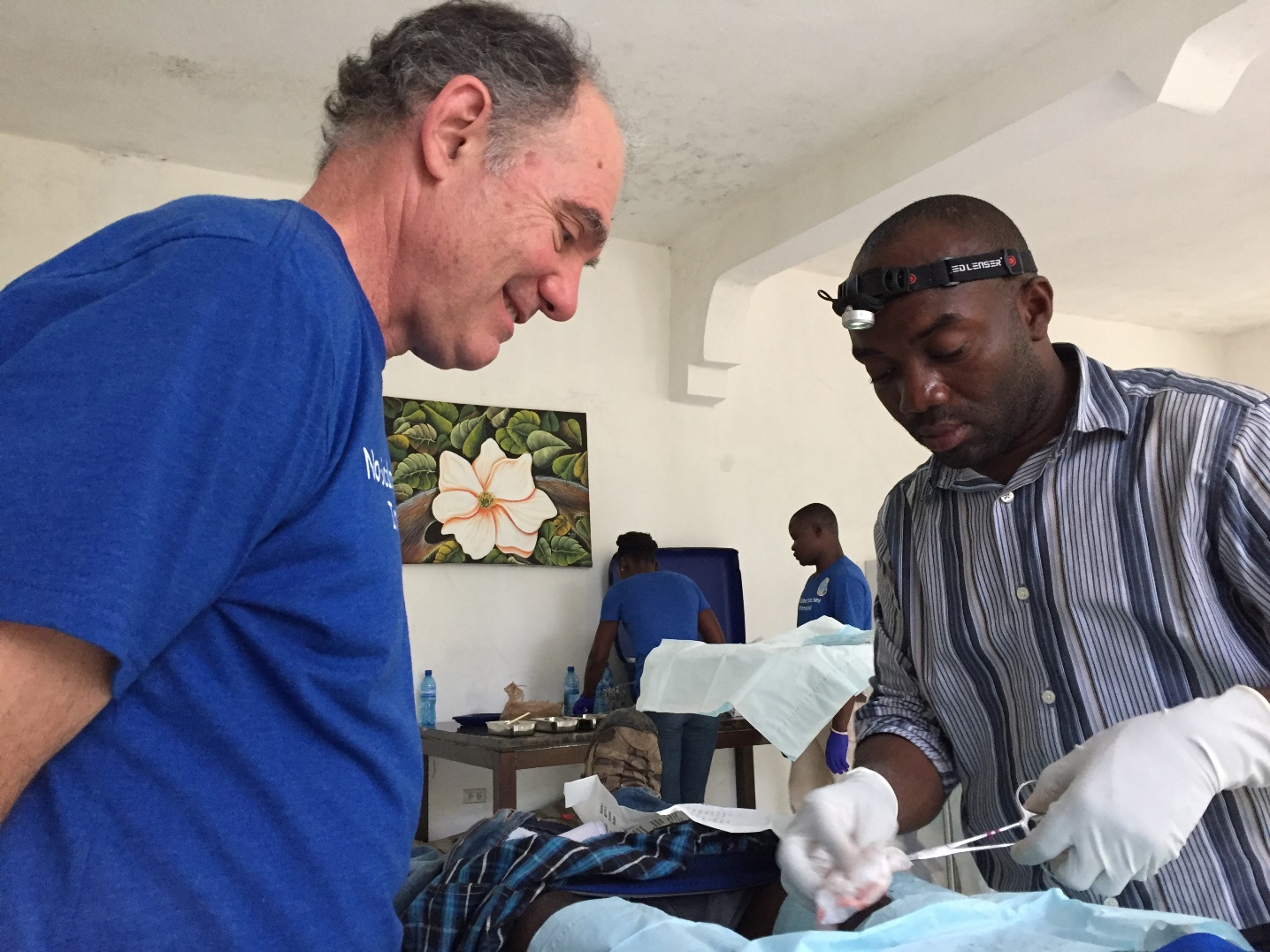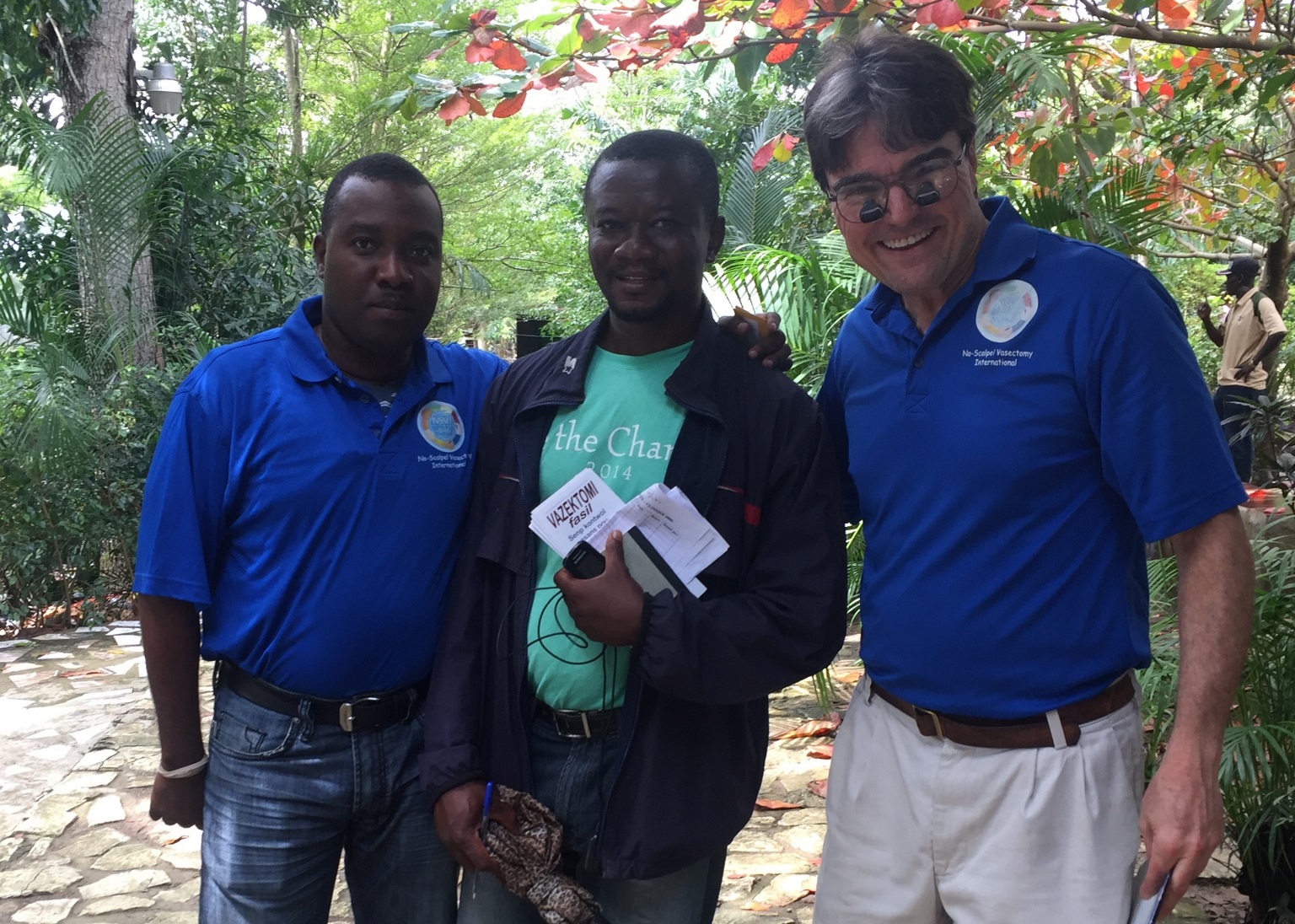 Our lead facilitator in Limbe inspired 20 men to be responsible. Not as many in Limbe as in November, but we were done by noon with plenty of time for our afternoon sites (The Dugue Clinic in Plaine-du-Nord and the ULS Clinic in Ft. Bourgeois) and even a stop for lunch: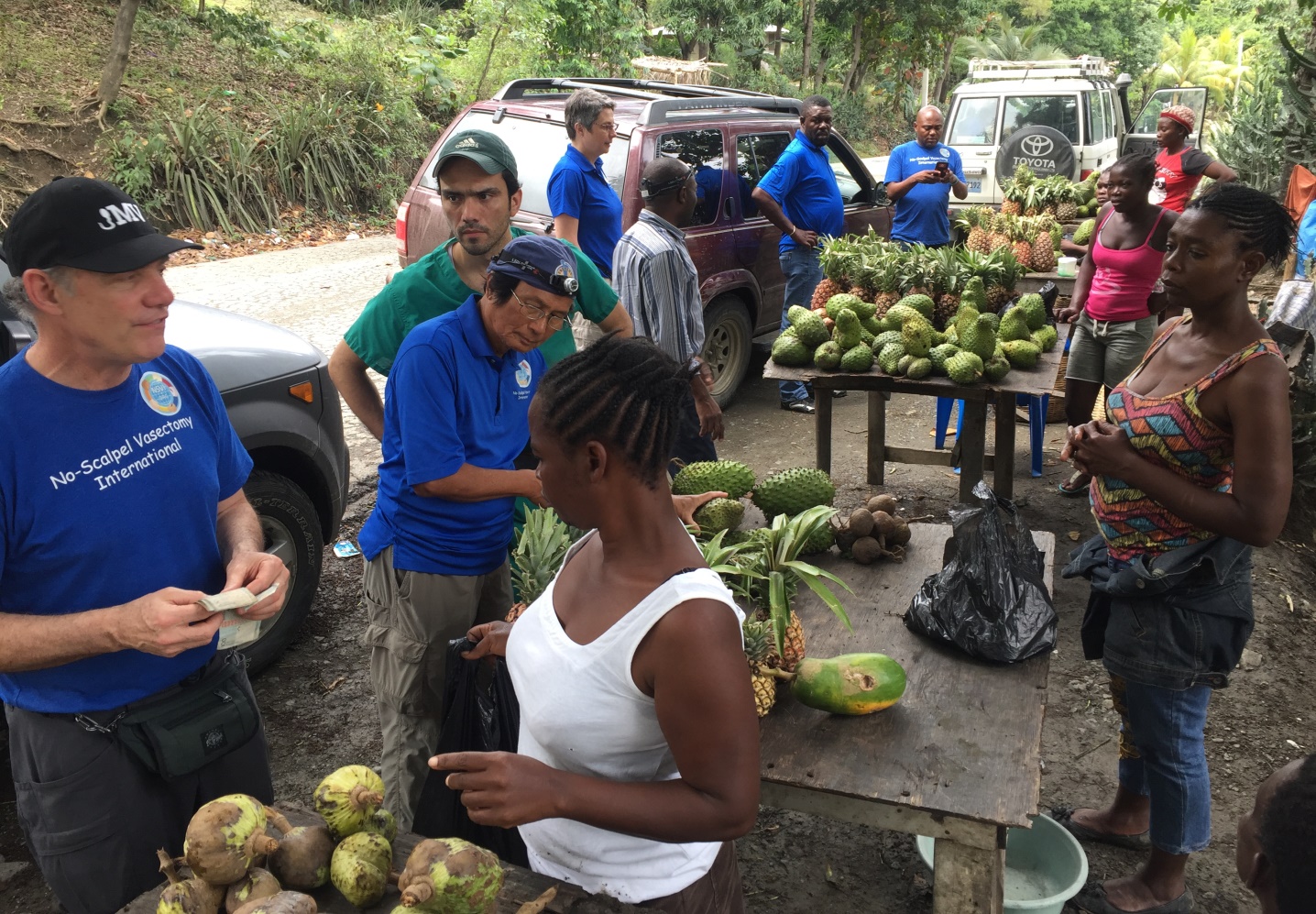 Friday, March 17. Day 2, sites east of Cap Haitien.
We visited Clinique Esperance et Vie in July 2016, but the concept of vasectomy was very new to the local residents. Many were gathered at the clinic for other services, so we provided educational outreach and that seemed to pay off during this visit. Michel continued the training of Dr. Classaint St. Vil …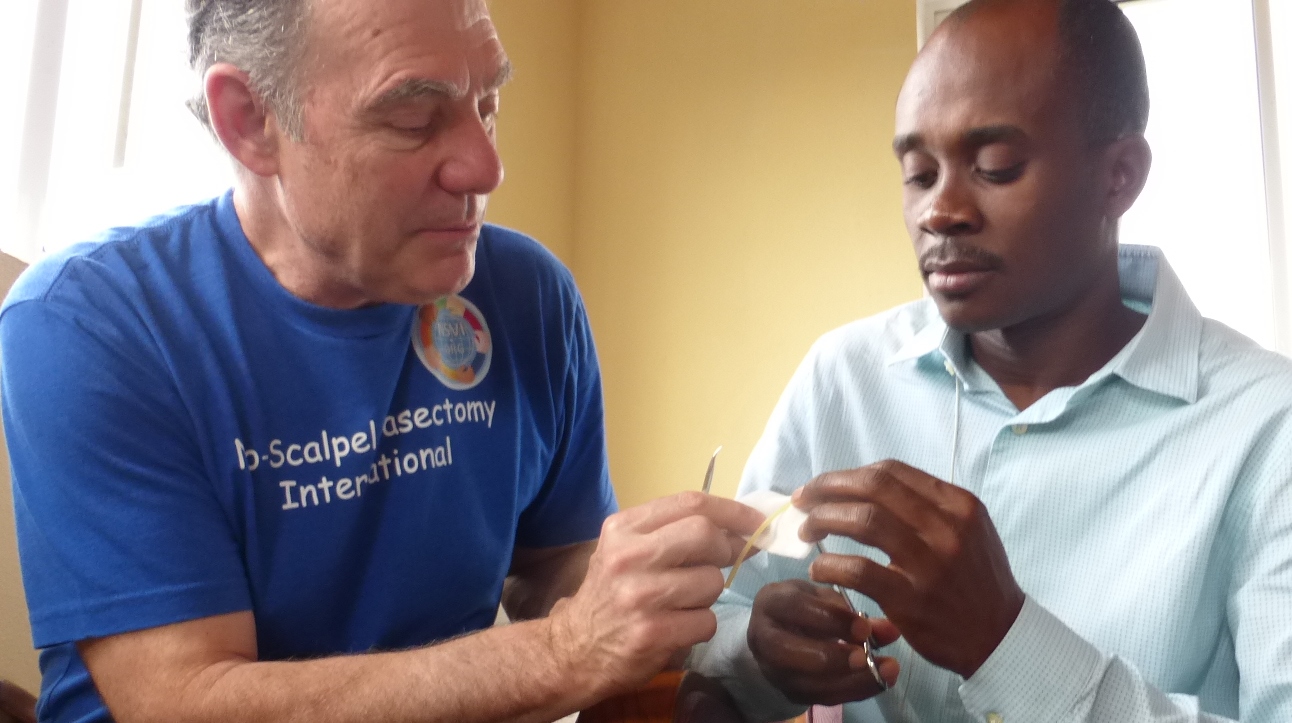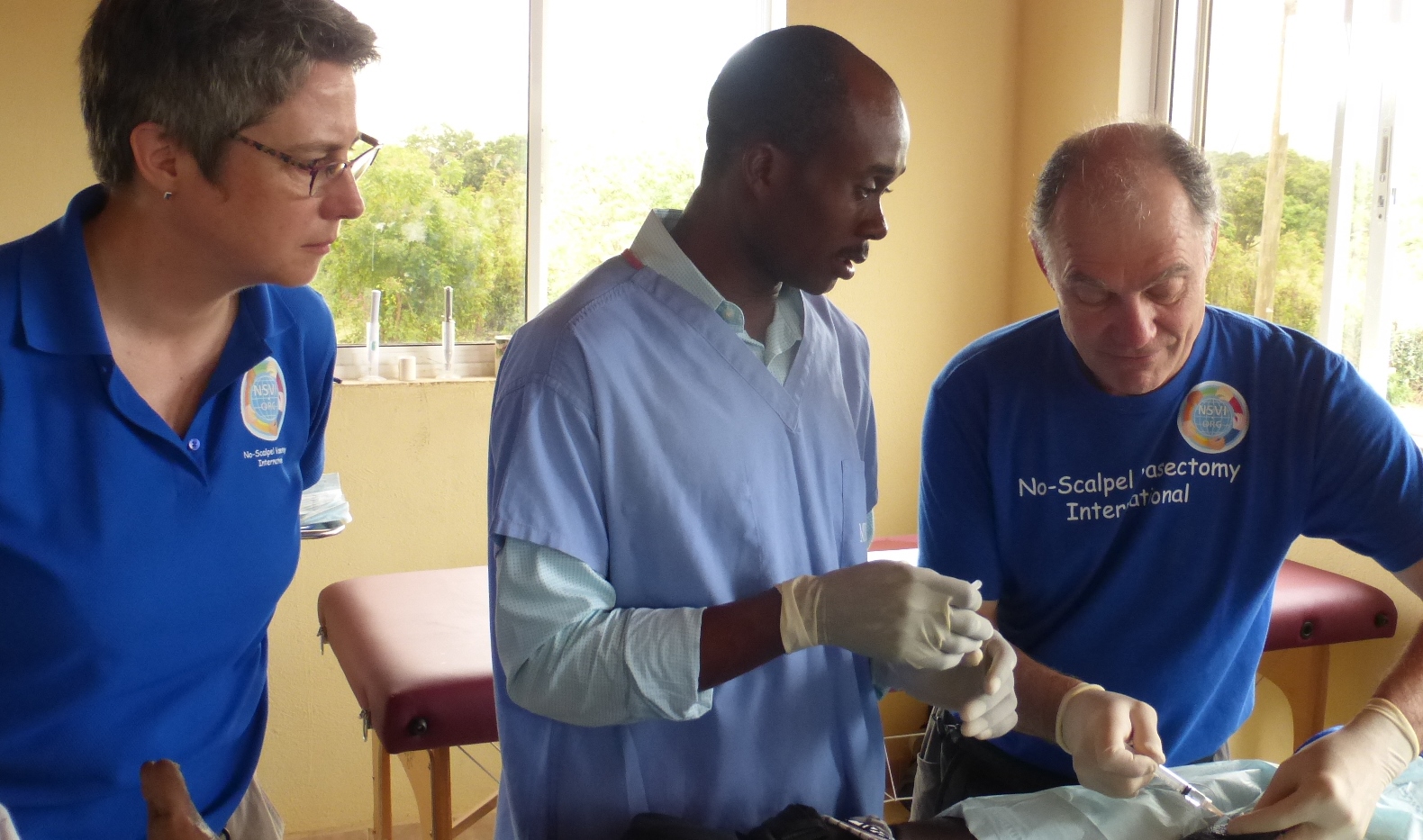 … while Clodine educated clients who were at the clinic for other reasons. Many brochures were distributed and all knew that we would be returning in July 2017, plenty of time to convey the info to family and friends.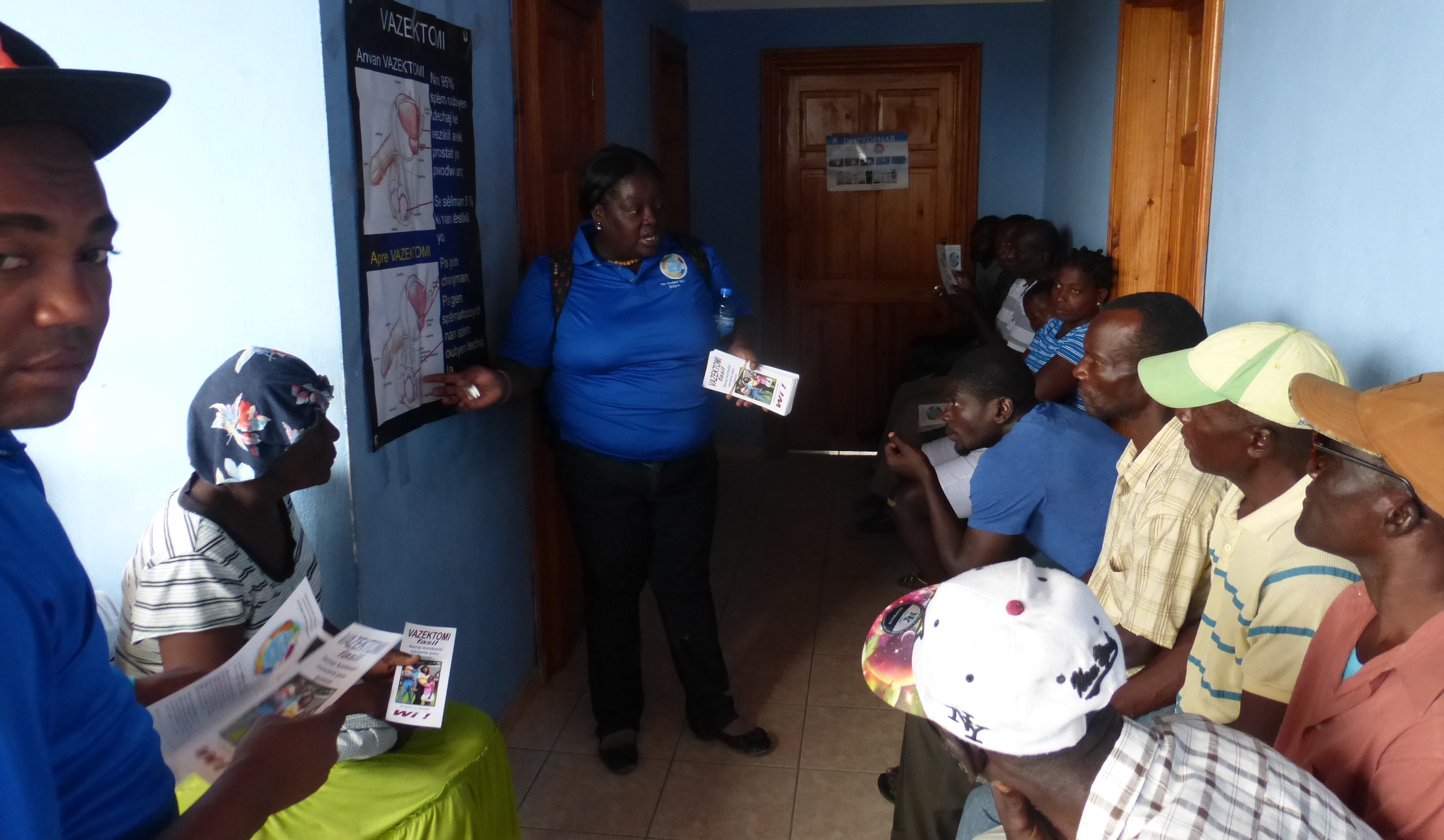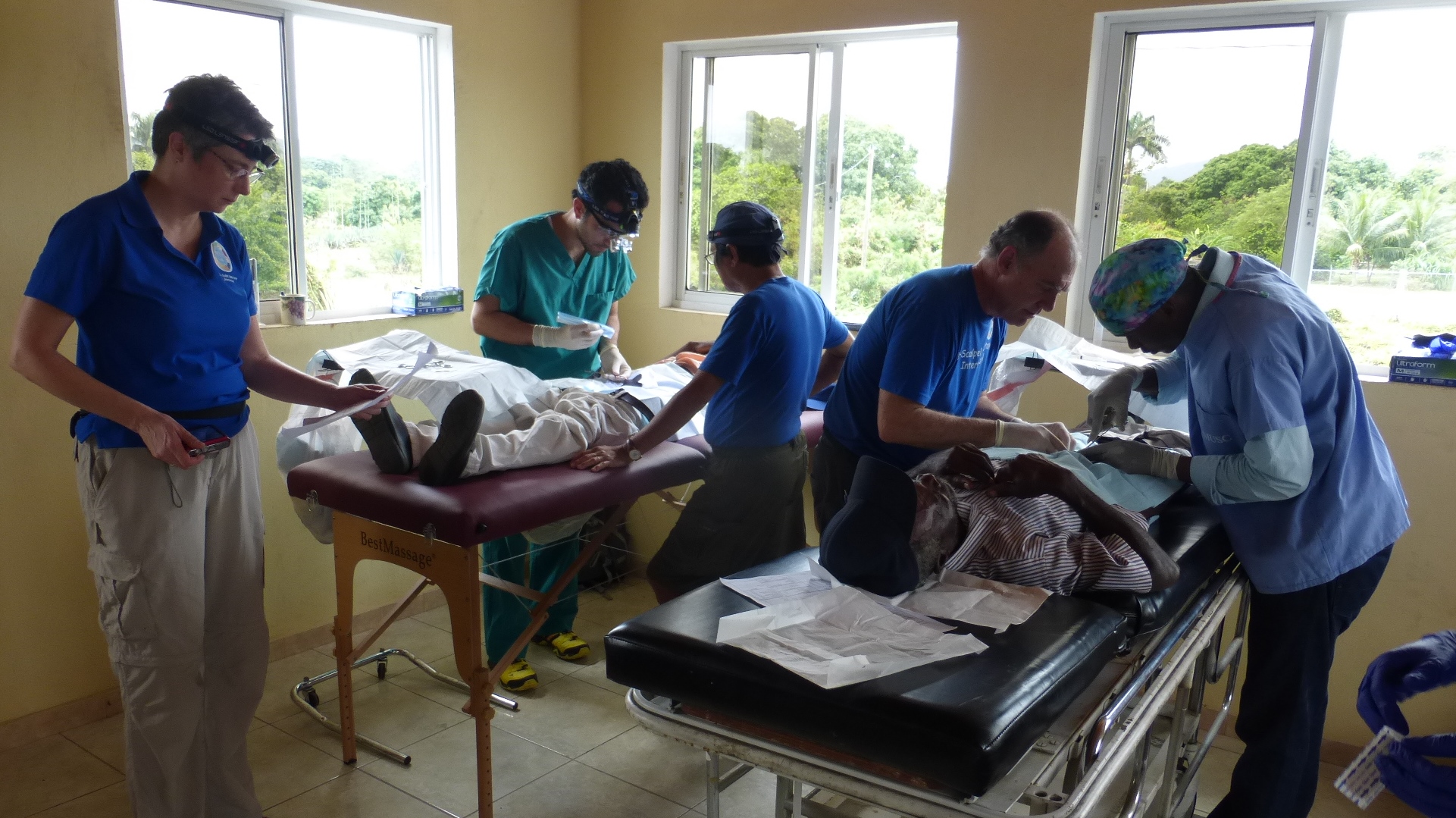 With a cool and breezy second floor location, large enough for 5 tables, it is one of our favorite sites.
The Clinique RJP-CRAPS in Limonade is not quite as spacious …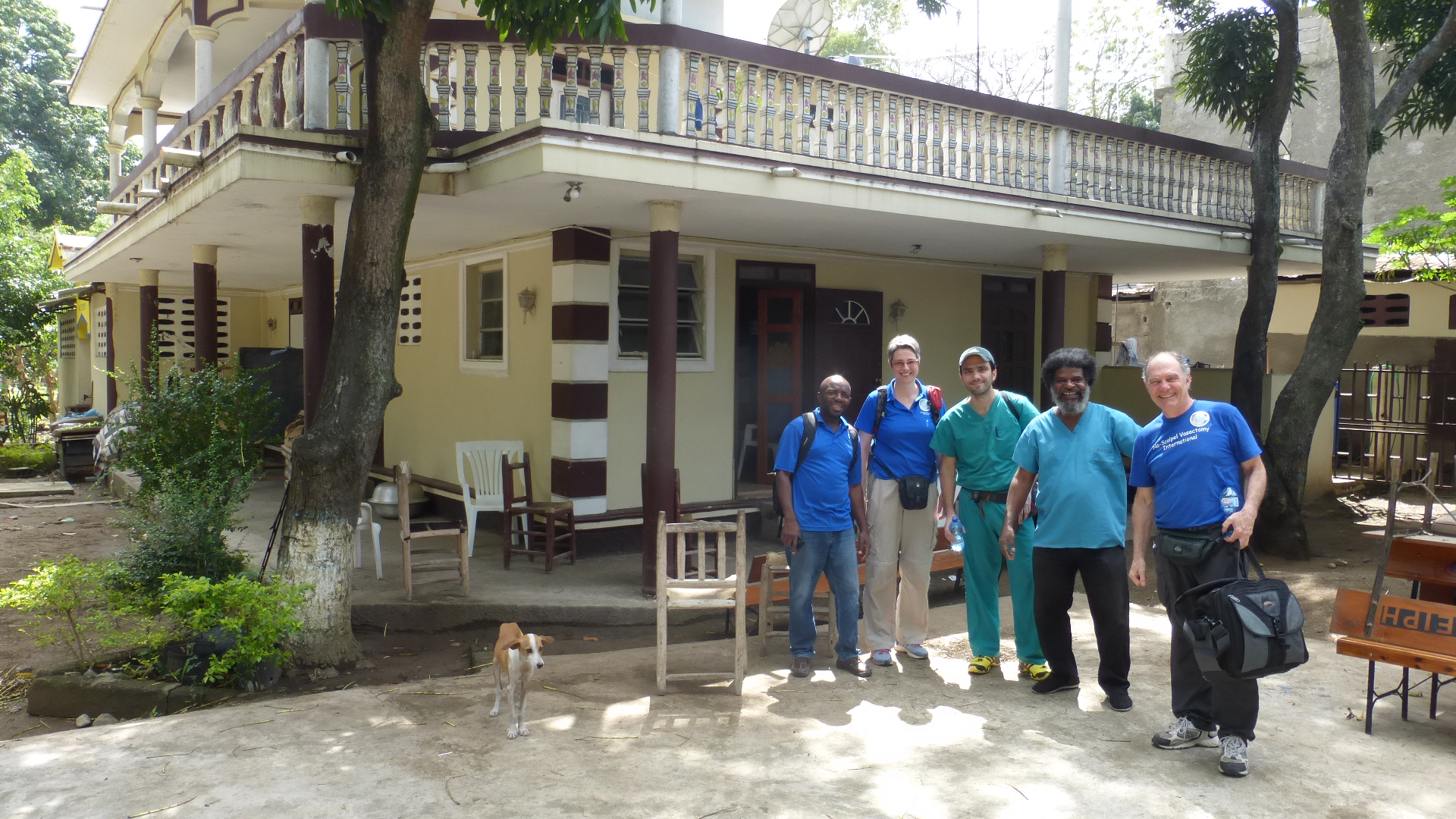 … but the enthusiasm of Director Dr. Romel is unmatched. While Drs. Reuter, Guarin, and Mesadieu shared tow tables in the front room, Dr. Labrecque provided hands-on training for Dr. Romel in his back office …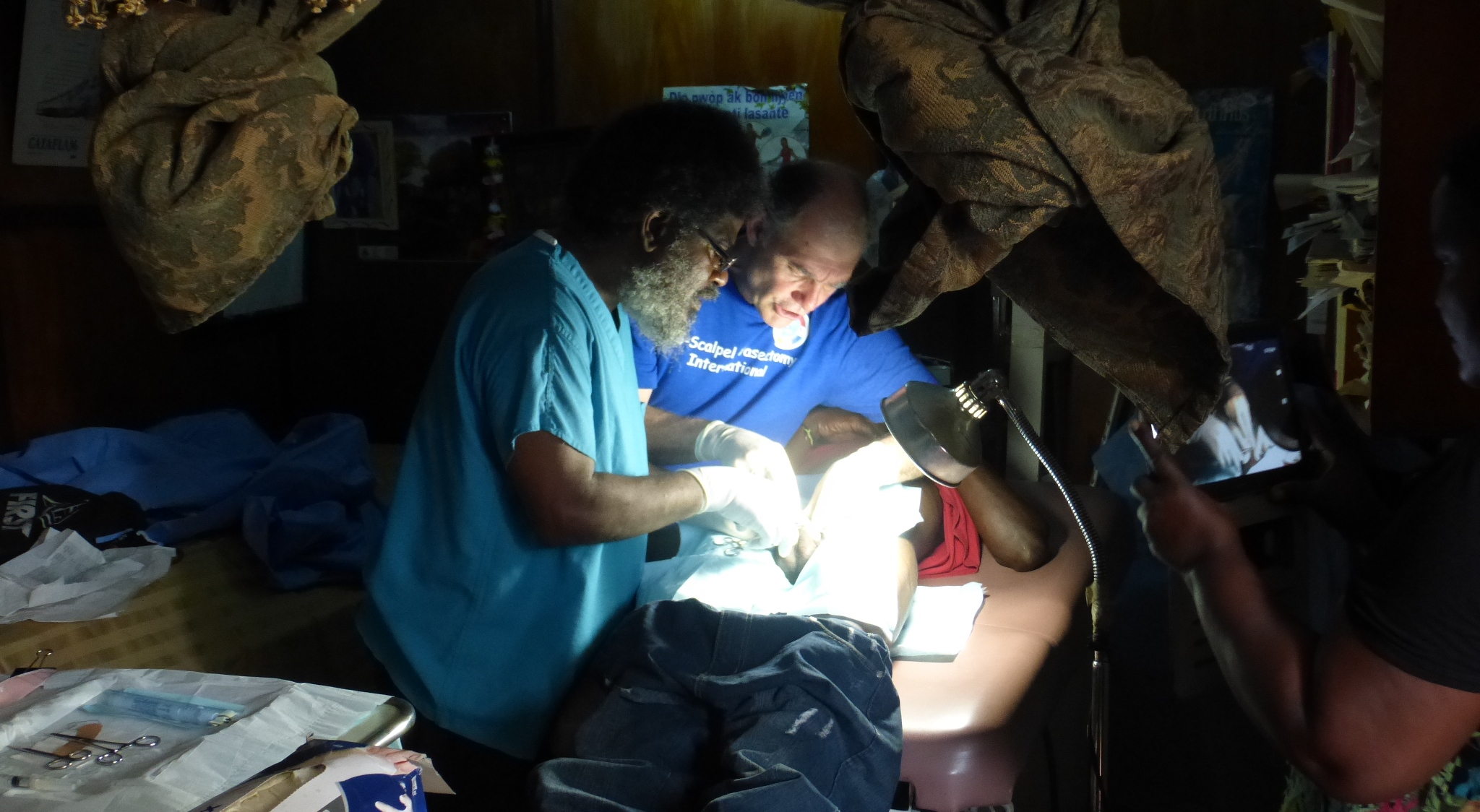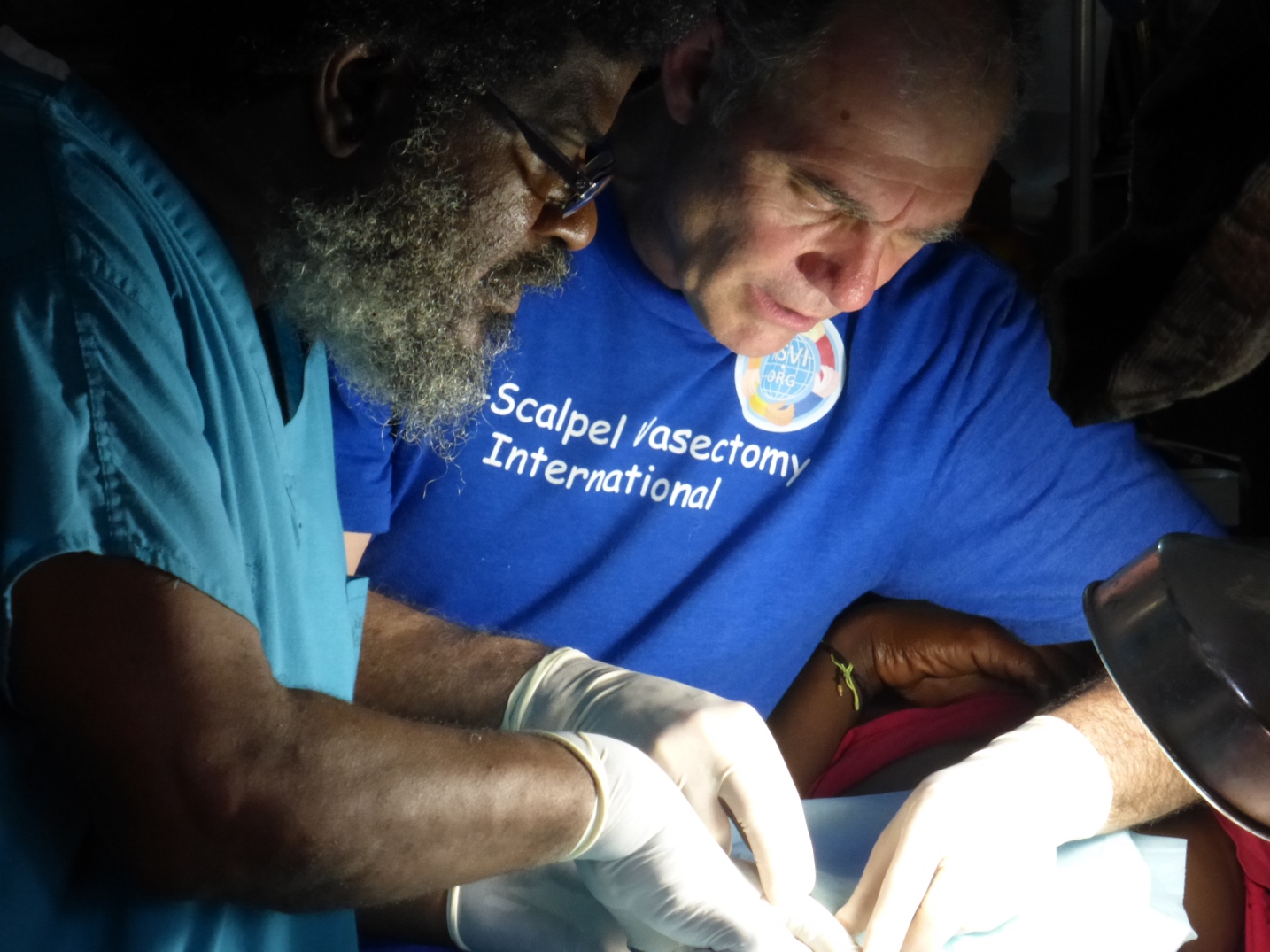 One patient had large bilateral hydroceles, which took time to drain …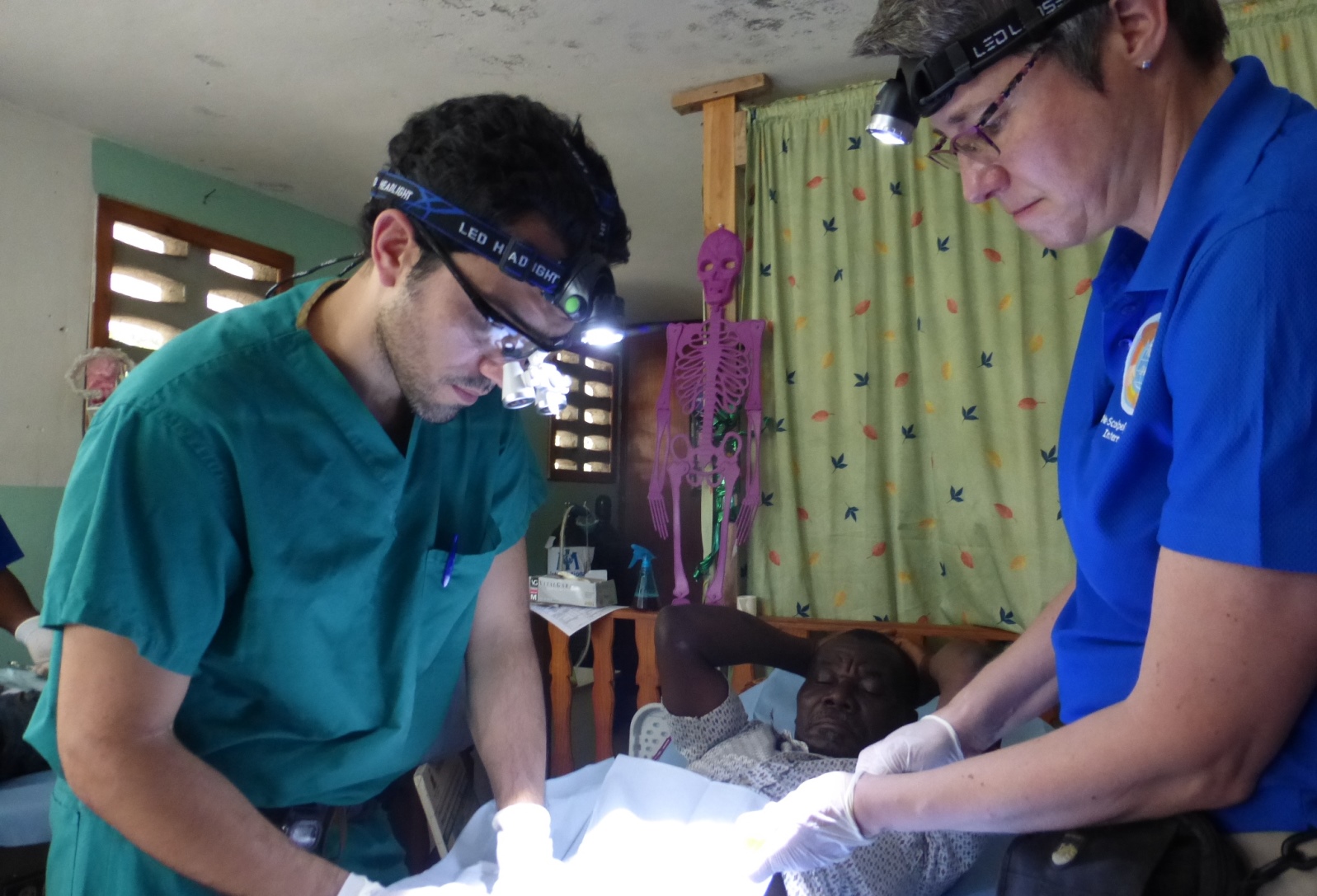 … and even after drainage, and Esgar successfully completing the right side …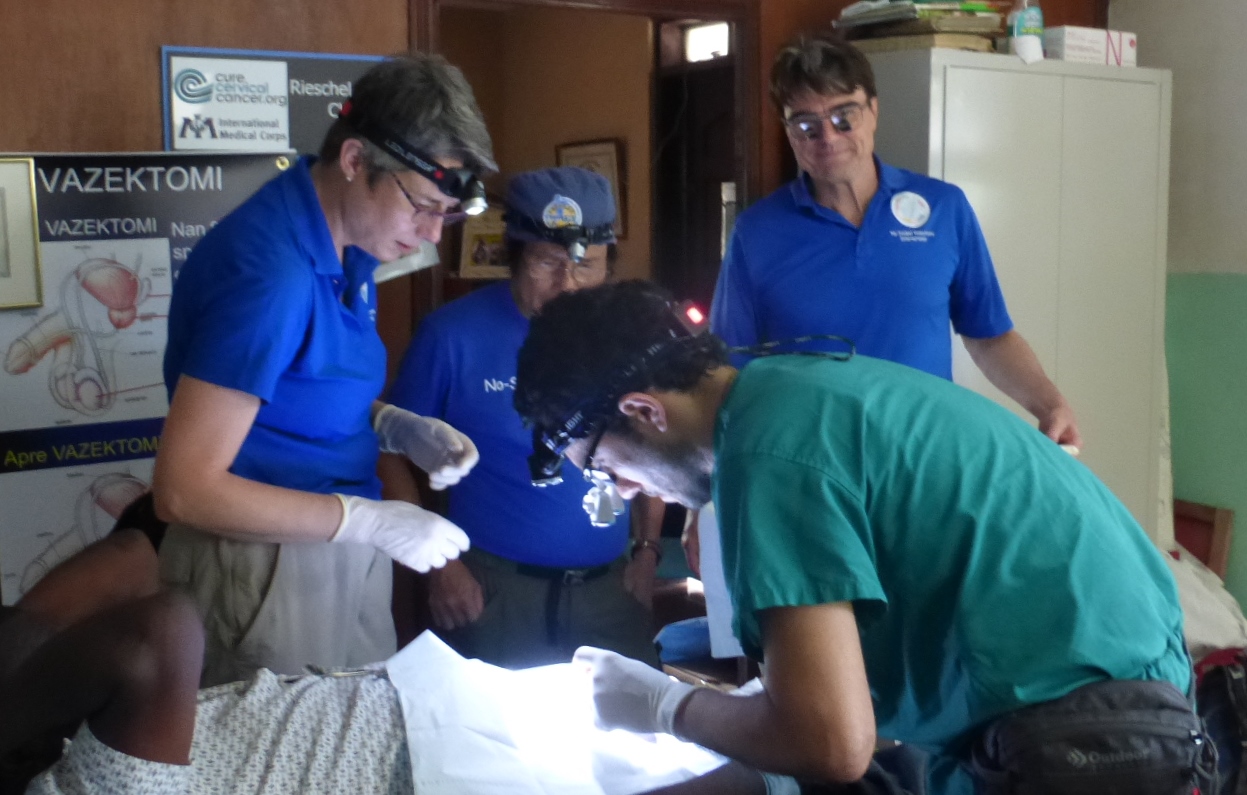 … the left side frustrated all of us. Worse yet, we took so long that 6 waiting patients got scared and walked away. Another lesson learned: better to punt on the occasional difficult/time-consuming case than lose part of the waiting crowd. Back in Hopital Ft. St. Michel, we had another productive late afternoon …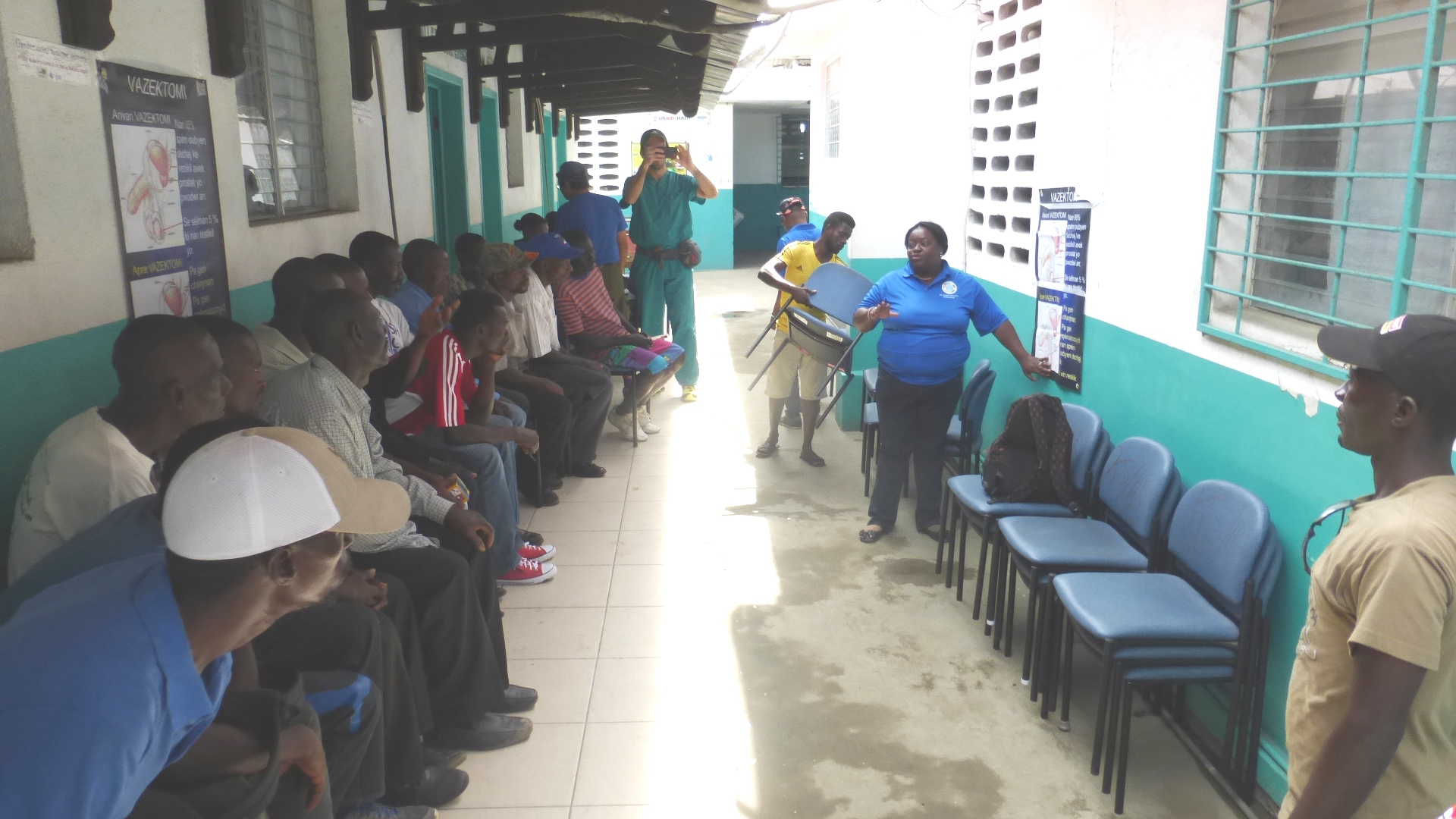 … even when the electricity failed. Ah, the wonders of a good headlight.


Saturday, March 18. Day 3, final push in Cap Haitien and departure:
Patient data compiled, equipment to remain sequestered, and everyone paid …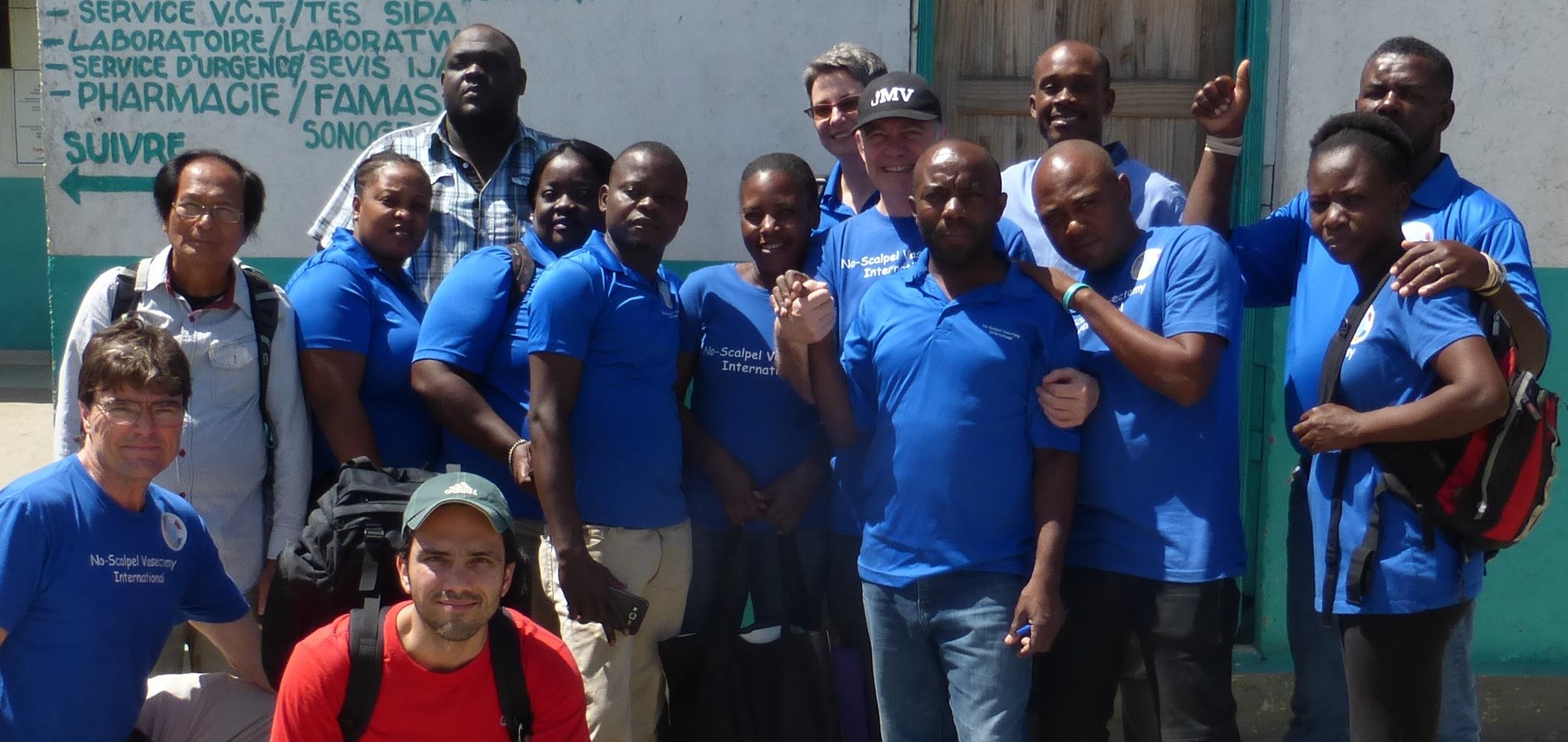 … and a sigh of relief to be on our return flight on time.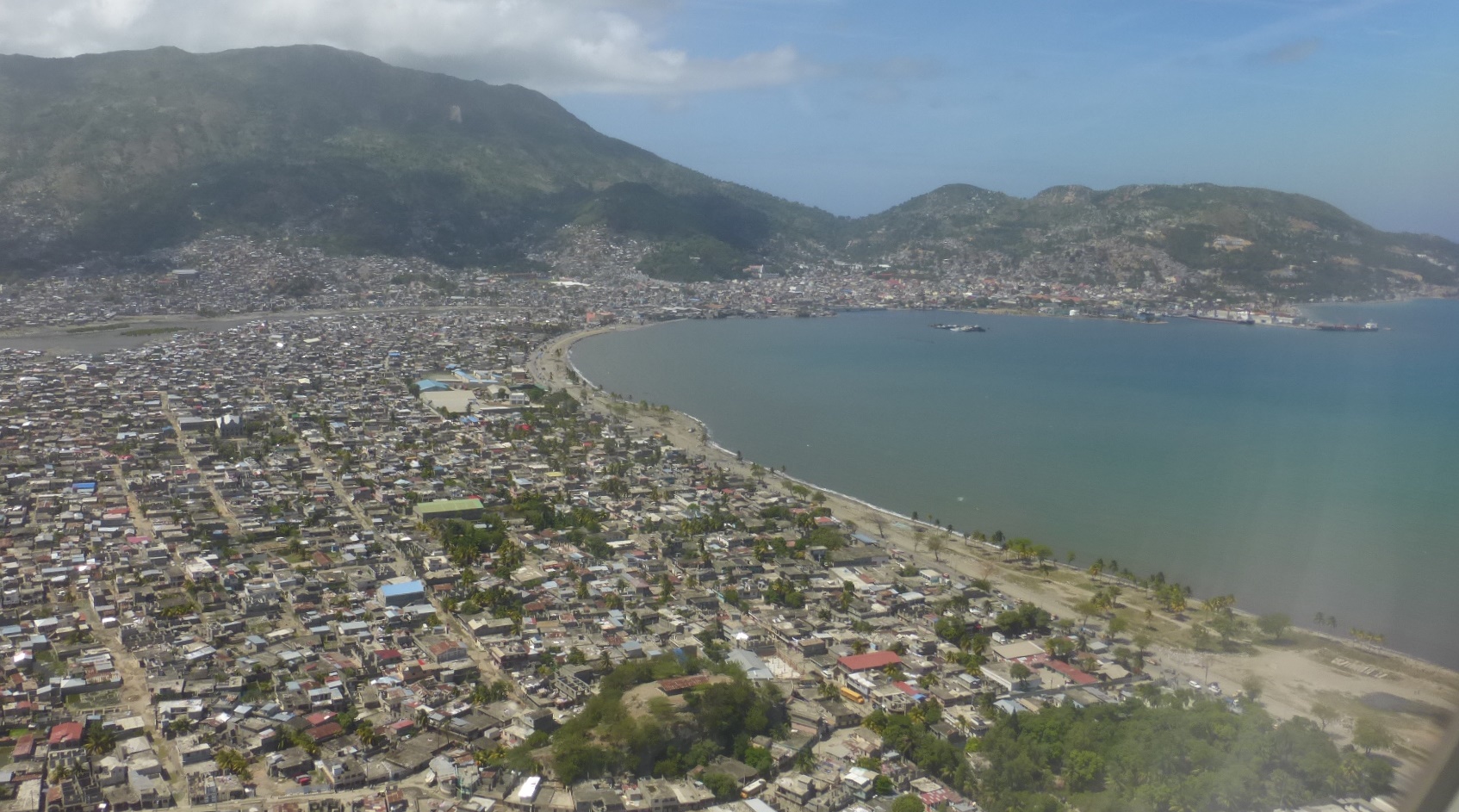 Eager to return in June.