The Founders and first Board of Directors of NSVI have effectively served since 2002. They have tirelessly run missions to provide FREE NSV (No-Scalpel Vasectomy) in developing countries with high rates of unintended pregnancy, they have supported NSVI's Domestic Teams, they have handled all of the financial and record-keeping duties required of a non-profit corporation, and they have donated generously from their own personal funds.

Inspirational role models for most people who meet them, Ramon, Nenita, Bob and Benie have made annual missions to the Philippines for 20 years (since 1998), first with the Bisaya Medical Association until 2001, then as "NSVI" with some support from the BMA. Since I joined NSVI in 2010, Ramon has traveled with me on 29 international vasectomy service and training missions to Philippines, Kenya, Haiti, Indonesia, Cuba, and Mexico; played a key role in 5 World Vasectomy Days; and helped train dozens of vasectomists worldwide.
Now in their 80's, health issues have made travel more risky and obligations more daunting. So they have decided to hand over the reins to new leadership but continue to serve an advisory role as an Emeritus Board. Given my role as Director of Development since 2012 and John Curington's role as Director of Education since 2016, the Board nominated me as President and John as Secretary-Treasurer, and we gladly accepted. So, on June 22, in the Naples home of Ramon and Nenita Suarez, papers were signed …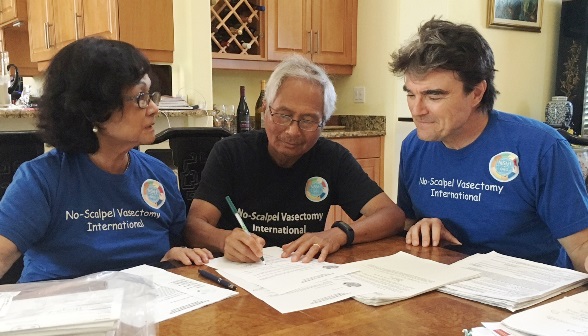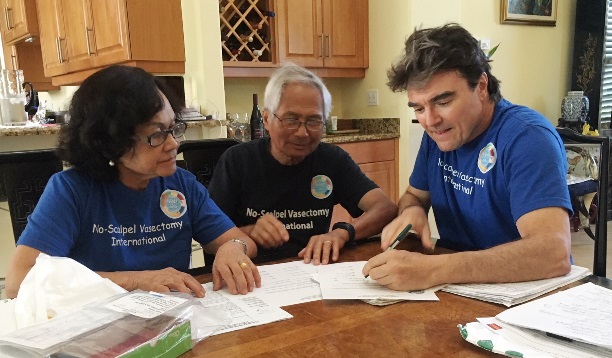 … under the watchful eye of Ramon and Nenita's grand-daughter Maya.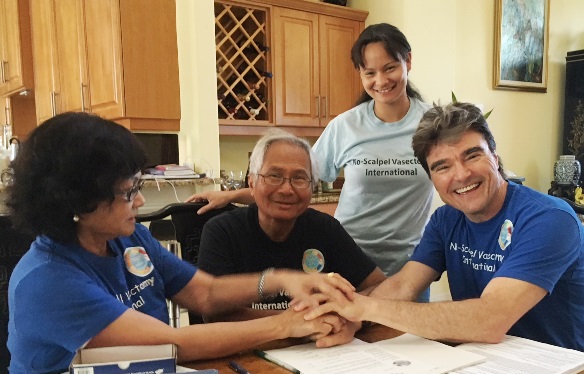 We joined hands, and Doug Stein and John Curington became President and Secretary-Treasurer of NSVI.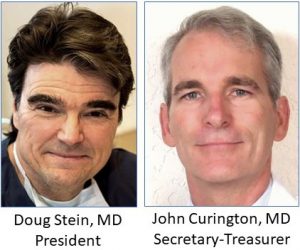 The transition has involved a transfer of the NSVI non-profit corporation from Pennsylvania to Florida, acquisition of a new accounting firm in the Tampa area, and transfer of management of the NSVI Wells Fargo and PayPal accounts from Ramon to myself. Over the next few months, the Emeritus Board, John and I will nominate others to the Active Voting Board and to a more expansive Board of Advisors.
Our goal is to continue the legacy of our Founders and try to match their spirit, energy and vision so that NSVI lives on through generations.